Market Cross Pub & Brewery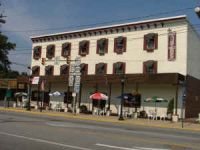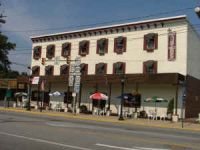 PLACE INFO
Type:
Bar, Eatery
105 W. King Street
Shippensburg
,
Pennsylvania
, 17257
United States
(717) 532-3967
// CLOSED //
Notes:
No notes at this time.
Added by mjc410 on 04-11-2005
PLACE STATS
Reviews:

7

Ratings:

pDev:

11.62%
HISTOGRAM
View: Place Reviews
Ratings: 7 | Reviews: 7
Reviews by Slatetank:

3.85
/5
rDev
+4.1%
vibe: 4 | quality: 3.5 | service: 4 | selection: 4 | food: 4
I think the name should be changed to Market Cross Pub & Inn since they don't brew any of the beer here, but I digress. The place is right on the main drag and easy to find. I was glad there is no metered parking on the street like the Carlisle location.
The atmosphere is decent, but seems less like a british pub and more like a local dive on first glance. They have glassware displayed and breweriana from British breweries and a U.K. flag out front, but that's about it. There is a bar that seats around 15 and an arcade to the right where the tables are and it keeps the bar separated from dining area slightly.
The Service is friendly, the promptness was lacking slightly since I ordered before another couple and they were served at the same time. I was asked how things were and the bill was accurate so better than average.
The selection is not as good as the Carlisle location, but decent w/ about a dozen taps, several English like Harp, Guiness and Bass, but they also had Ithaca, victory, Beck's, Tommyknocker and magic hat on so not bad taps. The selection of bottles was very good, but not great. The seasonals were lacking, however Weyerbacher autumn fest and Dfh punkin were available along with the usuals like Stone, Rogue and Troegs. They recently began to put cask options on again per the bartender which is a nice option.
I enjoyed the Mango Habanero wings which were the special selection chosen by a wing eating contest winner. The temperature was not hot, but the spice factor was ample for a flavorful, sweet and hot wing that had me sucking the sauce off the bone.
The quality is good and I would return to MCP if ever in the Shippensburg area as it has the best selection around(I imagine)There are limited choices in the small town so it is nice to have the option of a cask ale when possible. With some minor changes I would consider this a destination - decor, increased selection and some of the Carlisle house beers could be a good place to start.
1,988 characters
More User Reviews:
3.63
/5
rDev
-1.9%
vibe: 3 | quality: 3.5 | service: 4 | selection: 3.5 | food: 4
You know what? Yeah, there is another location. I know, 'cause I gone seen it on their website when I was looking at things beer. Hadn't done the trek out the back way from work before, but I figged' I could dodge the Amish one night to have a look. An easy find, the building on the corner off 11 in town out of the way for most. This, the stepchild in Shippensburg...
12 seat "L" shaped wood bar with a lip & foot rail. Barback is counter space with a Jager machine prominently placed and booze & glassware below. Glassware, booze, new bottles, etc., over mirrored backing above, growlers & (oooh) ½ yard glasses displayed, and strung lighting wrapping a sprawling bramble vine along the top of the barback. Spooky Blue Moon neon clock on center and TV's in the corners. Glassware rack dangling above the bar and a blackboard listing taps unimpressive suspended from the ceiling above as if by magic. Stucco walls over paneled wood lowers with slight bar counter space adjacent to the bar. Slat wood barback walls, and drop ceilings with drunken sunken spots. Plaques, bar towels, brewery signage & world tour member listings adorn the walls.
Seems to be some sort of gaming room just off the bar; a single pool table, foosball, and a girl on one of them hunting video games enjoying pointing a rifle just a little too much. Walk quickly through with a bull's eye on the back of your head out to the dining side; a dozen tables & booths up front, the same to the rear. And I spy mischief to the rear rear, the banquet area where they're setting up for Texas Holdum; the shiftiest of the shifty having arrived early and seated themselves.
Taps scattered about, including 2 in each corner of the barback; the ones near the stand up bottle cooler on the end extending majestically from a red Coleman cooler. And a single handpump on the bar, nothing on and I wonder when it's last been live. 10 taps in all, a mix of American craft (Victory Hop Devil, Ithaca Apricot Wheat, Sam Adams Boston Lager & Winter, Yuengling), meh imports (Guinness, Harp, Bass), double meh macro (Miller Lite) and a fruit/rodent blend (Woodchuck Cider). So, what's in the bottle cooler? I will go and see. A considerably smaller selection than the other house; roughly 3 dozen micros anyway, including the 22's & 750's that look specialtyesque. At least ½ of them Pennsylvania offerings; they run Troegs strong and then deal a little Lancaster love, Appalachian, Victory, Weyerbacher, Erie, Stoudts. Otherwise, some micros options regional and beyond, and more of the aforementioned meh; bland imports and macro noise, boooo. I started with a pint of the best of the lot Victory Hop Devil and then had my first DogFishHead Punkin' Ale of the season, hello. Got to be thinking that it sure would be nice if they ran beer down from their brewpub in Carlisle (you know I asked) but they say there are (obviously stupid Pennsylvania) laws against it, so I won't demand that they do so.
And you know what goes pretty decent with a few beers? Yeah, did a dozen Carib Jerk wings and they were crispy and they were good, and then the Cajun chicken sandwich with chips to fulfill my daily recommended chicken requirements. Good sandwich, yes, unexpected, no; it's what I've eaten on more than one occasion at the other location.
Wants to be an English pub, me thinks, and succeeds in that like their other house, it's a bit on the diveyesque side, if you really can't stop reading have inadvertently just found out my truth. Still, you can get a good beer here and the food does not suck. Decent crowd of grownups and college kids who know to drink better. Best thing between Htown & the Lizle.
3,667 characters
4.28
/5
rDev
+15.7%
vibe: 4 | quality: 4 | service: 5 | selection: 4
1/2/07 - Edit: this is my original post from my first day as a BA...I still love the place, but I think my opinion is slightly swayed as it was the first 'real' bar I ever visited and the first place I was a regular at. One of these days, I'll redo my review...
When I was still going to school at Shippensburg, I wanted to hit every bar once I turned 21...so I went to the typical college dives (Maxie's, Hot Point..), and finally ended up in Market Cross. By then I had already gotten away from the macros, so it was great to see some local breweries on tap (Troeg's & Market Cross's own Red Ale brew). The greatest thing about them is the passport - it's a program where you have to drink 96 out of 225 different beers from over 30 different countries, and if you do, you get a big party at the end of the year and your name goes on their Wall of Fame.
The only problem I have with the place is the size of the bar area (building is divided into bar and restaurant). There are maybe 12 seats with very little standing room by the bar...you have to linger in the back room by the pool tables otherwise. Also, not many college kids there, since most of them can't afford to drink there.
1,194 characters
2.74
/5
rDev
-25.9%
vibe: 2 | quality: 3 | service: 1.5 | selection: 4
Stopped in here with some friends I met up with Friday night to hang out in our old college town. A lot of things have changed, but some standards are still there. Maxie's, our old home away from home, is still the same wonderfully dive-ish place. But this place was new. The old Rustic Inn had closed down over a decade ago when we were there and had changed hands several times, with a few failed restaurants occupying the building that we know of. So we gave it a shot. Smoky and stinky, like a typical college bar. The place looks like they did very little to renovate the building from what it used to be, and the place consisted of several different rooms, a medium-small barroom, and front seating section and a back seating section for the restaurant, all of which were taken over by drinking college students late on a Friday night. There was a $3 cover to pay for the crappy cover band playing in the back room playing old Pearl Jam and Chili Peppers tunes. Wow, so some thing really don't ever change, including song selection.
Only saving grace of this bar was the beer selection. Seeing the beers they had on tap and the wide selection of micros and imports made us stay for more than just a round. Also, a wide selection of drafts including one handpump. The bartenders were average as far as friendliness goes, but one thing the one guy did pissed me off. I ordered a Stone IPA, so happy to find it offered somewhere in central PA. My friends asked me if I was drinking Stone Ruination IPA, and when I said it was just the IPA, the bartender who was right in front of us at the bar said that they're the same thing, the only difference is that the Ruination comes in the 22oz. bomber. WRONG! Ruination is a double IPA, you stupid college bartender! I feel being uninformed is better than being misinformed. Didn't try the food, atmosphere was nothing that would make me return.
So I guess if I was in the area, I'd still stop in occasionally to try a beer I've never had before, but otherwise I probably wouldn't bother.
2,048 characters
3.75
/5
rDev
+1.4%
vibe: 2.5 | quality: 4 | service: 3.5 | selection: 4.5 | food: 3
As a student at Shippensburg University, I was living in the town when Market Cross took over for a small pub that once held it's place. I had not, however, gone back until after graduation.
The inside is similar to the previous establishment, but extremely improved; it appears somewhat like an old motel and that's probably because it once was (and in a way, still is). The beer selection is exception though and the food is as good as British fare can be; which isn't very good to begin with anyway. If bangers and mash is your thing though, this is your place.
My favorite part is the "Passport" which is a small booklet that features each of Market Cross' beers by country and style. Each time you try a new beer, the bartender or waitress initials that selection. If you try enough beers throughout the year, you can win prizes; but the real fun is going for trying a beer from every country they feature, and those features are impressive.
All in all, for a sleepy college town, Market Cross is a great destination for an outstanding beer selection.
1,065 characters

3.88
/5
rDev
+4.9%
vibe: 2.5 | quality: 4.5 | service: 4 | selection: 3.5 | food: 4
Very good, though not the original. The atmosphere is not the same as the original, and is bland and generic. The food is delicious, and beer menu is identical to the Market Cross in Carlisle.
One complaint I have is that the it does not capture the the small English style pub as the original pub does. If atmosphere is not important to you, than this is a great place. The food and beer menu is mostly identical to the Pub in Carlisle, but since it's in Shippensburg, it's does not nearly capture the atmosphere.
If you are looking for a good meal, good beer menu, and good times, this is a great place, but it does not capture the atmosphere as the original in Carlisle, PA.
684 characters
3.75
/5
rDev
+1.4%
vibe: 2 | quality: 4 | service: 4.5 | selection: 3.5 | food: 3.5
Stopped by Shippensburg location about 2 weeks ago. Outside looks like a circa 1700's stone tavern. Inside looks like an outdated 1950's motel/restaurant. Please don't let that deter you. Go back to the bar and enjoy a very focused, yet diverse selection of PA microbrews and international bottles that rotates regularly. And the bartendress (?) on duty that day was very knowledgeable and liked talking about about beer. A very pleasant 3 beer lunch! No microbrews on tap from Market Cross - Carlisle because they have not yet obtained the proper liscensing. All in all, a great find in the nice little college town of Shippensburg!
633 characters
Market Cross Pub & Brewery in Shippensburg, PA
Place rating:
3.7
out of
5
with
7
ratings