Devil's Tower Lager
| Yellowstone Valley Brewing Co.
BA SCORE
78
okay
15
Reviews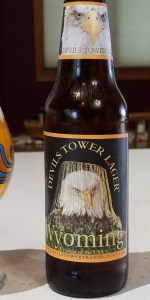 BEER INFO
Brewed by:
Yellowstone Valley Brewing Co.
Montana
,
United States
yellowstonevalleybrew.com
Style:
Vienna Lager
Alcohol by volume (ABV):
5.10%
Availability:
Year-round
Notes / Commercial Description:
This towering amber, designed for the devil in all of us, is made from Rocky Mountain malt and stream water. Rich in malt and lightly hopped. The aroma and taste will bering you back to encounter Wyoming.
Added by tavernjef on 04-07-2003
Reviews: 15 | Ratings: 24

2.21
/5
rDev
-31.4%
look: 3.25 | smell: 2.25 | taste: 1.75 | feel: 3.25 | overall: 2.25
From notes taken 04/05/16:
I bought this supposedly fresh only about a month ago. Slightly hazy, tarnished copper. Foamy, filmy tan head of lower retention. I tried some right away and it tasted the same as this review reports. Smell is tart, fruity, and harsh with apparent acidity, I am thinking all are off-qualities. Taste is the same way. If you told me this was some sort of experimental sour and not a Vienna Lager, I might have believed you. I've managed to drink the whole thing, without gagging, but it really should not taste like this at all. I'm not sure what I will do if I ever see this for sale again. Either run away, or buy it in hopes it is not really so strange and I had just purchased a bad or old batch the first time. Medium-bodied, not overly effervescent (which may or may not indicate it is not so old, after all), velvety, semi-crisp. Honestly, I want to give this beer a chance to redeem itself.
929 characters
3.45
/5
rDev
+7.1%
look: 3 | smell: 3.5 | taste: 3.5 | feel: 3.25 | overall: 3.5
Toasty, Fruity, Grainy, Earthy
Light copper with a touch of haze and a slightly beige, creamy, foamy head. Toasted malts, caramel and some dark fruit from the nose carry through to the flavor. Firm bodied, Devil's Tower is sweet up front with a layer of grainy malts. Crisp carbonation and a clean character accompany a citrus hop note. At the back end, it dries out with a grainy, earthy and metallic linger. An OK brew named in honor of a most impressive national monument, this lager drinks more like an ale.
As reviewed in BeerAdvocate magazine #104 (September 2015).
574 characters
3.56
/5
rDev
+10.6%
look: 4 | smell: 3.5 | taste: 3.5 | feel: 3.75 | overall: 3.5
I picked this bottle up just outside Devil's Tower Nat'l Park in Wyoming. The beer poured a clear golden color with white head that left a very nice lace. The scent carried hints of corn and grass....which can only mean Saaz Hops. The taste followed closely to the scent but with a sweet malt base. The mouthfeel is lighter in body with good carbonation. Overall the beer is definitely sessionable with the proper amount of salty snacks.
437 characters

3.33
/5
rDev
+3.4%
look: 3.25 | smell: 3.25 | taste: 3.5 | feel: 3 | overall: 3.25
12 oz. bottle, from recent US trip.
Slightly hazed, light copper amber color. Beige head, decent retention and lacing.
Smell of toasted malts, caramel and fruitiness.
Flavor starts a bit sweet, caramel malt, grainy with finish of earthy, leafy hops.
Medium bodied, crisp carbonation, slightest metallic after taste.
Easy drinking, smooth, but still kind of non-descript.
371 characters
3.56
/5
rDev
+10.6%
look: 4.5 | smell: 3.5 | taste: 3.5 | feel: 3.5 | overall: 3.5
3 finger foamy head with nice lacing on a crimson with golden hues murky body. Not sure of the freshness of this one but I did buy it at Devils Tower. Aroma is of malt, grain and lemon. The flavor is much heavier on the lemon for me. Initially it caught me off guard and was sour but as I got used to it I enjoyed it more. Otherwise a lightly toasted malt is there too. Medium body and moderate carbonation. Overall a decent beer. The age of mine may have made it more sour and lemony.
485 characters
3.03
/5
rDev
-5.9%
look: 3.5 | smell: 3 | taste: 3 | feel: 3 | overall: 3
12oz bottle, snagged at some general store just outside the national monument - got the impression this was contract brewed specifically for that outfitter
appearance: wicked label, pale amber body
smell: lots of toasted grain, buttery biscuit, no hops
taste: brewed with the waters of the yellowstone (pre oil-spill)...toasted grain, tastes like various midwestern crops (corn, wheat, etc) were condensed and crammed in the bottle, buttered biscuit. drinkable and rustic, felt appropriate for the setting but not something I need to consume again
mouthfeel: average
overal: an average lager with a neat label
614 characters
1.24
/5
rDev
-61.5%
look: 3 | smell: 1.5 | taste: 1 | feel: 1 | overall: 1
Wow, this beer was horrible. I almost think there was something wrong with it. I could only manage 3 drinks of it and had to pour it out. I can't even begin to explain how bad this tasted. Here I was expecting an amber lager based on the description on the bottle but that was not at all what this beer was.
307 characters

3.25
/5
rDev
+0.9%
look: 3.5 | smell: 3.5 | taste: 3 | feel: 3 | overall: 3.5
A pale amber and gold color with good life eventhough these bottles have made a long journey to my house by car!
The aroma has an herbal, slick maltiness with some minor honey sweetness and a light-sour yeastie scent. Dark, dry wheat and sharp hop edge.
A rather malty lager with a brown sugar-like sweetness which is dried out by some nice dark-wheat cripness and good, slightly sour bite. Decent balance for the style.
I pretty nice lager, balance is good, easy drinking and bonus points for the fact it traveled so well!
529 characters
1.94
/5
rDev
-39.8%
look: 4 | smell: 2.5 | taste: 1.5 | feel: 2 | overall: 1.5
12 oz bottle poured into a pilsner glass. No date or info.
A - A tall pour created a massive four-finger tall white head with shifting loose bubbles. Steady carbonation streams up from the base through the slightly cloudy golden orange color. Good head retention and decent sticky lace clings to the glass.
S - At first whiff it smells like a cream ale with a hefty helping of honey. The malts seem light and sweet with a little in the way of hops. It's an average aroma at best with not a lot going on.
T - Immediately it tastes off. I'm picking up cooked corn, vegetal dimethyl sulfide and aceteldahyde green apple tannic astringency. It's not good tasting at all and I'm pushing myself to press on with the review. Minor malt sweetness backs up the bad off flavors. No hops at all in the flavor.
M - Medium-light bodied and fairly smooth with a carbonation prickle to the finish, the DMS and tannic astringency are no good in this making the mouthfeel off-putting. It's nearly destroyed.
D - This beer isn't SO awful it can't be consumed but it's definitely a drain-pour for me. It's got a few off things going on it in and needs some re-working. I'm sorry to see it's already got a decent rating on here but this bottle is just bad. If it wasn't for the other good reviews I wouldn't be following the instructions on the neck band telling me the taste will, "bring me back to encounter Wyoming." I hope the Black Widow I have is better. Unfortunately I also see the other reviews are years old so I could be having something incredibly old. Impossible to know without a bottle date though.
1,598 characters
3.3
/5
rDev
+2.5%
look: 3 | smell: 3 | taste: 3.5 | feel: 3 | overall: 3.5
Peach in color that shines a bit more gold around the edges. Thin head with poor retention.
Interesting aroma that is both fruity and buttery. They don't really mesh well but it doesn't smell bad either.
Flavor is heavy on the fruity sweetness. Pear, green apple, with a slightly dry buttery finish.
Mouthfeel is nothing interesting and is on par for the style.
Nice, drinkable, refreshing summer brew.
As a side note this beer has the coolest label I've ever seen and would be worth purchasing a bottle just for the label.
528 characters

4.1
/5
rDev
+27.3%
look: 4 | smell: 4 | taste: 4 | feel: 4 | overall: 4.5
Had this beer at the base of Devil's Tower on a Geology field camp summer trip. Spent the afternoon hiking around and part-way up the tower, so my friend and I were rather spent when we pulled up to this touristy general store. Picked up two beers, sadly we had no mugs in which to pour them.
Could not tell the appearance (see above), but the bottle had a great design, I mean COME ON...it's the fucking Devil's Tower with an EAGLE superimposed on it The only way they could've made it better would be to have the pledge of allegiance somewhere on the bottle! The smell was sweet and malty, as was the taste. I could've had 4-5 of these brews, but time was limited as we were traveling in a group. To say the least, it certainly hit the spot and we left the store better off than when we had arrived.
805 characters

4.29
/5
rDev
+33.2%
look: 3 | smell: 4 | taste: 4.5 | feel: 4.5 | overall: 4.5
A: Golden color, small white head. Slight lacing. Nothing special about appearance.
S: Sweet, caramel, brown sugar
T: Taste is sweet, caramelly with slight hop aftertaste
M: Mouthfeel is light, easy drinking
D: Good summer beer, very easy drinking but flavorfull
266 characters
4.03
/5
rDev
+25.2%
look: 4.5 | smell: 4 | taste: 4 | feel: 4 | overall: 4
Purchased August 2006 at Devil's Tower Trading Post.
Brewed from the waters from the Yellowstone River,
Fermented in the shadows of the majestic Beartooth Mountains,
Milled under the rim of the Cretaceous Eagle Sandstone,
an ancient Beach in Montana!
According to George Moncure Managing Partner, Chief Brewer " we sell Devil's Tower Lager only in Wyoming (except for shorts in our Billings, Montana brewery) and it is being sold year-round.
Pours a clear gold. 3-4 fingered dense head that hangs on and fall leaving lace on the Grindstone pint glass. Sweet malt dominates aroma with slightly understated hop flavor. Actually not far from balanced. Taste is clean and malty with medium body and almost slick mouthfeel. Nice carbonation level. I you let it warm (55°+) your going to sense a spicy "heat" in the flavor. Light hops dry the finish. Very nice job not quite up to my standard (Grindstone's Vienna Lager) but very drinkable and well brewed.
Thanks Ally and Joe, special brew from your special trip to Devil's Tower.
1,040 characters
4.3
/5
rDev
+33.5%
look: 4 | smell: 4 | taste: 4.5 | feel: 4 | overall: 4.5
My first taste said...this is a good lager. Nice head, somewhat cloudy appearance(which I don't take points off for) and an overall malt dominated taste backed up my early impressions.
After drinking a couple of more samples, I say this one is well tucked in the very drinkable category. Good show, Yellowstone Valley Brewing!
PS: It's retired? Mystores just got it in!!
379 characters

3.75
/5
rDev
+16.5%
look: 3.5 | smell: 3.5 | taste: 4 | feel: 3 | overall: 4
Notes from a trip to S. Dakota and Wyoming May 2001 Purchased at Devil's Tower.
Color is a clear amber, with a medium sized foamy head that was tightly bubbled and had some divets. Smell is light of mostly malt and a little hop presence. Taste is lightly roasted malt that is smooth and sweet with well balanced hop, drying the finish slightly. Pretty good drinker, smooth and light.
Label has a eagle head super-imposed over Devil's Tower and states "Rich in malt and lightly hopped, the aroma and taste will bring you back to encounter Wyoming" other side of the label states "....made from Rocky Mountain Malt and stream water."
Looking back at these notes does bring it all back. I can also tell I was just starting out with getting more details down, where as before I would just put things like malt 4, hop 1, good, smooth, clean, sharp etc.. now I would love to drink these again to see how my taste and palette has changed.
941 characters
Devil's Tower Lager from Yellowstone Valley Brewing Co.
3.22
out of
5
based on
24
ratings.