Whistle Binkies Olde World Pub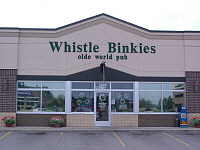 PLACE INFO
Type:
Bar, Eatery
3120 Wellner Dr NE
Rochester
,
Minnesota
, 55906-4902
United States
(507) 289-9200 |
map
whistlebinkiespub.com
Notes:
No notes at this time.
Added by slyke on 04-17-2005
Reviews: 11 | Ratings: 14
Reviews by slyke:
4.18
/5
rDev
+4.8%
vibe: 4 | quality: 4 | service: 4 | selection: 4.5 | food: 4.5
The atmosphere here is very comfortable. This a popular bar that has been in business for a couple of years in Rochester. A second location on the other side of town is opening in the next few months. If you aren't at this place by 5:30 on a Friday evening, don't bank on a table. There is often live music mid-week and on Saturdays.
The quality of beer is pretty good with craft brews well represented, but tempered by every variation of macro available in these parts.
Service can be hit or miss. There are a couple of excellent waitresses, a couple who leave much to be desired, and the rest give a good service.
Selection of beer is the best in Rochester. Not many other places to go for Belgians.
Food is very good with a variety of sandwiches and burgers as well as several "continental" offerings such as Irish Stew, Fish and Chips, and Bangers and Mash. Most of the year a walleye special is available on Wednesdays. The appetizers are pretty good here as well - especially the swordfish strips.
Value is good - taps range between $2-3.50, bottles are around $4. Food is generally $7.50-15.00
This is a regular happy hour stop for me - a great place to relax over a pint.
1,197 characters
More User Reviews:
4.15
/5
rDev
+4%
vibe: 4 | quality: 4.25 | service: 3.75 | selection: 4.75 | food: 3.5

4.6
/5
rDev
+15.3%
vibe: 4.5 | quality: 4.5 | service: 4.5 | selection: 5 | food: 4.25

4.54
/5
rDev
+13.8%
vibe: 4.5 | quality: 4 | service: 4.75 | selection: 5 | food: 4.5
Love this place! This is my regular bar in Rochester. The staff is great! The selection is top notch for SE MN. Great food. They have 2 dollar deals every night of the week! High tops and regular tables. Patio out back in the summer. They have beer from many local breweries and international. If you love great beer and your in Rochester you got to make it to Whistle Binkies north!
383 characters

4.28
/5
rDev
+7.3%
vibe: 4 | quality: 4.5 | service: 4.5 | selection: 4 | food: 4
I have been going to Binkies since it first opened in Rochester and it is probably one of my most frequented places to grab a bite and a beer. The food is typical bar food (for the most part) and it is all great. The beer selection is really good too, I'm not sure how many taps they have but it has to be 15-20 and then their menu of bottled beers is longer than the food menu. Worth a stop for sure if you are in the neighborhood. The owner is also a frequent patron, I see him a both locations just about every time I am there which is something you don't see at many (if any) bars/grills in Rochester.
605 characters

3.95
/5
rDev
-1%
vibe: 3.5 | quality: 4 | service: 4 | selection: 4 | food: 4
(Visited 03/2011): Whistle Binkies is located on Wellner at the crossroads of 63 and 22 on the north side of Rochester. Parking is plentiful in the plaza.
The interior is similar to most typical Irish/sports bars. Wooden bar in the center with table seating everywhere else. Reddish-brown walls with TVs, beer signs/posters, hanging lights and nick-knacks. My visit was on St. Patrick's Day so that added a layer of decor as well.
As far as beer selection, Whistle Binkies has 16 taps with offerings from the likes of Surly, Summit, Bells, Schell and several more common domestics and imports. The bottled menu is well over 100 broken out by region. Many craft brewers are represented like Surly, Bells, Southern Tier, Brooklyn, Deschutes, Rogue and many more. Imports from the UK, Canada, Germany, Belgium, and the Czech Republic and others too. They offer a sampler as well.
Service on a somewhat busy lunch was good. Our server had a good grasp of the seasonal and craft beers available and was attentive throughout our meal.
Whistle Binkies has a pretty robust pub-style menu. Fish & chips, sandwiches, soups/salads and the like. My colleague and I both enjoyed our meals.
Overall this is a pretty good spot to hit in the Rochester area.
1,247 characters

4.15
/5
rDev
+4%
vibe: 4 | quality: 4.5 | service: 3.5 | selection: 4.5 | food: 4
Ever since I got into the craft brew scene, this has always been my favorite local choice. The atmosphere is good, with tvs located around the rooms, usually with some local sporting events. I understand that this was their first store, and the lack of space was improved with the Lake location, but sometimes this place has a tendency to get a little crowded. Lots of tables and high tops, and a nice side room to hangout next to the fire place, but I'd like to see more bar stools (if there was room.) The service is good...if you are sitting at the bar. The bartenders know their beer (one guy is a rep or something for Founders, Bells, Great Lakes, etc.) so he is fun to talk beer with. The waiters and waitresses are few, IMO they need a few more. Like I said before, it tends to get a little busy in there and sometimes they seem understaffed. The best part about Whistle Binkies is their selection of beer. They have an entire beer book broken up by locations. They have beers from all over the world. They also have between 10-20 taps at all times, some with local beer and some from other states and international. They also have very good daily specials, with specials on certain taps and bottles. What's also nice about their tap selection is that they DO NOT have Bud, Bud Light, Miller, etc, available on tap. My favorite part about it is that they also seem to get extremely limited brews in, either in bottles or on tap (last year they had Surly Darkness on tap and you could get a "Das Boot" of it for $20!! Their food is also very good, with you burgers, sandwiches, salads, steaks, pastas, etc. Very reasonably priced. If you are in Rochester for a visit, and you love good beer, stop into Whistle Binkies!
1,724 characters

4.8
/5
rDev
+20.3%
vibe: 4 | quality: 5 | service: 5 | selection: 5 | food: 4
It may not look like much from the outside but don't judge a book by it's cover. This is the best place to sample and enjoy beer in Rochester.
They also have a great menu with some very unique items. I've never had a bad meal there. Binkies also boasts an ever changing selection of tap brew and the bottled selection cannot be topped.
The 'tenders and crew are always friendly and helpful. If you ever find yourself in Rochester, MN, do yourself a favor and drop in for some great beer and food at Whistle Binkies Olde World Pub.
534 characters

4.4
/5
rDev
+10.3%
vibe: 4 | quality: 4.5 | service: 5 | selection: 4 | food: 4
Made a stop here for lunch and a beverage while in Rochester for business.
A short jaunt from downtown Rochester it is located inconspicuously in a bland strip mall-development behind a gas station. While the location is bland the inside is a pleasant surprise. Dark woods, a long wooden bar, and plentiful seating greet you. I sat at the bar where I was greeted promptly. Tap selection was very good for this area including selections from Surly, Mardsous, Rush River, Bells, Summit, Tyranena, and others. Loads of bottles all neatly organized in a menu by country of origin. Nothing new jumped out at me on the taps so I had a personal stand-by; Tyranena Bitter Woman IPA. Craving some grease I ordered their fish and chips and I wasn't disappointed.
Next time I find myself in Rochester I will most certainly visit Whistle Binkies again.
844 characters
4.2
/5
rDev
+5.3%
vibe: 4.5 | quality: 4 | service: 3.5 | selection: 5
Beer selection is still excellent & varies. The wait staff has been rather surley lately...which they could get Surly beer on tap...might help the attitude. I think the problem is too few wait staff for the business they do. They don't have time to interact except with the 'regulars'!
The North location needs more space or a way to accomodate standers while waiting for a table or a bar stool. Maybe a 'stand' bar could be added in the 'library'. This entire weekend leading up to St Patricks Day should be incredible. The popcorn & the Guiness draws with a beer foam shamrock on each head is a professional touch not found at any other bars I have been to. Looking forward to more outdoor beer fests this year at both stores.
728 characters

4.05
/5
rDev
+1.5%
vibe: 4 | quality: 3.5 | service: 4 | selection: 5 | food: 3.5
i love to go to this bar it is by far one of my favorites with a huge selection of beer both ontap and bottles. and most any style you would want to try lots of ipas and few belgiams but a good mix none the less. service is always good never had a complaint bout that. food is ok not great but ok ive only ate here once or twice they do make a awsome ruben sandwich mmm ruben. prices range from $1-$3.50 on taps and $2-$10 on bottles with the average bottle at about $3.50 with the opening of a second location on the south side of town not to far off i wonder if service will stay the same only time will tell
610 characters

3.35
/5
rDev
-16%
vibe: 3 | quality: 4 | service: 3 | selection: 3 | food: 3.5
Whistle Binkies is one of the better beer bars in Rochester. The atmosphere is like an English pub with American influences. There are signs on the walls from local micros like Summit, Lienies, and of course Guinness, but most of the decor is art work. The quality of the beer has always been good. However, I have only been there a few times, and have always ordered offering on tap so I am not sure about the quality of there bottled offering, including 30-40 seasonals. The service has always been prompt, and friendly. The selection is the best in Rochester with sixteen taps, and around 150 bottles. The food is good, but not great. I've heard others praise the food, but for me the beer is what makes Whistle Binkies stand apart from other places in town. The prices are resonable, $2-3.50 for something on tap, with bottles being a little more.
851 characters
4.13
/5
rDev
+3.5%
vibe: 4 | quality: 4 | service: 4 | selection: 4.5 | food: 4
Atmosphere: Pretty decent. They frequently have live bands and "theme weeks" (such as Bock Week and Octoberfest, etc). Free popcorn. Slightly private area in the back. Pretty large bar area. As all non-purely-bars in Rochester, it is smoke-free.
Quality: Pretty good. The food is generally well prepared, fresh, etc. Beer is always served cold but not always with glasses. I've had a few beers that weren't so fresh, but generally, the beers seem to rotate well.
Service: Usually good. Occasionally a new person won't know the beers very well, but the general service is good, even for large groups.
Selection: Beer selection is very impressive. Something like 175 beers. Some of the choices seem curious (they have Sam Smith Oatmeal Stout, but not Imperial Stout, Lots of "light" beers from a brewery, but not so many "heavy" beers from the same brewery. Very minimal Belgians. Too many variants on the same mass-produced beer for such a fine selection otherwise, etc). I suppose I am mostly nit-picking since the beer selection is still very good and certainly among the best I've ever seen in a restaurant.
Food: Pretty typical "pub food" with an Irish twist. Lots of hamburgers and sandwiches, fish-and-chips, shepards pie, etc. Most Thursdays, they have awesome jambalaya.
Value: The beer prices are very good. Typically $3 for a pint, $3.5 or $4 for a bottle. Food prices are in the $10ish average range, pretty much as expected. The typical jambalaya night is about $20 with 3 beers, an excellent value.
Update: They've really started to rotate their seasonals a lot better so it is less likely you'll get an old beer from last season. Definately a plus. This also means a better variety - also a definate plus.
1,738 characters
Whistle Binkies Olde World Pub in Rochester, MN
3.99
out of
5
based on
14
ratings.