Dismiss Notice
Extreme Beer Fest:Los Angeles
Join us December 9th in Los Angeles for the ultimate throwdown of craft beer creativity!
Learn more...
Dismiss Notice
Skytop Steakhouse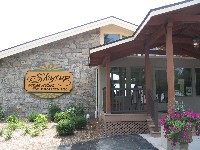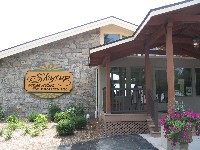 PLACE INFO
Type:
Brewery, Bar, Eatery
237 Forest Hills Dr
Kingston
,
New York
, 12401
United States
(845) 340-4277
// CLOSED //
Notes:
No notes at this time.
Added by BeerAdvocate on 04-18-2005
HISTOGRAM
Ratings: 11 | Reviews: 11
Reviews by donniecuffs:
2.42
/5
rDev
-34.9%
vibe: 4 | quality: 2 | service: 2.5 | selection: 2 | food: 3
After I visited the debacle otherwise known as Hyde Park Brewing Co., I was told that the head brewer there was also the head brewer at this establishment, and while some people may have been scared off by a bad experience at the former, I sincerely wanted to give the ownership group a second shot, so I made my way over to this place.
A: If you can't find this place, you need to have your head examined, because the sign is written in 'HOLLYWOOD' -size letters on the top of the cliff on which the restaurant resides, and hence visible from the highway. Upon entering, you get the feel that these guys converted an old Mount Airy Lodge into a brewpub, but admittedly it seems to work. It's a warm atmosphere, with big windows overlooking the Hudson Valley, and an outdoor patio which I expect is probably a great place to relax in the summer months. It was a light crowd when we entered for a late lunch mid-afternoon, but the crowd was a healthy mix of down-to-earth locals and business people.
Q: Unfortunately, I was not impressed with the four beers in my sampler, save one: the black lager, which may have just been a re-hash of the one quality beer that I encountered at Hyde Park (schwarzbier).
SRV: Our waitress seemed more annoyed (possibly because we arrived after the busy lunchtime rush, and thereby cut into her break time) than helpful, and seemed to know nothing about the beer being brewed there.
SEL: Only four beers on tap, and one was a 'light' beer.
F: The steak sandwich I had was decidedly average, with nothing unique to report about it. This came as a surprise, given the fact that it's a 'Steakhouse' after all.
Given the quality and selection, both in beer and food being offered, I think the prices that they were charging were a little on the high side. Maybe this was a reflection of the cliffside view, rather than any other feature of this location. In summary, unfortunately, I won't be rushing back to this establishment either.
1,972 characters
More User Reviews:
3.88
/5
rDev
+4.3%
vibe: 4 | quality: 4 | service: 5 | selection: 2.5 | food: 4
Stopped here for dinner on our way to Ommegang & Belgium Comes To Cooperstown. It's real easy to get to off the highway, which was great for our convoy (the last thing we wanted to do was get lost). Walked into a giant room w/a large bar inside & was greeted by the hostess. There was no wait for seating (it was about 5PM) & we got to sit on the patio which gives you a spectacular view of the surrounding area.
There were only three house beers on tap which was disappointing, the Winkle Lager (Pils), Skylight Golden Lager (Helles), & Iron Mitts Dry Irish Stout. From what I recall, the rest of the selection was rather unimpressive so we stuck to those three. The Winkle was by far the best of the three & complimented our meals nicely. The Helles was a little too light, the Stout nice & drinkable.
The food menu was typical steakhouse (for the most part we stuck to burgers) and reasonably priced. There were no complaints about the food. Our server was excellent, especially since she had to deal w/such a large group (over 10 people). She even helped us out w/some directions before we got back on the road.
This was a great find for us since it broke up our four plus hour trip to Cooperstown & served good food at reasonable prices. I personally would have liked more house selections, being a brewpub & all, but that's really my only critique. I would go back if any future trips upstate led us through town again.
1,430 characters

3.65
/5
rDev
-1.9%
vibe: 3 | quality: 4 | service: 4.5 | selection: 2.5 | food: 4
UPDATE: No longer serves its own beers, selection is medocre, plus it smelled like crap last time I was here.
Visited this place twice over the last week. Located on a side of a hill not much more than a few minutes from the NY Thuway and the Rhinecliff-Kingston Bridge, it is fairly easy to get to from most areas in the mid Hudson Valley region.
Walk in the door and greated by a large bar with plenty of seats. The room has a ski lodge feel to it, a fireplace and, a good view of Kingston.
All but one beer served were some lager style. I had the Black Lager and the Pilsner. Both were nice. Beer was served in clean pint glasses.
The bar tenders were friendly and prompt. Food was prepared pretty quickly after ordering.
Selction of beer was all of their own beers. As noted before, mainly lagered styles. The beers were good, nothing to write home about but tasty none the less.
Food was good, had a steak sandwich one night and a burger another. Most entrees were in $20 range, IT IS a Steak House. However, sandwiches were much more reasonable.
Overall, a very nice place. And one I will certainly make in my "Rotation" while moving to the area.
Cheers!!!
1,171 characters

3.93
/5
rDev
+5.6%
vibe: 4.5 | quality: 4 | service: 4 | selection: 3.5 | food: 4
A short 5 minute drive from the NYS Thruway exit 19. It's located on top of a hill located next to an old motel. Upon entering there is a large bar on the left that can seat about 20+ people. The room is a light green color and is open an airy since large windows overlook a patio in the back. There is a separate conference room off the back of the restaurant too.
There were six beers on tap - Skylight Golden Lager, Aidan Michael's Amber, Highland Diesel Scotch Ale, McNutts Bitter (ESB), Winkle Lager, and Iron Mitts Irish Stout. The three beers I had were of decent quality with the Scotch Ale being my favorite.
Since it was a late lunch, we had some appetizers and a pizza. The food was good but not great. The hangar steak skewers appetizer was tasty. Service was even keeled and not rushed. The waitress understood the beer offerings.
This place was a nice stop and would like to visit again to try some of the other beers and have a dinner.
956 characters
4.25
/5
rDev
+14.2%
vibe: 3.5 | quality: 4 | service: 5 | selection: 4 | food: 4.5
Stopped in on kind of a weird night to go visit a brewpub (Wednesday), but I was in the area and wanted to check this place out. The restaurant is up on a hill - hence the name - overlooking area scenery. There weren't many people in the restaurant or at the bar (not surprising for a Wednesday & the only reason I gave it a 3.5 - for lack of atmosphere at the time I was there, not a bad atmosphere), but the place did have a warm and welcoming feel to it. I sat at the bar, which was big and spacious, along with the seating area surrounding the bar and adjoining dining room. The brewery was tucked back behind the dining room and not visible from the bar, which I thought was a little disappointing, but is logistically understandable. I was welcomed and attended to by the bartender, who had only been on the job a couple of days. She immediately provided me with their beer menu and proceeded to explain some of their offerings, which I though was nice. There were 6 or 7 different offerings, and I decided to start with a nice, crisp czech-style lager, which was very good. Went with a spinach & gorgonzola salad, and this paired with the pilsner very nicely as the menu stated. There were a couple of different entree specials and 25 cent wings at the bar to go along with a nice selection on the menu of starters, soups/salads, entrees and burgers. To finish the night, I decided to check out their "barrel 28" offering. Apparently this is a batch that the brewer gets to experiment with and change as he feels necessary. On this particular night, it was an IPA, and it finished off the night well with good bitterness and floral flavors. I thought the price of my meal was reasonable, however, I did sit at the bar and only had a salad.
This was a very clean and spacious establishment with quality food and beer. I would like to get back and try it on a more regular night with a couple of friends sometime. Even though it was so quiet, I had a very positive experience and was well attended to. The bartender seemed to be very interested in the beers that they were offering and what I thought of them. She was overly generous with here service and conversed with me the whole time I was there, which was nice. I say this place is definately worth a try if you are in the Kingston area.
2,302 characters
2.08
/5
rDev
-44.1%
vibe: 1.5 | quality: 2 | service: 1.5 | selection: 3 | food: 2
A group of six of us went a few weeks ago and it was the worst place we'd eaten in some time. While it's nice looking and has a nice view, it's noisy (probably due to the large concave ceiling). It was crowded and noisy. The tables were too close together and customers kept bumping us as they got up from their tables. One dish was completely incorrect and the rare fillet mignon that was ordered was served well done. The meals that were served correctly were not particularly good, especially for the price. Then we were asked to move because we were seated at a table that was reserved for another party. To be asked to move because of a mistake on the part of the restaurant is completely unacceptable. Poor service, mediocre food and poor atmosphere means I won't be going back.
784 characters
4
/5
rDev
+7.5%
vibe: 4 | quality: 4 | service: 4.5 | selection: 3.5
Went in on a Sunday around 2pm, they had the tailend of brunch being served. No other food available. Unfortunately, if you didn't get the brunch buffet, you had to wait until 4pm for dinner to start. So, we didn't get any food.
According to the bartender, they brew their own beers inhouse and not over at the Hyde Park Brewpub (although owned by same group). He also stated they tweak the recipes and use different names from their counterparts, although, they do serve many of the same beers.
On tap this weekend, was the Van Winkle Pilsner, a Scotch Ale, Irish Stout, Amber and a Hefe seasonal. All were fresh and pretty tasty. Nothing overly unique about the seasonal, but it had a nice enough flavor.
The Amber and the Scotch were the best. They do offer a sampler of their beers, which we tried at first, then went on to pints. Although I didn't get one, their growlers only cost $10, that is fully filled. Nice deal.
Hardly a huge selection of beers, but the somewhat less common Scottish style and the Irish Stout were pleasant surprises.
The bartender was very nice, struck up a conversation re local beers and Keegan's, just down the road. He offered a tour of their brewery to us, which we ended up declining, but was a nice offer...I don't think I was ever offered a tour at any other brewpub before.
Good view, literally overlooking the highway. They have an outside deck. Also, pretty cool, they do comedy nights every several weeks for like $15 a ticket.
Will stop back, when in the area, and will try the food next time.
1,557 characters

4.08
/5
rDev
+9.7%
vibe: 3.5 | quality: 4 | service: 4.5 | selection: 4
With business down in Middletown and a free Sunday I decided to head up north and check out Skytop Steakhouse& Brewery. Glad I took the time to do so.
I didn't know what I was in for when I drove up the winding hill to the Brewery. My initial impression was mid 50s tourist hotel and that I must be lost-however, one can see the brewery clearly from the parking lot.
When I walked in what blew me away were the large bay windows overlooking the beautiful hills of trees in their full fall glory-with the bar located to the left.
I thought the interior to be lacking in character-or should I say warmth-but then again it has a great view.
When I spied a stack of Bud coasters on the bar I was more than a little worried-however, I quickly scanned the taps and didn't notice a Bud tap.
I tried a sampler that consisted of:
Skylight Golden Lager
Winkle Lager (Pils)
Aidan Michael's Amber Lager
Barrel 28 Brewer's choice (Oktoberfest)
Highland Dressel Scotch Ale
Cliffside Black Schwartzbier
I really enjoyed both the Scotch Ale and the Schwartzbier and had a ½ pint of each.
Since I was there on Sunday October 23rd at a time (Until 2:30pm) that brunch was served. I inquired about ordering off the regular menu but this is not allowed during brunch-sorry I prefer not to eat brunch without some prior knowledge of the food. No fear however I found a Salvadorian Restaurant in Kingston.
The service from the young cute barkeep was very good.
They have a happy hour Monday-Friday from 4-7pm with $2.50 pints. I am sure I would not want to drive down the hill after a few pints.
If in the area I would certainly stop by.
1,660 characters
4.45
/5
rDev
+19.6%
vibe: 4 | quality: 4.5 | service: 5 | selection: 4 | food: 4.5
Found my way into Kingston and up the hill for lunch today. easy to fin - head west on 28 off the traffic circle from the Thruway, go about a mile and a half, take a right at the sign and follow the signs up the hill. Very nice redo of an obviously 1950/1960s room - new tables, walls, redone woodwork with a large half-round bar to the left as you enter. Plenty of outdoor seating to enjoy the view.
The beers were uniformly tasty - brewmaster John Eccles really knows his way around a lager. The Winkle Pils had a great noble hop bitterness to balance off a sweet maltiness - a growler of this came home with me. Tried the sampler and even the light was quality - still had some of that Pils character. The amber was like a darker less sweet Pils in character, somewhere between a Kolsch and Helles. The dark lager has all kinds of dark fruity flavors along with a balanced bitterness; the Scottish had a very noticable Weyermann rauchmalz flavor which was appealing as hell alongside a solid underlying maltiness. The hefe was more like a kristall, but still had a great balance of clove/banana (tasted like Weihenstephan yeast was used). Sampler was (I believe) $5 or $6 for six 5 oz. samples; pints were $4.
The food was excellent - had a Mexican salad with lemon-lime-cumin vinaigrette that was large, fresh, and VERY tasty - chicken breast perfectly grilled, big old splotch of fresh and well-seasoned guacamole on the side, and excellent, flavorful fresh salsa. The service was friendly, attentive, and efficient - couldn't ask for more.
October 2005 update: The Octoberfest marzen was just beautiful - clean, great balance, and quaffable. The food was outstanding - steaks were flavorful and perfectly cooked, great salad and veggies, garlic mashed potatoes - and the service was impeccable.
I really liked this place - big time recommendation, especially if you're into lagers.
1,902 characters
4.16
/5
rDev
+11.8%
vibe: 4 | quality: 4.5 | service: 4 | selection: 4
Weekly, when I could remember, I'd call Skytop and ask, "Are you people making beer, or what?", to whoever answered the phone (most reminiscent of the calls I made to the Johnstown Brewing Company during their start up a few years back). Oh, it's in the tank, Ah, a few weeks out you say, Hmmmn, waitin' on some license or other, I see, I see. Worse yet is spotting the place sittin' atop the side of the mini mountain, every time I get off the Thruway at the Kingston exit, knowing that there's just no beer to be found here...
Long damn day. Long damn weekend, actually, that whole Vermont Brewers Festival thing. Shooting down the Thruway from Albany seeing those "NYC many many many many miles away" signs, Rapopoda close behind, heading to Skytop, finally open. Secret hidden road all the way to the top, motelish thing over there detatched, brewpub over here.
The main room here is an arch "A" frame chalet, with an angled "U" shaped marble topped bar seating about 20, with a similar shaped smaller bar island inside holding glassware & booze. Pale green & yellow ochre walls. A dozen plus tables held in a pen along the wall of windows facing south, overlooking the 9 table exterior deck and the Hudson Valley below. A large wooden "U" shaped wine rack runs the wall behind the bar wrapping around a flat screen TV. Candles on the mantle of the fireplace cut into a stone wall in the corner over there, mosaic tile chandelier and lighting fixtures mounted on the walls, drop cone colored glass lamps over the bar, exposed ductwork, hardwood floor around the bar and the seating areas carpeted.
The main dining room to the rear holds two dozen tables and a glass front room with mash tuns & fermenters. Some brick and Red & Orange painted walls, as well as large windows to the back giving you the good view south.
They had 6 beers on. There are 4 standards (Skylight Pale Lager, Aldan Michael's Amber Lager, Winkle Lager Pils, Highland Diesel Scotch Ale), a seasonal which they call "Barrel 28" (rotates every 2 months, this time around it's a Hefe), and then they have a rotating dark beer, which they change out every 4 months. Currently, it's the Schwartz (I believe the Porter is next and then the Stout).
The Aldan Michael's Amber Lager was an excellent malty Alt, the Cliffside Black Lager smooth & roasty, the Highland Diesel Scotch Ale more smokey than malty, the Skylight Pale Lager a nice Munich Helles.
Beers were solid, fresh & clean, and service was good. I'll be getting a meal here & another round or two soon enough as work floats me back North again.
2,584 characters
4.2
/5
rDev
+12.9%
vibe: 4.5 | quality: 4.5 | service: 4 | selection: 4 | food: 4
A-frame type building on top of a hill, with very nice view of the countryside from the dining area and porch. This place has tons of space. Big bar that sweeps around in a semi-circle, with one plasma TV on the wall in the middle. There were six out of eight taps on for this visit, and all were well made, yet nothing assertive. Lower ABV beers, with a focus on lagers. The food is on the upscale side, but very good. I do recommend a visit, for both food and beer. And the barkeep was a Tom Cruise wannabe who competes in Vegas every year. He twirls a mean cocktail!
569 characters
Skytop Steakhouse in Kingston, NY
Brewery rating:
0
out of
5
with
0
ratings