Café De Kuppe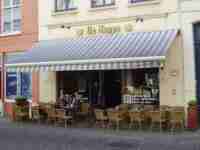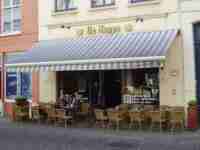 Bar
19 Kuipersstraat
Brugge
, 8000
Belgium
+32 50 33 39 20 |
map
cafedekuppe.be
Notes:
Reviews by uturn:

More User Reviews:

Lisa22 from Colorado
4.4
/5
rDev
+17%
vibe: 4.25 | quality: 4.5 | service: 4.25 | selection: 4.5
A lot of good bottles divided by region, including local, served with the proper glass, however only a few taps. I like taps.
Jan 01, 2016
simoen from Belgium
3.21
/5
rDev
-14.6%
vibe: 3 | quality: 3 | service: 3.25 | selection: 3.5
Dec 28, 2014

BlackHaddock from England
4.01
/5
rDev
+6.6%
vibe: 3 | quality: 4 | service: 4 | selection: 4.5
One of the few bars in Brugge that isn't 'chocolate box' pretty. In fact it looks like a run down cafe during the day, at night it comes alive a little more.
Wicker chairs and tables outside, stools along the bar inside as well as a few tables and chairs, very basic and unpretentious.
100 beers to choose from, the slightly tacky yellow writting on the front windows proclaim the beer number, my only complaint.
Expect to find old flower power drop outs, smokers, lost souls and paperback readers during the day, the books don't come out after dark.
Nov 21, 2009

JohnfromDublin from Ireland
3.8
/5
rDev
+1.1%
vibe: 3.5 | quality: 4 | service: 3.5 | selection: 4
Visited this bar on Saturday 21st May 2005 at about 5pm. Tables outside, but a bit chilly for that so headed indoors. Was not fussed about the marble mosaic floor, but liked the fact that customers could share the space at the far side of the bar, and face out torwards their companions. I had a Tripel Karmaliet which was served by a pleasent male barman. He had Gary Moore "Still Got The Blues" album on at a nice volume, which also helped the atmosphere. Very good beer menu clearly laid out and a very pleasent if not that atmospheric bar. Would like to see what it was like at night, but never got the chance. Good to visit.
May 24, 2005
TheLongBeachBum from California
3.14
/5
rDev
-16.5%
vibe: 3 | quality: 3 | service: 3 | selection: 3.5
After a large bowl of Spaghetti Bolognese and a few nicely priced beers at the "Keldercafé De Zolder" it was time to head back into Brugge and think about getting a train back to Ostende. Wishing to avoid the usual bars that my friends and I had done during many visits to the 'Venice of the North' over the past 12 years, we once again found ourselves relying on the UK's Beer Ambassador to Belgium, Tim Webb, and his trusty 4th Edition (soon to be revised) of the Good Beer Guide to Belgium & Holland. The "Kuppe" on page 255 seemed to fit the bill; it was on the general way into town, not far the Zolder and was a "newbie" for all in our party.
Located on Kuipersstraat, just off the main Markt and opposite a strange statue cum sculpture, the exterior is nothing special; a white and green striped awning covers the entrance and the words "De Kuppe" in gold colored lettering above it do little to stop the passing beer-o-phile. However, the large windows either side of the recessed entrance doorway both have the words "100 soorten bier – bières différentes – kinds of beer" painted near to the lower window sills, as well as pink neon Leffe and Hoegaarden signs. It was night-time and dark when we came here but there were still a few whicker tables and chairs outside, but everyone drinking here was inside. I would still most probably have walked past this place if I had not been specifically looking for it.
Once inside the bar runs down the right hand side, there are tables and chairs randomly situated around the interior on several levels. Service was a little slow to recognize our entrance and coming to serve us. I counted some 70+ beers on the Menu, before it was my turn to order a beer and I got distracted. I duly ordered a Klooster Van Viven, a 6% Abbey Dubbel of sorts from De Proefbrouwerij, and one which I had not seen before, so there are some interesting untried beers that may pique the radar of beer geeks. Once I ordered I lost my place and simply couldn't be arsed to started counting again, but I reckon the claim to have 100 beers is maybe genuine, but just, whether they had them all in stock was another issue which we didn't bother investigating, for we had all independently decided to have "just the one" in here. I really wanted to give 3.75 for Selection, but for now I will err on th side o caution and stay with 3.5, for it is not quite a 4.0 - yet.
The music and the fact that some of my friends felt "old" was a contributory factor, but the overall vibe was that of a "run-of-the-mill Bar, with a good beer range, worth a visit – but not worth staying".
Overall, this is a Bar that is above average when it comes to beer selection, but very average when it comes to atmosphere and service. There are quite literally hundreds of bars in Brugge, and this is most certainly worthy of a BeerFly entry for its good beer range, it is for sure head & shoulders above the plethora of Brugge bars that have 20-30 beers on sale, and that are so often plagued with brews from the big boys. But beyond this it struggles to differentiate itself, the interior is non-descript and a tad scruffy, and not in an attractive Olde Worlde way either. For example, it has a lovely old Stove that is completely neglected, with even just a little more effort this could be a fantastic centerpiece to what is potentially a wonderful BeerBar…...but it seems scared to let go of its "yoof" attachments, or the "hair gel crowd" as Tim Webb refers to them. A recent addition in the past couple of years to the beer scene in Brugge, and most certainly worth a visit if you are around the Markt, but not worth the trek out here.
It just seems half-hearted somehow, it really needs to make up its mind, Yoof Bar or Beer Bar, at present it is stuck somewhere in between with members of both contingents often looking across the room at each other wondering "what the heck are *they* doing here?".
Last Visit: Good Friday 25th March, 2005.
Apr 20, 2005
Café De Kuppe in Brugge, Belgium
Place rating:
3.76
out of
5
with
8
ratings