Federal Wine & Spirits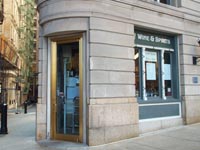 PLACE INFO
Type:
Store
29 State St
Boston
,
Massachusetts
, 02109-2723
United States
(617) 367-8605 |
map
federalwine.com
Notes:
No notes at this time.
Added by MrSeth on 04-23-2005
Reviews: 14 | Ratings: 20

3.7
/5
rDev
-7.7%
Was near Fanueil Hall, so I stopped by to see what they had to offer. Very small upstairs. Coolers to the left, shelves to the right, and another shelf dead center of the store. Not a lot of room to wander. The wine and liquor bottles seem to form a wall around you. There were a few bottles of beer on a display stand as soon as you walk in, but most seem to be in the cooler. An eclectic selection: macro beers, mixed in with craft beers, and scattered in the last cooler are Belgian and Euro single bottles. The gentleman behind the counter asked if I needed help when he saw me perusing the beers. I wish that he had told me they had beers more downstairs, as I thought they just kept wine down there. Oh well, next time. Prices seemed reasonable, almost a good deal considering the location of this store and what they "could" be charging for the area. I picked up a Goliath Belgian Blonde Ale for $3.25. I am not in the area very often, but I'd stop by again, if only to check out the basement.
1,000 characters

4.15
/5
rDev
+3.5%
My office happens to be right around the corner from this place. While they have a sign outside about their 8000 bottle wine cellar, they really dont advertise their beer selection.
Its a pretty small space but they do a good job in a limited space. I was happy to find 3 different varieties of Founders. They also seemed to have excellent prices on some of the Belgians too. I met the beer guy John and he is very helpful, easy to talk to, and seems to definitely appreciate a better selection of beers.
These guys are open on Saturday which is kind of surprising given the financial district/downtown location but good for them. I prefer this place over a few of my other local beer store choices, so I'm glad I discovered it. If it wasn't in beerfly, I may never have gone in. I recommend this place pretty highly --especially when you consider the location and the size of the store.
895 characters
4
/5
rDev
-0.2%
Great location for working stiffs in the Financial District like me. They have increased their beer focus and have gotten in quite a few interesting craft beers in the past couple of months. Purveyors are quite knowledgeable, helpful and friendly and I stop in every couple of weeks to get updates on what's new. It is a small store at ground level (with wine cellar, storage and offices downstairs) so that limits their visible beer selection on the sales floor. Good to ask the manager what's in and it may be downstairs. Prices are pretty much within the norm. Perfect stop during the work week to pick up something new to catch the Sox game.
645 characters

3.5
/5
rDev
-12.7%
Very small selection in a very tiny store. Helpful staff but limited by what space is available. Apparently they keep some of the more unusual beers in the basement which you must ask for. I was able to find some Dogfish WWStout by asking. No domestic beers on display from outside the Northeast region of the country.
Prices seem comparable to slightly higher than other Boston beer stores.
Not really worth a trip unless you are already in the neighborhood. It is only two blocks from my hotel so I gave it a try.
517 characters
3.2
/5
rDev
-20.2%
vibe: 2.75 | quality: 3.5 | service: 2.5 | selection: 3.75
Convenient location; tiny space; decent, although arbitrary craft offerings; service has been very hit or miss (I've been treated like a long time regular, and other times like I'm a jerk for asking questions)
209 characters

4.5
/5
rDev
+12.2%
work a few blocks from this store, and find myself going in because they have pretty reasonable prices, and actually cellar beers and don't go overboard on the prices for those beers. have bought cellared vintages between 2 and 8 years old for a markup of 1-7 dollars.
they don't have the largest selection but they do have a very good selection from regionals to imports and harder to find domestics.
prices are good on the beers and the staff is extremely helpful, they will let you know what they have for any given brewery that you are looking for and are more than willing to help you find any of them from the cellar.
625 characters
4.15
/5
rDev
+3.5%
vibe: 3 | quality: 4 | service: 5 | selection: 4
space-wise they're limited here, with the entire store compromising about the area of a bedroom, and most of that is taken up by wine and spirits. that said, they offer a fairly eclectic beer selection including a lot of off-the-beaten-path stuff you don't typically see. some of the usual suspects like DFH, Founders, and Stone, as well. today i grabbed a few Dark Horse offerings, FW Double Jack, and a 3F Gueuze. they were closing as i hurriedly looked around, so i didn't have time to broach the subject of what might lay about in the basement, which is where the real gems lurk (rumor has it). will have to do that next time, so the selection score here is subject to change.
the strength of federal, however, is the service. very friendly, helpful crew and eager to offer info. one of the guys offered his card and told me to shoot him and email and he'd keep me abreast of latest arrivals. will definitely be back.
922 characters

4.46
/5
rDev
+11.2%
vibe: 4 | quality: 5 | service: 4.75 | selection: 3.75
An interesting location for a downtown store, right on the line between the touristy Faneuil Hall/Quincy Market area and the high-density office district. No surprise that the actual store is the size of a walk-in closet. Beer, wine and liquor all share the confined shelf space, as well as the fridge. But the selection of beer, as limited as it is in number, is high caliber. The owner has a general policy not to buy crap (although I did spy a case of Foster's oil cans sitting in the corner, right next to Sutter Home wine nips). Besides, how many stores will offer Odio Equum and Evil Twin Aun Mas Cafe Jesus in the same tasting? Shockingly, the tiny space had at least five people working, which suggested that there's more there than meets the eye. Indeed, besides the "closet", there is an expansive basement "wine cave", complete with climate control and a vintage cage that only two guys can enter. The staff is extremely helpful and know their beer. What they don't know, they will find out. What they don't have they will order, if it's available (an early heads up on special releases might go a long way, as long as it's not Stone). If the store was a bit bigger and the selection a bit broader, it might have got 5s across the board.
1,248 characters
4
/5
rDev
-0.2%
This place has an extremely small cooler of beer - singles/bombers and six packs. I will say most of what they carry is extremely high quality and rare stuff. It's a tiny little store but stop by and you might find a few brews that you'd never see elsewhere. They carry some great stuff; found Hercules IPA here and a rare bananna lambic - supposedly the last batch ever made as the sales clerk informed me. Service was great as the employees have often talked to me about what I'm buying, provided recommendations, facts/trivia about the brews, and asked me other questions, being generally friendly and talkative.
615 characters
3.88
/5
rDev
-3.2%
vibe: 3 | quality: 4 | service: 5 | selection: 3
Very close to my office. They are indeed limited by space but do a great job finding you something you'll like because there is so much inventory they can't display. Nate is always very helpful and will offer a very informed opinion if you need it. Wish they were bigger!
271 characters

3.6
/5
rDev
-10.2%
This place is tiny! 250sq ft maybe (although I hear there is a huge wine cellar downstairs). It's right across the street from the State House.
As the previous poster described, their beer selection is small. There is a small rack right near the door (mostly bombers) and then there is more selection in their cooler. I was in town, and had visited some other stores looking for Stone RIS. This place had some! They also had some other Stone bombers such as 080808. The bottles were dusty, and there were other random bottles on the floor to pick through. There were some other scattered sixers in the cooler. I think some DFH.
Pricing seemed reasonable.
If you don't have cash, they'll accept debit/credit cards with a $10 minimum purchase.
747 characters

4.05
/5
rDev
+1%
I just discovered this place even though I've worked not far from it for 8 years.
Yep, it's tiny and the one off bombers of beer are all right near the door so if like me you have a hard time making decisions and are a browser be prepared to do a lot of shifting out of people's way.
The majority of what they have is harder to get, slightly higher end brews. Lots of specialty stuff. Cooler is densely packed w/ a mix of sixers and singles. The selection is very interesting, but given the space it is limited.
I have not had a chance to explore the basement that some have spoke of, but I'm sure that'll be soon.
All things considered the prices seem on par if not a bit cheaper than other downtown stores with similar stock.
731 characters
4.5
/5
rDev
+12.2%
Federal Wines keeps a stock of interesting brews available all the time. There are American, British and Irish ales, and other stocks [barley wines, pilsners, mead, etc.] This is a pretty small store front, so you may not guess that such good beers and whiskies are available right in the middle of downtown Boston.
Weekdays, see John K. for assistance with a beer selection from the cooler or cellar.
If you enjoy single malt whisky, see Joe Howell for a taste of the finest malts. It's often that I come home from FedWines with a perfect whisky and a hard to get six pack of beers.
For assistance with a wine selection see Peter or Len.
649 characters
4.7
/5
rDev
+17.2%
I've come to swear by this place. They're absolutely incredible, but to find that out you really have to go in and converse with the employees if that's something you're into doing.
They really know their stuff and you can tell they're really, really into beer... They were able to answer any question I had from, what IPAs they had in the style that I liked, to what kinds of yeasts were in the wild ales they carried.
The selection upstairs is indeed small, but as it turns out they have probably one of the best collections in the Boston area downstairs. I think they actually have the entire lines of both Dogfish and Stone, plus the best from the other big craft names in America, some more obscure stuff to experiment with, and of course loads from Germany and Belgium.
Apparently they do tastings and send out newsletters as well; I just missed one for Stone where they had - I kid you not - 22 different offerings from them, including a ton of vintage stuff like the 2003 vintage Old Guardian and 03-03-03 Vertical Epic, and 3 Liter bottles of Double Bastard.
They even do deliveries for free in Downtown Boston if you buy enough, or just walk it down with you on a cart if it's too much to carry. Definitely the right place to go splurge at. A little pricey, but hey that's what you get for the convenience of Downtown.
1,332 characters
Federal Wine & Spirits in Boston, MA
4.01
out of
5
based on
20
ratings.