Murphy's Grand Irish Pub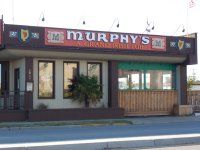 PLACE INFO
Type:
Bar, Eatery
30th And Pacific
Virginia Beach
,
Virginia
, 23451
United States
(757) 417-7701 |
map
murphyspub.com
Notes:
No notes at this time.
Added by TinusTime on 04-25-2005
Ratings: 13 | Reviews: 6
Reviews by FenwaySquid:

3.45
/5
rDev
+2.7%
vibe: 4 | quality: 4 | service: 3.5 | selection: 2.5 | food: 3.5
Located just a block from the Atlantic Ocean in the heart of Virginia Beach's oceanfront, this place has a ton of potential.
The setup is that of an Irish pub, go figure. There is one large dining room, separated by a fireplace that's open on all sides. (Nice touch.) The half that's closest to the bar is populated with pub tables and a big screen TV, and a stage that's used on weekend nights. The other half is more traditional restaurant tables. On Sundays they will always show the New England Patriots games, as is the tradition at the parent restaurant in Alexandria, VA.
Beer selection is a bit of a disappointment. There are two 10-tap setups with the same stuff on each one. A few macros (Bud and Bud light at least), and Guinness, Harp, Killians, Yuengling and Widmer (recent addition) are there as well. The bar also has two beers brewed for them, Murphy's ale, which is a red ale, and a stout, which I think is nitrus infused. The Murphy's ale is pretty good, if nothing else. The bottle selection is the same, mostly macros except they also have Newcastle.
Food is very reasonably priced for the location, although nothing to write home about. the appetizers are decent (I think the hot wings are a little weak), and the burgers are good. Not bad, just not great. I have heard their Shepherd's pie is excellent, but I've never tried it.
Service is hit and miss. They got rid of some of the old wait staff (no loss) and their replacements have dramatically increased the quality here. It's usually pretty easy to get a seat at the bar, and all the bartenders are attentive.
If they got in more taps and increased the beer selection this place would be phenomenal. As it is now, it's still above average for the area. I'd definitely recommend it to anyone visiting the Oceanfront for the weekend. But based on beer selection alone, there are much better places away from the beach area for us locals.
1,928 characters
More User Reviews:
3.69
/5
rDev
+9.8%
vibe: 3.75 | quality: 3.75 | service: 3.75 | selection: 3.5 | food: 3.75
Murphy's Grand Irish Pub is a cool stop, but it's hardly a "beer bar", even by beach standards. On tap they offer 1 local beer, Legend Brown, along with the likes of Sam Adams, Leinenkugel's, Yuengling, Shock Top, Guinness, Kilkenny, Harp, Guinness Blonde, Smithwick's, and Bud Light. The fact that they run Land Shark bottle specials should tell you something about their bottles selection.
That's not to say that it's not worth a visit, just don't expect a great beer selection. Despite its "Irishness" it really is a beach bar, and the nautical bric-a-brac, outdoor deck, and slushy drink machines prove that. Live music and three separate bars backs that up as well. The service is about as good as it can get given the situation (it's not a 4 star restaurant), and the locals are great. Hang out for a while out on the deck during the afternoon and you'll see quite a few interesting, funny, and friendly characters come through.
As for food, it's what you'd expect but on Tuesdays they do 1/2 price burgers!
1,015 characters

2.7
/5
rDev
-19.6%
vibe: 3 | quality: 2.5 | service: 3.5 | selection: 2

3.88
/5
rDev
+15.5%
vibe: 4.25 | quality: 4.25 | service: 4.25 | selection: 2.75 | food: 4.25

4
/5
rDev
+19%
vibe: 4 | quality: 4 | service: 4 | selection: 4 | food: 4

2.73
/5
rDev
-18.8%
vibe: 4 | quality: 4 | service: 2.5 | selection: 1 | food: 2.5
I was not very impressed with this place. Using the previous reviews, I was more excited about the food than the beer, but I was let down on both.
The atmosphere was the best thing about this place. There was a fire place in the middle that smelled woodburning but was actually a gas fireplace. The aroma wafted around the room and gave a warm cozy feeling, even though the weather was turning warm. Two bars: one bar was where all of the waitstaff hung out and ate their dinner (I hate when staff eat in public) and the other was where us patrons sat.
The beer selection was dismal. The only craft offering, of the combined draft and bottles, was Legend Brown ale. The rest were all macro or imported macro. They had only 8 drafts from which to choose and about the same amount of bottles.
The service was kind of aloof. The place wasnt that busy but the gal forgot stuff and hung out with her friends and showed a general disinterest in the people paying here wages.
I had the beef and potato pie, or Irish Pie, and it wasnt that good. I thought it would be kind of like sheperds pie, but this was an actual piece of pie. However, it was full of bread and stuffing and lacked real substance. It tasted bland as well.
Even though this place was about a block from my usual winter hotel, I will not be back.
1,316 characters

3.43
/5
rDev
+2.1%
vibe: 3.5 | quality: 3.5 | service: 3.5 | selection: 3 | food: 4
This place isn't nearly as expensive as the bars up the street on the boardwalk, but it isn't a hidden gem either. Now, the food is good, especially the wings and I would definitely try them on 25 cent wing Wednesday, if they still do that. The place is somewhat spacious and gets a more traditional laid back Irish Pub crowd, not like Keagan's over in Towne Center which gets college kids with money and tourists. The band playing when I was there was more classic rock, which I prefer than hearing these noveax metal bands suck it up, and there was also some guys watching a baseball playoff game in the other corner. Probably what hurts this place is lack of beer selection, especially for a place that calls itself a Grand Irish Pub. I guess being that close to the beach they want some of the tourist money too. There are no beers that a person that digs this site hasn't had or heard of, just mainstream beers in your local grocery store.
944 characters
3.43
/5
rDev
+2.1%
vibe: 3.5 | quality: 3.5 | service: 3 | selection: 3.5 | food: 4
Came to Virginia Beach for a basketball tourney. This place was within walking distance from the hotel.
Cool little place, away from the boardwalk crowd. Neat decor, guy playing Irish music on a guitar. I think the fireplace is their claim-to-fame.
The beer list was not impressive. Guinness, Smithwicks, Murphy's Ale, Harp and other assorted macros. No Widmere or Harpoon as advertised.
The food was really good, though. The meat and potatoe pie was awesome. The fried shrimp were really good, too. The Murphy's ale was okay.
Service was fine. I would not drive out of the way to go, but it was about the only place to get a decent beer within walking distance.
666 characters
3.08
/5
rDev
-8.3%
vibe: 4 | quality: 3 | service: 2.5 | selection: 3 | food: 4
This Murphy's is a second location to the one that is located in Alexandria in Northern Virginia. The location is nice as it sits only a block or so away from the beach. The interior is split into basically three rooms. The room with the main bar a few pub tables and a few regular tables. Next to that is a dining area (smoke free) the two rooms are separated by half walls and a really cool fireplace. A third room containing a second bar and dart boards is to the right of the bar. I have never seen this second bar open, but I havent been when its packed.
Beer selection is the fairly typical Irish pub line up. Harp, Bass, Guinness, They did have 3 beers that they have brewed for them, Murphy's Ale, Blonde, and Stout. They had Redhook and Widmir Hefe on tap as well when I was there. Overall there are two 10 tap set-ups each running the same beers as the other. There is a limited selection of bottles (8) which are mainly macro with Newcastle, SNPA, and Boddingtons being spotted when I was there. I over heard the Bartender saying that they would be getting Smithwicks in soon.
Service is a bit of a let down. It seems that the servers would rather converse and smoke with each other than bother waiting on the tables. The servers also seem to have the annoying habit of only taking one drink order at a time, so its a good idea to order up when you are halfway done. This is provided they remember your order.
Food is pretty good. The smoked salmon appetizer was quite tasty as was the Irish Stew. Salads and Burgers have also been tasty and good portioned.
Over all if you are near the Oceanfront in Va beach this is one of the few places you can get a decent pint in a non-meat market beach bar atmosphere. They do have live music on weekends, and I believe its the official bar for Patriots fans during football season. Murphy's is not a place I would go out of my way to go... but unfortunately in that part of Va beach it is about the only show in town.
1,984 characters
Murphy's Grand Irish Pub in Virginia Beach, VA
3.36
out of
5
based on
13
ratings.