Samuel Smith's Old Brewery Bitter
| Samuel Smith Old Brewery (Tadcaster)
BA SCORE
83
good
31
Reviews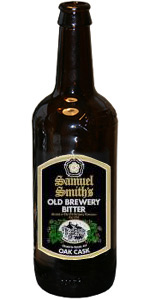 BEER INFO
Brewed by:
Samuel Smith Old Brewery (Tadcaster)
England
,
United Kingdom
samuelsmithsbrewery.co.uk
Style:
English Bitter
Alcohol by volume (ABV):
4.00%
Availability:
Year-round
Notes / Commercial Description:
No notes at this time.
Added by BeerAdvocate on 06-10-2002
Reviews: 31 | Ratings: 70
4
/5
rDev
+9.3%
look: 4 | smell: 4 | taste: 4 | feel: 4 | overall: 4
I had this in what was supposed to be the oldest pub in London: the "Old Cheshire Cheese". The beer was a rich copper color. A bit of a lingering head. There was a slightly sweet maltiness to the aroma. There was as full, malty taste to this one, with a hine of bitterness coming through at the end. Very Good!
310 characters
3.08
/5
rDev
-15.8%
look: 3 | smell: 2.5 | taste: 3.5 | feel: 3 | overall: 3
Medium white head of fine and medium sized bubbles that leaves behind a good lacing. It's body is atransparent light semicloudy yellow orange color. It has a mild honey aroma. It tastes smooth with someafter bite and a lingering hoppy flavor. This brew has some character and is drinkable. A decent beer to
sit and have a plesant conversation with.
349 characters
4.05
/5
rDev
+10.7%
look: 4 | smell: 4 | taste: 4 | feel: 3.5 | overall: 4.5
I had this one at Cittie of York, a pub in London, which has to be one of the coolest bars in the world. The atmosphere in which this beer was consumed may have skewed my review, but here goes:
Appearance: Clear brown and almost still. This bitter is a hand pumped cask ale, and thus there was very little carbonation present. Very mellow and pleasing to the eye.
Smell: Hoppy aroma, and I do mean bursting with. I've never been good at identifying the different varieties of hops, but one whiff of this beer, and you know they're there (this after all a bitter).
Taste:Hoppy, warm and slightly carbonated; this beer is only slightly bitter due to the hops but it is balanced nicely with a little bit of sweetness owing to a malty character.
Drinkability: I was in heaven getting Samuel Smith on tap. A truly amazing experience. This beer goes down smooth, and with the relatively low alcohol content of 4.% abv, you could drink these all night (speaking from experience). I think I paid 2 pounds 50 pence per pint (roughly $3.75), and it was worth every cent. If you find yourself in London anytime soon, check out Cittie of Yorke.
1,144 characters
4.07
/5
rDev
+11.2%
look: 3.5 | smell: 4 | taste: 4 | feel: 4 | overall: 4.5
Samuel Smith's Old Brewery Bitter (OBB) divides opinions in the UK, even amongst CAMRA members and experienced beer drinkers. What needs to be understood is that it is predominantly a Malt based beer, and not really like your "run-of-the-mill" English session Bitters.
Also, it is from Yorkshire's oldest Brewery, it is brewed from the Breweries own well water, has NO adjuncts, does not benefit from any Brewery aids whatsoever, utilises the Yorkshire Squares (made from Slate) system of fermentation, and when distributed to nearly all of its Pubs in Cask Conditioned format, it is supplied in Wooden Casks, YES Wooden!!- NOT Steel, or Aluminum, but- Wood. One of only a handful of UK Brewers left that still employ a Cooper.
Sadly, after the demise of Tadcaster Bitter and Museum Ale :-((, this is now the only Cask-Conditioned beer that Sam's make. Such a Tragic Shame.
So with the above in mind, you will never find a Handpulled Sam's OBB with a 'decent' head, whilst Wooden Casks will keep the beer in good condition, high carbonation levels are rarely experienced in this format. In the North of England where Swan-Necks, or Sparklers, are used for dispense you may get something resembling a head. As such, the head tends to dissipate quickly to a thin covering. Has a light brown, typical "English Bitter" color, that has a higher than average strength at 4% ABV. Malt is prevalent in the initial tastes, and to a certain extent dominates the beer. However, when "on form", it has a fruitiness to die for, with a superb hoppy finish that really makes this beer. It often has a long lingering bitter, fruity finish. Mouthfeel is average, which again is perfectly acceptable for this beer – bear in mind people in the UK will often drink a Gallon of this beer in one night. It is a true Session Beer.
Ironic I know, but don't expect it to be Bitter!. This is a very misunderstood beer, rarely appreciated – but I dearly love it, and in the North of England, in Sam's Houses you will be hard pressed to beat it for value. Also, Sam's Pubs themselves take some beating.
Last Tasted at the Historic Samuel Smiths Inn, the White Horse, or "Nellies", in Beverley, North Yorkshire.
www.nellies.co.uk
Go on - have a look, and see what you are missing.
NOTE: This is the only Cask Conditioned Beer that Samuel Smiths now brew, sadly.
If only you could have tasted their Museum Ale on Cask – oh, it was Wonderous!!
2,448 characters
2.06
/5
rDev
-43.7%
look: 3 | smell: 2 | taste: 2 | feel: 2 | overall: 2
Pretty ordinary, sweet creamy mouthfeel, Ok maltiness, not much bitterness, not much hoppyness, smooth aswell and tasted very very flat, lacks bite and once again this is a bit to sweet and creamy for me.
204 characters
3.8
/5
rDev
+3.8%
look: 3.5 | smell: 3.5 | taste: 4 | feel: 3.5 | overall: 4
Had the pleasure of drinking this brew in one of the oldest pubs in London, Ye Olde Cheshire Cheese. OBB as it's referred to in the UK, is not available in the US. Golden peach color with a thin layered head. Light, multi-grain bread aroma. Toasted malt, trace fruit and faint hop aroma. Lightly toasted malt is again present in flavor along with a skillfully reserved hop finish. Mouthfeel is light-medium bodied. A fine, flavorful, easy drinking bitter.
455 characters
Samuel Smith's Old Brewery Bitter from Samuel Smith Old Brewery (Tadcaster)
3.66
out of
5
based on
70
ratings.