Samuel Smith's Organic Apricot Ale
| Samuel Smith Old Brewery (Tadcaster)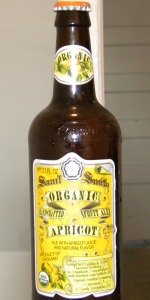 BEER INFO
Brewed by:
Samuel Smith Old Brewery (Tadcaster)
England
,
United Kingdom
samuelsmithsbrewery.co.uk
Style:
Fruit / Vegetable Beer
Alcohol by volume (ABV):
5.10%
Availability:
Rotating
Notes / Commercial Description:
No notes at this time.
Added by minterro on 03-19-2012
Ratings: 390 | Reviews: 100


4.57
/5
rDev
+17.2%
look: 4 | smell: 4.5 | taste: 4.5 | feel: 4.5 | overall: 5
A: 1/4" cream coloured head over cloudy and thick amber liquid.
S: Apricots, honey and yeast.
T: Apricots, yeast, honey and some sweet buscuity malt. But more sweet apricots than anything else.
M: Medium viscosity and low carbonation. Nice and thick fruit feel.
O: Very drinkable, a beautiful summer beer.
309 characters

4.03
/5
rDev
+3.3%
look: 4.5 | smell: 4 | taste: 4 | feel: 4 | overall: 4
A: Poured from a bottle to a pint glass. Had an orange color and a cloudy consistency. There was an inch and a half of creamy, fairly long-lasting head. Good lacing.
S: As expected, lots and lots of apricot in the aroma. Pretty much dominates this category.
T: Tasted of - you guessed it - apricots. There's a hint of malt in the finish, but the apricots take over everything. Not quite as vibrant as I would have thought, but still very tasty.
M: A good amount of carbonation with a slick, syrupy finish. Medium-bodied.
O: I didn't quite like this beer as much as Samuel Smith's other organic fruit beers, but it is very enjoyable and easy to drink.
654 characters

4.23
/5
rDev
+8.5%
look: 4 | smell: 3.5 | taste: 4.5 | feel: 4.5 | overall: 4.5
Serving Type - 18.2 ounce bottle
Appearance - Light golden yellow with a creamy foamy 2 inch white head, and lots of lacing.
Smell - Fruits, malts, grassy, earthy dankness. Not much else.
Taste - Well, from the first sip, sweet apricots with a nice smooth malt backbone. Very natural flavor, much more like fresh juice compaired to sugary concentrate. Pear, peach and orange are mixed in, along with some added sugars.
Mouthfeel - Light, sweet and smooth. TOunge gets fruits, some malts and earthy notes. Palette gets more fruits, malts and a little more sugars. Aftertaste is sweet, herbal and smooth.
Overall - This is how fruit beers should be. You really get the fresh, natural and fruity aspect in each sip. Very well done, a little pricey for sammy smith beers but worth the price since its high quality ingredients.
827 characters
4.42
/5
rDev
+13.3%
look: 4 | smell: 4.5 | taste: 4.5 | feel: 4 | overall: 4.5
Very enjoyable fruit ale, like other fruit beers from Melbourn Bros and Samuel Smith's it's excellent well managed fruit infused ale. They must use a concentrated apricot puree'. It pours like a viscous clouded golden orange apricot slurry, with a bright white head forming thick. Aroma earthiness, tart fruit, consider this as liquid candied apricots...excellent overall experience so far. Flavor enough natural tartness exists to balance things out between apricot flavors, hints of pear, and tart citrus with a bit of lactic acid yogurt notes. Poured into a 20 ounce imperial pint glass with a Samuel Smith logo. Apricot preserves like sweet/tart notes, dry finish, sturdy fine carbonation carries the medium body so well, of course there's fermentable sugars left behind but it never feels cloying. Overall, excellent fruit ale, never been so pleased with a fruit beer, definitely dessert level sweetness but it tastes so good.
931 characters
2.96
/5
rDev
-24.1%
look: 4 | smell: 3 | taste: 2.5 | feel: 4 | overall: 3
16.9 oz bottle which cost way too much at $6.49. Cloudy orange color, good head, looks nice. Smells like apricots and sugar, eh. Tastes like apricot syrup and sugar and not much else. Cloyingly sweet and unpleasant, I would never buy this again. Dry Dock does a much better job of capturing the apricot without the sguary sweetness.
332 characters
4.35
/5
rDev
+11.5%
look: 4 | smell: 4 | taste: 4.5 | feel: 4.5 | overall: 4.5
Was looking forward to trying this. Picked up 2 bottles last week, decided to have one with my post-Easter meal.
A - Poured from a bottle to two small Hunahpu snifters. I like the size bottle in that it is big enough to share and small enough if you want just a meaningful taste. Pours a cloudy yellow with a large white puffy head that backs off and leaves generous lacing on the snifter.
S - Very nice. Good waft of apricot with a little malt backbone. Not overpowing, generally nice.
T - I saw some of the reviews that noted its tartness. I will say that if you drink any amount of wilds or sours with regularity, you will probably think that this leans to the sweeter side. Wonderful taste of apricots to me with minimal bite.
M - I found this to be creamy, full, and delicious.
O - I really liked this beer and will pick up a few more for safe keeping. Great summer beer to say the least and now has raised my interest to try the other Sammy Organic fruit beers. I kept comparing this in my mind to the Selinsgrove Saison Peche and thinking if you subbed out the Peach for Apricot that you would have something similar. A really nice beer that might be too sweet for some but I found it to be quite nice.
On my way to pick some more up for sure.
1,257 characters

4.11
/5
rDev
+5.4%
look: 3 | smell: 4.5 | taste: 4 | feel: 4.5 | overall: 4
Wow, what a find on a recent beer-buying expedition to Philly! I was unaware that S. S.'s was even making such a beer! To say that I am excited to try it would be an understatement.
From the bottle: "Brewed at Melbourn Bros ancient brewery in Stamford, Lincolnshire and blended and bottled as Samuel Smith's Brewery, Tadcaster, North Yorkshire."; "Handcrafted at Melbourn Bros' tiny brewery set in a time warp in Stamford using the old manually operated brewing equipment. Finest organically grown barley and wheat are used to create a complex ale which, having undergone primary and secondary fermentation with different yeasts and extended maturation, is taken to Samuel Smith's small, independent British brewery in Tadcaster. There it is blended with pure organic apricot fruit juice and a previously cellared organic brew - creating an unparalleled fruit ale. The smooth distinctive character of the matured ale serves as the perfect counterpart to the pure organic fruit juice."; "The [pictured] steam engine provides power to drive the malt mill and mash tun rakes. It was built in 1910 by Marshalls of Gainsborough."
This was one frothy, heady beer, lemme tell ya! I had two-plus fingers of French Vanilla head off a relatively low-aggression pour. The room smelled like I was using apricot air freshener and my mouth was immediately watering. Color was a hazy orangish-yellow, like fresh-squeezed grapefruit juice. Mouthfeel was soft and creamy and the taste reminded me that apricots are not the sweetest fruit out there. Man, did this have a tang that woke up my dormant taste buds! This was a sipper, to be sure. It was tart, but not sour, if that is at all meaningful to others. Finish was white wine dry and very refreshing. This would make an excellent summertime beer or for anyone that simply digs fruit beers. Worth a try.
1,842 characters
4.37
/5
rDev
+12.1%
look: 4 | smell: 4.5 | taste: 4.5 | feel: 3.5 | overall: 4.5
Pours a murky golden apricot color with a 1 inch foamy orange-white head that settles to a small cap on top of the beer. Foamy rings of lace line the glass on the drink down. Smell is fantastic with aromas of fresh apricots, dried apricots, and some apricot/peach juice. Taste is of all of these apricot aromas translated into tasty flavors with a nice malt/grain presence on the finish. The flavors are both mildly tart and slightly sweet creating a nice natural fruit flavor. This beer has a lower level of carbonation with a slightly crisp and medium bodied mouthfeel. Overall, this is a fantastic beer and definitely the best of all of the Samuel Smith fruit ales in my opinion.
682 characters

4.13
/5
rDev
+5.9%
look: 4.5 | smell: 4 | taste: 4 | feel: 4 | overall: 4.5
Poured from 550mL bottle into a pint glass.
Appearance: golden-orange hue with a thick haze and two big fingers of pillowy ivory foam. Head is tenacious and leaves a good lace behind, as well.
Smell: nice, rich apricot aroma with a big earthiness underneath it. It smells fresh and natural.
Taste: malty backbone with a great apricot flavor. The earthiness of the aroma is replaced by a fresh tartness in the flavor which is quite refreshing. A good fruit beer!
Mouthfeel: medium-light body with a good level of carbonation and resulting creaminess. I like it.
Overall: this is actually one of the better fruit beers I've had. Apricot is earthy and pairs well with the malt, and there's just enough tartness to make the beer highly refreshing and drinkable. Great stuff!
775 characters

4.48
/5
rDev
+14.9%
look: 5 | smell: 4.5 | taste: 4.5 | feel: 4 | overall: 4.5
Found in Chicago (forgot what the liquor store was called)
I have no idea about the availability.
A&S: Spectacular, hazy dark yellow colored beer. Head pours about one and one half fingers of off-white fluffy head. Retained at a thin layer and leaves good wavy lacing. Powerful sweet apricot scent, minor citrus hoppyness.
T&M: Upfront very, very sweet (but not artificial sugary but more like a super concentrated fruit juice). Extremely tart. The intense sugariness fades a litter bit after midtaste and leads into a mixture of citrus and rich apricot tones. medium to light bodied and on the low side of carbonation.
Overall: It blew all other apricot beers or fruit beers I've tried before out of the water! I thought this beer was amazing and would recommend it to anybody. Best enjoyed on a warm summer's afternoon.
827 characters
Samuel Smith's Organic Apricot Ale from Samuel Smith Old Brewery (Tadcaster)
3.9
out of
5
based on
390
ratings.