Breeze Thru Wine & Spirits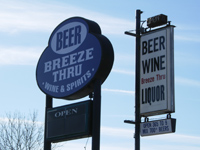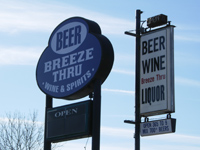 PLACE INFO
Type:
Store
11108 W Bluemound Rd
Milwaukee
,
Wisconsin
, 53226-4125
United States
(414) 453-0061 |
map
Notes:
No notes at this time.
Added by bnuttz on 04-26-2005
PLACE STATS
Reviews:

12

Ratings:

pDev:

6.94%
HISTOGRAM
View: Place Reviews
Ratings: 14 | Reviews: 12
Reviews by emerge077:
3.64
/5
rDev
-6.4%
vibe: 3.5 | quality: 3.5 | service: 3.5 | selection: 4
Left BT today with a $14 mixed six-pack of NG Unplugged, Grand Teton, and Fade To Black.
All beer is cold, good. Sun reflects off the coolers midday, not so good. Can't really see the bottles inside... wear a hat and glasses maybe, or just open every cooler door. There was no lighting inside the coolers either, so I found myself squinting to see a few of the labels. Prices are marked per six-pack, which they average at the register. Found a couple older NG unplugged here, though the Berliner Weisse had some funky mold spots on the bottle (passed). Old seasonals seem to hang around, maybe not the greatest indicator of quality, but at least they're all refrigerated.
Imports were all on the left side of the store, crafts on the right side. 1-2 doors of bombers near the window, pretty sparse selection. Overall it was your typical selection with a few straggling gems like Left Hand Fade to Black. Cashier was quick and by the books, pretty much self-service here. More to be found at Ray's nearby...
1,011 characters
More User Reviews:



3.94
/5
rDev
+1.3%
vibe: 3.5 | quality: 4 | service: 3.75 | selection: 4.25
Good selection of their beers are sold as singles, albeit at quite a mark up. Generally new releases last a bit longer here, but can be wiped out in one fell swoop as has happened to me. People working here are friendly but nothing more than asking' "are you finding everything ok?". Usually stop here once or twice a month...worth a stop, not a destination though.
365 characters
3.64
/5
rDev
-6.4%
vibe: 3.5 | quality: 3.5 | service: 3.5 | selection: 4
This is a tiny store in the outskirts of Milwaukee "proper" near El Grove but in a more middle class area.
They do have most of their beer available as singles so they make use of the limited space. It is a very nice selection as well. Not a huge amount of imports but a ton of Wisconsin beers. People looking to try a lot of different WI beers should check this place out. Almost all the beer is in the coolers. The right side is craft, left is imports, and back is bmc. There are also displays of bmc warm and a small section of an aisle of warm craft and imports.
There was just one guy at the counter but he asked if I needed help.
637 characters

3.85
/5
rDev
-1%
This shop offers a nice selection of quality beers alongside other more potent spirits. They have a nice selection of single bottles from around the country. Many of them I am unable to find in my hometown of Stevens Point, Wisconsin.
The service was good as well. My two friends and I were offered some boxes to pack our beer as we shopped. I think the man behind the counter realized we may spend a ripe amount of cash on some of his higher quality selections. He also pointed out a high gravity 12 ounce bottle of barleywine that my friends and I had missed.
The selection was reasonable. I know that all the brew I purchased I would have had a really hard time getting in Stevens Point. But, the selection from one brewery to another at this store was somewhat limited. They carried 2 or 3 beers from a number of different brewers but they didn't have a huge lineup from any particular hard to find brewer.
Overall the experience was satisfying. I think the prices were a bit on the high end when it came to their bombers. The 12 ounce selections were priced right, but the big boys were a little steep.
1,110 characters
4.15
/5
rDev
+6.7%
I happened to be in Milwaukee for a wake with two other friends and wanted to pick up some beer while in town. After browsing the BeerAdvocate Beerfly guide, we decided that Breeze-Thru was the closest place that had a decent rating.
Imagine my astonishment to walk in and see an entire wall devoted to quality single bottles! Not wanting to spend that much money, I walked out after buying $75 in single beers. I was super pleased to find Kentucky Breakfast Stout among some other white whales I can't find in my hometown. The guy at the checkout seemed to know quality beer as well, commenting on some of our selections. He even recommended a Barley Wine that I hadn't noticed (we ended up buying that after his recommendation). Their prices were fair as well...my friend noticed Ten Fidy was way cheaper than what we pay at our local beer store.
If you're from outside of Milwaukee and happen to be in the city, I certainly would recommend this place.
956 characters
3.35
/5
rDev
-13.9%
I made a visit here the other day to give the sniff test. It looks like a typical liquor store but the coolers against the wall let you know otherwise. Stretching from the front windows to the back of the store then across the back wall is craft brew. All the domestic stuff is in the coolers along the east wall. Very nice selection. Singles, six packs and bombers. All neatly placed in the coolers. Very orginized. Everything is priced clearly so you know what you are going to pay. I didn't ask for help but the guy behind the counter seemed more interested in getting the didgits of the chick that was checking out before me then answering any questions. They can't all be Three cellars. Overall a decent place to get craft beer if you know what you want.
759 characters
4
/5
rDev
+2.8%
This place recently moved to the bigger space in the next unit of the building and it makes all the difference in the world. It used to be maze of confusion now very well organized. They have a section for Wisconsin craft - 2-3 coolers and American craft - 5-6 coolers - all singles so you can mix and match. On the wall parrallel wall they have all imports - singles and otherwise and on the wall perpendicular to those they have macros. Really well organized and huge selection - the only reason downfall is I would be careful on the age of some of the beers - a few seasonals out of season or from prior years. The service is fine - but I never asked anyone about beer there so I cannot attest to service in that regard. Prices seem okay - I am always willing to pay a bit more for singles but at least from what I've seen these are right in line.
850 characters
4.2
/5
rDev
+8%
This one has been my favorite build-your-own-six-pack beer store. A few snow storms and holidays prevented me from visiting them for about a month and in the meantime they moved to the next door, to slightly bigger and much better place. The beer fridges used to be clumped in the back but in the new place they nicely line the periphery. The store is more spacious and better organized.
Beer choices stay pretty much the same. They have good selection from Midwest breweries. They also have a handful of Germans, and fairly basic Belgians. My six pack for this particular trip was Ommegang Hennepin, Lakefront Imperial Maibock, Victory Hop Devil IPA, New Holland The Poet Oatmeal Stout, Atwater Mai-bock, and Flying Dog Kerberos Tripel. For domestics, they also have some of Bells, Ale Asylum, Dark Horse, Central Waters, Left Hand, Magic Hat, Southern Tier, Great Lakes, Founder's, and Lagunitas. (At least. I just don't remember the rest.)
943 characters
3.8
/5
rDev
-2.3%
great place for single bottles. all brews that this place has are available for single bottle purchases, including microbrews and imports. the prices are not marked up either, just one sixth of the six-pack price.
lots of midwestern microbrews available, with a bit lacking in the import department, though still strong compared to other stops. belgians were lacking more so than other regions.
no glassware to speak of, and not the best atmosphere, but the place has character. worth a stop for any beer advocate. cheers!
524 characters

3.95
/5
rDev
+1.5%
I know that Ray's Liquors also exists in 'Tosa, but the selling point here was that they would allow their customers to build their own mixed six pack. Further, they have just about all of their singles in enclosed coolers, while Ray's are out in the open. The place was really a maze of coolers, which could make navigation difficult if one of the doors was open as you tried to breeze through the aisles.
They had a lot of Midwestern beers (Founders, Capital, Bell's, Great Lakes, Tyranena) as well as many from Colorado (Tommyknocker, Great Divide, Avery, Left Hand), all of which were exciting to an East Coast-based beer traveler. I estimated over two hundred bottles of beer, although their advertising read "Over 600 beers and malt beverages." Fair dinkum, but it was craft beer that I was interested in and especially for the purposes of what you are reading.
There were lots of point-of-sale (POS) snacks at the counter just to the left of the door, plus there was a mini-mart next door, should you be experiencing the munchies as the result of your recreational activities. Again, I was not thinking of this place as a rival to Ray's, but instead as a possible alternative.
1,197 characters

3.7
/5
rDev
-4.9%
Another neighborhood liquor store that has diversified into the world of craft beer. A lot of these places seem to be diamonds in the rough, as their exterior gives no clue of the riches inside. A friend recommended this place, so I went by to check it out.
This place is relatively small, but is definitely craft beer focus, as it is packed with perhaps a dozen long coolers. All the volume seemed to be singles, which because I like to sample a range of beers, is great for me. Pricing seemed a bit on the high side, but it seems like you usually pay a bit of a premium for mixed six-packs, and I'm OK with that.
I spoke briefly with the owner. He didn't offer any help while I was in the store, which was OK because I was just browsing and found everything I was looking for. He apologized for the state of the store (a mess) and for not approaching me, citing a lack of help that day. Selection was mostly US; not a huge amount of imports. However, all beer was refrigerated, which makes it last considerably longer and makes me less concerned about buying something that's ancient, which is a problem I've had at Discount on more than one occasion (although to be fair, those were imports at Discount, while this store has mostly North American products).
All-in-all, it is a beer-haven, and if you dig craft beer, it is definitely worth a stop.
1,360 characters

4
/5
rDev
+2.8%
Just stumbled upon this place recently. This is the place in Milwaukee for singles. Over 500 singles here, and they do mix and match 6ers. They just average the price of the sixers that the bottles come out of. Main focus is on Wisconsin brews, but also a lot of the midwest brews are present here. A few belgians, germans, and english brews here. There are also some more special beers that they dont do in the mix and match, but those can be better found at other places. But if you want to stock up on a bunch of new brews you have not yet tried, hit up this place. Don't let the outside and inside fool you, yes it does look just like a standard corner liquor store, but the amount of singles here is what makes this place great.
733 characters
Breeze Thru Wine & Spirits in Milwaukee, WI
Place rating:
3.89
out of
5
with
14
ratings