Ozeno Yukidoke IPA
| Ryujin Shuzo Co,. Ltd.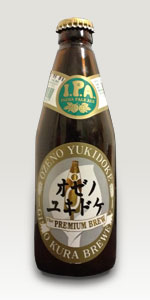 BEER INFO
Brewed by:
Ryujin Shuzo Co,. Ltd.
Japan
ryujin.jp
Style:
American IPA
Alcohol by volume (ABV):
5.50%
Availability:
Rotating
Notes / Commercial Description:
No notes at this time.
Added by MrMcGibblets on 05-09-2008
Reviews: 15 | Ratings: 48
4.35
/5
rDev
+11.8%
look: 4.25 | smell: 4.25 | taste: 4.5 | feel: 4.25 | overall: 4.25
A: It's a bit hazy, pale yellow color. Nice white foam.
S: Lemon citrus hops and a little bit of yeast
T: Lemon citrus goes along with balanced hops and malt.
M: It's light- to medium-bodied Very crisp with a solid amount of carbonation.
O: This one is a bit smoother and more crisp than most American IPAs. I find it to be incredibly balanced. I think this is one of the more underrated IPAs out there right now. It's not cheap, but I recommend it.
served in a bottle
★
469 characters

4.31
/5
rDev
+10.8%
look: 4 | smell: 4.25 | taste: 4.5 | feel: 4 | overall: 4.25
Great stuff. If you have any interest in Japanese beers and/or IPAs, you should definitely try this if you ever come across it. Maybe the best Japanese beer I've had (sorry, Kuronama). Available at a Izakaya in Santa Clara, CA, and went great with the little meats and veggies.
★
277 characters
4.1
/5
rDev
+5.4%
look: 4 | smell: 4 | taste: 4 | feel: 4 | overall: 4.5
recommended by our server. not sure about the availability. on-tap at club popeye. this reminded me very much of a smuttynose or avery ipa. pours a hazy yellow gold to light amber with a nice creamy white head. aromas of citrus, pine, and honeyed fresh bread. taste follows suit with a good balance between the light malt sweetness and smooth moderate bitterness. nice soft, creamy mouthfeel with and a pleasant finish. very sessionable. i'd buy this were it available stateside.
★
479 characters
4.1
/5
rDev
+5.4%
look: 4 | smell: 4 | taste: 4 | feel: 4 | overall: 4.5
Half pint at Popeye's in Tokyo. Cloudy golden body with a smooth white head. Classic IPA aroma of grapefruit and resin is joined by flowers and honey. Good tradeoff in the taste between sweetness in the form of honey and light fruity flavours, and bitterness in the form of pine and grapefruit. Soft mouthfeel and medium carbonation. My wife liked this one even more than I did.
★
378 characters

4.05
/5
rDev
+4.1%
look: 4 | smell: 4 | taste: 3.75 | feel: 5 | overall: 4.25
Beer tasting notes from 6/8/13; had a bottle at Bond Street in NYC and it paired perfectly with the sushi and pours cloudy orange color with a 2 finger foamy white head that faded slowly and left excellent lacing clinging to the sides.
Smells of orange peel, clementine, grapefruit, flowers, floral hops, sweet malt, coriander and brown sugar; really soft citrus aroma which smells like an orange or tangerine ripping open a few inches from your face.
Tastes like it smells, with orange peel, clementine, orange peel, flowers, pineapple, floral hops, sweet malt, coriander, light grains, cinnamon, sour apple and brown sugar; the bitterness is like a grapefruit and quite tart and sharp, leaving a pucker.
Mouthfeel is silky smooth, like a buttery creamsickle that melted and slides down effortlessly with zero resistance besides the bitter hoppy finish; chewy medium body that has some texture, but it was really impressive since my expectations were low and it was perfect in it's overall feel.
Overall it was a really good IPA and one that took me completely by surprise; this was flavorful, had a great feel, tremendous lacing and everything a good IPA should have. It was exceptionally smooth and easy to drink and one to seek out.
★
1,244 characters
4
/5
rDev
+2.8%
look: 4 | smell: 4 | taste: 4 | feel: 4 | overall: 4
Bought this at the excellent Tanakaya liquor store in Mejiro (very nice selection of pretty much everything). 330ml bottle.
A: Slightly light golden color (a little haze) with a smooth white head
S: Nice IPA (citris + floral) smell if not a little light.
M: very light feeling. A definite softness to it.
T: Good mix of bitterness and sweetness (well-balanced), but a little weaker than I am used to. Nonetheless, I could enjoy this beer all day long. Especially in warmer weather. If you feel like heavy hop bombs this is not for you, but when you still want an IPA taste without the American ("I will kill you with hoppy bitterness" <--- I like this type of death normally) hoppiness then this beer is for you.
★
720 characters
3.98
/5
rDev
+2.3%
look: 4 | smell: 3.5 | taste: 4 | feel: 4 | overall: 4.5
A-Slighly cloudy yellow orange
S-Hop dominated, using a variety of hops which is very resiny, with some funky notes as well
T-Similar to the smell, certainly bitter but on the light side of IPA perhaps, still getting that deep resin taste. Also notably its super dry leaving the palate clean, which surprised me.
M-Lighter and perhaps fluffier than I would have expected, but in a good way
D- This was an interesting IPA, which surprised me a little after drinking so many citrus bombs. Seemed to me like a delicate, softer IPA, I would drink another and recommend it to those who maybe are turned off by ruination type IPAs
★
628 characters
3.97
/5
rDev
+2.1%
look: 3.5 | smell: 4 | taste: 4 | feel: 4 | overall: 4
Looks like Ozeno Yukidoke has hit the shores of California. Comes in short bowling pin shaped bottle with much of the label in Japanese characters. On to the beer:
Coughdrop orange in color with a little but of haze in the body. The head is short, but still manages to retain a thin layer all he way down and leave a few strings of lacing. Nice, subtle aromas in harmany; mango, tangerine, bready malts.
It seems more APA than IPA in character, nonetheless there are hops showcased. Delicate notes of mango burst onto the scene along a seperate rush of crackery malt. A little sweet toffee adds on, as does a light pine sap hint. Crisp and clean, no caffeine (hope 7UP doesn't sue me for that!) in the body. Some hop bitterness lingers on.
I could tell this was a new arrival at Hi Time, and that was the ticket to look past the fact that I knew NOTHING about this brewery, not even its consumer reveiws. The latter is risky enough, let alone the pricey buy-in of $5.50 for a small 330 ml bottle. To sum up, this beer will at least warrant a visit to its other stablemates at Ozeno.
★
1,087 characters
3.95
/5
rDev
+1.5%
look: 4 | smell: 4 | taste: 4 | feel: 3.5 | overall: 4
It has become a ritual for me to try anything from Japan that hits my local store and, well, here this was. It's become an expensive and not very rewarding hobby, but I'm always secretly hoping that it will payoff with a big surprise.
This beer looked great on the pour, though I was skeptical about its carbonation initially so I started pouring more violently and got a very respectable head. Ultimately, this beer is a little unusual for an IPA. It almost has a rice-lager esque background to it upon which bitter hops sit, though besides bitterness the hops are pretty bland. This creates a flavor profile that is one-dimensional, but also somehow rather satisfying. It reminds me, strangely, of something like pickles: pickles aren't packed with layers of flavor and notes, but they have a pretty straight forward flavor that makes you reach for one after another-- assuming you like pickles, of course.
Worth a shot if you're curious but I'm going to continue my search.
★
979 characters
3.86
/5
rDev
-0.8%
look: 4.5 | smell: 3.5 | taste: 4 | feel: 3.5 | overall: 4
A: The beer is hazy pale yellow in color. It poured with a three finger high off white head that has excellent retention properties and consistently left a thin head covering the surface.
S: There are aromas of yeast in the nose along with some hints of lemon citrus hops.
T: Like the smell, the taste has flavors of lemon citrus and a light amount of bitterness along with some hints of yeast.
M: It feels light- to medium-bodied and a bit chalky on the palate with a high amount of carbonation. The hops lend a lot of crispness to the mouthfeel.
O: This beer isn't as hoppy and bitter compared to other American IPAs, but it's nice to drink and has some interesting flavors.
★
676 characters
3.8
/5
rDev
-2.3%
look: 4 | smell: 4 | taste: 4 | feel: 3 | overall: 3.5
A: Pours a very hazy (almost cloudy) medium golden yellow to orange in color with light amounts of visible carbonation. The beer has a four+ finger tall dense foamy off-white head that slowly reduces to medium sized two finger thick patch with a thick film covering the remainder of the surface of the beer and a thick ring at the edges of the glass. Significant amounts of lacing are observed.
S: The beer starts out with some moderate to strong aromas of lemon/citrus hops and some lighter aromas of bready malts.There are also some more subtle notes of pine/resin hops. As the beer warms, a strong aroma of yeast becomes apparent and starts to dominate the overall smell.
T: The beer starts out with the flavor of bready malts with some fairly strong flavors of yeast (that yeast flavor has been increasing as the beer warms). There are moderate flavors of lemon/citrus hops with lighter amounts of pine/resin hops. Light to moderate amounts of lingering bitterness.
M: Medium bodied with moderate to heavy amounts of carbonation.
O: Enjoyable but not the easiest to drink beer - the yeasty flavors in the American IPA style are a little awkward. Glad that I tried this beer and would definitely consider sampling other beers from the brewery - I discovered this one at a Japanese market and bought it on a whim.
★
1,319 characters
3.79
/5
rDev
-2.6%
look: 3.75 | smell: 4 | taste: 3.75 | feel: 3.5 | overall: 3.75
Pours a murky honey orange with a foamy white head that settles to a partial film on top of the beer. Foamy rings of lace line the glass on the drink down. Smell is of citrus fruit, citrus zest, and grapefruit juice aromas. Taste is much the same with citrus fruit, citrus zest, and herbal hop flavors on the finish. There is a medium amount of hop bitterness on the palate with each sip. This beer has a lower level of carbonation with a slightly crisp and medium bodied mouthfeel. Overall, this is a pretty good beer with nice citrus forward hop characteristics all around.
Serving type: bottle.
★
598 characters

3.65
/5
rDev
-6.2%
look: 3.75 | smell: 3.75 | taste: 3.5 | feel: 3.75 | overall: 3.75
I had this beer at an amazing sushi restaurant in Atlanta. The place had a selection of hard to find Japanese craft beers, and this one caught my eye. It is a clear gold color with a frothy white head. The aroma is floral, and the taste was, although clearly hoppy, very subtle. Sweeter, more flowey, and delicate than most IPA's, this was still notably flavorful and good.
★
378 characters

3.64
/5
rDev
-6.4%
look: 4 | smell: 3.75 | taste: 3.5 | feel: 4 | overall: 3.5
From 09/2716 notes. Bottle into a chalice with the brewer at a Sushi Sake-beer pairing at Sushi Seki in NYC....pretty cool.
Taste is a bit maltier, than the nose but some nice citrus hops. Apparently one of the hoppiest Japanese beers.
★
236 characters
3.28
/5
rDev
-15.7%
look: 3.5 | smell: 3 | taste: 3.5 | feel: 3.5 | overall: 3
Bought @ Tamura's in Kailua, HI
Appearance: Copperish orange with a thin lacing.
Smell: Sweet, wheat and citrusy hops.
Taste & Mouthfeel: Mild with a drier and slightly bitter flavor at the end. Grassy aftertaste. Lighter in body with some syrup like flavors toward the end.
Overall: Not a bad attempt at an IPA, but it seemed a bit off. Almost too bitter for my liking.
★
375 characters
Ozeno Yukidoke IPA from Ryujin Shuzo Co,. Ltd.
3.89
out of
5
based on
48
ratings.