Tripel Bliss
| Franklin's Restaurant, Brewery & General Store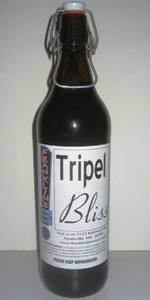 BEER INFO
Brewed by:
Franklin's Restaurant, Brewery & General Store
Maryland
,
United States
franklinsbrewery.com
Style:
Tripel
Alcohol by volume (ABV):
9.00%
Availability:
Rotating
Notes / Commercial Description:
No notes at this time.
Added by DefenCorps on 10-15-2010
Ratings: 13 | Reviews: 5
More User Reviews:

4.07
/5
rDev
+5.2%
look: 4.25 | smell: 4 | taste: 4 | feel: 4.5 | overall: 4
Poured from the bottle into a tulip glass.
A real nice brass golden orange amber body color, very glowing with a small rising cylinder of carbonation in the middle. Head makes easily three fingers tall with a very creamy white appearance if slightly milky. Fine carbonation on the sides. Very unique color real nice.
Hints of powdered sugar and cinnamon toast. Lots of orange and spicy clove notes, quite spicy. with a good fruit character, sweetness seems to subdue after some time.
A real super creamy texture to match on the palate with that head appearance. Creamed milk, with a nice toast malt bill. Hints of brown bread and toasted grains. Slight sweetness on the finish but real tannic dry qualities on the rooftop of your palate. Good soft carbonation and sweet pastry like breads as well. Some residual bitterness that brings a hint of pith citrus.
OVerall pretty interesting, but quite different and drinks easily as well with very hidden alcohol to match. Solid tripel.
984 characters

3.43
/5
rDev
-11.4%
look: 3.5 | smell: 3 | taste: 3.5 | feel: 3 | overall: 4
I received a bottle of Tripel Bliss through a friend of mine. The beer pours a hazy light amber color with a small, creamy white head on top. As the foam dissolves spots and lines of lace cling to the glass.
The aroma is sweet with hints of spice. Notes of candy sugar, light fruit (pear?), clove and pepper are present.
Each sip of this medium bodied beer is very smooth, slick and watery on the palate. Light carbonation. The flavor is a nice balance of sweet malt, light fruit and spices. It starts with a malty sweetness and a touch of apple/pear fruitiness. In the middle the spicy notes of clove and pepper move in. It finishes with hints of bubblegum and banana. Once gone the clove and bubblegum lingers on the palate.
This is an easy drinking, well balanced beer that hides its 9% abv very well. The characteristic Belgian spicy flavors seemed a bit light to me and the body was a little thin. Still, I enjoyed this beer quite a bit.
945 characters
4.1
/5
rDev
+5.9%
look: 4 | smell: 4 | taste: 4 | feel: 4 | overall: 4.5
The first bottled beer from Franklin's, this comes in a 1liter fliptop.
Pouring a little darker than I'd expect for a tripel, this is an amber/copper colored beer with a dense white head that recedes to a disk leaving a little lace. The nose is wonderful and fragrant. Spicy and fruity with a little sweetness, I really like the balance here. I do get some cloves and a little pepper, and there's some stone fruit too, a little peachy. There's some malt sweetness as well. The palate mostly replicates the flavors that the nose has, and as it warms up, it's apparent that the alcohol is very well hidden. Opening with a blend of light sweetness and a moderately spicy character, there's pepper and clove. The fruit is noticeable in the mid-palate and is a little more intense than on the nose, and makes me think it's almost floral in nature. Drying on the finish with a little sugar, this beer is medium-light in body and has a moderate level of carbonation. This is pretty excellent, I was sad to see the bottle drained, quite highly recommended.
1,052 characters

3.86
/5
rDev
-0.3%
look: 4.5 | smell: 3.5 | taste: 4 | feel: 3.5 | overall: 4
Delivered in a tall, sturdy brown bottle (1 liter) with a nifty little handled swing-top cap. Chilled in the cellar, poured at what I'd guess to be 40-45F. Great Divide snifter is today's glassware of choice.
Never heard of Franklin's before this arrived ~ a *very* local addition by drabmuh; thanks, Matt!
A: Golden butterscotch, tinged with a slight rosiness. The finest veil of haziness is punctured by a number of slow, writhing trails of tiny carbonation. Starts with a good finger's-worth of whitish cream, sufficiently mounded then gradually falling to a concave ring. Good clinging lace in blotchy patches , nice retention overall. Very pretty.
S: Yeasty and sugar-sweet aroma, well-spiced. Something akin to blueberries, maybe red grapes, in there, too. Reasonably strong.
T: Candied fruit and plenty of malt make for an enticing and flavorful mouthful right away. Grassy and honey-laced, sweet without stickiness. Clove really shines as this warms; so does a surprising melon - like ripened cantaloupe. Moments of grape-like astringency and chalky/medicinal bittering in a drying, peppered finish (one laced, still, with spice and fruit).
M: A little on the thin side, but exceedingly smooth/creamy. Carbonation is downright velvety, but the initial thinness/ lighter body and lingering gumminess sitting squarely on the back of the tongue is a small negative.
D: A big serving size for a big beer; fortunately, the swing-top allows for an extended break before returning (6-8 hours). Franklin's did a nice job here, creating an enjoyable and 'authentic' Belgian tripel that's worth seeking. Have it again? You betcha.
1,635 characters

4.15
/5
rDev
+7.2%
look: 4 | smell: 4 | taste: 4 | feel: 4.5 | overall: 4.5
From 06/18/11 notes. Had on tap at Franklin's...I think this was my favorite of their beers that they had on tap.
a - Pours a transparent golden-yellow color with one inch of white head and light carbonation evident. Looks pretty nice.
s - Smells of bananas, spices, cloves, yeast, and light fruity malts.
t - Tastes of bananas, cloves, eyast, spices, bready malts, light fruit.
m - Medium body and low carbonation; very smooth and creamy. Very drinkable; really great mouthfeel.
o - Overall a really good tripel. Lots of bananas and cloves, and super easy to drink. Would love to have again.
597 characters




Tripel Bliss from Franklin's Restaurant, Brewery & General Store
3.87
out of
5
based on
13
ratings.