97 Pound Weakling
| Franklin's Restaurant, Brewery & General Store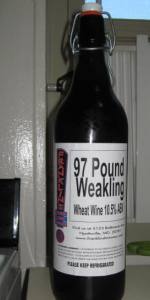 BEER INFO
Brewed by:
Franklin's Restaurant, Brewery & General Store
Maryland
,
United States
franklinsbrewery.com
Style:
Wheatwine
Alcohol by volume (ABV):
10.50%
Availability:
Rotating
Notes / Commercial Description:
No notes at this time.
Added by drabmuh on 05-07-2011
Reviews: 4 | Ratings: 9
Reviews by smakawhat:
4.15
/5
rDev
+1.2%
look: 4.5 | smell: 4.5 | taste: 4 | feel: 4 | overall: 4
Poured from the bottle into a snifter glass.
A really nice clear dark amber brown with red hints for a body, bringing caramel brown and creamy head color as well. Head color is a little creamy in appearance. I enjoy this color and it's opacity also as the beer settles.
Bouquet is unique, distinct, and enjoyable. Mild sour lemon on the nose with wheat like grain chew and body. Zesty. White dry table wine and green grapes on the nose. Also as it warms up it gets very herbal tea like. Quite unique, interesting, varied, complex at different stages. Impressive.
Taste follows the nose as well. Boozy slightly, giving way to dry white simple table wine. Lemon acidity slightly in the palate finishing with a wheat chew. Grape like white dry wine comes through a little bit. As the beer warms up a bit and sits though, the beer gets thin, and also the taste starts to disappoint as well.
Overall though, straight out of the bottle and fresh this is a great beer. Drink it fast that is my first suggestion, this doesn't keep while first open.
★
1,044 characters
More User Reviews:


3.87
/5
rDev
-5.6%
look: 3.5 | smell: 4 | taste: 4 | feel: 3.5 | overall: 3.75
Body is a murky muddy rusty brown that can only be described as mostly pretty ugly. . Head offers some redemption as far as these things go, with an array of off white sticky bubbles crowning one another before falling back, content to rest atop the rusty copper couldron from whence they derive.
Nose starts off sweet... can't fully put my finger on it. There's some grapes, both of the white wine variety as well as a touch of the big league chew variety and almost some sherry, though not nearly as sharp, and some.... man I can't quite pull in what it reminds me of. There's almost some odd candy that I'm sure I tried once. Tamarind? Interesting though. It works, whatever it is.
Now, what I'm about to describe is probably not going to accurately convey what I'm tasting. But it might get us in the ballark. More of that grape sweetness (of both varieties), though that's more just a central theme that hazes as we stray from that core. Melding into a grainy encircling and sharply corralled by a vinous striking bitterness, it is certainly a unique beverage.
The finish follows and closes in with that same sharp raspy acid bitterness leading to a dry withering end.
★
1,179 characters
4.38
/5
rDev
+6.8%
look: 4.5 | smell: 4 | taste: 4.5 | feel: 4.5 | overall: 4.5
Got a bottle of this at a recent beer event I helped run. QT sized bottle...
A: Wow, a nice perfectly clear deep orange color with a nice 1 inch tan head that fades at a moderate pace leaving bubble lace atop the brew. Very good.
S: I get a blast of citrusy hop upfront with some sweet malts quickly following. Very strong aromas. Good.
T: I get a sweet malt that, on first sip, starts slow but quickly ramps up to a mouthful of malt flavor. Quickly followed on the back is a hop bitter bite to kill the sweetness. A hint of alcohol burn hidden on the back. Very good brew.
M: Medium body with a fantastic carbonation! A dry, sweet finish. Very good.
O: All in all, this is a great wheatwine. I have not had many in the style, but this is definitely top of the line. I'd say, try this if you like big beers like barleywines, old ales, etc and would like to try a great wheatwine. This one is worth hunting down for sure! Bravo Franklin's.
★
943 characters

4.08
/5
rDev
-0.5%
look: 4.5 | smell: 4 | taste: 4 | feel: 4.5 | overall: 4
Served in an 8 ounce tulip, no growler fills on this one unless you buy the 1 liter bottles in the store. Beer is amber and mostly clear with a thin white head of small bubbles, no lacing, low carbonation. Looks fine.
Beer has a sharp aroma, some alcohol, a mild spiciness to it.
Beer is medium to light in body, thin on flavor in the get go and opens up to a nice, although mildly boozy, midpalate yeastiness where the wheat comes through nicely. The finish is mildly dry and not bitter. Very easy drinking for a big beer like this, I've had it twice and I'd have it again and for a wheatwine that is a feat. Nice job.
★
625 characters


97 Pound Weakling from Franklin's Restaurant, Brewery & General Store
4.1
out of
5
based on
9
ratings.