Candia Road Convenience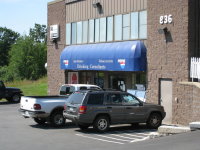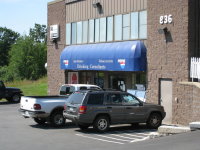 Store
836 Candia Rd
Manchester
,
New Hampshire
, 03109-5203
United States
(603) 669-6565 |
map
Notes:
3.75
/5
rDev
-0.3%
First off I have nothing against this place. When there ATM was down they offered to give me cash back on a transaction(not something they normally can do.) When I grabbed the last six pack and a bottle was missing they searched the whole place for me to find more.
The problem with this place is simple, the prices.
Maybe I'm spoiled by knowing some good places to get cheap beer, but come on! $9+ for import 6packs. $8 for LA fin de monde!, and $9.99 for a 6 pack of el presidente, when you can buy a 12 pack for $10 other places.
nof said....
547 characters
3.7
/5
rDev
-1.6%
This place has good selection of beers both imported and micros for a reasonable price. You can buy six-packs, mixed six-packs or just singles. Overall it is a convenience store more than a beer specialty shop, but as far as convenience stores go, they have an above average selection.
If you talk to the staff they will answer your questions in a fairly knowledgeable and intelligent way but it has been my experience that they like to spend time talking amongst themselves rather than helping out the customer. But if you know what you are looking for it doesn't really matter. Their prices are a bit better than some beer stores.
634 characters
3.9
/5
rDev
+3.7%
This is right off the highway, making it very convenient to get to. The owner seems to be a very nice guy.
Q: The store is a little cramped and looks like it could use a little cleaning. Has an older building type look to it. Can find most of the selection either cold or warm.
S: The owner seems to be very friendly and easy to talk to. Asked about ordering a beer he didn't have and it wouldn't have been a problem if the beer could have been purchased in NH.
SE: Wide variety of beers. Good selection of microbrews to macrobrews. I was told that anything available in NH was in the store.
V: The prices seemed very reasonable. The harder to find beers were of course more expensive. The deli prices were pretty fair as well.
Made me wish I could go in the summer and get a sandwich, sit outside and enjoy that with a beer.
832 characters

3.5
/5
rDev
-6.9%
I've been to this store a few times, they have a really good selection of what is available in NH. They are probably the second best selection in Manchester behind North End Suprette. The store is really kind of small. They stack a lot on the floor, which really isnt a bad thing unless you need something from the bottom.
They will let you buy singles from six packs at 2 dollars a piece or from four packs at 3 dollars a piece. Mix and match all you want. I have talked to the guy running the store in the morning and he is great in his beer knowledge, but when he leaves so does that level of beer service. The kids at night have no idea about anything beer related.
I don't think they have the freshest product, I saw bottles of Harpoon Peche (which was recalled) and the Glacier Wet Hop very recently. They don't stock any of the Pennichuck brews which I thought was odd, seems everyone has at least a few of Phil's 1 Liter swing tops on their shelves.
They have a large selection of cigars as well. I'm not sure how that selection is, I don't smoke 'em so they could have the Budweiser of cigars in stock I wouldn't know.
Not a bad store if you watch the freshness dates. Great selection.
1,201 characters
2.85
/5
rDev
-24.2%
To follow along the lines of the previous reviewers this is a good place to buy beer but not the best in the city and probably the most expensive. They do have a huge cigar selection for a convience store( note I know nothing about cigars) and also offer a deli counter for sandwhiches and stuff. The staff I've encountered has mainly been some young adults, so there wasn't much help as far as beer related questions are concerned. A few times I've found some really outdated beer there including beer from a brewery that had gone out of business six months earlier and the beer itself was made three months before the the brewery closed, so rotating stock might be an issue. I would have no problem buying beer here if I "needed" to, but I wouldn't seek it out.
763 characters
3.2
/5
rDev
-14.9%
I went there on a friends recomendation. Turns out I have been there before after taking a wrong turn years ago. Hasn't changed much.
Entering the store at first they have a huge selection of cigars. Not quite a smoke shop such as a dedicated place in the downtown or Salem but great for a mixed product store.
Heading into the back half of the store is a mix of convienence store standard fare on the left and beer on the right. The normal B-M-C stuff but a nice selection of big bottles and micro's room temp and in the cooler. I agree that with the other review that the prices are a $1-2 more per sixer and .50-1.00 more per big bottle than North End Superette across town. this is probably the 2nd best selection in Manchester and in some ways easier to get to than Elm st.
If it's more convienent for you than Elm St then I recommend the trip. If you like cigars and want a combo trip then this is definitely the place to go.
942 characters

3.5
/5
rDev
-6.9%
Candia road is a small store visible from 93 North,near the end of the Candia Rd exit. Easy on-easy off, if you're pounding the floorboard up to the mountains.
They have lots of cigars and the obligatitory rack of magazines with such titles as- Barely legal, Beaver hunter, and Sluts in heat.
I think they may make thier own sandwiches, too- that feature a special Aolie sauce that they "whip up" out back.
Seriously, though, they have a decent selection of micros (for NH mind you). Theres a smallish cooler stocked and open cases on the floor. For some reason they seem to charge $1-2 more per sixer than North End Superette across town.
As a result, I don't buy much there, but when I check in they always seem to have a pretty good selection (for NH).
Stock seems pretty fresh, not a lot of dust, and service is limited to the guy at the register with the porno mag.
So, if you're heading up from points south and you forgot all your beer,(I don't know how that coud happen), it's a quick hit.
Just after the 293 split in Manchester, next exit you come to.
1,067 characters
Candia Road Convenience in Manchester, NH
Place rating:
3.76
out of
5
with
14
ratings