John Harvard's Brew House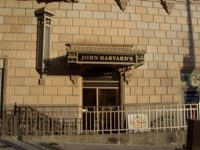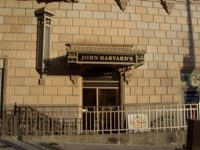 Brewery, Bar, Eatery
1299 Pennsylvania Ave NW
Washington
,
District of Columbia
, 20004-2400
United States
// CLOSED //
Notes:
Recent ratings and reviews.
Ratings by marc77:

Reviewed by marc77 from California
3.7
/5
rDev
-3.9%
vibe: 4 | quality: 3 | service: 4.5 | selection: 3.5 | food: 4
Smaller and more dimly illuminated than the other breweries in the area, John Harvard DC has comparatively more of a "local brewpub" type atmosphere, and excellent service taboot. There's nothing fancy or particularly noteworthy about the decor, just mostly wooden tables and booths, with a standard long bar to sit and enjoy a couple pints as well. Service both at the bar and tables were attentive (but not overly so), friendly and well versed in the tap selection. The food was certainly above average fare. The mussels steamed in beer and garlic were perfectly cooked and delectable, (we ordered extra bread just to soak up every last bit of sauce) and my grilled chicken salad was bodaciously big and delicious. My meal arrived promptly. The beer was unremarkable, but without flaw. Other than the vinous wheat wine every selection was more or less a session beer, w/ original gravities from 1.040 - 1.055. I recommend at least a stop for a bite and a pint, just don't expect to be astounded by the beer.
Dec 26, 2002
More User Ratings:
Reviewed by hopsaplenty from District of Columbia
3.95
/5
rDev
+2.6%
vibe: 3.5 | quality: 4 | service: 4 | selection: 4 | food: 4
Located on 13th St. next to the Warner Theater, but below ground, John Harvard's can be a little tough to find. There is an overhang with their name above the door, and once you enter, you must descend about 20 steps before finding the hostess stand.

There is a large bar to the left which provides plenty of space for groups to gather. Marble topped and dressed with light colored woods, it is a nice focal point. The brewery is clearly visible through windows on the second floor.

The dining room and is large and ringed by booths with the marble-topped tables in the middle. The ceiling is an undulating silver and gold slope, with fairly bright lights illuminating the room. When full, the noise can be enough to make conversations a bit tough.

They have the ability to handle large groups without much difficulty by stringing the square tables together. They are also child friendly with good, clean high chairs.

The complimentary foccacia-style bread brought to the table is wonderful in the herb-infused olive oil they pour. The menu is fairly diverse with a full range of appetizers. The chicken wings were nice and spicy and plenty meaty. They have plenty of options for vegetarians and will also customize entrees to remove meat items if desired. The salads we had were large, with loads of mixed greens, and fresh vegetables, and no iceberg lettuce in sight. The pizzas and sandwiches are large and filling. They also have more substantial options such as steaks, pastas, and seafood. The meals came quickly and were reasonably priced.

Their beer selection was wonderful and included a light lager, ESB, Prickly Pear Wheat (a shockingly bright ruby-pink), Black Forest Porter, and the fantastic Sucker Punch Double IPA on cask. I highly recommend the Sucker Punch on cask if available.

Service is generally good and attentive. Although this was not the case on our last visit with a large party (9), I feel that this was an exception. I have not found the staff to be too knowledgeable about the beers, but the menu items list suggested pairings.

Only a few blocks from the Mall, White House, etc., John Harvard's is an oasis of good beer and good food in this part of town. Definitely worth seeking out if you find yourself needing a break from the rigors of tourism. It is also not too far from several other brewpubs, so doing a mini pub crawl is a definite possibility.
Dec 19, 2005

Reviewed by woodychandler from Pennsylvania
4.25
/5
rDev
+10.4%
vibe: 3.5 | quality: 4 | service: 5 | selection: 4 | food: 4.5
I had been here a couple of times previously, since my aunt and uncle live in the District and a college classmate, Alayne, was working here and has since returned. The recent (Summer 2005) buzz from my Beer Mentor, Lew Bryson, really motivated me to make a visit while in town for a Stillers/Skins preseason game.

The entrance is deceptive, on 13th St NW, up about eight to ten paces from the corner with PA Ave NW. Entering the heavy brass doors, I had to descend a curving staircase sidelit like the aisles on an airplane. Upon completeing the descent, I was in front of the maitre d' station, flanked by a couple of prints with the John Harvard's logo, depicting colonial times. Dorectly behind me was the seemingly redundant reservation counter and behind that, a glass case with more of the colonial prints, as well as sample menus and glassware for sale.

As I sauntered in, I said the usual phrase, "Seat at the bar," which is spoken as both a query and a statement, in my case. I then positioned myself at the near corner, so that I can watch everything happen with only a modicum of movement. My sedentary lifestyle may not be for everyone, but it sure as heck works for me.

The bar is 2/3rds of an oval, anchored to the facing wall on the other side. The bartop is marble, the back bar and walls are blonde wood, the taps are brass towers, and the bar well is also brass. At my end of the bar was a beer engine, hence some of my desire to sit there. The Mug Club mugs are staged along the back bar, along with a framed chalkboard proclaiming "Now On Tap", as well as a separate sign reminding us that they have "Cask Conitioned Ale".

The overhead is an unusual undulating pattern of wood painted with alternating metallic gold and silver paint. Looking towards the oppisye end of the bar is a solid-looking silver door with a couple of framed GABF medals hanging from it. Above the door is a huge blackboard with "On Tap, [Tap] Date, and O. G." The brewhouse is visible on the second floor, above the chalkboard. Behind me, while still seated at the bar, is a row of booth-style seating with a dividing wall next to the booths. On the other side of the wall is another row of booths and then the restaurant area, which is mainly tables and chairs, with the kitchen all of the way to the back.

My server was attentive, if maybe a little overzealous. It begs the question of whether I should stop telling people who I am, but then I hate to surprise them in print or on-line later. It's a riddle wrapped in an enigma, surrounded by a conundrum. He just wanted to make sure that I was the happiest Beer Pest that I could possibly be, but sometimes my happiness is derived from being left alone with my thoughts, my pen, and my notebook. Later that afternoon, I met with the brewer and got a tour and even saw (reserved for an edit), a BA who attended F&M College in Lancaster.

The salmon veronica was excellent, especially when paired with their csk-conditioned IPA. On my next visit, I want to try the salmon archie, or maybe the salmon betty. Kidding, just kidding. About the latter two, that is. It really was a nice meal.

Final (sodden) thought: Man, was it bright in there! I may need to bring my welder's goggles on the next visit. It's like the greatest bartender ever once proclaimed: "Nobody ever went to a bar to catch a suntan!" - Russell "Rocky" Albrecht
Nov 24, 2005

Reviewed by GCBrewingCo from North Carolina
3.93
/5
rDev
+2.1%
vibe: 4 | quality: 4 | service: 4 | selection: 3.5 | food: 4.5
John Harvards is actually accessed off 13th St and by walking downstairs. The place was contemporary and very clean with a well lit dining room and the ability to hold a pleasant conversation.

The food is probably most notable right off the bat with both mine and my coworker's entrees being very good and worth a return trip if for nothing else but the food. The quality of both the beers and the food seemed good, but the selection was just ok, with a lager, a cask, an RIS, a Dunkel, a California Common and something else. Not overly varied or complex in the 6 selections.

The music was 80's with RATT heard and Whitesnake. Someone has a hair band fetish. I'd go back to this location, for food and beers that while not overly complex were not badly accomplished and were quite drinkable.
Oct 30, 2005

Reviewed by soulfly967 from Pennsylvania
3.75
/5
rDev
-2.6%
vibe: 3.5 | quality: 4 | service: 4 | selection: 3 | food: 4.5
I was here ove the weekend with my buddy from DC.

Located in the lower level of a building on Pennsylvania Ave. The place looked pretty cool. Gold wavy cieling, a pretty nice set up. The waiter was very energenic and knew what he was talking about when he suggested the Potomac Porter. As for the selectoin, the do have a cask beer (it was an IPA, not my cup of tea) and some other's on tap. Not as many as the one in Monroeville that I frequent regularly, but respectable. The food was excellent (I had some sort of Chicken Fired Chicken over cheddar mashed potatoes), just as I had come to expect from this chain. Next time I'm in the area I will be stopping back.
Apr 13, 2005

Reviewed by warmstorage from California
3.48
/5
rDev
-9.6%
vibe: 3.5 | quality: 3.5 | service: 3.5 | selection: 3 | food: 4.5
We came twice in one day on a recent trip: for happy hour, and then again for more beers later on. Sadly, this chain is about the best thing DC has to offer for a brewpub, all things considered.

As my scores indicate, this JH is just above average, or average. Compared to the Cambridge location that I'm most familiar with, it's pretty similar, with slightly upscale (for brewpubs) furnishings and linens. That said, the beer varies widely between JH locations, which is nice, as the individual brewers are apparently given a lot of latitude. What a chain, if it must be a chain, should be run like.

Atmosphere: a little hidden away, it's basically in a basement with no windows. The bar is adequate but gets crowded easily, and is super smoky. The dining area is separated from the smoky bar only by a ~10 foot wall, and the smoke definitely comes over, though the ventilation system is better than at some DC bars/brewpubs. The ceiling is the decorative highlight, to be sure: hammered copper (or something like it) that has caught my eye every time I've been in (approximately ten times.) The dining area is maybe 20 tables, with not much space in between, so servers and customers kind of have to navigate through. Happy hour is packed, despite being pretty mediocre: one or two beers will be on special, and the free appetizer trays at the bar of yesteryear were not in evidence this time.

The quality of the beer: well, just average for the standards, with a couple of delightful seasonals. See my separate review for the fantastic, floral, citrus-y Sucker Punch IPA.

The passion fruit beer was also surprisingly great, and we had a few. I generally have a love/hate relationship with fruit beers: I hate the ones that taste like extract or candy or crappy light beer, and love the ones that use real fruit, taste like real fruit, and are built on a solidly good beer base. The JH passion fruit (made with real Brazilian fruit) was amazingly authentic for what passion fruit, and other tropical fruits, actually taste like: tangy, and a little odd to my American tongue, though very much like the (exotic) fruits I've had lots of in Thailand, South America, and Central America. The passion fruit beer was on a golden or wheat base, which held it up perfectly, without interfering with the fruit. A surprisingly zing/kick is in this beer, slightly acidic, but overall very pleasant. I'd order it again, for sure. Oh yeah: I did.

The service was good, plessant, but a little harried during happy hour, and more than a little distracted when we came in late, as they were trying to close down (quite early.)

The food here is consistently good, and consistently better and somewhat more interesting than average brewpub fare.

I'll undoubtedly go again since, despite the smoke, John Harvard's DC location is probably the overall best brewpub in D.C. proper. Oh, nation's capital, I weep for you when a chain does it best...
Feb 25, 2005

Reviewed by Gavage from Nevada
4.08
/5
rDev
+6%
vibe: 3 | quality: 4 | service: 4 | selection: 4.5 | food: 4.5
Located just a few blocks from the White House and Smithsonian museums, my wife and I stopped in for a Saturday lunch to get off our feet and drink a bunch of beers before getting back into tourist mode. The building is in a basement of a building, and walking in you push aside some drapes they use to cut down the drafts from the outside doors opening. The bar is a decent size with about 15 stools. The table areas are mostly booths with a few tables. Quite small. The brew room is visible from the bar, and it is in quite a tiny area and I wonder how the brewmaster can work in that environment.

There were several beers on tap including a pale ale, IPA, nut brown (cask conditioned), irish stout, czech pils, light lager, and a passion fruit wheat. Some beers were good, others so-so. The bartender was nice as he let us try some samples of the house rootbeer and raspberry sodas too, and they were very good (for those BA'ers with kids).

The lunch we had was really good, as the chicken pot pie and the calamari were both excellent. This is a nice place to stop in, but beware even on a Saturday half the customers were in suits.
Feb 20, 2005
Reviewed by ecoboy from Rhode Island
3.75
/5
rDev
-2.6%
vibe: 2.5 | quality: 4.5 | service: 3.5 | selection: 3.5 | food: 4
In case you ever asked or were asked the trivia question "where's the closest brewpub for a Commander-in-Chief?" Here's the answer.

This is not the strongest of JH locations. This is mainly for two reasons:

because it gets so busy with type-A's and overacheivers that it's hard to feel fully relaxed. Even the Harvard crowd at the original doesn't feel this starched.

because the small location with downtown-Washington building decor doesn't do much for the senses. If it feels a little... like a cafeteria gone upscale to you, it's not just you.

Everything else, including the selection and quality of JH beers rates above average. There's no question I'd go here on foot if my beer neediness struck while touring the nation's monuments or the Smithsonian. I could also see frequenting it for lunch if I worked in the area. But as my local? No. Pity the commander-in-chief. Oh well, he can't drink beer anyway.
Apr 21, 2003
Reviewed by Murph from Arizona
3.78
/5
rDev
-1.8%
vibe: 4.5 | quality: 3.5 | service: 4.5 | selection: 3 | food: 4
Attended on a recent DC brewpub crawl with fellow BA marc77. This was our first destination since it was closest to the Metro stop. After some problems finding its fairly non-descript entrance we descended into the brewpub, located in the basement. Although it was fairly crowded for the lunchtime crowd we managed to find two seats at the bar. The service was very attentive. Our bartender asked us what we wanted before we even knew the answer to the question. We decided to go with the Nut Brown since it was $2 a pint. Not a bad selection, although a bit on the unexciting side. We tried a few more selections and decided not to get anything to eat just yet and were encouraged to come back by the bartender when she told us they would have their Chocolate Stout on in about 2 hours. After making the rounds of the other brewpubs in the area we came back and sat at a table this time around. Our server was just attentive enough and the food was great, especially the mussels that we had as an appetizer. We got a sample of the Choc Stout and decided to pass since it was rather plain and we were tired from the travels of the day. A nice place that I would recommend to other BAs but don't expect to be blown away by the beer.
Jan 02, 2003
John Harvard's Brew House in Washington, DC
Brewery rating:
3.58
out of
5
with
936
ratings