Élixir Céleste
| Brasserie Dieu du Ciel!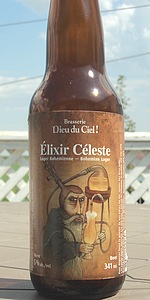 BEER INFO
Brewed by:
Brasserie Dieu du Ciel!
Quebec
,
Canada
dieuduciel.com
Style:
Czech Pilsener
Alcohol by volume (ABV):
5.00%
Availability:
Rotating
Notes / Commercial Description:
No notes at this time.
Added by francisweizen on 01-05-2004
Reviews: 32 | Ratings: 58
4.05
/5
rDev
+2.8%
look: 4 | smell: 4 | taste: 4 | feel: 4.5 | overall: 4
Yé. A Quebec bottled Pilsner.
A- Nice, very clear gold with a slightly chunky, slightly yellowish head.
S- Some rose water hoppiness with a very nice grain smell. A little lemony.
T- Not sure how to describe this. Quite hoppy with a nice tasting but very light malt base. Grassy. Bitterness seems to grow with every sip and lingers long after.
M- Great. Very smooth, medium bodied. Low carbonation. Dry and astringent.
O- Light but with a very heavy bitterness. Fun to drink. Hope they sell 6-packs.
506 characters
4.09
/5
rDev
+3.8%
look: 3.5 | smell: 4.5 | taste: 4 | feel: 4 | overall: 4
I incidentally wandered into this pub before performing a concert in Montreal 6 years ago. I've never been back since as I live in Philadelphia, but I always remember this beer and completely intend on finding this place again on my next trip to Montreal.
Good classic Pils color, with a half finger head that did not dissipate until half way through the glass. Great head retention and carbonation reminiscing of spring rain. Incredible aroma, one of the best hop/grassy/ herbal aromas I've ever encountered on a Pilsner.
Nice floral hop notes with good bready malts in the middle. Nice bitterness refreshes the palate and get the saliva glands kicking.
I had five in one sitting. Definitely gets you craving.
713 characters

4.73
/5
rDev
+20.1%
look: 5 | smell: 4.5 | taste: 5 | feel: 4.5 | overall: 4.5
On tap at the brewpub. The aroma is very inviting - nice mix of floral and herbal hops, perfect for the style. The head is long lasting, fine and rocky, with a persistent fine bead - a pleasure to look at in a tall glass.
Taste is a great blend of bready, cereal malts and herbal hop flavors with a good persistent bitterness. This is a refreshing and well constructed pilsner that maintains interest throughout the glass and inspires ordering another (except there are so many other choices waiting in the wings....)
519 characters
4.42
/5
rDev
+12.2%
look: 4 | smell: 4.5 | taste: 4.5 | feel: 5 | overall: 4
Pours a sparkling gold with a finger and a half of white head that left some slippery lace on the Mondial glass (which actually suited pilseners well). Hell of a lot of saaz in the aroma, mixing with lemon zest, toasted biscuity malts and tree fruit. Very clean and tempting. Certainly hop-dominated in the flavour, with a big dose of saaz combining with grapefruit to provide a substantial bitterness in the finish. However, there is able support from cereal like malts, and some added complexity from floral and herbal notes. The mouthfeel on this beer is excellent, with a perfect crispness that accentuates the bitterness of the hopping.
This is a damn solid Czech Pils, but perhaps overly-hopped for the style. I'm not BJCP though, and I love hops, so this was a clear winner for me.
789 characters
4.32
/5
rDev
+9.6%
look: 4 | smell: 4.5 | taste: 4.5 | feel: 4 | overall: 4
On tap at the brewpub.
Pours a clear golden amber, a bit of lighter yellow in the edges, very thick white head forms and settles down to a thick layer, good lacing stick on the glass.
Smell is real nice, very herbal, a bit of light fruit, floral, nice biscuity/cracker maltiness, honey sweetness, sharp grassy hoppyness, lightly herbal, very nice.
Taste is nice too, malty up front, some honey and biscuit, lightly bready, some light fruit, herbal and grassy hops, touch of citrus and floral, great bitterness in the finish, really nice pils flavour.
Mouthfeel is light to medium bodied with medium carbonation. This is a great pils, very hoppy but great and complex maltiness, and super drinkable.
702 characters
3.95
/5
rDev
+0.3%
look: 4 | smell: 4 | taste: 4 | feel: 3.5 | overall: 4
8oz glass at the brewpub.
This beer appears a somewhat hazy medium golden colour, with one thick finger of thin foamy white head, which leaves a nice wall of pock-marked lace around the glass as it lazily recedes.
It smells of white cracker, bready cereal grain, a bit of earthy honey, and floral, grassy old-world hops. The taste is sweet white grain, a nice fruity, understated honey sweetness, and more tangy floral, weedy, grassy hops.
The carbonation is moderate, the body a decent medium weight, a tad clammy, but generally smooth. It finishes mostly dry, crisp, and hoppy.
Tasty, to be sure, and a pretty bang-on example of the style, worthy of a round or two, or perhaps more, bien sur.
699 characters

2.78
/5
rDev
-29.4%
look: 3 | smell: 2.5 | taste: 3 | feel: 2 | overall: 3
Notes from recent trip to the Montreal Dieu du Ciel brewpub. (6/9/09)
Pale and crystal clear with almost no head. Round and sweet lager with pale maltiness and some light mixed fruits. Crisp hops prevent it from being too sweet. Too close to a macro for me.
258 characters
4.16
/5
rDev
+5.6%
look: 4.5 | smell: 3.5 | taste: 4.5 | feel: 4.5 | overall: 4
Had this at the brewpub in Montréal.
A: Pours a dark golden color with a thick head. Leaves a decent amount of lacing on the glass. A swirl brings back a huge head.
S: The aromas mostly consist of floral hops and grain.
T: Starts off with floral hops and then follows with a thick maltiness. Very cereal-like. This beers was very satisfying at every sip. It left you wanting more but felt voluptuous and round at every sip.
M: Med-bodied with a decent amount of carbonation again. This seems to be the overall feel of the Dieu du ciel beers. Again, the same drying effect that I experienced in a few of their other beers. Fits the taste of the beer very well.
D: I could've spent the evening with this one, hadn't it being that the Chaman was on their menu. 1 pint left me very satisfied.
Overall, a great beer that I wasn't expecting too much from the style it was described as : Bohemian style lager. I had it as a taster and was amazed at how tasty and satisfying it felt. I had to try a full pint. No need to say that I wasn't let down by the bigger format.
1,068 characters
4.23
/5
rDev
+7.4%
look: 4 | smell: 3.5 | taste: 4.5 | feel: 4.5 | overall: 4.5
Gold color; nearly clear. Small head but lasts. Good lace.
Admittedly, my nose is a little shot. I just had Dieu's Stout. Obviously, this is a lighter fare: good hop with solid malt base.
The beer is richer than the smell with stronger hop. It's also more full-bodied (than the style) with just the right amount of carbonation.
In many ways, I regret having the stout just prior to this tasting because I think that this is, like Dieu's other offerings, a powerful offering.
477 characters

3.95
/5
rDev
+0.3%
look: 4 | smell: 4 | taste: 4 | feel: 3.5 | overall: 4
For a Tutonic malt lover my trip to Montreal has proven a good one...2 great marzens and now this wonderful Bohemian. This taps with a glorious hazed orange-yellow with a substantial white cap that laces well. A Saaz blast awaits the nose but there is more nutty-sweet malt present in this aroma. wonderful well rounded mouth feel..medium-light bodied...almost perfect balance between nutty/bready malts and grassy citrus hops....finish is clean and crisp with some bittering and a biscuit dough after taste....a well made bohemian lager.
538 characters
4.12
/5
rDev
+4.6%
look: 4 | smell: 4.5 | taste: 4 | feel: 4 | overall: 4
The style type they had for this one when I visted in April was: Blond Bohemian Lager...Anyway: Blond in color, natch, it came topped with a white frothy head that left nice fingers of lace in my glass. I enjoyed it's perfumey aroma. Mouthfeel was good and properly carbonated. Malty taste was also nice and smooth, and I ended up with some bicuity taste in th finish and astringency as well.
392 characters
4.1
/5
rDev
+4.1%
look: 4 | smell: 4 | taste: 4 | feel: 4 | overall: 4.5
Served a clear light amber with a big white head. This one comes in a huge pilsener pint glass. Tastes nice and crisp. Malts are also there and are slightly sweet. The brew has very solid balance. A very solid lager without a doubt. Very easy to drink.
252 characters
Élixir Céleste from Brasserie Dieu du Ciel!
3.94
out of
5
based on
58
ratings.