Corne Du Diable
| Brasserie Dieu du Ciel!
BA SCORE
84
good
668
Ratings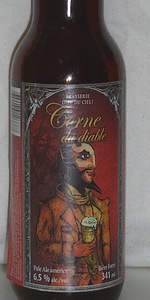 BEER INFO
Brewed by:
Brasserie Dieu du Ciel!
Quebec
,
Canada
dieuduciel.com
Style:
American IPA
Alcohol by volume (ABV):
6.50%
Availability:
Year-round
Notes / Commercial Description:
"American-Style India Pale Ale"
Added by Rastacouere on 03-07-2004
Reviews: 415 | Ratings: 668
4.05
/5
rDev
+8.9%
look: 3.5 | smell: 3.5 | taste: 4.5 | feel: 4 | overall: 4
Pours a medium brown with a slight haze to it. Started with two fingers of foamy head, fell to a thick cap and left some lacing. Spotty lacing as I drink.
Smells like grapefruit. Very citric hop aroma. Straightforward, but it is a pleasant smell.
Toasted white bread is first on the front of the tongue, then malt steps aside and the hops take over. Strongly citric with a touch of pine at the very finish. Grapefruit and lemon drops. Good taste.
There is a fair bit of body to this beer and the carbonation is lively. Feels fresh and alive.
Quite a nice IPA, I could see this one working as a session beer despite having a slightly higher abv. I can see why this one is so popular in the forum lately.
706 characters

3.85
/5
rDev
+3.5%
look: 4 | smell: 4 | taste: 4 | feel: 3.5 | overall: 3.5
Graciously brought down from Montreal by SimTimard.
Pours a deep orange with a two-finger cream colored bubbly head that fades slowly leaving a ring around the edges. Leaves sticky lacing/sheets down the entire glass.
Strong floral hop aroma jumps right out at you, followed by some grapefruit and other citrusy notes in the background. Nice malt presence keeps things in balance.
Bitter floral hops immediately attack the tongue, followed by some bready, earthy caramel malts. It's real dry up front, but finishes nice and smoothly with only a hint of any bittering hops at the end.
Mouthfeel is medium bodied. There is a bit of a bite on the tongue, though not totally bad, that detracts a little bit. Overall, though, nicely balanced.
Aside from the price, it is quite drinkable. It's a pretty decent offering for the style, and I could easily knock back a few of these at a time.
888 characters
3.35
/5
rDev
-9.9%
look: 4 | smell: 4 | taste: 3 | feel: 3.5 | overall: 3
12 ounce bottle purchase from a grocery store down the street from the brewpub. Excellent looking beer- great clarity, proper amber hue, and frothy three finger head when poured into my imperial nonic glass. Smell- creamy pine and pineapple. Taste- very different. Odd malt taste that I can't place that melds into very grassy hops. Not what I expected from the intial nose of the beer. Every sip is that same odd initial taste that disappears into hop bitterness. After a few more sips I pick the pale malts in the finish, but something is off here. Not sure if infected or what? Medium body, with relatively low carbonation. I had high hopes for this beer, and it started out great, but crapped out where it counts. Would like to try again to see if truly a one off or not.
775 characters

3.8
/5
rDev
+2.2%
look: 4 | smell: 4 | taste: 4 | feel: 3 | overall: 3.5
Bottle from Metro Joanette date coded as bottled Sept...3 weeks from bottling.
Poured an intoxicating hazed deep amber-orange with a sticky rocky 2 finger cap that laced the glass well.
Aroma: Piney, Grapefruit rinds, apricots musty sweet malty tones...perfect!
Profile: WoW! Malty but not sweet...hop complexity drives this flavor...pine, grass, citus, cedar, woody tones...all in a musty-earthy malt vehicle...dry, slightly bitter finish with metallic after taste.
Surprisingly light body and mouth feel...yet satisfying...very unique flavour and interpretation on this style.
582 characters
3.73
/5
rDev
+0.3%
look: 4 | smell: 3.5 | taste: 4 | feel: 3.5 | overall: 3.5
Bottle: Poured a deep copper color ale with a nice thick and quite big foamy head with some good retention and some good lacing. Aroma of resin hops with some nice floral notes. Taste is also dominated by some resin hoppy notes with a subtle caramel malt profile and ends with some bitter notes. Body is quite full with a nice texture and some good carbonation.
361 characters

4.47
/5
rDev
+20.2%
look: 4 | smell: 4.5 | taste: 4.5 | feel: 4.5 | overall: 4.5
Just got my hands on some of the first bottled Corne du Diable I guess. I don't know but on the label it says American Pale Ale, hmm it is?
Look is a shy pretty head that comes and let herself goes very slowly, dark golden in appearance with some reddish hues.
Smell is cascade hops first, citrus, piney and a shy floral touch.
Taste is very bitter, followed by the hops, floral flavors and a hint of lemon citrus touch that dies in a very shy malted touch.
461 characters
4.35
/5
rDev
+16.9%
look: 4 | smell: 4 | taste: 4.5 | feel: 4.5 | overall: 4.5
Delicious beer with a big citrus taste. Cascade hops develop the mouthfeel in back of the throat. The label of the beer has a devil guy on it holding a pint. Very mild, a defientely a twist for an American stuyle IPA. You've got to try this, as all of the brews from the great Dieu de Ciel. Highly Recommended Chris
315 characters
4.82
/5
rDev
+29.6%
look: 4.5 | smell: 5 | taste: 5 | feel: 4.5 | overall: 4.5
Delicious crystallized citrus fruits and grapefruit flavour. Refreshing and comforting; with a powerful (but marvellous) bitterness in mouth. Lots of (resinous) hops (I smell and taste Cascade ! Am I right ?). Lovely hazy reddish and/or orange dress. Extremely well-balanced. The more I try it, the more I fall in love with this beer. It might be their best beer of all (I know, It's hard to choose!)
400 characters

4.02
/5
rDev
+8.1%
look: 3.5 | smell: 4 | taste: 4 | feel: 3.5 | overall: 4.5
Cask from the brewpub.
A: Copper-bronze, off-white head, some retention, no lace.
S: Grapefruit citrus & peaches.
T: Grapefruit citrus, pleasant fruity esters (often lacking in new world versions), modest bitterness (could really use more), light caramel & biscuity flavours.
M: Light to moderate body, slight acidty, modest carbonation from the cask.
D: Quite drinkable.
386 characters
4.35
/5
rDev
+16.9%
look: 4 | smell: 4 | taste: 4.5 | feel: 4.5 | overall: 4.5
Nice treat, had at Volo Cask Days 2006.
Pours a hazy amber/red, tiny white head, goes pretty fast leaving some spots of lace. Smell is nice, lots of grapefruit, floral, caramel, slight bit of alcohol. Taste is very toasty, a burnt caramel flavour that I really enjoy, followed by citrusy grapefruit and floral, very balanced. Mouthfeel is light to medium bodied with low carbonation. I found this very enjoyable, a flavour profile I love and would love to have again.
470 characters

4.37
/5
rDev
+17.5%
look: 4 | smell: 4.5 | taste: 4.5 | feel: 4.5 | overall: 4
sampled on cask as part of the volo cask days 2006. thanks to ralph and all involved for putting together an awesome fest.
pours a pale red colour with a nice creamy head.
aroma is great. grapefruit and oranges. slight malt hidden behind the hops and just a hint of alcohol.
taste is great. strong bitterness and a bit of alcohol initially. nice bready malt behind that and a great grapefruit and pine hop flavour. lingering sweetness. the alcohol is actually more noticeable than i would have expected.
mouthfeel is good. nice body. the moderate carbonation works great.
drinkability is nice. balanced fairly well and doesn't seem too strong.
658 characters
4.05
/5
rDev
+8.9%
look: 4 | smell: 4 | taste: 4 | feel: 4.5 | overall: 4
Appearance: Reddish amber, with a nice thick head. It was white and fluffy like powdered snow. The poster boy for a CAMRA campaign!
Smell: Big, fresh hop aroma, like rubbing hop plugs between your fingers. Amazing how the cask can bring out that hop bouquet, most probably cascade and fuggle, with a hint of vanilla flowers, like walking into a florist boutique that moonlights as a homebrew supply store.
Taste: Here again, blooming buds and freshly cut herbs, gooey honey like malt, mandarin oranges, great astringent mouthfeel and hops, hops, hops. This beauty was made for cask, propulsing it with CO2 would sharpen the alpha acids too much. I remember having this Beer once or twice before without being too impressed, but this time it just floored me. Cheers to JF for brewing another winner, worthy to be called an American IPA.
841 characters

4.15
/5
rDev
+11.6%
look: 4.5 | smell: 4.5 | taste: 4 | feel: 4 | overall: 4
From notes: Cask-conditioned American IPA from one of the best brewpubs on this continent! Dark golden in colour with a fine-foam cask conditioned appearance. The cascade, the tiny bubbles, the frothy top. This looks just fine. Aromas are nice and American hops are showcased here very well. However the blend is hard to pick out as this is blended so well. I assume cascade and maybe some centennials were used in conjunction with a few other North American variatels. Taste is hoppy and citrusy with some pine notes as well. Hop flavors are leafy and quite raw but the strong malt backing adds a breadiness and a hint of caramel to the beer. Mouthfeel is medium bodied and quite nice, drinkability too. Another nice pale ale from DDC and quite a nice cask offering. A bit nicer than the English IPA I reckon...
812 characters
3.8
/5
rDev
+2.2%
look: 4 | smell: 4 | taste: 3.5 | feel: 4 | overall: 4
Smooth grapefruit, hoppy, creamy, good significant carbonation. Lace, thin head. Amber and good hop floral scent. Long citrus grapefruit finish.The juice is loose. Full mouthfeel, a hophead's delight. Modiale 2005. Had again at Cask Day 2006 at Bar Volo and nnoticed better cask appearance, good mouthfeel though not as tasty.
Had four years later on tap at the brewpub and still a standout IPA,
Has a bottle from LCBO shipment 4.5 years later, and it was an infected bottle.
475 characters
3.23
/5
rDev
-13.2%
look: 4 | smell: 3.5 | taste: 3 | feel: 3.5 | overall: 3
Cloudy deep golden hue with a well-laced white head. Spruce aroma, straightforward orangey hops. A hoppy citrusy palate with a very honest bitterness and a solid malt backbone, but it doesn't leave much impression, especially with a dissapointing light body. Sweeter than most IPA, definitely a respectable session beer, but for now I'll stick to my Solstice d'hiver:)
368 characters
Corne Du Diable from Brasserie Dieu du Ciel!
3.72
out of
5
based on
668
ratings.