Blanche Du Paradis
| Brasserie Dieu du Ciel!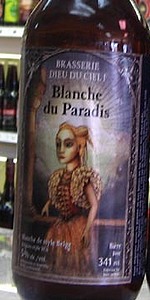 BEER INFO
Brewed by:
Brasserie Dieu du Ciel!
Quebec
,
Canada
dieuduciel.com
Style:
Witbier
Alcohol by volume (ABV):
5.00%
Availability:
Year-round
Notes / Commercial Description:
No notes at this time.
Added by BeerAdvocate on 05-03-2002
Reviews: 109 | Ratings: 237
4.21
/5
rDev
+10.5%
look: 5 | smell: 4 | taste: 4 | feel: 4.5 | overall: 4.5
Wow.
Pour a hefty murky light yellow with alot of haze, amasing carbonation and a thick lush cloudy head that actualy laces on the glass in thick crusters of foam.
Aroma of wheat bread, coriander and curacao. Awesome over the top orange pith flavor that melds with a sweet wheat and malt backbone and a note of spice.
This and paienne are now my top 2 Dieu du Ciel beers, unbeleivably drinkable, just plain awesome.
★
418 characters
4.84
/5
rDev
+27%
look: 4 | smell: 5 | taste: 5 | feel: 4 | overall: 5
What a beautiful Witte Beer! I've never had a White beer taste or smell like this before! Peppery, hazy, unfilitered, and amazingly complex. This is a White beer with huevos, unlike any I've ever had before. Very dank. Highly recommended, and extremely refreshing. Chris
★
270 characters
4.47
/5
rDev
+17.3%
look: 4 | smell: 4.5 | taste: 4.5 | feel: 4.5 | overall: 4.5
This was the best beer on when we visited in April. Clear straw color when served, but it came with an awesome peppery aroma. Low to no head meant no lacing when we were through. Taste was a bit sweet, but with an awesome black peper aftertaste. This was my first 'pepper' encounter, and I enjoyed it very much.
★
311 characters

4.5
/5
rDev
+18.1%
look: 4.5 | smell: 4.5 | taste: 4.5 | feel: 4.5 | overall: 4.5
Pale yellow with a nice off-white head that lasts and leaves nice lacing as well. The aroma screams classic Quebecois wit. Orange peel, coriander, yeast complexities, wheat, and spicy/herbal-floral hops. The taste is spicy up front with some spicy hops in the middle and a dry slightly hoppy and fruity finish. The mouthfeel is light and refreshing and the drinkability is very, very good. A very refreshing witbier. One of the best in Montreal.
★
445 characters

4.63
/5
rDev
+21.5%
look: 5 | smell: 4.5 | taste: 4.5 | feel: 4.5 | overall: 5
I love a good white beer, and this is a good white beer. I had this a few times, as I was on a beer holiday and I needed something on the lighter side, but with taste. It was a pale yellow colour, cloudy, with a big fluffy white head. It smelled spicy and light, a bit lemony/ citrusy. Tasted like your typical belgian white- fruity, spicy, wheaty. It was very smooth going down too, soft and silky in your mouth. Drinkability is excellent, as it's so simply refreshing and complex at the same time, just a wonderful beer by DDC.
★
529 characters
3.65
/5
rDev
-4.2%
look: 4 | smell: 4 | taste: 3.5 | feel: 3.5 | overall: 3.5
Refreshing crisp wheat beer. Modest fruit in taste though bubblegum fruit aroma. Too carbonated fizzy. Light texture. Bit of lemon and corriander (a natural male birth control) spice. Would not have worked with too much spice. Cloudy light yellow appearance.
★
258 characters
3.75
/5
rDev
-1.6%
look: 4 | smell: 4 | taste: 3.5 | feel: 3.5 | overall: 4
The pour was a cloudy golden/yellow with a thin, minimal head. I found the nose to be light and fruity/citrus with hints of apricot and lemon. The taste was lightly hopped but offered good balance between the fruitiness and hoppiness. A refreshing finish that made this beer very easy drinking. A good example of a Blanche!
★
323 characters
4.33
/5
rDev
+13.6%
look: 4.5 | smell: 4 | taste: 4.5 | feel: 4 | overall: 4.5
Should I review this?? I snagged enough of my wife's 16 oz serving, so it's okay. A beautiful drink. I am not the biggest fan of the style, but this one is a classic. Truly refreshing. This brew has a lot of citrus with the spice to match (I hate overly spices whites). I really wish this was my local... maybe I'll have to learn French!! Smokes the Hoegaarden I was sipping at Le Festival du Jazz IMO.
★
408 characters

4
/5
rDev
+5%
look: 4 | smell: 4 | taste: 4 | feel: 4 | overall: 4
Montreal brewers love this style and have adopted it as their own. The heavenly pale straw-yellow color hints at the style, which is confirmed by a slightly fruity aroma and hints of coriander and white spices. The beer is light bodied and very thirst quenching.
★
264 characters
Blanche Du Paradis from Brasserie Dieu du Ciel!
3.81
out of
5
based on
237
ratings.