Charbonniere
| Brasserie Dieu du Ciel!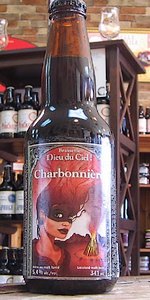 BEER INFO
Brewed by:
Brasserie Dieu du Ciel!
Quebec
,
Canada
dieuduciel.com
Style:
Smoked Beer
Alcohol by volume (ABV):
5.40%
Availability:
Year-round
Notes / Commercial Description:
No notes at this time.
Added by BeerAdvocate on 05-03-2002
Reviews: 62 | Ratings: 103
3.68
/5
rDev
-1.9%
look: 4 | smell: 3.5 | taste: 3.5 | feel: 4 | overall: 4
A- Dirty-white consistant head. Liquid is a very dark reddish amber with lots of bubbles throughout. Looks like heady coke. Lacing is great.
S- Wet wood ashes.
T- Smoke. A little sour. Also tastes like water and smoke so the smell isn't that far off. I wish there was more. I had this at room temperature and didn't find anything special.
M- Thin and carbonated. I guess it works well to ease off the smokiness but it makes it feel a little cheap though it does foam up nicely in mouth.
D- I've had a few smoked beers but never find them too drinkable. I guess this is one of the better ones.
EDIT: Since my review, I've downed a four pack of this and am really starting to enjoy it. I never wanted to buy smoked beers before and I just might be starting a craving for them. This is good beer.
799 characters
3.62
/5
rDev
-3.5%
look: 3.5 | smell: 4 | taste: 3.5 | feel: 3.5 | overall: 3.5
12oz glass at the brewpub. I've had a few rauchbiers before, and this purports to be made in the same vein - oh boy.
This beer appears a clear, dark red-brick amber hue, with one skinny finger of surprisingly dense and foamy beige head, which leaves a bit of streaky landform lace around the glass as things slowly subside.
It smells very much of moist smoked wood, the sort just used in smoking salmon and pork, a further campfire astringency, and some generally subdued bready caramel malt. The taste is more meaty, smoky charred woodiness, wet ash, duly roasted semi-sweet grainy caramel malt, a touch of singed dark fruit, and ethereal leafy, weedy hops.
The carbonation is moderate, barely a blip on the frothy front, the body a solid medium weight, a tad oily, and maybe a bit cloying, but without much in the way of that airborne ashy character I might have been expecting. It finishes just a smidge off-dry, as that smoke in the throat, palate, and nasal passages is still rather hard to ignore.
I'm not entirely sure why this isn't classified as a Rauchbier, as the otherwise heady maltiness is quite thoroughly overshadowed by the ingrained meaty smokiness - does it have something to do with protected place names, or some other such nonsense?
1,261 characters
3.84
/5
rDev
+2.4%
look: 3 | smell: 4 | taste: 4 | feel: 4 | overall: 3.5
Pours a neutral amber with little haze. Nearly no head nor lace.
Smells like a "saicisse" (sausage); yes, there's smoke but it's appealing rather than distracting.
This starts off malt but goes to all smoke quickly. Good body with a relatively low level of carbonation. This is a beer that'll grow on you.
307 characters
3.87
/5
rDev
+3.2%
look: 4 | smell: 4.5 | taste: 3.5 | feel: 3.5 | overall: 4
au fût à la brasserie
belle bière cuivrée claire où un col épais et blanc trône, le nez de cette bière fumée est évidemment très fumé, mais très fumé, en bouche c'est la même chose une bonne pale ale, avec des goût de fumé très prononcé. pour amateur de bière fumée !!!
291 characters
3.62
/5
rDev
-3.5%
look: 3.5 | smell: 4 | taste: 3.5 | feel: 3.5 | overall: 3.5
On tap at the brewpub. I wias looking forward to this one. Standard amber colour with good clarity and white head. You can definitely pick up the wisp of smoke in the nose. Just like a recently snuffed out campfire. Taste is more moderate than I thought it would be. The smoke is definitely there, but not in your face or harsh. I don't pick up much in the hop department, just a mildly smokey, easy driking amber ale. Would have been nice to spend more time there and settle into a couple of these.
500 characters

3.83
/5
rDev
+2.1%
look: 4.5 | smell: 4 | taste: 3.5 | feel: 4 | overall: 4
Belgian Dark Ale or Raunchbier?
Brownish, reddish beer who is quite limpid abords a great nice foamy head that kept itself long enought.
Smell of of smoked malt, smoked bbq flavours, smoke and woods with a shy hoppy and yeasty finish.
Tastw wise, the smoked flavours hits you but are quite balanced betweem the smokiness, hops and yeasty spicy flavours. Shy BBQ flavours such as hickory. Well balanced
412 characters

3.85
/5
rDev
+2.7%
look: 4 | smell: 4 | taste: 4 | feel: 3.5 | overall: 3.5
They actually import the smoked malt from Bamberg for its conistency & quality (they did try smoking the malt themselves).
A: Copper-amber, fluffy off-white head, some retention, good lace.
S: Smoke & spice, like a sausage (or rauchebier from Bamberg). :D
T: Bready malt, smoke & spice, underlying caramel, good bitter balance, slight grainyness.
M: Moderate body with a smooth/prickly opposition, moderate carbonation, some residual sugar but has a dry finish.
D: An approachable smoked beer.
508 characters
3.99
/5
rDev
+6.4%
look: 3 | smell: 4 | taste: 4 | feel: 4.5 | overall: 4
Appearance: Copper brownish, and relatively translucent. A very appealing stream of frothy bubbles dancing on top.
Smell: Very pleasing woody smoke, not at Schlenkerla levels but enough to satisfy Rauch-heads like me, without alienating those who are a bit sheepish or never been exposed to this style before. Really interesting grainy aspect to it as well, and a tiny bit ashy, but not at an unpalatable degree.
Taste: The smoke factor is spread out very well on the palate. It hits you solidly at first, balances out in the middle with a very solid malt structure and finishes long with hickory traces. They should brew this more often.
644 characters
3.6
/5
rDev
-4%
look: 3.5 | smell: 3.5 | taste: 3.5 | feel: 3.5 | overall: 4
One of their most regular beers
Very inspiring light brown/red color. Good bouquet that doesnt quite reveal what you're going to taste, spices, forest. As the commercial description says : "The smoky taste is quite dominant at each new draught". We'd regret the smoky taste for long if it'd ever quit the mouth. and while it's so long-lasting, it remains comfortable and light with slight hints of salmon in the finish. This remains rather retrained for the smoke lover I am and imo not exactly Dieu Du Ciel's best take at the famous Bamberg style
550 characters
4.22
/5
rDev
+12.5%
look: 4 | smell: 4.5 | taste: 4 | feel: 4 | overall: 4.5
Smoked Red Ale. Charbonniere - loosely, a place that makes charcoal. (I think).
Red with a brown tinge. Garnet is a good description. Head is a couple fingers' worth and drops back to a moderate covering layer. Nose holds smoke, obviously, but to my surprise there's more. The rest of the beer holds its own. There's some hoppiness to the taste, and the smoke is more akin to that of smoked sausage. (and indeed, that's what I was eating while drinking this - a smoked deer sausage)
A very tasty and quaffable smoked. Kudos to Dieu du Ciel for daring to make a smoked beer where the smoke is restrained. Don't get me wrong, I love my Smoked Porter and my Aecht Schlenkerla - it's just refreshing to find something different.
edit: had a pint at the brewpub. everything I said last year stands. This is a great beer. For the record - I've had rauchbier in Bamberg that wasn't as smoky or half as tasty as this. ('twas the Spezial).
939 characters
3.87
/5
rDev
+3.2%
look: 3.5 | smell: 4 | taste: 4 | feel: 4 | overall: 3.5
Ale Rousse Fumee, or, Smoked Brown Ale (in english i believe).
Unlike many of the smoked beers i have tried in the past, this particular offering was not a stout or porter. It was a brown ale.
The pour was a nice amber colour with a very small white head. The malt was roasted over beachwood prior to brewing and this is obvious in the smokey & woody nose.
The smoked malt was also prominent in the taste but not overpowering. Possibly a hint of smoked ham as well and i mean that in a nice way. This beer was not overpowering in its smokey, maltiness but rather it was nicely balanced and offered a good smoked beer in a lighter, easier drinking fashion. A nice woodiness in the finish.
696 characters

4.42
/5
rDev
+17.9%
look: 4 | smell: 4.5 | taste: 4.5 | feel: 4 | overall: 4.5
A rare smoked beer in Canada. Smoke and toasted hints in aroma from a very light colored beer (as far as most smoked beers go). Smoke flavors are balanced by a pleasant malt sweetness. The smoke flavor is not overwhelming.
225 characters
Charbonniere from Brasserie Dieu du Ciel!
3.75
out of
5
based on
103
ratings.