Equinoxe Du Printemps (Vieillie En Fût De Chêne)
| Brasserie Dieu du Ciel!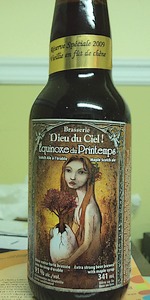 BEER INFO
Brewed by:
Brasserie Dieu du Ciel!
Quebec
,
Canada
dieuduciel.com
Style:
Scotch Ale / Wee Heavy
Alcohol by volume (ABV):
8.50%
Availability:
Rotating
Notes / Commercial Description:
No notes at this time.
Added by BeerAdvocate on 05-12-2003
This beer is retired; no longer brewed.
Reviews: 15 | Ratings: 46

4.83
/5
rDev
+18.7%
look: 5 | smell: 4.5 | taste: 5 | feel: 4.5 | overall: 5
A wonderful aged maple scotch ale from Dieu Du Ciel. This beer was presented to me with a lovely dark amber colour and almost no head. The aromas were of caramel, chocolate, toffee, coffee, roasted malts and alcohol. The taste was a melange of the above...sweet, rich, satisfying. The mouthfeel was very full, almost chewy...and the drinkability was excellent!
A classic Scotch ale!
Cheers!
-F
★
396 characters
4.49
/5
rDev
+10.3%
look: 4 | smell: 5 | taste: 4.5 | feel: 4.5 | overall: 4
Bottle vintage 2009 bought at St-Jérome. Deep Murky brown with some thin yellowish head. At first, I was mostly getting the bourbon mixed with the maple. As I let it warm, it got so aromatic: molasses, coconut and almost chocolate. It felt like a maple dessert with vanilla and rich cream. Phenomenal. Taste is sweet maple flavor, brown sugar, lots of wood, vanilla and an intense bourbony finish. Palate was hot and velvety like a good spirit, a very nice beer. At the first, I thought I'd had trouble finishing this one by myself and when there wasn't so much left, I felt like I would have continued to sip for another hour.
★
628 characters

4.32
/5
rDev
+6.1%
look: 4 | smell: 4.5 | taste: 4.5 | feel: 4 | overall: 4
Bottle thanks to papat444. Served in a Närke snifter.
A - Surprisingly generous tan foam for a barrel-aged Wee Heavy. Settles to a thick collar, solid cap, and minimal lace. Murky red-brown body.
S - A pleasant mix of oak, bourbon, caramel, toasted grains, maple, and brown sugar. Pretty much exactly what you'd expect from this style of beer. As it warms the wood and maple flavors intensify.
T - Flavor is also heavy on the maple, with some mildly roasted grains, less wood, and mild spirit character. Plenty of burnt sugars, caramel, and some mild red licorice and red fruits in the periphery.
M - Smooth, medium-full body, lower carbonation, dry and oaky finish, and low alcohol presence.
D - This is quite good, and the barrel-aging has tamed the alcohol presence in the base beer. Perhaps a tad too oaky for large quantities, but quite nice and mildly better than the base beer. Was this Utopias barrels? There wasn't much overt 'bourbon' flavor - just lots of maple. In any case, worth checking out.
★
1,012 characters

4.22
/5
rDev
+3.7%
look: 4 | smell: 4.5 | taste: 4 | feel: 4 | overall: 4.5
Bottle shared by Sammy, bottled May 2010 (notched 05-10 on the label). 2009 vintage listed at 9.1%ABV, into a snifter.
Poured a dirty brown, with a khaki coloured head that leaves some big bubbles in its wake after settling. Big legs, and what is left after the head settled a bit is retained quite nicely. Nose has alcohol right upfront, with maple and oak right behind it;big bourbon notes here too . More reminiscent of a barreled barleywine here I thought. Taste is quite sweet, with more of this interesting bourbon character, oak, maple and some butterscotch (possibly as a product of the oak + maple?). Mouthfeel is sticky with a big sweetness, a definite sense of the booze and is bigger than the alcohol content suggested. Thick and heavy body, an interesting sipper. Let it sit for a bit longer if you've got one.
★
824 characters
4.2
/5
rDev
+3.2%
look: 4.5 | smell: 4.5 | taste: 4 | feel: 4.5 | overall: 4
Bottle: Poured a deep dirty brown color ale with a super large foamy head with good retention and some good lacing. Aroma of wood notes with nice caramelized sugar and light maple notes as well. Taste is quite complex with nice wooden notes which are well balanced with some caramelized sugar notes and some light maple sugar ester. Body was quite full with great carbonation and no apparent alcohol. Very pleasantly surprised by this one with a lot more complexity then in the regular version but also drinks very easily. Very nice example of how to use oak to increase flavour profile of beer.
★
595 characters
4.14
/5
rDev
+1.7%
look: 4 | smell: 3.75 | taste: 4.25 | feel: 4.5 | overall: 4.25
341ml bottle, courtesy of hoser - off the back of a truck style! Not quite certain as to the vintage.
This beer pours a very dark, murky, dirty brown colour, with a lot of floating specks, and two fingers of tightly foamy, cake batter-esque pale beige head, which leaves a low wash of paint splatter lace around the glass as it slowly ebbs away.
It smells of sweet, somewhat musty bourbon-soaked wood, brown sugar, unsweetened maple syrup, low-fi caramel malt, and a further earthy, dusty character - rather mild overall. The taste is more old wood, the spirit long removed, semi-dry musty caramel/toffee malt, dark fruit - overripe apple and sultana raisins - thin maple sap, and a very tame, easy-going booze warming.
The carbonation is on the soft side, but still produces a subtle frothy effect, the body a solid medium weight, and really quite smooth, with a hint of creaminess. It finishes a tad on the sweet side, but still well moderated - the understated musty, dusty, woody essences reigning things in nicely.
Wow. I think the age on this offering has done wonders with both the base ale, by leavening the sugary Scotch Ale nature, as well as for the assumed whiskey barrel notes - everything is so gentle and balanced, one could be forgiven for mistaking this for a vintage or old ale at this point. Tasty stuff, thanks once again, Mike!
★
1,352 characters

4.12
/5
rDev
+1.2%
look: 4 | smell: 4.5 | taste: 4 | feel: 4 | overall: 4
Thanks, Alex!
A - Pours a darker brown color, off-white head, thin collar.
S - Bourbon, sweet malts, burnt sugars, light dark fruit with a nice maple syrup note. Lots of stuff going on here, and not surprisingly delicious coming from DDC.
T - Big malty sweetness, maple notes, light booze, and some dark fruit. Alcohol is hidden pretty well by the oak and base beer. Finish is sweet malts and oaky smooth booze.
M - Medium body, good carbonation, creamy sweet finish.
O - Another excellent DDC beer...I know everyone "knows" this brewery, but they continue to put out stellar stuff (both big and small production). Want more....thanks again Alex!
★
652 characters
4.11
/5
rDev
+1%
look: 4 | smell: 4.25 | taste: 4 | feel: 4 | overall: 4.25
2009 version 12oz bottle care of Kegatron. Thanks for the share Heath! Poured into a snifter, the brew appears a clear copper color with a tan finger that is quick to fade. A swirl revives some quick popping bubbles that are yellowish in color.
The aroma is caramel and toffee sweetness with some bourbon tang. Burnt sugar qualities fill the nose with a deeper character almost like molasses. Plenty of alcohol is present to cut the sweetness and transition the aromas. As it warms, there is a mild citrus aspect present.
The flavor is bourbon mixed with complex caramelized sugars like caramel, toffee and molasses. A bit candy-like with a soft amount of cardboard-like oxidation. The alcohol gets increasingly noticeable as the brew warms up but the residual sugar component helps to make it a bit easier going down.
This is a medium bodied brew with a modest amount of carbonation. It is a boozy sipper that displays a complex amount of malt/sugar quality. I found this to be quite enjoyable but slightly starting to show some age with the subtle oxidation notes poking through the residual sugars.
★
1,105 characters

4.06
/5
rDev
-0.2%
look: 3 | smell: 4.5 | taste: 4 | feel: 4 | overall: 4
341ml bottle poured into tulip 27/4/12 thanks papat444 for the bottle
A murky brown liquid with enough clarity to see bubbles floating up the side of the glass, just a thin cap of light tan head falls fast and leaves little lace
S maple is real and strong, bourbon notes and a fair bit of booze, earthy wood, burnt brown sugar, and faint bruised candied banana chips, smells great just the booze holding it back from perfection
T less maple but that still leaves a fair bit to taste, booze is still there but not over the top, slightly sweet and some plum and rum raisin I didn't smell, a little fruit cake and maple fudge
M not quite full bodied but getting there, to my surprise its not that sticky on the lips, a little heat and a woody aftertaste lingers
O smells great and tastes good, I'm guessing this picked up some more booze in the barrel then the 9.1% I see on the bottle, I have little to complain about other then the heat
interesting brew with some great qualities, I should've sat on it for a while but how was I too know. I doubt I'll see this beer again to find out what its like with a few more years on it. thanks again papat444 for the opportunity
★
1,179 characters

3.98
/5
rDev
-2.2%
look: 4 | smell: 4 | taste: 4 | feel: 3.75 | overall: 4
Thanks seblp for this awesome hook up
The beer pours a rich looking mahogany brown with almost no head or lacing. The nose is a big buttery bourbony caramel/vanilla with a touch of bitter citrus rind. The taste is quite similar with a lot of caramel sweetness upfront and a bourbony, tart, slightly citrusy finish. The mouthfeel is relatively medium bodied, bourbon boozy caramel, slight alcohol in the finish. It drinks a lot like a BB barleywine, nothing super different.
★
474 characters
3.89
/5
rDev
-4.4%
look: 3.5 | smell: 4.5 | taste: 4 | feel: 3 | overall: 3.5
***2009 Vintage***
Thanks to Diogène (ratebeer) for this one. A time to celebrate for personal reasons!
Poured from a 341ml. bottle, bottled May 2010.
Appearance: A lopsided thick head forms but it doesn't last too long before disappearing. The body is the color of deep mahogany.
Smell: Strong vanilla, oak, white chocolate and maple as it warms. Heady & powerful.
Taste: Strong oak presence is pervasive. Earthy, some vanilla, maple syrup with turns to sucre à la crème (maple fudge) as it warms. Light cherries in the back.
Mouthfeel: Strong carbonation all the way. A bit distracting and rough though the rest of the feel is warming.
Overall: A very raw beer that has good flavor but could be smoothed out a little.
★
730 characters
3.87
/5
rDev
-4.9%
look: 3.75 | smell: 4.25 | taste: 3.75 | feel: 3.75 | overall: 3.75
Thank for the great beers, unibrou4ever. 2011 bottle.
Appearance. Pours a murky, rusty dark brown with a thin head.
Smell. Sweet bourbon, dark fruits and brown sugar, old barrel and a little vanilla. Not really getting the maple, but it does smell sweet and delicious.
Taste. Brown sugar and light bourbon, some lightly sweet caramel malts and old wood with just a bit of dark fruit. The booze and bourbon become more prominent as it warms up.
Mouthfeel. Medium-full body with just below medium carbonation. Quite warm and just a little astringent.
Overall. A good beer that would probably be even better with a couple more years on it.
★
643 characters
3.83
/5
rDev
-5.9%
look: 4 | smell: 3.5 | taste: 4 | feel: 3.5 | overall: 4
Barleywine. Rich malt and the maple syrup in the aroma. Looks a little unfiltered. Average mouthfeel, however. A little oak as well which helps bring out the complexity.Smooth, and the scotch style resonates it seems more in Quebec than anywhere else in North America.Thanks for picking up Lubiere.
★
298 characters
3.75
/5
rDev
-7.9%
look: 3.5 | smell: 3.5 | taste: 4 | feel: 4 | overall: 3.5
I'm a bit late, enjoying this March 2010 bottle 3 days past the equinox. The bottle lists a 9.1% ABV and has a pleasant alcohol burn at the finish.
Dark, reddish brown and fully opaque with lots of bubbles in the mouthfeel, but little head. There is oak in the aroma and definitely hints of maple in the flavour, followed by a pleasantly bitter finish. Overall a very fulsome taste profile - there's a lot going on, on multiple layers, but I'm having difficulty distinguishing specific flavours.
Received this as a gift from a supremely "beer knowledgeable" colleague and it's a treat, but probably out of my league.
★
619 characters
3.61
/5
rDev
-11.3%
look: 3.5 | smell: 3.75 | taste: 3.5 | feel: 4 | overall: 3.5
Bottle from hoppypocket for CanBIF Fall 2013. From notes.
A - Poured deep ruby and nearly black. One finger of mocha head on top with strong carbonation coming up. Spotty lace and a film of retention.
S - Huge dark fruit, boozy, whiskey, sugar, dates.
T - Sweet. Whiskey, leather, very sweet with lot's of barrel character. Sugary sweet.
M - Full body, sweet and dry finish with good carbonation.
O/D - Quite a bit sweeter than I was expecting. Strong barrel character was a nice compliment, but it's hard to get over the sweetness. Not cloying, just really sweet. Worth a try, but I surely didn't enjoy it as much as I expected to.
★
638 characters
Equinoxe Du Printemps (Vieillie En Fût De Chêne) from Brasserie Dieu du Ciel!
4.07
out of
5
based on
46
ratings.