Crown & Anchor Pub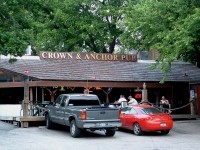 PLACE INFO
Type:
Bar, Eatery
2911 San Jacinto Blvd
Austin
,
Texas
, 78705-3814
United States
(512) 322-9168 |
map
crownandanchorpub.com
Notes:
No notes at this time.
Added by julrey on 05-19-2005
Reviews: 10 | Ratings: 18

3.33
/5
rDev
-10.2%
vibe: 3 | quality: 4 | service: 2.5 | selection: 3.5
The entry was on San Jacinto at East 30th Street. A long, wide outdoor area encircled the outside of the place. Entering, the short 3/8 octagon-shaped, blue Formica bar was right with a cooler of 90 bottles and 30 drafts as the back bar. Colored chalkboards detailed all of the available beers. Headed left were a couple of green-felt pool tables and two English-style dartboards. Women's lavs to right, men's lavs out and left. Despite the selection, I was unimpressed by the service, plus I felt like I could drink more pleasantly elsewhere.
543 characters

3.88
/5
rDev
+4.6%
vibe: 4 | quality: 4 | service: 4 | selection: 3.5 | food: 4
This place is fairly close to some of the universities in the area & attracts quite a few the students during the school year. A good sized outdoor seating area is available, as well as indoor seating and a small bar. It is a very casual atmosphere, with TVs, dartboard and a pool table to help out the entertainment factor. The staff is friendly and quick, busy nights do not seem to faze them. As far as beer, they carry a good variety of Texas beers such as Real Ale, Live Oak, 512 and then stuff from the rest of the country like Deschutes, Sierra Nevada and quite a few macro selections. I had a burger, which hit the spot and went well with some Texas craft brew. A solid option for some good local beer and casual pub fare while in Austin.
746 characters

3.25
/5
rDev
-12.4%
vibe: 4.5 | quality: 3 | service: 3 | selection: 3 | food: 4
I spent all my time at Crown & Anchor out on the patio, which was really fun. It felt like being on a friend's screened-in porch during some kind of wild house party. Clientele appeared to be mostly UT affiliated, and there were all sorts of different people (and different kinds of canines too!) out on the porch (very busy for a Tuesday!). Beer selection appeared decent. Service was walk-up only (for beer, they brought out food), which was a bit of a drag at first, but seemed to make more and more sense as the place got busier and busier. I had a burger, which was good, but needed more hard-to-get condiments. Fries were piping hot and super gold and crispy (they way I like them!). Ambience at Crown & Anchor is the highlight. The patio experience (replete with being in a shed-restroom attached to the patio) was different than a January night at a bar in Milwaukee.
875 characters

3.6
/5
rDev
-3%
vibe: 3.5 | quality: 4 | service: 3.5 | selection: 3.5 | food: 3
The Crown & Anchor pub, a UT grad-student staple, is a great little bar for grabbing a pitcher after a long day of doing whatever it is we grad students do. Most seating is outdoor, half of which is under a covered porch with some fans. Tables can be a bit hard to come by (and dirty) at times, especially during the more crowded hours. The bartenders/servers are courteous for the most part, although I wouldn't say service is the main focus of this place--nor should it be, really.
Selection includes the majority of local Austin micro's, such as Live Oak, (512), and Independence, as well as some other TX favorites like Real Ale, St. Arnold's, Shiner, etc. Several macros dot the selection board, but overall I'd say there are ~15-20 on-tap options that I would consider "beer-geek" appropriate. Bottled selection is roughly double that. The food? Standard pub fare, if but a bit sub-par. Burgers are good, though, but the nachos & tacos aren't.
951 characters
4.1
/5
rDev
+10.5%
vibe: 5 | quality: 4 | service: 4.5 | selection: 3.5 | food: 4
Ah, the good ol' Crown. Located right off of the north end of UT's campus, it was a favorite haunt for the entire math department when I was a student. We'd get there around 4 or 5, order a few pitchers of Shiner Bock or Hefeweizen, chow down on their hot, slightly greasy burgers and killer fries, blow off steam and get ready for the weekend. There are pool tables and darts, friendly people playing, great servers that always took care of the regulars, and a nice but small selection of microbrews in bottles. The outdoor seating was great on warm nights (which is every night in Austin), and it never got annoyingly loud inside despite the constant flow of people. A dangerous distraction to those pursuing an education, which is the highest compliment possible.
766 characters

3.7
/5
rDev
-0.3%
vibe: 4 | quality: 3.5 | service: 3.5 | selection: 4
I've only been to the Crown & Anchor during daylight hours, so I can't vouch for the crowds later at night, but during the day the crowd has usually been sparse but not dead, and there always seems to be at least one or two people that stopped in while walking their dogs. I don't know why, but I like a bar that encourages people to bring in their dogs. The selection here is a nice compromise between cheap beer that the broker college students can indulge in and a fair cross section of micros and imports. As kbub mentioned, their draft selection is probably just shy of the Dog & Duck, although in terms of atmosphere the Crown & Anchor seems to have a bit less of the Olde English vibe - it mainly just seems like your average American bar done up mildly with a sports theme. Definitely a bar that I've enjoyed going to the times I was there, but in dusting the cobwebs off my memory I haven't come up with any rousing reasons to regret not having been back lately. One definite negative: one of the smallest, worst men's rooms in the Austin bar scene.
1,064 characters
3.9
/5
rDev
+5.1%
vibe: 3.5 | quality: 4 | service: 3.5 | selection: 4.5 | food: 3.5
The name notwithstanding, this is a fairly typical campus-hangout-American-burger-joint with an above-typical beer selection. Location is off the north/northeast edge of the UT campus. There's a small, unpaved parking lot to the side and a few spots in front, but once they've filled up, you could be in trouble trying to find street parking anywhere nearby. There are a couple of UT parking garages within walking distance that are open to the public.
A decent-sized outdoor uncovered patio sits out front. Bring sunglasses if you're planning on being there late afternoon, since its westerlyish orientation puts the Texas setting sun center-stage. This patio is stuck on the front of a second, enclosed/covered patio with long picnic tables. The area offers plenty of almost-outdoor seating, which is good because the restaurant proper is smallish and usually smells of smoke. Inside, there's a square bar with two banks of taps.
Draft and bottle menus are chalkboards high on the surrounding walls, and are organized mostly by country. I'd say the selection is very good for the campus area, probably second only to Dog & Duck. There are good locals, micros, imports and seasonals to choose from.
The food menu is fairly small and burger-centric, but the burgers are tasty (if a little greasy... maybe not a coincidence). All-in-all, this is a decent place for lunch and a pretty darn good place for afterwork beer.
1,427 characters
4.1
/5
rDev
+10.5%
vibe: 4.5 | quality: 4 | service: 4 | selection: 4 | food: 4.5
Oh how I miss the Crown, my local pub for three years of grad school. There's nothing like a pitcher of Shiner or Dos Equis on a hot, humid Austin night. The Crown attracts a rather diverse clientele, ranging from the crusty regulars to the nearly underage UT students to various grad students. This makes for an interesting atmosphere. They almost always have good music playing, there's cheap pool and darts, and a large patio with wooden picnic tables for enjoying a warm summer night.
As for the beer selection, it's no Gingerman or Flying Saucer, but they do have an above average range of beers, including a good number of offerings from New Belgium. They also boast a number of sales during the week. Texas beers, for example, are cheap on Monday, which makes Monday the perfect day to enjoy one of their excellent burgers and a Shiner Bock for ridiculously cheap after work. It gets rather busy on the weekends, but during the day it can actually be a decent place to get some work done, as they also have free wi-fi. Yes, the Crown will always hold a special place in my heart.
1,087 characters
4.43
/5
rDev
+19.4%
vibe: 5 | quality: 4.5 | service: 4.5 | selection: 4 | food: 4.5
The Crown and Anchor was my favorite bar when I was going to UT. It was close to campus, had two quarter operated pool tables that were heavily competed for, really good cheap burger baskets, and good beer.
I still go to C&A at least once a month to get my cheap burger fix (screw fast food burger joints!). They are made to order and come with skinny fries. The crew is friendly and the burgers are delivered to your table pretty fast.
They have a pretty good beer selection on draft and more in bottles. They usually have sports on TV, and I think there's a dart board league that meets up there. You can bring your dog on the patio. Plus, as I've gotten a little older, it's fun to check out the college kids and hear what the next generation is up to.
762 characters
4
/5
rDev
+7.8%
vibe: 3.5 | quality: 4 | service: 4 | selection: 4 | food: 4.5
Best cheap burger and fries in Austin. Fast food prices for excellent bar food. Great beer selection. It can get a little "collegy" for my old ass, this is to be expected due to its location, but generally, this is an awesome place to get a laid back beer and burger.
267 characters
Crown & Anchor Pub in Austin, TX
3.71
out of
5
based on
18
ratings.