Blackwell's Wines & Spirits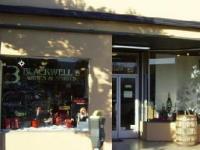 PLACE INFO
Type:
Store
5620 Geary Blvd
San Francisco
,
California
, 94121-2215
United States
(415) 386-9463 |
map
blackwellswines.com
Notes:
No notes at this time.
Added by axisjones on 05-20-2005
Reviews: 17 | Ratings: 27

4.35
/5
rDev
+0.5%
I am really lucky to have this great store in my neighborhood, turns out it opened up less than a year before I moved to the Richmond District. They stock a great range of quality beers, and liquors into this space and their wine selection is better still.
For the Richmond District the selection is amazing and pricing is very fair, that said they are not quite the "destination" beer store that City Beer is. There prices are on par with City Beer, BevMo and Whole Foods and cheaper than Healthy Spirits.
They are not afraid to think independently, so you will barely find any BMC here, and they do not even bother stocking the whole line of most craft beers that you see in grocery stores. Instead they stock great products you rarely see at groceries and other neighborhood stores, like Belgians, RRBC's whole line, etc. For wine and spirits they have a special knack for stocking great value products that you won't find elsewhere.
Nearly everything is refrigerated but they also have a shelf with age worthy beers at room temperature.
Because they are not a "destination" spot they sometimes manage to keep things in stock longer than other spots. For instance they have had Consecration or Beatification or Abyss or Damnation 23 in stock long after those sold out at City Beer.
Very friendly and knowledgable staff and owners, they tend to greet every customer and ask if they need help but otherwise leave you alone if you want to look on your own.
1,464 characters

3.9
/5
rDev
-9.9%
I recently stopped in at Blackwell's for the first time. I will update my scores based on future visits. I didn't get a chance to talk about beer with anyone there, but they were very nice while ringing me up and didn't crowd me while I perused their selection. The store is largely dedicated to wine with a good-sized selection of hard liquor. I know next to nothing about wine and nothing about any liquor besides whiskeys, so I can't really comment on those sections. I will say that the store is very aesthetically pleasing and, unlike many stores in San Francisco, quite spacious. It's not a huge store, but everything is laid out well with plenty of room between displays. The wine is attractively displayed and the hard liquor is, well, on a wall of shelves but I'm not sure how that could really be improved.
The beer selection is on the small side, but everything that they stock is high quality. They have some short descriptions for the beer, which is always nice. While the selection could be larger, I visited the day after going to Healthy Spirits, which is my new favorite store and packed to the gills with variety, so the comparison is certainly coloring my judgment on that. That said, they had a few bottles not available at City Beer or Healthy Spirits, so it's certainly not too shabby. On my next visit, I'll try to strike up a conversation with the staff and revise my service score.
1,407 characters

4.35
/5
rDev
+0.5%
This is a great store overall but specifically it is a good beer store. Although wine takes up the bulk of the store and much of the entire left/western wall is for spirits and liqueurs, it has a nice beer selection at the back of the store and on the back part of the left wall.
The selection is not large in terms of volume, but considering the size of the store, it has great variety, with a high proportion of interesting and varied Belgian and German beers, a number almost unavailable elsehwere in the region, along with some harder-to-find Czech and British beers as well as various domestic microbrews. I mainly go here for the imports, since I can find a good selection of domestic microbrews everywhere.
I have not had much occasion to test the service, but it always seems friendly and accommodating.
They also have a nice selection of beer glasses, again some harder to find.
When I'm in San Francisco, which is often but not often enough, I usually stop here.
978 characters
4.35
/5
rDev
+0.5%
This is one of the very best beer locations in the city - and is extremely under appreciated by local beer lovers. I happened in here by accident one day shortly after moving to SF, and I've made it a point over the past year to go here at least twice a month. They do wine tastings on Saturdays and that's what'll motivate me to head to the middle Richmond. The beer cooler takes up the entire back wall and Gary has recently installed a large shelf to the right of the register where he keeps some of the better beers at room temp. Blackwell's carries an excellent selection of local micros, Belgians, German's and English beers. It's one of the only places in the city to have a permanent display of AleSmith and Russian River. Good seasonal selection, everything you can think of from California, and small batch imports that you can't find anywhere else. While the staff is trained almost solely on wine, some are well versed in beer as well and will aid in selecting, offer advice, or even hint at ordering something they don't normally carry if you ask nice enough. I'm a big fan.
1,087 characters
3.55
/5
rDev
-18%
Stopped here last week while in San Francisco. Found it on BA, and thoughts I'd look for an alternative to Plumpjack for beer on the bay.
Blackwell's stocks some pretty high quality stuff, but the selection is nowhere near as good as Plumpjack. The prices are equally high though.
I was especially looking to find some Russian River beers, or some rare belgians. I was disappointed to find none of the first and few of the latter.
I think this is a place to stop at if you live in the immediate neighborhood. If you're in the city on business, no need to stop here. With less selection and the same price as Plumpjacks, which would you choose?
652 characters
3.7
/5
rDev
-14.5%
This is an odd place to put such a beautiful wine/liquor store since it feels like it belongs in a rich neighborhood. The beer selection is somewhere between a bev'mo and a plumpjack. Bevmo for stocking on up on good but fairly easy to find beer and plumpjack for an occasional "wow" beer like the Rulles triple, thomas hardy or the Russian River Supplication. It would be great if they could be great and go the extra mile as they clearly did for their wine selection. I didn't ask for help and was left alone but they could have checked in on my snooping.
557 characters
4.5
/5
rDev
+3.9%
This has become one of my favorite places to pick up beer in San Francisco. It sells mostly wine, but the entire back wall is devoted to coolers of beer. While the selection isn't huge, the owners are dedicated to stocking mostly quality beer and each time I go back they have upped the ante. Belgium, Germany, England, and the United States are all well represented with interesting offerings. From Deep Shaft Stout, to Boon Geuze, to Ceramic Bottles of Crusty, there is always something for everyone. On top of the diversity, there are random gems and the selection improves almost weekly. The owners are always there and are super cool, enthusiastic about what they carry and have held a few beer tastings in the last couple months. While maybe not a "must visit", this is a great place to pick up beer in San Francisco, especially considering that the upper Richmond isn't the hottest place for beer.
904 characters
Blackwell's Wines & Spirits in San Francisco, CA
4.33
out of
5
based on
27
ratings.