Loch Ness
| Le Cheval Blanc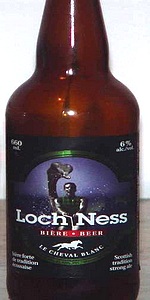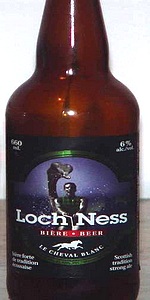 BEER INFO
Brewed by:
Le Cheval Blanc
Quebec
,
Canada
lechevalblanc.ca
Style:
Scottish Ale
Alcohol by volume (ABV):
6.00%
Availability:
Year-round
Notes / Commercial Description:
No notes at this time.
Added by BeerAdvocate on 09-04-2003
HISTOGRAM
Ratings: 6 | Reviews: 6
None found.
More User Reviews:
3.01
/5
rDev
-6.5%
look: 3.5 | smell: 2.5 | taste: 3 | feel: 3 | overall: 3.5
Clear amber in color with a thin, uneven light tan head. Aroma is a bit overly sweet -- extracty and artificial. Flavor is dominated by fruity sweet malts, with just a hint of hop bite at the finish. Not much else to say. A drinkable, but very uninspired and one-dimensional beer.
280 characters
2.95
/5
rDev
-8.4%
look: 3 | smell: 3 | taste: 3 | feel: 2.5 | overall: 3
Picked up a bomber of this from Marche Jovi in Gatineau. Lots of wacky stuff there I'd never seen before, so I pretty much got one of everything!
This one poured into a pint glass a clear dark red with a small bubbly head. No lacing.
Aroma is planty and vegetal, with some fruit in the background. Taste is bread and a lot of -- oddly enough -- cherries. Almost seems like it's been brewed with cherries, although there's no indication of this on the bottle. Weird, and very un-Scottish Ale like. Mouthfeel is quite oily and sticky, borderline unpleasant. Aftertaste is strongly malty and crackery; really the only part that seemed to fit with the style.
I didn't like this one at all, although it's possible (given the unexpected cherry flavours and some decent previous reviews here on BA) that the bottle was old or spoiled. Hard to say until more people review it. However, we did end up pouring the last 1/3 of the bottle down the sink, so it's unlikely I'd go after this again without a really good reason!
1,021 characters

3.26
/5
rDev
+1.2%
look: 2.5 | smell: 4 | taste: 3 | feel: 3.5 | overall: 3
Bottle-conditioner bomber.
Hazy auburn with a small off-white head a bit soda-like in its bubbles. Aroma is awesomely fresh doughy malt with very competent complex-yet-subtle hooping. Flavor is very subdued. Sweet nuts, butter, and a weak meatiness. Doughy grainy finish with peppery phenolics reminiscent of a BSDA. Medium body and medium sizzle finishes thick and coating, a bit oily. Being light in flavor makes it more drinkable, but the lack of strong flavor in addition to its big body makes it less drinkable.
Some great aspects to this for sure. Enjoyable.
571 characters

3.65
/5
rDev
+13.4%
look: 3.5 | smell: 3.5 | taste: 4 | feel: 3 | overall: 3.5
650ml bomber:
Pours a clear dark burnuished copper ale in the glass with a frothy 2 finger cap that retains well and laces.
Sweet malty aromas on top of musty over-ripe fruit tones with a slight smoke to it...delectable authentic scotch ale smells!
Medium-full body, fair malt spine, silky mouth feel, sweet roasty character.
A lovely dose of sweet toasty caramel malts in the front...little hop balance but the yeast fruity notes with the peat smoke give the mid palate a musty toffee decernment....finishes wet and slightly warming with a sweet after taste.
A fair stab at the Scotch ale style, drinkable and malty.
634 characters
2.47
/5
rDev
-23.3%
look: 3.5 | smell: 4 | taste: 1.5 | feel: 3 | overall: 2
I'm not gonna go into with this but i thought this was going to be a good beer, its also my first "scottish ale" so, they might all taste the same. my point being is, smell, look, head and lacing wise, i was quite treated so i expected a much better taste. theres this crazy aftertaste that i cant bear, if anyone can enlighten me, please do so cause man, i just cant drink that beer.
384 characters

4
/5
rDev
+24.2%
look: 4 | smell: 4 | taste: 4 | feel: 4 | overall: 4
bomber bottle: This pours out a nice dark orange colour with a small off-white head of foam. Aromas are all about the sweet malts with a little bit of a hoppy whiff on the end. The taste is sweetly malty up front with a bit of a boozy flair and a glimpse of hops in the finish. The mouthfeel is creamy and the drinkability is nice.
331 characters
Loch Ness from Le Cheval Blanc
Beer rating:
3.22
out of
5
with
6
ratings