Chanvre Rouge
| Brasserie de West Shefford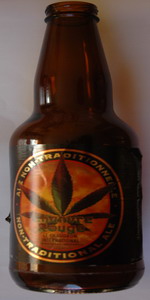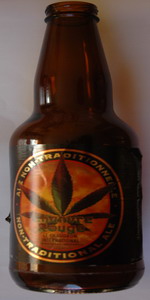 BEER INFO
Brewed by:
Brasserie de West Shefford
Quebec
,
Canada
brasseursdewestshefford.com
Style:
Herbed / Spiced Beer
Alcohol by volume (ABV):
5.00%
Availability:
Year-round
Notes / Commercial Description:
No notes at this time.
Added by francisweizen on 04-30-2003
This beer is retired; no longer brewed.
HISTOGRAM
Ratings: 8 | Reviews: 7
Reviews by crwills:
2.91
/5
rDev
+0.3%
look: 3 | smell: 2 | taste: 3 | feel: 3.5 | overall: 3.5
This beer gets my first big 'meh' review as a BA. Brought a six pack of these back from Montreal (along with a bunch of other stuff, mostly Unibroue), and this is the worst of the bunch, unfortunately. I know Le Chaudron has some good stuff, but this ain't it.
Anyway... pours a dull amber with an average white head. Smell is... well, to be honest, this is what really turned me off. I was expecting something more... pot-like. What I got was scents of acidy, override citrus fruits, some pineapple, a bit of caramel and, frankly, vomit. Yes, vomit. I mean, maybe it's because my personal vomit has historically had a high beer content, but really... this is the only beer that's brought back that type of memory.
Apologies for the bodily function digression.
Anyway, considering the vomitous (heheh) odour, the taste isn't too bad, while nothing special. Good level of carbonation for this type of beer, mild bitterness and lots of grains with -- yes -- a little bit of hemp and even full-fledged MJ, although nothing high quality here folks.
Mouthfeel is decent. Not waterly at least, although this beer leaves a rather unpleasant acidy aftertaste.
A thumbs down for Chanvre Rouge. I still have four more left though. Hopefully I can pawn them off on some unsuspecting macro drinker friend.
1,308 characters
More User Reviews:
2.44
/5
rDev
-15.9%
look: 4 | smell: 2.5 | taste: 2.5 | feel: 3 | overall: 1.5
Had this on tap in Montreal at Bistro a JoJo on Rue St. Denis. Its a dark reddish color, very appealing to the eye in my opinion. The smell was pungent, but I could not pick out anything in particular. The taste was what could be expected from the smell. It was very tart, and had a somewhat unpleasant aftertaste. Mouthfeel was unspectacular, a little thin. I could not imagine drinking more that one of these. I had a hard time making it through a pint. Its not that its a terrible tasting beer, its just that its hard to drink.
530 characters
1.68
/5
rDev
-42.1%
look: 2 | smell: 1.5 | taste: 1.5 | feel: 2 | overall: 2
Bottle: Poured a light reddish color ale with a medium bubbly off-white head with average retention. Aroma of corn with something funky that is definitely not hemp is just plain gross. Taste is also identifiable by this weird combination between corn and some funky spice/smoke? Carbonation is way too high, much like drinking a soda straight from the can. Not a beer that I want to go back anytime soon.
404 characters

3.53
/5
rDev
+21.7%
look: 4 | smell: 3.5 | taste: 3.5 | feel: 3.5 | overall: 3.5
On draft at Brutopia, Montreal.
Poured a deep amber hue with a two finger foamy white head. There was very good retention and lacing.
The smell featured dry malts, a light earthy hop and a touch of green apple.
The taste conssited of a very dry malt, some cocoa and caramel and an earthy smokiness.
The mouthfeel was dry and toward the thinner side of the stye.
Overall an interesting and tasty ale.
404 characters

3.3
/5
rDev
+13.8%
look: 3.5 | smell: 3.5 | taste: 3.5 | feel: 2.5 | overall: 3
bottle from Joannette metro; pored into a Chauldron flute we see a rusty brown ale....fair head...good lacing...moderate carbonation. Nose is interesting sweet malts with a hint of musty spice. caramel malts balanced well with some sharp hopping that compliments the hemp...a nice sweetish sharp spicey decernment with a light bittering finish from the hemp. Light refreshing, one of the better hemps in Canada. Mouth feel on the thin side but this delivers enough of a unique taste that I can forgive it...a good patio or sidewalk cafe ale for light refreshment in the spring...good with fish.
594 characters
3
/5
rDev
+3.4%
look: 3 | smell: 3 | taste: 3 | feel: 3 | overall: 3
3.85
/5
rDev
+32.8%
look: 3.5 | smell: 3.5 | taste: 4 | feel: 4 | overall: 4
I had this beer from a friend who went to Quebec and brought this one back for me, along with others. This is the first one I've tasted from the bunch.
It poured a reddish brown with a nice head that had a good retention. The aromas brought back some memories. I remembered riding with my uncle who was a heavy smoker. A definite smell of cold tobacco, cigarettes, and maybe a little citrus.
The mouthfeel was really good. The finish was nice, slightly bitter and smoky.
A good one!! Can't wait to put my hands on their Noire!!
530 characters

2.5
/5
rDev
-13.8%
look: 2.5 | smell: 2.5 | taste: 2.5 | feel: 2.5 | overall: 2.5
Compared to the hemp ale that I had on tap at C'est What? This beer was quite a dissapointment. It was served with a mediocre reddish amber colour and a minimal fizz of white head. The smell was very fruity and almost pungent and the taste was fruity, ropey and not so good. The mouthfeel was watery and very dry and the drinkability was hurt because of the taste and aroma of this beer.
This could be a bad beer or perhaps the lines at the Mad Hatter pub in Montreal, QC were just a bit dirty...
I'm not impressed.
-F
521 characters
Chanvre Rouge from Brasserie de West Shefford
Beer rating:
2.9
out of
5
with
8
ratings