Harvest Ale
| Goose Island Beer Co.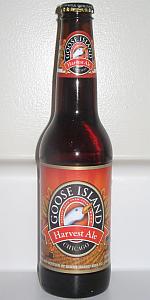 BEER INFO
Brewed by:
Goose Island Beer Co.
Illinois
,
United States
gooseisland.com
Style:
Extra Special / Strong Bitter (ESB)
Alcohol by volume (ABV):
5.70%
Availability:
Fall
Notes / Commercial Description:
Dark auburn color, citrus hop aroma, caramel flavor, medium body
Added by BeerAdvocate on 09-03-2007
This beer is retired; no longer brewed.
Reviews: 403 | Ratings: 1,095
4.17
/5
rDev
+9.2%
look: 3.5 | smell: 4 | taste: 4 | feel: 4 | overall: 5
Oh, lord. I've been AWOL from reviewing for over a month.
Clear, deep amber body capped by a passable, but hardly impressive, head.
Understated fruitiness complemented by earthy amber malt and a soft, bitter hop kiss. Very appealing on this front.
Wow, I've got to say that this is among the best non-reserve GI bottled beers to cross my lips. Gentle caramel malt sweetness leads into confident hop bitterness (pine-y) with a long, bready finish. Aftertaste is a welcome bittersweet and leaves you wanting more.
Mouthfeel is full and in fact borders on creamy which is unusual for an ale not on nitro. I absolutely think this is the most drinkable GI beer I've had in ages and am thrilled that it has replaced the steady but unspectacular Oktoberfest in their bottled line-up.
780 characters

3.78
/5
rDev
-1%
look: 4 | smell: 3.5 | taste: 4 | feel: 3 | overall: 4
I think this is more a of an American Red, but I am reviewing it under the correct spelling. It is a nice deep amber copper color, with an off white head. It is already gone as I look back at the glass but did leave some lace. Aromas of American citrus hops start of the aromas. However I am noticing a sort of phenolic, chemical cleanser smell in there too. Bread like character notes are in the background with caramel and toast. The mouth feel is really light. Makes it very easy to drink. a nice fall afternoon beer, that is very session-able.
547 characters

4.63
/5
rDev
+21.2%
look: 4.5 | smell: 4 | taste: 5 | feel: 5 | overall: 4.5
also reviewed this beer under "haevest ale" a typo? it says on that one that it's an american red ale and this one says its a bitter. i say it's a little of both. how about a new style: american red bitter.
drove through the bier depot on a hunt for oktoberfest and was surprised to see a newly stocked selection of goose island brews. i've had em all except this one and, being an autumn ale, it fulfilled my desire for a seasonal beer. not to mention all goose island products are $5.99 a 6 pack here and that's a great price for great beer.
A- says to pour into a willi glass but i don't seem to have one so i used the squat imperial pilsener with a mug handle that i use for all goose island brews. it poured out this nice nutty amber brown but when i held it up to the light it transformed in a blaze to a brilliant crystal clear reddish copper way more vibrant than any red ale i've ever had. even with a hard pour i only got 1in of beige soapy head with good retention finally settling to a thin disk surrounded by a broken ring like this: ((O)) lace clung to the glass like the spots on a clouded leopard.
S- the package gives little clue to what's inside so i didn't know what to expect though i assumed that it would be a typical malty seasonal autumn beer. already thrown off by the color, when i smelled this thing my ears perked up and my mouth watered. it smelled like an IPA. immediate earthy grapefruit, apricot, and guava mingled with woodsy pine and herbal citrus. give it a swirl and you catch a faint hint of alcohol along with some bready malt and yeasty notes.
T- right away i got a resinous pine sap grapefruit high quality reefer and mineral water that transitioned beautifully to a toasty burnt wood citrus mint all the while keeping those floral herbal hops on the back of the palate. these tastes slowly fade to a grainy caramelized malty crackery pita bread with those piney hops still bouncing around on the side of the tongue. aftertaste is unoffensive and pleasant like a piece of wheat toast smeared with hop jelly. i don't know what kind of hops are used here, but in my opinion they are supreme.
MF- not oily, not resinous, not even silky. i can only compare it to "heavy water" or maybe fruit punch mixed with champagne or club soda. it is light but not too light. crisp and refreshing yet extremely flavorful. the carbonation level are such that they induce a few burps, but those burps taste so damn good it's like a whole new level of flavor. weird, i know.
D- perfectly balanced with great hop flavor that isn't overwhelming. totally a session beer. pair it with goose island honkers ale and switch on and off between the two with their relatively low ABV you can have a great night with great beer without getting too hammered.
2,774 characters
Harvest Ale from Goose Island Beer Co.
3.82
out of
5
based on
1,095
ratings.