Lodi Beer Company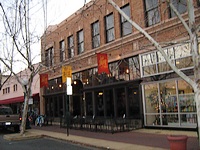 PLACE INFO
Type:
Brewery, Eatery, Store
105 S. School Street
Lodi
,
California
, 95240
United States
(209) 368-9931 |
map
lodibeercompany.com
Notes:
No notes at this time.
Added by lodibeerco on 05-25-2005
Reviews: 9 | Ratings: 14
Reviews by Troyone:
3.63
/5
rDev
-1.4%
vibe: 4.5 | quality: 4 | service: 3.5 | selection: 3 | food: 3.5
Located in a downtown area with shops all along the street this place looks classy from the outside and does not disappoint from the inside. Different settings for dining with huge picture frame mirrors behind the bar.
All brass tap nozzles and did not see the kitchen. Restroom was clean. Appeared to be all mahogany bar, bar cabinet (may have been hardwood), tables, and chairs. Brewing equipment was in the same rooms as the dining areas.
Service was business like and prompt.
All the beers had a similar taste, no cask, no guest beers.
Food was alright.
reasonable
★
583 characters
More User Reviews:

2.82
/5
rDev
-23.4%
vibe: 4 | quality: 3.75 | service: 2 | selection: 2
We arrived about and hour before closed. Frankly we just about left. We bellied up to the bar to get a few beer they offered and I noticed the wide array of liquor and the tiny tap list. As we sat at the bar my brother and I wait about eight minutes before we were even noticed. The place was not busy so why eight minutes, I was rather confused. We decided not to order any food, just two beer and out the door. After we were noticed the staff took a minute to warm up. Finally this one lady finally decided to say more than hi or what do you want. This left a bad taste our mouths. I will not be returning.
★
608 characters

3.67
/5
rDev
-0.3%
vibe: 3.75 | quality: 3.5 | service: 3.75 | selection: 3.75
3.4
/5
rDev
-7.6%
vibe: 4 | quality: 3 | service: 4 | selection: 3 | food: 3.5
I live within walking distance to LBC and go 3x a month with friends & family. I'll touch on a few things other reviewers have.
Facility: large beautiful building inside and out. Lots of glass in front so you can see out to the limited outside seating and School Street (main business street downtown). Cooper kettles in the middle of the room look nice but eat up a ton of real estate. There is also a good size group/banquet/overflow room in the back right of restaurant. Long bar with 15+ seats and about 8 bar hightop tables seating four.
Vibe: Good vibe, nice decor, always lively. Only issue might be the sound on a busy night, it gets LOUD.
Service: Usually very good. I'll agree that the bartenders are the weak link. None of the staff has an extensive knowledge of beer.
Food: Typical brewpub menu of apps, burgers, salads, sandwiches, pasta, and some fish. All are good but nothing outstanding. One time I'll get a French Dip and have meat 1/2 inch thick and the next time it's a full inch. Some inconsistent food coming from kitchen. What chef is on duty maybe?
Beer: The best beers are the Bock and Porter, and also the seasonal Christmas Ale. The IPA, Red, Lodi Light, and others are ALL average at best. Big hoppy beers have been all the rage for some years now yet one does not exist at LBC. Why? I've heard the brewmaster is stubborn, but who knows?
Misc: Beer sales must have been bad because they eventually added hard liquor. Very few people who go here are "Beer People." LBC is no longer the only place in town with a pub a few doors to the south and another about to open 2.5 blocks to the north. IMHO if they had guest beers they could triple their beer sales.
★
1,690 characters
2.63
/5
rDev
-28.5%
vibe: 2 | quality: 2 | service: 3.5 | selection: 3 | food: 2
The whole town smells like fecal matter. The beers were not good. None of them. Food was also below acceptable. Do not go
121 characters

3.89
/5
rDev
+5.7%
vibe: 3.75 | quality: 3.75 | service: 4.25 | selection: 3.75
I've never eaten here so I can't comment on the quality of it. When I go, I usually just sit at the bar and try their beers. When I first came here the beers were pretty run of the mill- not very exciting and moderately palatable. Lately they've really stepped up their game to beers that are actually pretty tasty and worth making a visit to try.
Bar service is usually pretty good, but I can never get a bartender to say more than 5 words to me, even if it's dead inside. I like to chat with bartenders about beer or whatever. They seem more interested in standing at the end of the bar talking amongst themselves, but they usually check on me pretty regularly to make sure I don't need anything so they get higher marks for that. They usually have a diverse portfolio available, which is nice (not all IPA and wheat beer). I met the brewmaster at work one time and he was super cool and very appreciative of my feedback (I commented on how good his recent barleywine was).
★
976 characters
3.88
/5
rDev
+5.4%
vibe: 3.5 | quality: 3.75 | service: 4 | selection: 4 | food: 4

4.43
/5
rDev
+20.4%
vibe: 4 | quality: 4.5 | service: 4.5 | selection: 4.5 | food: 4.25
Today----fantastic BBQ chicken pizza....phenomenal barley wine (whiskey and bourbon barreled) ...best visit ever
in past....
pretty good IPA....and cherry wheat ale
pizzas consistently strong....overall worth the repeated visits
★
232 characters

4
/5
rDev
+8.7%
Nice little place in downtown Lodi. The food is fantastic, the service was great and their beer was better than average. The owner was a little nosey and spent more time talking to us than I really wanted, but she was trying to be a good host and wanted us to feel comfortable.
★
277 characters
4
/5
rDev
+8.7%
Good pub food, beer quality is also quite good. Restaurant is nice but can be very noisy when it gets busy.
107 characters


3.65
/5
rDev
-0.8%
vibe: 4.5 | quality: 3 | service: 4.5 | selection: 3.5 | food: 3
This place looks very cool inside. As you walk in, they have the large brewing kettles and the rest of the brewing equipment in the center. To the left is a bar with some tables surrounding it. To the right is the restaurant area, which is were I went during this trip. They had a decent selection of beer to choose from, but having tried many of them, I can say most are just about average. Service is usually always good, no complaints here. The food selection and quality is typical for a brewery restaurant: some salads, burgers, sandwiches, pasta dishes, etc. Everything is reasonably priced. Overall, not a bad place to go in Lodi to throw back a few beers and have a decent meal.
★
686 characters

3.98
/5
rDev
+8.2%
vibe: 4.5 | quality: 3.5 | service: 4.5 | selection: 4 | food: 3.5
I've been to this brewery a number of times since I moved to Lodi a few months back, and overall it's not bad for Lodi, (but that's not saying much). This is a good spot for lunch or to grab a beer if you're passing through town.
First of all, the building is pretty awesome. The interior looks like an old bank or something with high ceilings, brick walls, and a lot of classic metalwork. The actual brewing equipment is in the center of the building, and the dining area surrounds it. There is a bar along one wall as well as a handful of tables outside.
The food is of the standard brewery variety: deep-fried appetizers, burgers, sandwiches, salads and desserts. One standout is their deep-fried mac n' cheese, which is pretty awesome. I've tried a variety of things on the menu, and while most are good, nothing is really outstanding.
The beer here is pretty average. I've had just about everything on tap by now, and some things are better than others. The eisbock is probably their best beer, and is actually really good. Their ipa sucks, and most of the others are an easy 'C' average or slightly above. One thing I will warm you is to make sure you specify that you would not like an orange slice in your wheat beer. They serve a chunk of fruit in their heff and summer wheat without asking first.
The service is fine – no complaints. A lot of the staff doesn't necessarily seem to know a lot about beer as a whole, but they at least know enough about the beer they are serving.
Overall, the food is okay but could be of better quality, the beer is drinkable but definitely not outstanding (with the exception of the eisbock, although I wouldn't call it outstanding), the service is standard and professional, and the atmosphere and building are pretty cool. A good spot to check out if you're in town for lunch.
★
1,857 characters
3.93
/5
rDev
+6.8%
vibe: 4.5 | quality: 4 | service: 3 | selection: 4.5 | food: 4
Atmosphere - This is a beautiful building inside. Soon as you walk in you see the copper brew house in the middle of the room. They have a long wooden bar with brass taps. Huge wood pillars with metal work lead up to the molded ceiling. This place just looks awesome and should be seen.
Quality/Selection - The beers available here were for the most part very well made with exception to their brown which was bad. The selection was pretty wide with the beer they make from a Light Lager to an Eisbock.
Service - Well this was the only low of my visit to the brewpub. Our waitress was slow as death. She was kind and willing to make substitutions to the food we ordered but took forever getting back to the table with anything.
Food - I ordered the grilled turkey sandwich for lunch and it was pretty damn good. My friend ordered a pizza that he enjoyed as well.
★
866 characters
Lodi Beer Company in Lodi, CA
3.49
out of
5
based on
70
ratings.