Mr. Whiskers Discount Wines & Liquors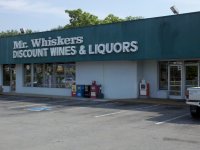 PLACE INFO
Type:
Store
31 White Bridge Rd
Nashville
,
Tennessee
, 37205-1402
United States
(615) 353-0094 |
map
misterwhiskers.net
Notes:
No notes at this time.
Added by fromage on 05-29-2005
Ratings: 8 | Reviews: 8
Reviews by ckeegan04:
4
/5
rDev
+0.8%
A little out of the way and not quite the quantity that Frugal or Midtown carry, but I feel like I always find more of the harder to find stuff here. Three big shelves and a cooler back in the corner of the store. This is only a liquor store so they dont have the normal low ABV stuff through another door like other TN places have.
Picked up some Terrapin Wake N Bake and Boulevard Smokestack stuff while I was in. They also have plenty of Stone, Rogue, Chimay Rochefort, Hitachino, Duvel, Boulder Brewing, SN and much more.
Staff is very friendly and always willing to discuss different things.
600 characters
More User Reviews:

4.19
/5
rDev
+5.5%
vibe: 3.75 | quality: 4.25 | service: 4.25 | selection: 4.25
Pretty neat place. Walking in the store, it's pretty evident that they primarily sell liquor and wine, as they have one refrigerated beer section on the far wall, selling 6 packs of many different local beers as well as a good amount of regional distros. In another corner of the store, they have a section where they sell bombers and a few 4/6 packs of higher ABV beers. They usually have quite a good selection here, as rarer things like Prairie Bomb! and Christmas Bomb! have been stocked essentially every time I've been through. This is a good thing and a bad thing, though- check the dates on beers before you buy here, as I find that some of their great stuff can sit for a while. The staff is generally friendly and knowledgeable. The vibe is hampered by the simple building structure showing its age, but a good place overall.
835 characters

4.8
/5
rDev
+20.9%
vibe: 4.5 | quality: 5 | service: 5 | selection: 4.5
We stopped because it was on our route. Next visit to Nashville, I will be certain to give myself more time. The selection is very good. (Not only the beer, but liquor, also.) The staff is very knowledgable about their products. This was a pleasant surprise, because of the size of the selection. When I asked about products that I explained I was probably not going to purchase, I received the same attention and couteous treatment I would expect if he were expecting to sell them.
It is not the fanciest store, but it is a very customer friendly place.
556 characters

3.24
/5
rDev
-18.4%
vibe: 3.25 | quality: 3 | service: 3.25 | selection: 3.5
With a name like Mr. Whiskers, I had to stop by when I was in the neighborhood. Finding the beer section is a bit of a game. I made my way through the maze of cases of wine, and found one of the relatively bigger selection of sixers and bombers of the area. Also some 12 packs, sadly including SN Celebration. It's bad if you have to wonder if it's been released this year already. Someone did offer assistance, but I had it under control. Prices were on par for the area, easily a few bucks more than i'm used to. Seems like someone here cares about craft beer, but the demand isn't quite there...yet. People support the local breweries, so I can easily see awareness growing. The prices might not be inviting, so maybe putting those aging beers on sale would help move things along.
784 characters

4.44
/5
rDev
+11.8%
vibe: 4 | quality: 4.5 | service: 4.5 | selection: 4.5
If your looking for a wide vatiety, good service, and decent prices this is your place. It's pretty convenient to the interstate as well. Plenty of Belgian Brews here, so that's always a plus. This was the store that I bought my first real Craft Brew, so its sort of special in that aspect.
If they don't have something our are looking for they will go out of their way to get it for you, which is awesome. Overall just a really good place for some good finds, and your regulars that you would expect to see mostly anywhere.
525 characters

4.3
/5
rDev
+8.3%
Mr. Whiskers has been my number one choice for high ABV beers for quite some time in Nashville, simply because they have a better selection than other stores I've been to, and they allow singles for basically everything.
Plus, the service is outstanding. They will LOVE to talk to you about the beers...and if they don't have something, they are sincerely interested in getting it. This goes a long way....and separates them from many other stores that just don't seem to care.
I will say the price is a bit high. It's in a very high-end neighborhood so I suppose you could expect that. I guess I look at it like I'm paying a bit extra for service.
650 characters

4.55
/5
rDev
+14.6%
For Nashville, the selection here beats everyone else in high ABV brews... The other reviews here seem to be a bit dated and things have definitely changed at this place. This place has all of the brews that the other places in town carry plus lots that the others don't. 3L bottle of Duvel or Double Bastard? Mr Whiskers.. Oak Aged Widdershins? Mr Whiskers... Stone Old Guardian? Mr. Whiskers... They just carry more seasonals like Palo Santo Marron and Immort Ale than the other places... A must stop in Nashville..
517 characters
3.15
/5
rDev
-20.7%
Mr. Whiskers is a regular stop for me since it's right across from Target. I was definitely surprised when I first stopped in (especially since they were the first in the area to have those huge Stone Oaked AB bottles!)
Quality has been fine. Since they're a liquor store, they generally don't suffer from ordering from the distributor as late as possible. However, there has been a lot of sediment at the bottom of some bottles, like Rogue 2IPA.
The guys are always nice here, and there's one guy in particular who I talk to and who enjoys the fine beers at the store. He always recommends the Lion Stout though.
They always have a lot of Belgians: Chimay, Corsendonk, Orval, Duvel, Westy, Delirium. The only place where I've found Ruination, La Rossa, Lion Stout, Rogue 2IPA, and DFH Immort. One nice thing is that they'll always sell in singles, in case you're not sure you want to pay $12 for a pack of Sam Smith RIS or $20 for some DFH Immort.
Value as usual for the high taxes and little distribution here.
1,025 characters
Mr. Whiskers Discount Wines & Liquors in Nashville, TN
3.97
out of
5
based on
8
ratings.