Harrison's Brewery and Restaurant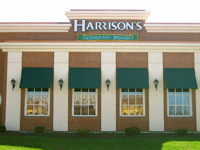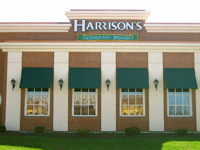 Brewery, Bar, Eatery, Beer-to-go
15845 LaGrange Road
Orland Park
,
Illinois
, 60462
United States
// CLOSED //
Notes:
Recent ratings and reviews.
| Log in to view more ratings + sorting options.
Ratings by jrallen34:
Reviewed by jrallen34 from Illinois
1.98
/5
rDev
-35.3%
vibe: 1 | quality: 1 | service: 4 | selection: 1.5 | food: 2
Back to good ol Tinley Park for an afternoon of work. My schedule broke so the ticker in me decided to head over here to tick some beers. I should have paid more attention to the reviews... Looks like a piece of trash chain restaurant from the outside. Semi nice in the inside but totally chain feel, especially the menu... I ordered a 8 drink sampler. 7 out of the 8 were utter garbage; the bourbon barrel aged stout was one of the worst beers I've ever had. The pale ale was decent...The food menu was typical generic crap, very hard time trying to pick anything out, went with a servers recommendation and it wasn't as terrible as I thought it would be... The one redeeming quality was the server was nice. She basically said the beer and food sucked, so I can't fault her, I could have left.

AVOID, even hardcore tickers should think this over several times.
Feb 24, 2011
More User Ratings:
Reviewed by AleWatcher from Illinois
3.55
/5
rDev
+16%
vibe: 4 | quality: 3.5 | service: 3.5 | selection: 3.5 | food: 3.5
So this place gets a relatively undeserved bad rep.

When a brewpub opens up in an area that isn't known for craft beer, they have 2 choices:
1). Brew what they want and hope enough people like it to keep the doors open.
2). Brew mild beers that are only a slight step above BMC products. If your beer has so much flavor that it actually offends a Miller Lite drinker, well, then you won't see repeat business.

The standard lineup of beer is crap. The seasonals and small batch stuff aren't bad though. For example, ideally liked their barleywine.

The food used to be better, but the menu changed a few tears ago and now it is in fact no better than a Chilli's or Applebee's. It's sad but true.

The wait staff is about what you'd expect from one of those recently mentioned chain restaurants. The bartenders don't seem to care much either.

Hmmm... Maybe the mediocre reviews ARE warranted?
Perhaps it's just a sense of nostalgia that makes me want to inflate my rating...
Aug 19, 2011

Reviewed by Pjhuppenthal from Indiana
2.5
/5
rDev
-18.3%
vibe: 2.5 | quality: 2 | service: 4 | selection: 2 | food: 1.5
Not good at all. Near by there is a Granite City and Rock Bottom, that are both pretty good. You would think competition would bring their game up. Why would you want to be the worst in the bunch? Sub par lazy menu (cesar salad with chicken, tri color nachos, rueben) de core of a 1990's Olive Garden.The beer- Red Ale and Pale Ale were pretty basic & stopped at 1. The food we ordered was poorly prepared- medium well burger was rare, they used chicken for the nachos which looked like a "nut topping" version of chicken (weird food). The facility is large & able to accommodate larger parties who desire poorly executed 'upscale fast food with mediocre craft beer.
May 28, 2011
Reviewed by OlieIPA from California
2.93
/5
rDev
-4.2%
vibe: 2.5 | quality: 2.5 | service: 3.5 | selection: 3 | food: 3
Visited 5/16/11

A: Had a Chili's or Friday's feel to it. That's basically all I can say.

Q: The quality of the food was about average, but the beer on the other hand is another story. I ordered an IPA that below average (to say the least), but I can't knock it too much either. My brother-in-law ordered their red, which was pretty decent. Overall...okay.

S: Good service; our waiter was very attentive and nice.

S: Again, the quality of the beer is questionable...but they offered about 8 to 10 beers of various sytles.

F: Food was actually on the better side. To be honest, I'd probably come here to eat and not to drink.
May 19, 2011

Reviewed by FullObs from Illinois
3.7
/5
rDev
+20.9%
vibe: 4 | quality: 3 | service: 4 | selection: 4 | food: 4
Been to Harrison a number of times...

Atmosphere -
Restaurant is standard, nothing special, brightly lit. In contrast the Bar is dark, about 20 pub tables, a few TVs. Outside patio is nice although it has a covered roof and enclosed by a wrought iron fence covered with vines all around so you are essentially enclosed but have fresh air. There are probably about a dozen metal patio sytle tables outside.

Service - People are friendly & I've had good service each time. Bartenders have let me sample brews before purchasing which is nice.

Food - Food is above average. I usually go for appetizers of which they have a nice selection. Prices are good with most sandwiches $8-9, salads $10, and entrees $12-18. Haven't tried steaks or chops.

Beer - Well, beer is not great and some is bad. Many of the beers are just lacking something tasting flat and watered down. They do have a different beer every month or two many are fruit flavored. Apricot, Rasberry, Cherry, etc... Of them all the current special cherry wheat is decent. I'd give it 3 stars out of 5.

One plus... If you do find a beer you like they have growlers to go. They hold about 4 1/2 pints. Refills are $7 ( $5 on Tues). Initial cost of the growler is $20-25 filled. Be sure to drink in a few days or beer will go bad.
Aug 03, 2010

Reviewed by pasdachuri from Illinois
3.78
/5
rDev
+23.5%
vibe: 4 | quality: 4 | service: 4 | selection: 3.5 | food: 3
Atmosphere depends on taste. When I go out for a good beer I like a chilled atmosphere and thats what Harrisons offers. Plenty of HDTVs with an array of sports channels, a fire pit, and ample seating all make this a good place if you want to relax and enjoy good beer. Harrison's is rarely over-crowded which leads to good service. They brew their own beer on location and offer a few styles I've never tried before, such as a butterscotch ale. Their prices are the real selling point. $3.50 pints is normal price but they're always running weeknday specials. They even offer one hell of an Imperial Stout for $3.50 which is about what you'd expect to pay for an average selection from any liquor store.
Jan 23, 2010
Reviewed by cpz28 from Illinois
1.68
/5
rDev
-45.1%
vibe: 2 | quality: 1 | service: 3 | selection: 1
I'm going to slam this place because it is on Beer Advocate; anybody looking at it is concerned about the quality of the beer and everything else just plays second fiddle. The beer here (dare I call it beer) is fucking atrocious. It tastes like water, all of it. The beer literally tastes like somebody, who didn't know what they were doing to begin with, brewed shitty beer and diluted it with water at a 50/50 ratio. Perhaps the bus boy doubles as the brew master? The food and service are fine, but let's face it, you're looking at this place because you're curious about how their beer is. I had the displeasure of tasting the sampler, and therefore, I tried literally every beer there. I can honestly say with confidence that this place has the worst beer of any brew pub I have ever been to. If it were just a restaurant, it would receive a fair rating, but 50% of what they are, at least according to their sign, is a brew pub. Even if the restaurant was the best place I'd ever eaten (which it's not), the beer sucks so bad that I'd rate the brewery half of the venture a zero. Being as the place is half brewery and they get a zero for that half, out of one-hundred points they already have a 50% (or an F in educational terms) or less before one even factors in the restaurant half. Brewing is either something you do well or you don't do well; there are no points awarded for making an effort. Fire your brew master, or at least limit his duties to only bussing tables. If you put a Harrison's beer in front of me and a Miller Lite, I'd take the Harrison's beer but only to stick it to the man and not because I thought it was the better beer. I was mortified to see this place was rated a C+ on here. In summation, if you go there thirsty for a beer, just get a water; It tastes the same and is a few dollars cheaper!
Nov 04, 2009
Reviewed by spointon from Illinois
2.96
/5
rDev
-3.3%
vibe: 4 | quality: 2.5 | service: 3 | selection: 3
Visited on 11/11/2008.

I finally got around to driving past Rock Bottom to check this place out. Lots of convenient parking right outside the doors. Upon entering, the bar area is to the left and the restaurant is to the right. Definite chain-restairant type place, but the decor was pleasant enough. You have a nice view of the brewhouse / fermentation vessels through some large windows in the bar area.

Service was not great but decent. I sat at the bar and had to wait for service a couple times while the bartenders went about their "side work". They did offer up a couple free tastes of their beers to help me select the one I wanted.

Price was pretty good, with the beer of the day special being $2.50 per pint and regular prices being around $3.00. Beer selection was mainly limited to their own house beers.

Quality is where this place fell apart. The three beers I tried were decent, not good, and downright bad respectively. I don't know what to say other than they had a poor mouthfeel, the flavors were not good, and the aroma was faint.

Overall a nice looking place in a convenient location, but if the beers aren't good (which they weren't) I cannot recommend it!
Nov 12, 2008
Reviewed by tmitch75 from Illinois
3.45
/5
rDev
+12.7%
vibe: 3 | quality: 3.5 | service: 3.5 | selection: 3.5 | food: 3.5
The outside is a little strange for a brewpub, but not bad. I did notice they are growing hop vines on the fence around the patio which is pretty cool.

Atmosphere in the bar is pretty average (dark wood, liquor bottles along the back wall). Restaurant area looks more like an Italian restaurant (reminded me of The Sopranos for some reason).

Service was pretty good, it was a Tuesday lunch which helped. When I asked for a recommendation, the bartender asked what I liked and seemed to have a decent enough understanding of beer styles. She offered me a sample in a small rocks glass of the freshest beer they had(Orland Pacific Amber, just tapped) which was a cool move and a pretty good beer (review to follow).

Food was pretty good. I had the shrimp po-boy which was above average but not spectacular (certainly good enough for lunch). Selection was fairly standard pub fare with decent if slightly overpriced entrees.

Overall quality was good. Nothing really wrong with this place but nothing great either. You could do a lot worse than this place.

NOTE: Smoke-free by law (I believe smoking is possible on the patio).

Visited on 8/5/08.
Aug 06, 2008
Reviewed by rhoadsrage from Illinois
2.95
/5
rDev
-3.6%
vibe: 3 | quality: 3 | service: 3 | selection: 3 | food: 2.5
When I walked in to this place it had a very chain restaurant feel but I think that is typical for this area. The restaurant is to the right and the bar to the left with the brewing area behind the bar area. I sat at the bar and tried to figure out which beers they had on tap. They had wooden signs screwed to the top of the bar with various beers like Nitrogenized IPA and Millennium Pale Ale, then there was a chalkboard with a few other beers and there was also a whiteboard in the brewery area that had a hand written list of all the beers but it was to small to read. When I opened the menu it had more, different beers on the bottom of the pages. I would have loved to have one single list of beers.

I was trying some of the beers and the waiters asked which was my favorite. I gave her a short positive description of the Pale Ale and she said "that is his favorite too and he is the brewer". I tried to strike up a conversation with him but he was a bit more interested in his cell phone and left very soon after. I asked for a sample of one of the beers and they gave me a small plastic cup similar to the one the dentist gives me but his isn't full of beer. They both give a bad plastic flavor to the liquid inside.

They have a large beer selection with 12 taps and 1 cask but the cask was at room temp or warmer not even close to room temp. They called the cask IPA, Nitrogenized IPA. I didn't understand this and the waitress said it had nitrogen in the cask. They also had 3 fruit wheat beers and they all tasted like chemical medicinal fruits and the colors were all the same.

I had some onion rings with an Asian aioli but it was not very good and the sauce overpowered everything. The food is as uninteresting as the beer and I don't really need to go back.
Nov 16, 2006
Reviewed by scruffwhor from Illinois
3.6
/5
rDev
+17.6%
vibe: 4 | quality: 3.5 | service: 4 | selection: 3 | food: 4
Atmosphere- Like the dark cherry finish on the bar tables and bar. Were already decorated in Christmas regalia. Harrison's brews all their tap beers right on sight. They have a big glass enclosure at the south end of the bar where you can see the brew kettle in all their immaculate glory. The bar also doubled for a cigar lounge which helped to the classy atmosphere.

Quality- The only beers they had on tap were the ones they brewed on site. I thought this was very refreshing to not see any Miller and Bud signs anywhere in the bar. But you could get them buy the bottle. All the beers I tried were excellent except there LaGrange Light.

Service- My server was a attractive older Dutch woman, this does not effect my scoring tooo much ;). Who was very attentive and was always there to refill; my beer when I finished.

Selection- As good as there home brewed beers were, The selection was to what they brewed and the bottles of Miller and Bud. But I still think there selection was average considering there range of home brewed beers on tap abd there quality.

Food- I had two appetizers of cajun popcorn shrimp with my date and had pecan crusted catfish with a mayo-mustard sauce. This was an choice considering I always go with steak at a place like this. They had a 32 oz. porterhouse, an aged cognac steak along with many other excellent cuts of meet and fish dishes.

For what the menu advertised with their steaks, i am defenetly going back to try out the rest of their beers and other selections on the menu. About $19 for the steak and about $30 for that 32 oz. porterhouse, hence my resonable price rating.
Nov 29, 2005
Reviewed by mikes2923 from Illinois
3.63
/5
rDev
+18.6%
vibe: 4 | quality: 4 | service: 3 | selection: 3.5 | food: 4
Go into Harrison's and it's obvious right off the bat that they're going for a slightly more upscale look and atmosphere than your average brewpub. They somewhat pull it off and somewhat not. The food is above good, though nothing what you'd expect based on the looks. The beer ranges from average for that style to actually very good. I especially liked their "Red" beer. All in all, I would recommend this one to any brewpub loving person, but I would warn them not to get taken in by the atmosphere.. it still is just a good brewpub that tries to be more than it is!
Feb 10, 2003
Harrison's Brewery and Restaurant in Orland Park, IL
Place rating:
0
out of
5
with
12
ratings