Methow Valley Brewing Company/Twisp River Pub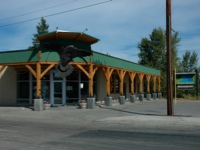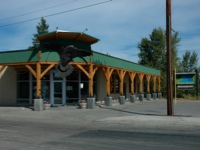 Brewery, Eatery
209 East 2nd Ave
Twisp
,
Washington
, 98856
United States
// CLOSED //
Notes:
Recent ratings and reviews.
Ratings by dbalsock:
Reviewed by dbalsock from Vermont
3.06
/5
rDev
-17.5%
vibe: 3.5 | quality: 3 | service: 2.5 | selection: 3.5
This place reminded me of the yuppie restaurants in new england, which isn't a bad vibe, it's just not something I've experienced since moving to the west coast. The patrons were all middle-aged or older in appearance and only one of the 25-30 people there was drinking a beer. It was mixed drinks or wine for everyone else. The service was not good. We walked in to a sign that said to wait to be seated... and waited... and waited. Until the bartender told us to seat ourselves. We then waited for services... and waited. I ordered my first beer, the cream ale and ciderfaerie ordered a slice of chocolate thunder cake ("a chocolate lover's dream"). We were both disappointed. My cream ale tasted off enough to remind me of some of my failed homebrew. After some more waiting for the check, I left unfulfilled and unappetized. I can see this place being awesome though, when good music is being performed, and it looked like they actually had pretty good food. They had 8 or so beers on tap, including 3 lagers and a guest beer from Alpine brewery in Washington. They sold 4 of their beers in the front in bombers. I won't go back again soon, but maybe in a few years to see how they're doing, if I'm in the area.
Jun 01, 2008
More User Ratings:
Reviewed by RedDiamond from Oregon
3.75
/5
rDev
+1.1%
vibe: 4.5 | quality: 3 | service: 4 | selection: 4 | food: 4
In contrast to neighboring Winthrop's confining, historic structure, the Twisp River Pub is contemporary and spacious. What the two share in common are their outdoors patios overlooking tributaries of the Methow River. And while I never did learn the proper name for that river up in Winthrop, it's easy to guess which river flows past the Twisp River Pub.

It was August, so of course I sat outdoors among the ponderosas and hop bines and drank beers by the river. This afforded a dazzling view of sunset in the valley. Service was responsive on the patio as it was likewise at the bar. The local population of yellow jackets however, was equally attentive, and rumor had it that Twisp itself was named for the sound of bees.

Inside are a dozen or so taps including seven regulars, three seasonals, two guests, plus a house cider and perry. They were out of the perry on my visit, but the cider was a treat; very clouded and scrumpy-like. Both the cider and perry are made in-house with locally grown fruits. The porter and Freeheel Brown Ale also struck my fancy though the rest of the lineup was of modest quality. The bar also serves liquor and local wines and offers at least one mead. House beers in bombers may be had for the delightfully low price of $2.79 per bottle. Growlers and assorted memorabilia are also available in the lobby.

The brewery is properly known as Methow Valley Brewing Company and is a separate entity from the restaurant though they share a common roof. (Methow, I am told, is pronounced MET-how). Their house beer menu is notable for having at least three or four lagers including a schwarzbier, though several are seasonals and only one was pouring during my summer visit. The food menu tips slightly upscale from standard brewpub offerings and is very satisfying. Live jazz is performed on Wednesdays in the beer garden and a variety of live music may be heard on the soundstage on weekends.
Aug 27, 2007
Reviewed by woemad from Washington
3.88
/5
rDev
+4.6%
vibe: 4 | quality: 4 | service: 4 | selection: 3.5 | food: 4
Stopped for lunch in Twisp on my way back to Spokane from the west side. Having already sampled Winthrop's porter about eight miles back on Highway 20, I thought it would be interesting to contrast it with Methow Valley's which I had previously had in Wenatchee about 4 months previously.

The Twisp River Pub wasn't hard to find, as the highway goes right past it (and most of the town of Twisp). After shuffling through an area where clothing advertising the brewpub and bombers of some of their beers were for sale, I entered the dining area and seated myself at the bar. There were about a dozen taps visible from there, though two or three were not supplying anything. There was a guest tap offering oktoberfest from Alpine Brewing located in semi-nearby Oroville, along with some kind of cider.

In addition to the bartender (which I think might have been the owner as well, since his kid was underfoot behind the bar and in the kitchen), there were two waitresses on, with about six or seven different parties in the pub at about 3:30PM. The buxom, mid-30s or so waitress seemed a little bit frazzled ( I overheard her telling her friend who was sitting a couple chairs down the bar from me that she'd closed the night before and then had to open the place a few hours later), but was efficient and friendly about getting me my pints and my lunch. I was only there for a quick bite and a couple of beers, and then had to jump back on the road, so I didn't try to engage her (or anyone else) in a conversation about the beers or the brewery, so I can't comment on the staff's beer savvy.

The space had high ceilings and was furnished in a moderately expensive-looking, "modern" decor scheme. It seemed refreshing after the over-the-top old west look of Winthrop Brewing. There was what looked to be a fairly large outdoor seating area around back, but as I already mentioned, I was only there briefly, and opted for the quicker service of the bar. The clientele seemed an even mix of weekend tourists and locals (many of who were doubtless only local during the summer).

I had two beers - the aforementioned porter and the IPA. The IPA was a fresh, crisply hoppy, flavorful treat - the equal of most NW IPAs. The porter, sadly didn't rank as high as the Winthrop porter I'd just sampled. Whereas the Winthrop porter was a rich, robustly roasty and full-bodied example of the style, Methow Valley's was served on nitro, and was noticeably thinner and considerably less roasty. There was a slight vanilla taste in the background that made for interesting drinking, but the WInthrop porter won the competition as it stood. Perhaps a rematch when both are off nitro (I've really come to despise nitro'd beer) would yield different results. All the beers seemed to be $3.50.

I was on a budget, so I opted for the cheapest sandwich on the menu, which was the Bratwurst Sandwich for $6.99. It came with fries and a copious amount of sauerkraut (which is a good thing) and some hot mustard, though I could have used a little bit hotter (It'd probably be OK for most people. I just dig having my palate assaulted by hot spicy food - I'm funny that way). It came on a toasted bun that was a little too small for the brat and the kraut, but was tasty nonetheless.

Not a bad place. With a little more time I'd have been happy to sample their other beers. Next time I pass this way, I will stop in again.
Oct 15, 2005

Reviewed by canucklehead from Canada (BC)
4.13
/5
rDev
+11.3%
vibe: 4 | quality: 4 | service: 4.5 | selection: 4 | food: 4
I got into the Twisp brewpub right at opening which luckily allowed me to talk at length to the brewer. The pub is pretty new with a huge carved crow or raven above the front door. Nice and big with high ceilings this is quite upscale for the area. T

The beers are generally good with about 12 taps of which ten are in house. The food is very well done with lots of fresh ingredients and pinache. Service was excellent with a very laid back atmosphere. I highly advise stopping here if you travelling along the I-20.
Jul 19, 2005
Methow Valley Brewing Company/Twisp River Pub in Twisp, WA
Brewery rating:
3.4
out of
5
with
15
ratings