International Beer Shop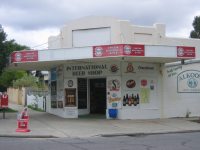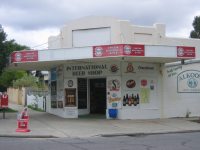 PLACE INFO
Type:
Store
256 Oxford Street
Leederville
, WA 6007
Australia
+61 8 9444 1850 |
map
internationalbeershop.com.au
Notes:
No notes at this time.
Added by hefevice on 05-31-2005
Ratings: 10 | Reviews: 10
Reviews by dansmcd:

4.66
/5
rDev
+3.3%
vibe: 4.5 | quality: 5 | service: 4 | selection: 5
Doesn't look like much from the street but step inside and it's a treasure trove. Converted from an old corner shop in suburbia, the place is crammed with over 900 beers and ciders from all over the globe. Excellent array of glassware too. I try to stay away as much as I can because every time I'm there I spend much more than I wanted to. Not that the prices are high, they are actually quite reasonable and they offer slight discounts for members, its just that you will find stuff you cannot bear to leave on the shelf. The staff are clearly knowledgeable and some are proactively helpful, although I have found one of them to be a bit disinterested in the customer. They keep a close eye on stock as there is always discounted beer running up to its best before date. Anyway, fantastic bottle shop that I have developed a serious dependence on.
849 characters
More User Reviews:
4.69
/5
rDev
+4%
vibe: 4.25 | quality: 4.75 | service: 5 | selection: 4.5
I found service great, being asked for help multiple times and getting suggestions on brews to try. Lots of international craft beers without the usual lagers. Good enough selection for the area, although a bit pricey. Worth the trip Found 3 of RB's top 50 for Australia.
273 characters
4.86
/5
rDev
+7.8%
vibe: 5 | quality: 5 | service: 5 | selection: 4.5
This place is bliss.
Having come from the Gold Coast and it's pitiful selection, I was in heaven.
They stock between 800-1000 beers at any one time.
The staff were great! I chatted with one of the guys who just loves beer with a passion. He knew what he was talking about and pointed me to where I wanted to go. They were just really friendly people who knew what they were talking about.
I mark them down on selection as my favourite beer is Imp. Porters and that was literally the one area that they lacked. A part from that though, if anything, they have to big a selection.
It was more on the pricey side, but I was looking at imperial drinks and barley wines; and we're in Australia.
Having spent 3 years in California, I felt at home seeing that they sold Mexican Coke and Dave's Insanity Sauce.
If you love good, craft beer (none of this James Squires crap), you would be crazy not to go and peruse this establishment.
932 characters

4.04
/5
rDev
-10.4%
vibe: 4.5 | quality: 3.5 | service: 4 | selection: 4.5
It looks like the corner shop, no really, not the corner beer shop, just the corner shop!
Small and atmospheric inside, the place is a gem, and must admit I was out of my depth in terms of stock, a whole lot of stuff I just had plain not heard of, and that happens less these days. Please note, it is an International Beer Shop, so if its locals you are after.... not so well stocked, hence the 4.5 not 5.0. However, the range of English (esp Fullers) and Belgian (think Cantillon) beers is just fantastic. On the flip side, Feral is well stocked.
Service is really good, the guys more than happy to talk beer, and those on here know they know their beer! I was pointed to some two day old Hop Hog, a treat...
I have to mark down on the quality - an infected beer, and a beer that tasted well past it, out of the eight or so I bought. There are fridges to be had, but not the majority of stuff is fridged.
No discount for multi purchases.
Seriously tho - this place is a real find, and I wonder why the East Coast cannot do bottle shops as well as the West.. come on!
1,072 characters

4.88
/5
rDev
+8.2%
vibe: 4 | quality: 5 | service: 5 | selection: 5
I've had one visit here in 2010 and have been a mail order/email order/internet order customer for about 8 or more years.
Located in the back streets, it has the appearance of an old school corner store and you think, oh is that it? Surely that can't be it? It is. Nice old shop packed to the gills with stock. Well laid out, but still fun to wander round finding gems.
Probably the first store in the country to get serious about beer, imported and local. From my first dealings they always went to the trouble to stock the best anyone out here could get their hands on. The links with importer, Phoenix, obviously helps, but still, the store has to do it. Always had the best of the Belgians and British beers when they were the main imports and have kept pace with the US, NZ and Scandinavian invasion ever since.
They weren't the first store in the country to get a growler system, instead, biding their time to invest in a counter-pressure unit with a 4 head filler. Not as many options for growlers as say Warners at the Bay with 8 kegs, but IBS always has stuff on that you want. Think Wild Thing, Old Rasputin, Boogoop. A nice mix of quality imports on growler fills along with interesting locals and not stuff that you can readily buy bottled unlike some stores.
As soon as it looks like a store in the country gets the edge over IBS, they re-invent themselves and push the bar higher. Service has always been great, from Anton, Leif, Cam to Luke and all those in between that i've dealt with they have always been friendly, remember who you are, and efficient at what they do. My sole in-person visit i said hi and introduced myself and the response was "it's great to finally meet you, what brings you to Perth"!!! Luke, the current manager is an active BA, who stays right on top of what is coming into the country and works hard to ensure that the store has high standards of service and quality. IBS also now give tracking codes for mail orders, the only place in the country i've found that does.
Selection is fantastic. The first port of call for the full Fullers range that comes out here. Also for Belgians and hard to get Scandinavian stuff. Around 1,000 different beers and its rare to find that they don't have something that others do (that is legitimately available). Even with 1,000 different beers, they continue to discount old stock that is near its best before, so stock management is handled well.
Prices are competitive nationwide. Shipping is good at $24 for a big box to travel from Perth to Sydney. Shipping is fast, last box was ordered on a Thursday and arrived the following Monday. Boxes are always well packed and have never had a breakage with beer or glassware in countless boxes over the best part of a decade.
Was the best beer store in Australia all those years ago and continuously improves to still be the best beer store in Australia in 2012. Highly recommended for mail-order and a must-visit when in Perth or Western Australia.
2,985 characters

4.71
/5
rDev
+4.4%
vibe: 4 | quality: 4.5 | service: 5 | selection: 5
I visited Australia for the first time with little knowledge of the beer scene there and quickly found out that IBS was the place to go for bottles.
It is located really close to Perth nestled in a nice neighborhood. It looks like a converted neighborhood corner store and parking can be confusing due to this, but I've come to realize the best bottle shops aren't flashy on the outside. The shop looks small when you first walk in but you notice a smaller section in the back and another little addition for wine.
What is flashy is the selection! They had a bunch of Cantillons on the Shelves (Lou Pepe), along with a ton of Mikkeller, and some De Molen. For an American this was a very welcome sight! They had what seemed like a lot of good Australian brews, but with my limited knowledge of the country I can't be sure. Most of the beer was kept on the shelves but a few beer coolers in the back had cold stored beer.
Lukie and Cameron were extremely helpful and made some really good recommendations on Australian beers and European beer that I had little knowledge of. The beer was pricey compared to what I'm used to but I was happy to pay most of it since I don't have access to a lot of the beers they were selling. I had a great experience and visited a couple times before leaving. If I make it back down to Perth I will definitely stop by for some good bottles!
1,375 characters
4.64
/5
rDev
+2.9%
vibe: 4.5 | quality: 4.5 | service: 4.5 | selection: 5
Quality - 4.5
The shop is a little cramped inside, and looks cheap on the outside, but then that's not really what I was going there for, let's be honest. Beers are available cold and room temperature. There is also a good selection of glassware, although it was a little dusty.
Service - 4.5
The guy behind the counter was friendly and clearly knew his beer. He also took my word for it that I was an online member and gave me the member discounts, which was nice of him as their computer was down apparently.
Selection - 5.0
Lots of beers from around the world, the selection of Belgian, German, English and Australian beers is particularly good. Many of the Belgian beers are available in huge corked bottles.
Value - $$ - reasonable. Obviously some of the beers are high in price, but you will not find them much cheaper anywhere else in Australia. You can get discounts by becoming a member, which is free. Duvel was $8, which I have found elsewhere for $5.99, but then Kwak was $6.50 (member's special) which I have paid $13.50 elsewhere.
I felt like a little boy in a toy shop in this place! Very difficult not to spend a silly amount of money, and I must try hard not to visit too often!
1,199 characters
4.15
/5
rDev
-8%
I'm going to review these guys from other side of the continent. I have ordered online with them several times, and have found their responsiveness and assistance to be excellent.
From memory I've orderd Trappiste beers, Kolsch, Weizenbock, English Old Ale...
A couple of times I couldn't get exactly what I wanted, so they provided good suggestions for alternatives.
Being on their mailing list, I keep reading the job ads for shop assistants: "good knowledge of beer an advantage"... I don't think it's a job I can perform remotely...
545 characters
4.3
/5
rDev
-4.7%
International Beer Shop.
Just moved to Perth, Western Australia from Melbourne. So naturally I felt crap.
However I made my way to the IBS and instantly felt better. The place is a bit hard to find if you are not familiar with perth. Also it's like in the middle of suburbia so you might be initially concerned.
The selection there is great and reasonably cheap. I'm told that some beers are availiable at different times of the year so the beer selection constantly evolves.
The staff member I met was helpfull and informative.
All in all a great beer selling establishment and a must for any BA that visits perth.
631 characters
4.15
/5
rDev
-8%
This place is an oasis to a beer desert dweller from Brisbane like myself. Tucked away in leafy West Leedville, this unassuming little shop is jam packed with what has to be one of the widest ranges of beer I have seen (possibly the best in Australia), especially from Belgium, Germany and the UK. The first time I visited the service was a little ordinary, however this time it was great. The guy behind the counter was very interested in beer (was a trained brewer and obviously knew his stuff) and extremely helpful and enthusiastic. If it wasn't for the first visit, the service would have rated a 5.
Was a bit hard to rate pricing - for the beers that were available elsewhere they were charging the going rate. Impossible to get a comparison for some of the others. Any imported hard to get beer tends to be expensive in Australia.
Well worth the pilgrimage if you are visiting Perth. If you are a local and have not been there yet, get on down there!
963 characters
International Beer Shop in Leederville, Australia
Place rating:
100%
out of
100
with
10
ratings