Winzer Stube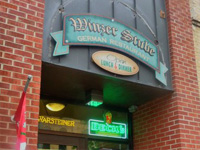 PLACE INFO
Type:
Bar, Eatery
516 Second Street
Hudson
,
Wisconsin
, 54016
United States
(715) 381-5092 |
map
winzerstube.net
Notes:
No notes at this time.
Added by tavernjef on 06-01-2005
Ratings: 9 | Reviews: 7
Reviews by Riccymon:
4.08
/5
rDev
-1.4%
vibe: 5 | quality: 4.5 | service: 4 | selection: 3.5 | food: 3.5
BeerFly helped me find out about Winzer Stube, so my friends and I made it a post-beer haul stop this week while in Hudson. We stopped in around 4:30 and were the only customers for a bit. Downstairs, the restaurant was fittingly a little dark and covered with various pieces of German flare. German music rounded out the atmosphere.
We found a booth and ordered a round-- Kostrizer, Hacker-Pschorr Weisse, Bitburger Pils, a house beer brewed by Leinie, and one other were on tap. It was happy hour, so the beers came in at just $2.50/glass (Note that I don't think it was a full pint we were getting). Appetizers were half-price (only $4), so we filled up on fried cheese curds, reuben sliders, and schnitzel sliders. The curds were the highlight, and I found the sliders too dry. I wish I'd tried a dish off the full menu, but the happy hour prices were hard to beat.
Our waitress was friendly and responsive, and we stayed long enough to put away a few rounds before we went on our way. I recommend Winzer Stube for a pint or two of German beer and its atmosphere. If I'm ever back, I'll also try a full entree.
1,116 characters
More User Reviews:

4.5
/5
rDev
+8.7%
vibe: 5 | quality: 4.5 | service: 5 | selection: 4 | food: 4
The rare German restaurant that does everything right without being too cheesy. 13 taps, all German with a good mix of wheats, dark lagers, marzens, dopplebocks, etc. 1/2 price pints (about $2.50 when we went, $3 for house wine) and appetizers ($4) at happy hour until 6 made this a great deal. More importantly, the waitress actually knew all the beers (despite the fact the apparently change regularly), correctly and intelligently describing the differences between two wheat beers my wife considered (the other waitresses appeared similarly informed). We liked the beer and apps so much we transitioned into dinner. Entrees ranged from $11-20. Trout w/ capers was fresh and local, sausage/kraut plate (there are like ten different ones, we chose blindly) was huge, even still a nearby table's chef's pan of spaetzle in a sauce with beef tenderloin (cooked rare) made me jealous. If you want to drink actual German beer w/ a good staff, yes. If you want a lovely dinner date, also yes. We don't live here, but we'll definitely incorporate it into another day trip to Minneapolis.
1,082 characters

4.05
/5
rDev
-2.2%
vibe: 4.5 | quality: 4 | service: 4 | selection: 4 | food: 4
love the location just 20 mins outside st paul.
its not every day you walk down a flight of stairs to get to a restaurant but it is the case if you plan on visiting the winzer stube.
when you walk down the stairs to enter the winzer stube you are transported to old world germany.the stube has an old rustic decore that i find very charming.
the food has always been as tasty as the great german tap selection,to me there is no greater comfert food like jagerschitzel toped off with an ice cold spaten optimator.
A lil on the pricey side but with no doubt the best german restaurant in the metro area as far as food quality and beer selction are considered. (oh yeah they have a 3L das boot too.)
699 characters
3.8
/5
rDev
-8.2%
vibe: 4.5 | quality: 4.5 | service: 4 | selection: 2 | food: 5
This is in the basement of a building on main street. It is cozy and has a German feel with a German bartender.
The food was spot on, I got a glorious and delicious hunk of eisbein. They actually have their own beer which was ok but not special. There are 5 taps with one macro, the house beer, and 3 German beers. The beer is really cheap, 2.50 for a 22 oz beer.
The service was pretty good but not outstanding. Overall it is a good place or some good German food and a German beer to go along. Not exactly a beer haven but a good restaurant with a few good beer choices.
574 characters

4.83
/5
rDev
+16.7%
vibe: 4.5 | quality: 5 | service: 5 | selection: 4.5 | food: 5
This place is located in downtown Hudson on Second Street. Overall this is one the best themed (German) restaurants I have ever been to. Everything from the food, drink, music, pictures and even some of the people working there give you a true German feel from the minute you walk in. The only odd thing is that the place is located downstairs but once you enter you completely forget about that. Overall the restaurant is not big, but it provides for a nice comfortable and relaxed feeling as you are being served some fine German cuisine or a pint of German or Belgium beer. Additionally you are served a nice loaf of freshly made bread upon being seated.
Overall the quality of the food is amazing. I haven't ever been to Germany but I would imagine the food is very similar. The cabbage, schnitzel and other dishes are top notch.
I have been there a handful of times and the service has always been very good. All of their waitresses know which of the five beers they have on tap and are able to help you differentiate between them. Quite impressive considering they get a new set of kegs in there after a couple of weeks. I'm not 100% sure about this but I believe they take your order without writing a thing down and thus far I haven't had a problem with what I have gotten. Overall they are great at what they do and are very knowledgeable about the beers they have.
Quite simple: If you don't like German food don't go there. If you do like German food, let your mind wander over the different possibilities. The menu is quite vast considering they only serve authentic German food and I have only been able to scratch the surface. The options among the German food is very good.
As said earlier, I feel the food is among the best I have had at a restaurant.
With all this in mind, you pay for what you get, and the food here isn't going to be cheap. There is no dollar menu here, so plan on spending a little. There are nights with discount deals along with specials that are offered. Additionally, there are also happy hours, where the pints are half off. Overall, if you come a good night, during happy hour you can get a nice, full meal with a couple drinks and a tip for around $20.
2,205 characters

4.38
/5
rDev
+5.8%
vibe: 4 | quality: 4 | service: 5 | selection: 4.5 | food: 4
We stopped in for lunch on a sunny autumn afternoon and I was a little surprised at how busy the place was for a Monday, but once the service started it never really let up, and I knew why the place was a popular destination.
While perusing the menu we were served a complimentary loaf of home-baked bread, which we quickly paired with some Franziskaner Dunkle Weiss. In terms of beer selection it appeared that they were out of their house beer ("Stubben brau") but the remaining tap selections were familiar German imports and priced very reasonably. I didn't see a list of bottled beers but would think they stock a few domestic light lagers. I also noted a table tent promoting a couple of unique Alsatian wine selections as well as seasonal mulled Applewein, but we'll explore those options on our next visit.
We'd checked the menu out online (winzerstube.net) and found it to be not only inspired and unique but reasonably priced as well, and the service of our lunch-sized entrees attested to the more-than-reasonable portioning -- when you factor in the bread, a half-liter beer, and an appetizer (shared by two), each serving went long way.
Winzer Stube is sub-grade from their street entrance, just down a flight of stairs, giving the place a rathskeller feel. On the other hand it is a very comfortable feel and cozier than the beer hall aesthetic of some of the bigger German restaurants I've visited. And yes it has an authentic feel as well, though no doubt sitting in the biggest booth beneath an impressive collection of steins won me over from the start!
The food itself was very good, and the portions, the variety, and the atmosphere all have me picking a date on the calendar for a return visit; pretty impressive when you consider the fact that there are four German restaurants a lot closer to home! The value is also considerable: two meals two beers and an appetizer ran us $30, and we even had a little of my gal's friend liver entree to take home - beats the hell out of pizza and chicken wings down at our local!
2,045 characters

4.05
/5
rDev
-2.2%
vibe: 4 | quality: 4 | service: 4.5 | selection: 3.5 | food: 4.5
Another German gem within the Twin Cities - well sort of, its in downtown Hudson, WI. So if you like the Bavarian Hunter in Stillwater then this place will be the next best thing.
It located on the main street through town very close to the river. Street parking mostly, but there are a few empty lots a good walk away from the Stube.
Its located in the basement of an old split level office building. Once inside you know its a German restaurant. Signage is in German, there's German music playing, exposed wood beams across the ceiling and plenty of German decor (steins, and the like) spread across the walls. Dining area can hold maybe 40 or so, I believe there is another hall of tables but didn't look around much once we got our table. Bar area maybe could get in another 16 to 20.
Service is very professional and top notch. We had an actual German speaking waitress that was a riot to talk with as we asked about certain menu items and the beers. Her ascent was super thick and wonderful to listen to. She also was very tentative to our needs with constant, but not over done, attention to our glasses. It was a slow Monday night so we may have favored the extra attention as there very few anywhere else in the restaurant.
Selection wise for beers, they have the usual German beers with Becks, Paulaner, Spaten, Hacker-Pschorr, but no Weihenstephaner. Most beers are served in various sized dimpled mugs. They carry a few bottled marcos for those unwilling to try anything else along with a few of the German beers and a few other imports in bottles. On-tap was Salvator Dopplebock...oh my was that kick ass stuff. Served a bit cold but once I let it sit it was divine. Also was a bit high cost wise for a 16oz mug - $7
Food...German authentic and damn good. Yes, a we bit on the pricey side as my weird but yummy cranberry chicken potato pasta thing was $16. I gobbled it down in no time as my plate seemed to have more open space then my wifes did. She had some pickled beef loaf and cabbage that completely covered her plate and was $13. They had a duck dinner that I almost was gonna get but was $19 so I opted out...dam...should've had the duck. Most of the other things on the menu were perhaps higher then you would think they should be but there were some pretty good deals on some of the items. Lunch prices are typically lower then the dinner.
All in all, this was a great experience and we really enjoyed ourselves. So if walking into the Bavarian Hunter and they say its a 45 minute wait, you may want to journey a little father down 94 to Winzer Stube in Hudson and give this place a try. A suppose it could be just as busy but nothing ventured, nothing gained...
2,702 characters
Winzer Stube in Hudson, WI
4.14
out of
5
based on
9
ratings.