Russell's Restaurant & Kristy's Pub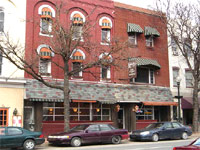 PLACE INFO
Type:
Bar, Eatery
117 & 125 West Main Street
Bloomsburg
,
Pennsylvania
, 17815
United States
(570) 387-1332
// CLOSED //
Notes:
No notes at this time.
Added by jove601 on 06-02-2005
Ratings: 11 | Reviews: 11
Reviews by orangesol:

4
/5
rDev
-0.2%
vibe: 4 | quality: 4 | service: 4 | selection: 4
Our last stop on our Tour of Bloomsburg. My first, and second, trips to Russell's & Kristy's.
We entered the bar furthest on the left and were greeted by a nice, warm atmosphere. Small seating area on the right with the large bar area on the left. Not too many people in this side so we decided to go over to the other bar. Quite a few more people over on that side. Lots of bottles all around the bar, small seating area on the right side with a decent sized bar on the left. 100 beer club signs hanging over the bar showing the names of the people who have completed the feat, some more than once. Quality was good, I only had one beer but it was served in the correct glass. Can't comment on the food as I was already stuffed to the gills but the food I saw passing by me at the bar all looked pretty good.
Service was pretty, literally, good. I was asked no less than ten times if I needed anything and they all had an above average beer knowledge. Selection was pretty damn good for Bloomsburg. Decent selection of drafts but the bottles were really nice. I saw some De Dolle, Unibroue, and all the rest of the usual suspects. I can get better beer at home but I was still pretty impressed.
Overall if you are in Bloomsburg and are looking for a place to have a few beers you could do far worse than this place.
1,319 characters
More User Reviews:

4.08
/5
rDev
+1.7%
vibe: 4.5 | quality: 4.5 | service: 3.5 | selection: 4 | food: 4
Found this place on the BA reviews and figured I would give it a shot on Saturday. This place is pretty laid back and has a little bit of a hip way to it, but it's not over run with beer snobs and hipsters drinking PBR. Service was good, got a little annoyed with our original server as she left and never informed the new server that we were waiting to have our orders taken. After I let the new server know she was very consistent.
Selection of brews was pretty good for a little town bar. Quite a few belgians and american micro's as well as a bunch of imports. I had a bell's two hearted and a DFH draft which I can't recall the name. I also had a Chimay blue for desert.
Food was decent, really wasn't hungry so I got a salad and a shrimp appetized with this mango habenaro sauce which was fantastic.
All in all a good place for the area. Worth a shot if your in Bloom and looking for some good beer.
909 characters
3.95
/5
rDev
-1.5%
vibe: 4 | quality: 4 | service: 4 | selection: 4 | food: 3.5
Atmosphere: Its good cause thers is a bar on one side a good place to drink and on the other side there is a nice place to eat
Quailty:
Service: Very good polite not slow at all and very knowledgeable abut the beers they had
Slection: Very large beer slection proly the best around i tryed magic hat 9 and the dfh 60 min
Food: Was very good i had the sea scallops and my girlfriend had the crab cakes the crab cakes were great and the scallops were alright
Value: There a little pricey but with a slection of beer like that i dont mind at all and can see myself going back agian
585 characters
3.93
/5
rDev
-2%
vibe: 4 | quality: 4 | service: 4 | selection: 3.5 | food: 4.5
Located in the middle of downtown Bloomsburg, this is a nice getaway from the typical downtown college bar. Basically two businesses joined together there is a formal side and a more relaxed side to each bar. My review will focus more on the Russell's (casual) side as that is where I most often frequent.
The service is well above average for the area, some of the staff is very well versed and knowledeable, others are not as much but are still friendly. I would say the weekends and sometimes earlier in the day seem to have the more experienced staff who are always a pleasure.
The beer list is pretty extensive but not always 100% up to date so there are some beers that may not be available. This also depends on the time of day you get there as there is an upstairs stockroom and certain bartenders are willing to make the trip. There are also 8? or so taps, with a couple of Bmc's but also rotating micro offerings.
The food is good, everything I've had so far has been very pleasing and the portions are usually more than adequate for the price.
1,057 characters
3.88
/5
rDev
-3.2%
vibe: 4 | quality: 4 | service: 3 | selection: 4.5 | food: 4
the first update is that the clancy's side (my favorite side) has been changed to Kristy's, which feels less sophisticated to me, but it's not my bar.
the atmosphere is really great, friday nights there is usually a musician (Erv) who plays acoustic songs, though a bit louder than is ideal for conversation. that night aside, it is usually pretty chill. the prices are bit higher and keep most of the loud college kids who just drink to get drunk out at less bars where they serve beer in plastic cups (i'm talking to you, good ole days).
the service is hit or miss. my buddy had to correct a bartender who nearly served Delirium Tremens in a standard tumbler rather than the preferred goblet. i have, however had a bartender who knew her beer and served my Chimay with a goblet, so some know, others do not.
the selection is the best in the area, hands down. just some of the brews they had on tap last time i was there were: dfh 60 min., brooklyn brown, harpoon ipa, delirium tremens, arogant bastard, boddington pub ale, longhammer ipa, pyramid, magic hat 9, and more. they also have tons of bottles including several belgians like chimay, Brouwerij Huyghe, and orval.
the beers cost a bit more than they would at a lesser bar, but it helps keep the atmosphere classy. between $4 and $5 bucks for most imports and micros like bass or brooklyn.
a great beer bar, overall. certainly the best in the area.
1,411 characters
3.53
/5
rDev
-12%
vibe: 4 | quality: 3 | service: 3 | selection: 4.5 | food: 3.5
I have been here many times during my tenure out east. The tap selection is not bad, mostly micros with the occasional run of the mill Belgium. Bottle selection has fallen on hard times. On more then one occasion me and my fellow beer advocates settled on a bobmer of goodness only to open it and learned it had spoiled. Now mind you my review is based on this place as a beer bar, I do not take location into it. This place is the best around but if you have been out here you would know thats no real prize. Still, beggars can't be choosers....
546 characters
4.13
/5
rDev
+3%
vibe: 3.5 | quality: 4 | service: 4 | selection: 4.5 | food: 4.5
I've been to Russesl's a bunch of times over the past four or five years. As an out-of-towner, it's truly amazing to see a place like this in a town like Bloomsburg. If you're looking for a good "beer bar" in this area, Russell's is unquestionably the place to go.
The atmosphere of this place is a little bizarre. Originally two separate restaurants, Russell's and Clancy's merged years ago, leaving a place with a white-tablecloth, classical-music-playing atmosphere in the middle, surrounded by two more casual bars. As far as I know, the menu and service are the same no matter where you sit. The crowd is mixed as well: college kids bringing out to dinner with their parents and an older crowd in the middle with bar/beer-drinker crowd on either end.
Likewise, there are two separate menus: the "bistro" menu with sandwiches, soups, etc. and a "restaurant" menu with higher-priced dishes (steaks, chops, pasta, etc.). I've only ordered from the former, and have had good luck with several of their many burger creations, wraps, and home-made soups.
The beer selection is unbelievable (the best I've seen outside a major city), but what they actually have in stock is questionable. You'll find a good selection of Belgian, German, Czech, and American micros, but you may have to go through several choices before you find one they actually have right then. They've got a great selection of beers on tap as well -- probably 25 or so different beers between the two bars, several of which change regularly.
The prices for the beers are very hit-or-miss. They'll have pitchers available for $3 (that might be $8 in Philadelphia), but then charge $7 for a draft that I'm used to paying $4.50 for. I'm not sure if this has to do with distribution costs or what, but a couple of times I've been shocked.
The service is consistently pretty good -- the servers never seem to be in a rush or give you an attitude (but hey, it's Bloomsburg) and are often semi-knowledgable about the beers on the menu.
Interestingly, this bar has some kind of beer-drinkers club where if you try a certain amount of beers from different regions, they'll put your name on a list over the bar. I thought this was kind of cool.
I definitely recommend Russell's/Clancy's to anyone in this area looking for a decent sandwich/burger and a beer.
2,339 characters

4
/5
rDev
-0.2%
vibe: 4 | quality: 4 | service: 3 | selection: 5 | food: 4
Wow. I never imagined a beer bar so good in a small town like Bloomsburg!
My first thoughts as I entered the bar was how small it was. We arrived around lunch time on a saturday and it was packed..although it doesnt take much for the size of the place.
The beer selection was out of this world. Well over three hundred selections and many many hard to find Belgians in the mix.
The owner was actually tending bar and was quite helpfull with our selections and advising us on things we may want to try. He even cracked open a rare Barleywine for us to sample(the name escapes me) at no charge. Imagine that!
As far as food, I had a southwest burger and fries and let me tell you friends, I dont know if it was the combination of the beer/selection/atmosphere/fellowship or what, but that was the best darn burger I had ever eaten..Bar none!
If ever in the area, this place is a must visit. I know I will be back and hope to continue to climb that beer menu until I get to the top.
Rock on Russells, you guys are doing it right!
1,038 characters
3.55
/5
rDev
-11.5%
vibe: 4.5 | quality: 4 | service: 2 | selection: 4 | food: 4
First off- I must say that it was Clancy's/Russell's that got me hooked on beer-ology. As an intern at a local hospital in 1998, some of my co-workers invited me there- and I was hooked. Seating indoors in a neutral but pleasant atmosphere (with occasional acoustic performers) or outdoors on the sidewalk (fantastic in the summer!). Even the bartenders had beer knowledge and were not afraid to express their 'favorites' to us. Despite the locale now being 2+ hours away, my friends and I would still make an annual/semi-annual pilgrimmage to further acquaint ourselves with more great brews.
Unfortunately, things have changed a bit since the 'early years'. Our last several trips saw the beer menu still extensive, and still perhaps the largest in the region (perhaps even larger than the food menu). The list is broken down by country. Prices are a tad bit more expensive than expected- though the experience is largely worth it. What has changed is the service. The bartenders now seem to disappear for considerable amounts of time, even when the establishment was not that busy. They were not updated on what was in stock, as they would disappear for up to 5-10 minutes for the desired beer, then return only to state it 'wasn't in stock'. In fact, over the past several years, there seems to have been more frequent 'out of stock' experiences. Eventually, we would have to write several choices down on paper- just in case our original choice wasn't available. The worst experience came after a 2 1/2 hr drive to the place. We decided to arrive around 6pm (prior to the crowds) and were virtually the only folks at the bar. We were told in short order to write down what we wanted, because a dinner party was in the private room and the bartender needed to tend to their needs. Well, in brief, the service was 'few and far between' and we felt more like an inconvenience than loyal customers. We may have had 2 brews in a 1 1/2 hr span.
I still have fond memories of this establishment, but the last experience has soured me a bit. Not quite sure if we want to make another trip for the quality of service we had. I'll probably give them 1 more shot (because of the selection) but may call it quits if this trend continues.
2,237 characters

4.33
/5
rDev
+8%
vibe: 4 | quality: 4.5 | service: 3.5 | selection: 5 | food: 4.5
My buddy and I decided to make the road-trip to this year's "Taming of the Brew" in Bloomsburg, and made the immediate decision that lunch would be at Russell's. We left West Virginia at 8:30am and drove the 4.5 hours and went straight to Russell's since hotel check-in was not until 3pm.
Did not set foot in the Clancy's side of the place, but we were very lucky to find two spots at the bar on the Russell's side. The 5 or 6 tables in the place were all taken and the bar was full otherwise. Almost like the stools were waiting for us.
The beer menu is impressive, but don't be surprised if 2 out of 3 things that you want are not currently in stock. This was our experience, but no worries, there were plenty of backups. I got a Hobgobblin, a Bellhaven Scotch ale, and a Skullsplitter. My buddy got some Flying dog offerings and something I can't remember. We had a nice chat with the owner I think, though I never got his name. He was kind enough to open a 1999 vintage Le Coq Imperial Extra Double Stout to share between us and a couple from Deleware that had also drove in for "Taming".
Did not really look at the food menu, since the lunch specials featured a Southwest burger that sounded out of this world. It did not disappoint, as it was easily the best burger I've ever had. My buddy had the same and he concurred. We were still talking about the burgers the next day.
This place has great atmospehere, friendly people, and a *ton* of beers. If you are in town it is a must and if you are within a couple hours it's worth a trip. Make it an over-nighter, Bloomsburg is a very cool city.
The only reason service was a 3.5 is that the gentleman who stepped in to serve us some beers because the bartender was very busy first told me there was no Skullsplitter and recommended the Hobgobblin, then found the Skullsplitter afterwards...and also opened the wrong Flying Dog for my buddy. In both cases he offered to take the beers back if we didn't like them, and it really was just a couple mistakes so no biggie. All the beers were good and the overall experience was outstanding!
2,105 characters
4.75
/5
rDev
+18.5%
vibe: 4 | quality: 4.5 | service: 5 | selection: 5 | food: 5
Russell's is an excellent place to go if you are in the area, or perhaps even when you are not in the area, a special trip to Russell's isn't a bad idea. You might need an entire day to study the beer menu. It is vast and includes beer from throughout the world. (See Website for beer list) Excellent beer selection including some beer that isn't even produced anymore, like a nice little oyster stout I consumed from Swale Brewery which, according to BA, is now closed. The food is also excellent. A large menu consisting of the usual pub fare to a nice dinner menu. I had the 125 West Burger which was one of the best burgers I've ever had. Men should be careful when using the bathroom because the hallway is narrow and this 275 pounder had a fun time fighting through the passageway. Women should watch out for the swinging kitchen door which almost took out a party of four walking past it to get to the Bistro. When making your visit to Russell's don't look for the Russell's Restaurant sign, it's hidden behind a tree, look for the Clancy's Bistro sign. The two are considered one restaurant and are attached via a doorway in the back. (Warning Kitchen door swings both ways) The only problem I have with Russell's is the fact that it's two hours away from where I live. This is one trip I will be making again soon.
1,323 characters
Russell's Restaurant & Kristy's Pub in Bloomsburg, PA
4.01
out of
5
based on
11
ratings.