Dismiss Notice
Red Jacket Brewing Company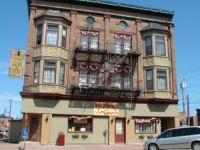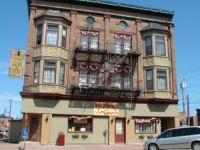 PLACE INFO
Type:
Brewery, Eatery, Beer-to-go
300 Sixth Street
Calumet
,
Michigan
, 49913
United States
(906) 337-1910 |
map
michiganhousecafe.com
Notes:
No notes at this time.
Added by fantome on 06-02-2005
HISTOGRAM
Ratings: 12 | Reviews: 8
Reviews by MarcatGSB:
4.15
/5
rDev
+7.5%
vibe: 4 | quality: 4.5 | service: 4 | selection: 4 | food: 4
What can I say, I like to hang out at the Michigan House. Tim and Sue are hard working folks that put a lot into their business.
Located in historic downtown Calumet, MI, in an historic building, how can you go wrong. From the beautiful constructed back bar, to the mural above the bar, the old wooden booths, great tile floor, to the beautiful fire escape on the outside of the building, it screams late 19th century.
The beer is good. Tim has just begun to brew in larger batches, and is more consistent. My personal favorite is the Good Ivans Pale Ale. I real nice pale with some great character, and nice malt/hop balance. I also really enjoy the Taxi Pete Wheat, another great earthy/fruity wheat beer. Great banana undertones. As mentioned previously, the Oatmeal Stout is great as well.
Food is good, the blackened chicken caesar wrap is delish and a great value. If passing through Calumet into the Keweenaw, stop for a quick pint and a good meal. Your business will be appreciated.
996 characters
More User Reviews:

2.83
/5
rDev
-26.7%
vibe: 2.75 | quality: 2.5 | service: 3 | selection: 3 | food: 3

3.13
/5
rDev
-18.9%
vibe: 3.5 | quality: 3 | service: 3.25 | selection: 3

3.6
/5
rDev
-6.7%
This was stop #10 on a week-long pub crawl for my wife and I. This brewery is located in downtown Calumet on the first floor of an old building, and is part of the Michigan House Café. This was not our first visit here, but it is the first time that we have written a review. We stopped here for lunch and to see if we could lucky enough to get a sample of the Oatmeal Express Stout, a beer that we had heard about as worthy of a visit just to try it. (Unfortunately, luck wasn't with us that day.)
The interior of the pub/café has the feeling and appearance (and maybe original furnishings) of a 1920s bar, but it has been made quirky with the memorabilia and other items that are hanging on the walls, not to mention the snow shoes that are walking across the ceiling, plus a painted mural on the ceiling behind the bar. There is a very interesting vibe here.
Only 5 beers were on tap, but because this brewery does not have a sampler flight (they will give you a taste in a shot glass) and we didn't want to drink a pint of all 5, so we ordered three tastes and then chose a pint each of the two that we liked best. We rated the brown ale (based on a 1-ounce taste) and the IPA as average, but gave a C+ grade to the Chili Cherry Stout. I just wish that we had better timing to be able to try the Oatmeal Express Stout.
Since the brewery beers are probably not enough to draw craft beer fans here, the brewery has a couple of other things that are positive factors to help with their success: 1.) a bottle list of 20 or so beers that has a nice variety from Michigan breweries, other major craft breweries, and a couple quality imports; and 2.) good food. The food offerings are not extensive, and are fairly typical for pub food, but with some twists. The items that we ordered were very good.
If we travel back this way in the future, we'll probably stop here once again, mainly in the hopes of getting to try some of that Oatmeal Express Stout.
1,964 characters

4.01
/5
rDev
+3.9%
vibe: 4.5 | quality: 4 | service: 3.75 | selection: 4 | food: 4.25
This was a last minute stop on our way up the Keweenaw Peninsula. Michigan House Cafe/Red Jacket Brewing is located in the downtown historic area of Calumet.
Downtown Brown was a crisp, refreshing, slightly malty brown ale. Keweenaw Cowbow IPA provided the hop bitterness and aroma I craived. Both are well-balanced, good quality brews. There is also a broad selection of domestic and imported beers.
The soup, French onion and a bell pepper chili, were delicious. We also shared a tastey pulled-pork sandwich.
The server was knowledgeable and efficient. With great food and cold beer it has an edge over the larger brewery in Houghton.
640 characters


4.18
/5
rDev
+8.3%
vibe: 4 | quality: 4 | service: 4.5 | selection: 4 | food: 4.5
After a mnay locals from the area telling me about this place, I finally made it in on my way to Copper Harbor. And was well worth it.
Outstanding food! Fairly large menu for how small the place is. Good choice of sandwiches and apps and swell prices.
A small hole in the wall establishment that looks like every other run down old building in the area from the outside and the inside looks like a little beer museum of sorts. All sort of old beer stuff on the walls. One very cool painting of some dancing people with mugs of beer in their hands above the bar. A bar with room for about eight. A handful of tables and booths take up the rest of the place along with a couple old player pianos. Street parking with meters in the day that still accepts nickels!?
Has great sevice. Cute too! She was knowledgeable about the entire beer menu as well as the food and was U.P. friendly as anyone you'd find.
Beer on hand was a good selection of bottled beer given the location with a couple Bells, Founders, and New Holland, and some others. The tap selection was three from Red Jacket, brewed on site, and one Bells, which was Two Hearted. So only four total. I had their Oatmeal Express which was an OK Oatmeal stout, the Pale they had was out, so I went with a Third Coast Old ale for dessert.
All in all, a place worth visiting and hanging out in if in town. I know I will be stopping in again when given the traviling chance.
1,429 characters
4.15
/5
rDev
+7.5%
vibe: 4 | quality: 4.5 | service: 3 | selection: 5 | food: 4
We've spent two weeks every summer in the Keweenaw for quite a few years now and this place is always a highlight. The Oatmeal Espresso Stout is quite simply the best we've ever had and we're big dark beer lovers. Rich, creamy, and smooth.
Success, however, has resulted in disappointment for the past two years, in that the Oatmeal Espresso Stout seems to be sold out more often than not. 'Maybe by next weekend' is what we've become accustomed to hearing when we walk in and ask for a stout. Tim, the brewer, is usually eager to talk about his beers. There was a report that he had acquired a larger brew system last year, but apparently that hasn't solved the problem.
Otherwise, the building itself is very cool, especially the bar. The food is exceptionally good for this far corner of civilization. The Peppadew Paninni is a signature dish that is worth the trip, and, if the stout is available, a meal to die for. They also have the most extensive selection of bottled craft beers we've come across anywhere in Michigan.
If you have your heart set on the Stout, call ahead to make sure it is available. They have a website, but it appears to be about 2 years out-of-date, based on the menu and their current hours. If you become hooked on the Peppadews, they are available at the Econo Foods deli in Houghton.
1,319 characters
4.22
/5
rDev
+9.3%
vibe: 4.5 | quality: 4 | service: 4.5 | selection: 4 | food: 4.5
I stopped in to the Michigan House Cafe' & Brewpub after trying to find some place nice, with nice beers, in Michigan's UP. I specifically chose the Red Jacket Brewing company, based on the Beerfly listings for brewpubs in Upper Michigan.
The first thing I noticed was the exterior of the building which was fairly nondescript but very well marked and easy to locate. The building looked a lot like the rest of the downtown area in Calumet.
Upon walking in, I was greeted by an interior that showed it's age....not in it's physical condition (which was very good) but in it's furnishings and decor. It was like taking a step back in time.
I went right to the bar because I wanted to try the Oatmeal Espress Stout that I'd seen rated. I noticed that there were 5 taps at the bar but the Oatmeal Express was OUT. It won't be available again for a few more days because they only brew a half barrel at a time. CRAP. I drove about 2 hours and I can't get the single item I'm looking for. No biggie, I've learned to roll with the punches and I've found that they have a couple of nice guest taps (Bell's Two Hearted and Oberon) as well as a decent selection of bottled beer.
Here's a smattering of bottled beers that they carry:
Bell's:
Amber Ale, Best Brown, Kalamazoo Stout, Two Hearted Ale, Pale Ale, Porter, Third Coast Ale, Wheat 2, Wheat 6, Cnsecrator Dopplebock, Winter White Ale, Oberon, Third Coast OLD Ale and Wheat Love (of course some of these are seasonal).
In addition to all of the Bell's love, they also had these American Micros: Celis White, Dark Horse Crooked Tree, Dark Horse, Raspberry Ale, Dogfish Head 90 Minute IPA, Founders Dirty Bastard, Founders Red Rye, Frog Island Cream Ale,Harpoon Summer Ale, Keweenaw Brewing Pick-Axe Blonde (can), King Brewing Mocha Java, New Holland Mad Hatter, Shipyard Old Thumper, South Shore Honey Pilsner and South Shore Rhoades Scholar Stout.
They also had a nice selection of Imports: Bass, Beck's (light and dark), Boddington, Ebulum Elderberry Black Ale, Franiskaner, Guiness, Grolsch, Heineken, Labatt's, McEwan Scotch Ale, Paulaner Hefeweisen, Samichlaus, Skullsplitter, Red MacGregor Orkney Beer, and a couple of Unibroue beers too.
On top of all that, they carry a number of typical macros....and all of this in a town so small that you don't blink when you drive by, for fear you'll miss it.
I was very comfortable with the waitress and her ability to cater to our needs. When I asked if there were any liquor stores in town, where I might find some of the beers on the Red Jacket Brewing Company beer list, she told me that most if all of them would not be available, locally. Of course, she also told me that I could order any/all of the beers on their menu, for take out. Better still, for take out, a $3.50 menu selection only cost me $2.50 and a $2.50 menu selection only cost me $2.00. In the end, I ordered 9 beers to go and my total bill was under $20.
To make a long story longer, I had a nice time and I plan to return before the season is over. Next time, I'll get my hands on some Oatmeal Espress.
3,079 characters
3.08
/5
rDev
-20.2%
vibe: 4.5 | quality: 4 | service: 1 | selection: 3.5 | food: 3
They brew only one half barrel of handrcrafted beer a week. Fantastic! Don't miss it! Note...they no longer serve the beer battered chocolate, which is a major dissapointment. But, they have added another guest tap, which recently was Bell's Rye Stout. Also, they've increased their overall selection of beers.
I've also heard they've added a second locally brewed beer to their line up, but i haven't gotten there to try it recently. And, they have a special Christmas brew as well. The food is decent, but the service is atrocious.
539 characters
4.75
/5
rDev
+23.1%
vibe: 4.5 | quality: 4.5 | service: 5 | selection: 5 | food: 4.5
A real gem located in a beautiful and historic building in a beautiful and historic town! Everybody needs to pay this region and pub a visit.
There are two suites available for rent upstairs and a "fine" dining room that is open only for dinner. With only half the restaurant open for lunch I still never had to wait more than 5 minutes for a table. The floor is tile mosaic and there is a large mural above the bar and chandeliers for light. Many beers signs ranging from Budweiser to Guiness to Bells on the walls. Very relaxed atmosphere with a spectacualr beer selection for the UP, and very good for MI! Everything from Oberon to Unibroue to... well just check this out: http://www.michiganhousecafe.com/bevmenu.html The food is absolutely wonderful both times I ate there, and I highly suggest you try the Beer-Battered Chocolate for desert!
On top of having many beers, I was impressed by them serving the correct glasses for different beers, not common in the UP!
Tim (brewer/cook/part-owner) and his wife Sue (part-oowner/cook/occasional dishwasher =) ) are very friendly people who loved to chat with me about beer and the building and the history. Tim just began experimenting with home-growing hops, and plans to use them in the beer. They grow in the garden right around the corner from the frotn door.
Only one beer being brewed here at a capacity of ten gallons a week makes Red Jacket the smallest brewpub in MI. But small by no means means bad! Their Oatmeal Espress Stout is spectacular! I will add it to the site as soon as I get ten beers reviewed, I promise Tim!
Live music occasionally.
Visit this place even if it takes a few hours to get there and ask for Tim or Sue! You won't regret it!
1,730 characters
Red Jacket Brewing Company in Calumet, MI
Brewery rating:
3.46
out of
5
with
29
ratings