The Weight
| Piece Brewery & Pizzeria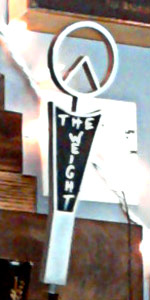 BEER INFO
Brewed by:
Piece Brewery & Pizzeria
Illinois
,
United States
piecechicago.com
Style:
American Pale Ale (APA)
Alcohol by volume (ABV):
6.00%
Availability:
Rotating
Notes / Commercial Description:
No notes at this time.
Added by emerge077 on 06-21-2012
Reviews: 10 | Ratings: 72

3.58
/5
rDev
-11.2%
look: 3.75 | smell: 3.75 | taste: 3.5 | feel: 3.5 | overall: 3.5
On tap at piece. Look is nice medium orange. Small is light citrus hops. Taste brings a nice hop punch but something is missing. It is close to great but doesn't get there. Feel is fine. Overall ok but I'm not racing back
221 characters

3.69
/5
rDev
-8.4%
look: 3.75 | smell: 3.5 | taste: 3.75 | feel: 3.75 | overall: 3.75
2/19/16 Chicago (16 oz $6 draft pour, nonic glass at Piece Brewery). One of my favorite songs, and an excellent beer. Cloudy golden brown pour with thin white head and lacing prevalent. Grass and lemon scent. Somewhat bitter hops balanced against citrus and lemon taste. Pleasant drinking, medium carbonation, crisp and clean finish. Overall very good offering.
361 characters

4.33
/5
rDev
+7.4%
look: 4.25 | smell: 4.25 | taste: 4.25 | feel: 4.5 | overall: 4.5
The Weight is an APA locally brewed at Piece in Wicker Park, Chicago.
Here's my impression:
Fairly light bodied, slight apricot first note, fruity taste, faint hop profile, wheat backbone, lovely sweet aroma, clean, crisp, high drinkability, smooth, and easier on the palate. It was great with my pizza. I can't wait to revisit.
328 characters
4.26
/5
rDev
+5.7%
look: 4 | smell: 4.25 | taste: 4.25 | feel: 4.5 | overall: 4.25
64oz Growler
$12
Piece Brewpub
The Weight gurgles from the growler apricot orange and slightly hazy. It's got that sunset effect in the pint glass, vibrant apricot at the base fading into dusky orange at the crown. The head is shallow and bone white, not much to notice but does leave some slick lace after each drink that follows back into the body.
Doughy and biscuity malts lay down an appropriate foundation along with, unless I'm mistaken, a soft wheaty tang. With that nonsense out of the way the nose is all pithy citrus and awesomely bright. Orange and grapefruit pith grab the malt base in a bear hug and won't let go. A little grassiness tries to sneak in but citrus is king of the hill. Mouthwatering.
Oh, there's got to be some wheat in here. Mildly sweet biscuits intermingle with that attention grabbing wheat. I've always enjoyed a touch of wheat in my pale ales, when you can find them. With that laid out this beer is still a hop showcase, citrus mostly. The orange and grapefruit sweeten up a bit on the palate. A bit of sugared grapefruit meets that wall of grapefruit and orange pith. Fresh cut grass buzzsaws through the finish. Muy Buenos!
The body has a light weight and is absurdly soft for a beer of 6%. There's a touch of sweetness that feels like it will linger but is sucked up immediately leaving a surprising bone dryness. That dryness accentuates the pithy bitterness to moderate+ levels. This is a drinker and a half.
When combined, the mouthwatering smell, heavily citric bitterness, and highly addictive drinkability/mouthfeel all make for an exceptional pale ale. It's only sold at the brewpub, only when it's on draft, in growlers, only, and it's still more accessible than it's closest local rival (6% pale ale) Zombie Dust. Honestly, I'd rather get a fantastic pizza and growler with no hassle than wait in line with nothing else to do but spend my money. Piece Pizza, I will see you again soon.
1,938 characters
3.98
/5
rDev
-1.2%
look: 4 | smell: 3.5 | taste: 4 | feel: 5 | overall: 4
Enjoyed on tap at Piece. Served in a nonic pint.
A: Pours a chilled amber color with a thin white head forming on the pour. Recedes slowly to a thin ring leaving behind some lace.
S: Citrus with some light cracker malt backing. A hint of sweetness and dried grass.
T: More like the nose, but a touch of lingering bitterness which broke up the sweetness from the malts. Slightly dank as well with a kiss of citrus.
M: Extremely crushable. I could destroy a growler and then some. Light bodied with a medium carbonation and a very clean finish.
O: An enjoyable APA. Not in the upper echelon of APA's that I've had, but a great local APA that is extremely drinkable. I'll put this in the Daisy Cutter category. It's good and I'll definitely have a pint when it's back on, but I'll shoot of a Zombie Dust over either.
818 characters

4.07
/5
rDev
+1%
look: 4 | smell: 4.5 | taste: 4 | feel: 3.5 | overall: 4
Cloudy peach in color. Served in a nonic pint with a good inch or so of yellowy tinted head. Excellent retention. Light lacing. Very aromatic with lots of citrus. Orange and grapefruit dominate with some floral notes rounding it out. Flavor is less nuanced. Mild sweet. A blend of orange and lemon with a lot of biscuit malt. Aggressive, peppery carbonation. Lighter body. Overall, a pretty good beer. Full of hops, though a little rough around the edges.
455 characters
4.1
/5
rDev
+1.7%
look: 3.5 | smell: 3.5 | taste: 4.5 | feel: 3.5 | overall: 4.5
Beer #3 in my great Illinois Brew Hunt.
Heavy, bitter, salt, and citric tones abound on this one. Super thick and probably well beyond the pale ale spectrum and into IPA territory. Lasting bitter aftertaste. Consistent flavor.
This is a hop lovers delight. You can't really beat it. I mean, it could be a bit more rounded and smooth and the carbonation bites quite a bit, but who cares. Can't go wrong with it.
412 characters

3.67
/5
rDev
-8.9%
look: 3.5 | smell: 4 | taste: 3.5 | feel: 4 | overall: 3.5
Served in a nonic pint glass at the brewpub.
Cue The Band. This stuff pours a lightly cloudy amber-straw topped by a finger of off-white foam. The nose comprises mandarin orange, tangerine zest, and light wheat. The taste brings in more of the same, though the fruit comes in rindier, resulting in a more bitter finish. The body straddles the line between hefty light and light medium, with a very light moderate carbonation, a fluid feel, and a dry finish. Overall, a nice pale, though I believe that had the taste truly followed the smell (what with the brightly fruity hops) things would have turned out a bit more positively for me... Still ain't half bad, though...
671 characters

4.18
/5
rDev
+3.7%
look: 4.5 | smell: 4 | taste: 4 | feel: 4.5 | overall: 4.5
Pours golden yellow, white head, spotty lace and nice cap. Citrus fruit-forward nose, light lemon peel, floral notes, grass. Flavor is citrus, light floral, and grass. Bitterness is just right for an APA while still having a really nice "full" nose. Really easy-drinking and enjoyable. Light body, good carbonation, clean finish.
An excellent APA that I would drink early & often when I'm at Piece. I've had this beer several times and it never disappoints when I'm looking for a refreshing pale.
497 characters
4.25
/5
rDev
+5.5%
look: 4.5 | smell: 4.5 | taste: 4 | feel: 4 | overall: 4.5
Two pints on tap... that's a good sign.
Hazy saturated orange body, a finger or two of creamy white foam that laces quite a bit on the opposite side of the glass. Lasting head retention, coverage for the entire glass, some carb trails visible in the glass.
Zesty citrus peel and slight tropical notes, vaguely earthy like papaya or something similar.
Flavors of bitter citrus peel, grapefruit pith and flesh, dry pale malt, fruit forward but balanced, very well rounded and drinkable. Light to medium bodied, with a moderate bitterness level that contributes to it's drinkability. Hope they keep this in rotation, it's definitely a winner...
653 characters
The Weight from Piece Brewery & Pizzeria
4.03
out of
5
based on
72
ratings.