Light Horse Tavern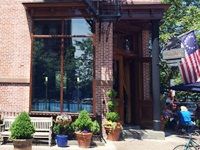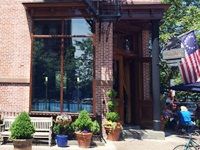 Bar, Eatery
199 Washington Ave
Jersey City
,
New Jersey
, 07302-4527
United States
(201) 946-2028 |
map
lighthorsetavern.com
Notes:
Reviews by TheLongBeachBum:
TheLongBeachBum from California
4.53
/5
rDev
+8.4%
vibe: 4.5 | quality: 5 | service: 4.5 | selection: 4
After a short PATH ride from the WTC station, I was soon collected at Hoboken by the Evil one in the Davo mobile. Earlier plans for a ride to PA were shelved & the new route would be Somerville Supersaver preceded by a Pint & bite to eat at a new place that Davo had yet to try, there can't be many of those around.
The Lighthorse Tavern is named after Henry Lee III a.k.a. "Light Horse Harry" who captured 400 British Troops for the loss of just one man. The Tavern is situated on the corner of Washington & the (One-Way) Morris Street in Jersey City. Set in what seems to be an up & coming, almost Yuppie area it is only a few blocks away from the river front & a great view of Ellis Island & the Statue of Liberty.
This place looks classy from the outside, a dark steel pillar has a nice old style sign & holds the up first floor such that the corner entrance is covered, though a strangely located wooden bench had Davo & I wondering if this was indeed the entrance to use, but rest assured it is. The exterior is all brick, the large pane windows have wooden trims and there are one or two nice looking black steel fittings. The corner entrance has a heavy dark drape that runs around inside the door, obviously to protect the interior customers from blasts of icy cold air late on a Winters night when the new punters arrive. This drape also encircles a dark wooden lectern with brass lamp which greets guests. I did notice a small outside dining area that ran parallel down Morris Street, but it was no surprise to see it deserted in the chilly November Fall Day that we visited.
The interior is stunningly simple in its clean lines, yet it still retains a lovely high quality presentation with a craft feel. The dark wood bar sits to your right as you enter; it is set against the wall which has a dark wooden back drop with several large mirrors & a small number of discrete decorations, feels a little nautical for some reason. Blue velvet upholstered stools with backs are rather unique in style, they compliment the bar & other furniture. Steel rimmed dark orange lights hang above the bar whilst the floor all the way around the bar has a black & white mosaic floor tiling which looks good against the light wooden flooring. The Lighthorse Tavern opens into one main room with a fire place to the left, above which, is a nice picture of the Queen Mary entering the NY harbor. Extremely well appointed tables & chairs sit regimental in their locations, all neatly laid out with pristine white table cloths & utensils. Function meets fastidious tidiness here, I like that. At the far end of the main room there is a first floor accessed by stairs in the middle & at the back of the room. The stairs rise to a half floor, just as neat as the main room but a little more secluded. The steel railings offer a good from up here.
Twelve Taps including Guinness but not much macro crap, if any, that's in bottles if you want it. I recall Hoegaarden, Heavweight Lunacy, Brooklyn, Flying Fish, Smuttynose, Stoudts, Long Trail Pale Ale and a house beer called Lighthorse 'somethingorother' which on questioning was found to be a Red brewed by McSorleys by all accounts. I sampled a Heavyweight Lunacy which was superb and a Long Trail Pale Ale that was in good condition but far from exciting. In addition to the draft there is a great range of bottled beers. Aside from the usual macro crap in bottles for those that still decide to try bland beer in the face of such a great selection, are the likes of Allagash, Sierra Nevada, Weihenstephaner, Schneider Weisse from Germany, Maredsous, Lindemans, Leffe and Chimay from Belgium, Moretti from Italy & Samuel Smiths from England plus many more; some 50 bottles in total.
Davo decided to grab some food. It would be remiss of me not say anything about the food even though I did not have any. The menu is drool material. Davo's Chicken Pot was freshly made and looked appetizing, he certainly enjoyed it.
Service was attentive, friendly and our Server knew the beer and food well.
The LightHorse Tavern has a nice turn of the Century Victorian feel. High quality décor & impressive presentation, it neither glitzy nor pretentious. Impressively modest yet striking with an excellent design, use of space & lighting. Whoever designed and fitted this place out has great style & taste, maximum impact with minimal materials, without any over the top clutter.
Well worth the drive out here if you fancy a nice meal with a decent selection of brews in a nice up & coming area. The food is top notch & the beer selection has obviously had a lot of thought put into it. A very impressive place & recommended, but if you're just coming for a brew you want to do it at quiet times, I can imagine this place getting busy on a night & right after the Offices close for the evening. Friday afternoon at about 2-3pm was perfect to get the best from this place.
Thanks to Davo for the ride out here & the brews, cheers mate!
Last Visit: Friday 11th November, 2005.
Nov 25, 2005
More User Reviews:

almostjay from Virginia
3.7
/5
rDev
-11.5%
vibe: 3.5 | quality: 3.5 | service: 4 | selection: 3.5 | food: 4.25
Jan 14, 2015
cichief from Virginia
4.13
/5
rDev
-1.2%
vibe: 4 | quality: 4.25 | service: 3.5 | selection: 4.5 | food: 4.5
Dec 19, 2014
twentyhanks from New Jersey
3.63
/5
rDev
-13.2%
vibe: 4 | quality: 4 | service: 3.5 | selection: 3 | food: 4
A nice place with a double height dining room and upstairs loft area. Has an open space and clean feel. Mainly a restaurant, but also has a small bar in the front.
A great place to have a more 'upscale casual' meal, which the prices reflect. The food is well presented and good. I've been there on days where the food is great and others when the food is less than par, including an overcooked charred burger, but the fries were excellent. I would avoid the burger, but everything else is good. The fish dishes I've had have been very good. The servers/service are for the most part good, some days the service is more prompt than others, but that is to be expected at most restaurants.
Small, but decent selection of beers.
Dec 15, 2010
clasher from New Jersey
4.53
/5
rDev
+8.4%
vibe: 4 | quality: 5 | service: 5 | selection: 3.5 | food: 5
This bar is a great stop after a summer walk along the Jersey City waterfront. Tucked just a few streets back from the main drag, but right in the heart of things, it is one of my favorite Jersey City finds.
Their outside seating allows for pooch access, their exceptional staff makes for great atmosphere, and their fantastic food compliments a healthy beer selection. In the winter step inside and ask for a table on the top level, order the meatloaf and if they have Captain Lawrence Liquid Gold on tap you'll be set. If not, another excellent craft will be there to compliment the smoky flavor of the bbq meatloaf specialty.
Dec 05, 2010
jamesmbirchnyc from New Jersey
4.45
/5
rDev
+6.5%
vibe: 4 | quality: 4.5 | service: 5 | selection: 4 | food: 4.5
Lighthorse is a great restaurant that happens to have a fairly good selection of beers. The bar is quite large for an upscale restuarant, but doesn't take away from the environment at all.
A: Sunday evenings are live jazz, one TV keeps away the sports-minded only crowd, great lighting throughout, and very nicely decorated with historic pictures of Jersey City.
Q: Top notch, even the burgers are served with Pommes Fritte in Belgium tissue paper, specials are well done.
S: Extremely good. Highly attentive, very knowledgeable bartenders.
S: So the lowest score comes here but is not bad at all. The menu for bottled beers is quite good, well organized but quite honestly hasn't really be rotated very frequently for the two years I been going.
F: The best part of the restaurant.
V: You get what you pay for. I highly recommend this restaurant.
Aug 24, 2010
ericfb18 from New Jersey
4.3
/5
rDev
+2.9%
vibe: 4.5 | quality: 4.5 | service: 4 | selection: 4 | food: 5
Have visited Lighthorse Tavern on numerous occassions and have yet to be disappointed.
Atmosphere is great, but would consider it a bit 'formal'...a little more upscale with a corporate crowd. Small outdoor seating along the sidewalks.
Food is excellent...absolutely no complaints. Highly recommend the grilled calamari appetizer and bbq skirt steak entree. Sunday brunch is also great. Would consider the food moderate to expensive, depending on what you order...but tough to go wrong with anything. Nice raw bar too.
Beer selection is rather solid...lots of Belgians and a few crafts. Draft line up is good, but bottle selection is where it's at. They usually have a house brew on tap, and my experience with them is that they are pretty decent.
Highly recommend to anyone in the area...my favorite bar in Jersey City and definitely prefer the selection far beyond Zeppelin Hall.
Dec 29, 2009
SeanRedd from New Jersey
3.83
/5
rDev
-8.4%
vibe: 3.5 | quality: 4 | service: 3.5 | selection: 4 | food: 4
My remarks may contradict my rating. The food is good and the beer selection is better; draught alright, bottled beer selection impressive. The atmosphere is comfy corporate; blackberry typing kiss asses and plenty of uptight wine drinkers. My experience with the staff was a sad one. When asked what their house ale was, (Lighthorse Tavern Ale of something like that), the bartender told me its' "amber color" in a mexican accent. I was disturbed he did not take more pride in describing the ale that was brewed specifically for the establishment. The final incident occured when a woman asked for a light beer recommendation, and the bartender suggested miller light, bud light, etc. This hurt because the beer menu offers great light lagers, pilsners, and lambics that probably would have satisfied her thirst but also introduced great beer outside the mega giants. I realized just because a place offers great beer doesn't mean they give a damn about beer. I will probably not go for seconds even though its within walking distance.
Jun 08, 2008
crwills from Canada
3.83
/5
rDev
-8.4%
vibe: 3.5 | quality: 4 | service: 3 | selection: 4.5 | food: 4
We sat out on the patio and had a nice dinner and a few beers one fall evening, while in Jersey city for work. Large selection of taps and bottled beers on the menu, although some of the rarer stuff was overpriced. It was Oktoberfest, and they had a good 10 or 15 choices (both taps and bottles) which was cool. I had the Dogtoberfest and Southhampton Double Wheat on tap (both fresh), and a bottle of Shakespeare Stout (mmm). Raw/fresh seafood appetizer was decent, with some good bread to go with it. Pasta main course (lobster ravioli) was really good, but way too small for the price. I'd go back here, but maybe just for drinks and not food, as it was pretty steep for what you get.
Oct 20, 2007
Light Horse Tavern in Jersey City, NJ
Place rating:
4.18
out of
5
with
11
ratings