Noire Soeur
| Le Grimoire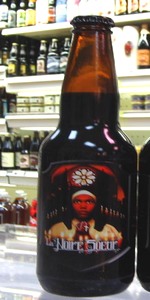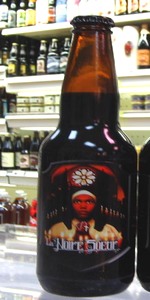 BEER INFO
Brewed by:
Le Grimoire
Quebec
,
Canada
brasseriegrimoire.com
Style:
American Stout
Alcohol by volume (ABV):
5.00%
Availability:
Year-round
Notes / Commercial Description:
No notes at this time.
Added by Goldorak on 06-07-2005
HISTOGRAM
Ratings: 14 | Reviews: 9
Reviews by Molson2000:
More User Reviews:

4
/5
rDev
+63.3%
look: 4 | smell: 4 | taste: 4 | feel: 4 | overall: 4
The chocolate is not too overwhelming; just right. Gives it a nice touch.
73 characters
2.74
/5
rDev
+11.8%
look: 2.5 | smell: 3.5 | taste: 2.5 | feel: 2.5 | overall: 2.5
Got poured a fairly large sample at the Mondial, 2005. I was asking the brewer questions he didn't feel too comfortable to answer, and seemed to want to shut me up!
Appearance: Pitch black, the head didn't have much legs on it and turned to nothing but lace rather quickly. I would have blamed the mug, but other stouts I had at the fest had no problems with head retention.
Smell: Interesting, some dark fruit, blackberries I'd say, with a few chocoalte slivers.
Taste: It just tasted overly bitter, like stale coffee, but surprisingly with no coffee taste. No chocolate either, it just tasted bitter and burnt, and the carbonation was way too lively for my tastes, and the mouthfeel was watery. It reminded me of the Guinness Labatt used to bottle back in the day. Hated that stuff.
793 characters
2.28
/5
rDev
-6.9%
look: 3 | smell: 2.5 | taste: 2 | feel: 2 | overall: 2.5
Sample at the Mondiale 2005: Poured a pitch black color stout with no head or carbonation. Aroma is comprised of slightly roasted malt. Taste is quite deceiving with some roasted malt but generally overpowered by a watery aftertaste and a thin body. Not something I would be looking for again.
293 characters
3.01
/5
rDev
+22.9%
look: 3.5 | smell: 3.75 | taste: 2.75 | feel: 2.5 | overall: 2.75
Aroma of chunks of chocolate does not carry over in the flavor. Weak and watery; drinkable but not a good stout.
112 characters


2.62
/5
rDev
+6.9%
look: 3 | smell: 3.5 | taste: 2.25 | feel: 2 | overall: 2.5
Appearance: It has a nice almost jet black color to it. It has a nice creamy beige head that dies down moderately fast and leaves very little lacing.
Smell: The aromas definitely give out hints of milk chocolate, cocoa, roasted malts, some maple syrup and vanilla.
Taste: Like the aromas, it has some chocolate, roasted malts, sweet maple syrup, some vanilla and a metallic aftertaste. Definitely smells better than it tastes.
Mouthfeel: It has a low carbonation with a thin overall balance and feel.
Drinkability: It's a smooth drinkable beer accompanied with disappointing flavors and aromas.
601 characters
3.15
/5
rDev
+28.6%
look: 3 | smell: 3 | taste: 3 | feel: 3.5 | overall: 3.5
Bottle- A deep opaque coffee black. Nice foamy mocha cap sits atop. The aromas are roasty coffee, lactic, a bit funky, some dark chocolate. Tastes of semi-sweet dark chocolate, and has a metallic twang, with coffee and grassy hops. Dry and bitter with a chalky cocoa finish. Pretty good overall.
295 characters
2.71
/5
rDev
+10.6%
look: 4 | smell: 3 | taste: 2.5 | feel: 2.5 | overall: 2.5
The beer is brown/black, a brown head leaving little lacing but good curtains.
Smelling of caramelized sugar, chocolate and dark fruits.
A sweet malty start, chocolate sprinkle, a bitter short finish.
Little carbonation, a sticky texture, a short coarse dry finish.
Too sweet and unharmonic.
295 characters

1.58
/5
rDev
-35.5%
look: 4 | smell: 1 | taste: 1.5 | feel: 1 | overall: 2
A: It looked good. Nice head, nice color, nice texture.
S: Nothing except some very very faint roasted malts.
T: Acid weirdness domination. Some faint coffee/vanilla too, but it doesn't match up for the god awful acid taste.
M: Overly carbonated and watery
D: doesn't taste much, but the acid taste makes you wanna stop after the fist sip.
One of the most horrible beer I've ever had...
391 characters
1.53
/5
rDev
-37.6%
look: 2 | smell: 1.5 | taste: 1.5 | feel: 1.5 | overall: 1.5
Appearance was dark and thick looking. Poured from the bottle with a very tan coloured head that dissipated quickly. No lacing or legs.
Smell: An unpleasant sour malt, with overtones of dark fruit or burnt coffee.
Taste: Not nice. Burnt cake, heavy bitter, even sour coffee.
Mouthfeel: thin. It flows over the whole tongue with a bitter sour sensation.
Drinkability: Have one to try it for yourself. I will abstain from having another. At $4.79 per 500 ml bottle, I feel this is way overpriced.
The best thing about this beer is the label. Truly a work of art. But the contents of the bottle... meh.
600 characters
2.84
/5
rDev
+15.9%
look: 4 | smell: 2.5 | taste: 3 | feel: 3 | overall: 2.5
bouteille brune de 341ml.
belle présentation !
très belle couleur noire opaque, la mousse est brune compacte. elle offre un nez chocolaté peu de torréfaction, goût amère,petit goût métallique, passablement désagréable, manque de profondeur. pas mauvaise pour le grimoire
282 characters
1.37
/5
rDev
-44.1%
look: 3 | smell: 1 | taste: 1.5 | feel: 1.5 | overall: 1
On tap at the brewpub.
Black brew with a thick white head.
Very unusual and unpleasant aroma, lots of fruity candy notes. Smells somehow artificial.
Taste is dominated by licorice and burnt sugar. A bit of roasted character comes through, but no hops. Body is very thin and carbonation is moderate.
Strange, but not in a good way, and watered-down. I had a hard time finishing this one.
398 characters
Noire Soeur from Le Grimoire
Beer rating:
2.45
out of
5
with
14
ratings