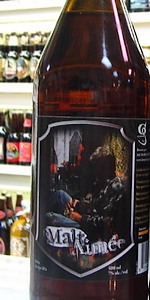 BEER INFO
Brewed by:
Le Grimoire
Quebec
,
Canada
brasseriegrimoire.com
Style:
American IPA
Alcohol by volume (ABV):
7.00%
Availability:
Year-round
Notes / Commercial Description:
No notes at this time.
Added by Phyl21ca on 06-07-2005
Ratings: 13 | Reviews: 8
Reviews by guezarka:
More User Reviews:

2.51
/5
rDev
-23.7%
look: 3.25 | smell: 2.75 | taste: 2.25 | feel: 2.5 | overall: 2.5
2.95
/5
rDev
-10.3%
look: 3 | smell: 3 | taste: 3 | feel: 2.5 | overall: 3
Pours llithly amber, thing white head.
N: faint citrus, brown sugar, raisins. Honey
M: think, watery, carbonation is on the low side.
T: sweet because of the strong malt backbone.. Honey. Brown sugar and raisins flavours. Hops are not dominant wich lacks dramaticaly for this IPA style (as labeled) beer.
Overall: ordinary IPA. Seems diluted for me.
350 characters
3.89
/5
rDev
+18.2%
look: 3 | smell: 4 | taste: 4 | feel: 3.5 | overall: 4
I saw sketchy translations of this beer's name in some reviews so I just wanted to make a good one:
The name literally translates to ''Malt Loved'' and is a play on words - malt sounding like ''mal'' which in french means ''bad'' and ''aimé'', past tense of ''aimer'' which means ''like'' or ''love''.
''Mal-aimée'' is the feminization of an ''unpopular or unwanted person''. Hence the hobo on the label. Makes sense right?
I noticed this 500ml bottle on a few trips to the store but was never interested until I noticed it was an I.P.A.
A- Beautiful amber is slightly hazy (very hazy once you pour the sediment). A few bubbles rise. Fluffy dirty-white head. Interesting lacing reminds me of the series of tiny holes on a pancake.
S- Sweet grapefruit flavored candy. Chocolate milk malt.
T- Carmel chocolate. Unlike the smell, not much grapefruit. A bit more orange maybe. I like it. A little spiciness. Sweet alcohol (I find it has a bit of a porto character).
M- Medium body, a little syrupy. Low to medium carbonation.
D- Well chilled you could drink a few but as it gets warmer the malty alcohol taste gets to you.
Good beer. Not what I had in mind when I wanted an I.P.A. but I wasn't truely disappointed. Not sure if I'd buy it again or even suggest it... not saying no... just not sure.
1,304 characters
3.12
/5
rDev
-5.2%
look: 3 | smell: 3.5 | taste: 3 | feel: 3 | overall: 3
Sample at the Mondiale 2005: Poured a copper color ale with a medium head with not much retention. Aroma of citrus and bitter hops. Taste is rather bitter with some subtle citrus flavour also noticeable. Body is a bit thin and watery feeling is noticeable while drinking this beer. Average.
290 characters

2.92
/5
rDev
-11.2%
look: 4 | smell: 2 | taste: 3.5 | feel: 2 | overall: 3
Tasted on January 25th, 2009.
Aroma: Citrus
Taste: Citrus
Mouthfeel: Water with heavy citrus note.
This is citrus juice. I like IPA with some citrus hops but this is not citrus taste from the hops. It is an added flavor... awful and I hope for them it was a bad batch! That was a bad batch.
Tried another one on July 30th, 2009 (thanks to a friend who bought one for me as a small gift).
Aroma: still some citrus note but less. More hoppy and grainy. Not bad but not great. A little bit below average.
Taste: Is quite better than the last time. Hoppy, more piny than citrus. Citrus is low. Taste is a little bit over average.
Mouthfeel: Quite good to average mouthfeel... more not impressed than anything else.
Drinkability: Not my go to IPA... drinkable 'tho.
767 characters

3.68
/5
rDev
+11.9%
look: 4 | smell: 3.5 | taste: 3.5 | feel: 4 | overall: 4
7% now.
A: Bronze with a white head, some retention & lacing.
S: Earthy citrus, tropical fruit & rind.
T: Earthy mineral, orange, nectarine, nice fruityness (slightly tropical), solid bitterness, alcohol extremely well-hidden.
M: Well-attenuated, moderate body has an off-dry finish.
D: A good drinker.
307 characters

3.53
/5
rDev
+7.3%
look: 4 | smell: 3.5 | taste: 3.5 | feel: 3.5 | overall: 3.5
A-Yellowish tinged amber with a medium, bright, off-white head. This reduced to a thin ring that left minimal lacing.
S-Caramel malt sweetness with sharp peppery spiciness , an earthy mustiness and a hint of biscuit.
T-Peppery spiciness with a subtle hint of lemon citrus.
Malt sweetness is present but not pronounced and is quite biscuity.
M-Medium-light body with a good smoothness. Decent lingering hop spicy bitterness.
D-A malt-forward IPA with a spicy hop character. A bit musty and flavours come off muted. Decent and drinkable but nothing I would go out of my way for.
582 characters

3.26
/5
rDev
-0.9%
look: 4 | smell: 3 | taste: 3 | feel: 3 | overall: 4
The name translates to something like "malt lover" or "I love malt" and I think that admission can excuse the the fact that, if this is an IPA, it's an incredibly malty one. The label's a little creepy.
Pours a rich, dark amber color with ample head.
Smells VERY malty with some citrusy, grapefruit and dried pineapple.
Taste is a strong caramel malt with orange fruits, grapefruit and a nice underlying bitter pine hops, and a bit of musty pepperiness. Yeah. It's an insanely malt forward IPA and reminds me of an amped up Great Lakes Devil's Pale Ale.
Medium-full bodied. It's a good beer, and I like it, but it's almost one I would go for if I was craving something malty like a Scottish ale, and not one I would reach for if I was craving a nice hoppy IPA.
764 characters
3.53
/5
rDev
+7.3%
look: 4 | smell: 3.5 | taste: 3.5 | feel: 3.5 | overall: 3.5
Poured from bottle into Sam Adams glass on 9/3/08. Thanks to Deuane for sharing.
A - Hazy burnt orange body with one-finger creamy off-white head that receded into a thin ring of retention and left minimal lacing. Carbonation is light overall.
S - Heavy malty nose with a bit of earthy hops and musty overtones. There is also a peppery spiciness and stale bread character.
T - Flavor possesses a slight citrus quality with a lemon-lime aspect and a mild pepper spiciness or spiced fruit aspect. Malt is primarily bready with a slightly sweet caramel base. Finishes with a slightly sour character.
M - Medium body with smooth texture and soft carbonation. Mild hop bitterness on the tongue. Mouthfeel is a little watery overall.
D - Pretty malt-forward IPA with an earthy quality. Certainly very different from other IPAs I've had in the past.
Brewslut's Quote of the Day:
"It smells like dried soybeans."
914 characters
3.31
/5
rDev
+0.6%
look: 3.25 | smell: 3.5 | taste: 3.25 | feel: 3.25 | overall: 3.25
Malt Aimée from Le Grimoire
3.29
out of
5
based on
13
ratings.