Rock Bottom Restaurant & Brewery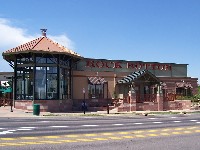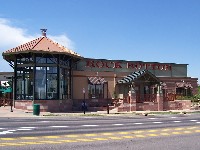 Brewery, Bar, Eatery
10633 Westminster Blvd. #900
Westminster
,
Colorado
, 80020
United States
(720) 566-0198 |
map
rockbottom.com
Notes:
Reviews by Rayek:

Rayek from Colorado
3.7
/5
rDev
+0.8%
vibe: 3 | quality: 3.5 | service: 4 | selection: 4 | food: 3.5
We went here on New Year's Eve to grab some beer and food before we caught a movie at the theater across the street. The place wasn't super busy given the night of the year. But we were there fairly early.
Located in an outdoor mall right off the highway, this Rock Bottom is certainly easy to spot. It's part of a complex that includes several themed restaurants and the aforementioned theater. Inside, the feel is a bit too generic for my tastes. Pretty much the standard bar over here, restaurant over there setup of most chain restaurants. Lighting is rather dark. High ceilings and a lack of many walls make this place rather loud. There are lot's of TV's for the sports fans. The brew kettles are viewable through a glass wall behind the bar.
I had one big gripe: the beer menu is split in two. There is one large menu above the bar that seems to list everything. However, after I had already ordered my first beer, I noticed a much smaller menu a few feet from the main one that listed the two cask conditioned beers. It seemed like an afterthought, as there is a second copy of the big menu hanging in the restaurant part of the pub, but no repeat of the cask beers.
Food is pretty standard pub fare. Portions are huge and the quality is pretty good. Prices are on the high side, unfortunately. Service is very quick and friendly.
Overall, I'm glad I went here, but it's not high on my list of places to revisit.
Jan 02, 2009
More User Reviews:
StonedTrippin from Colorado
3.8
/5
rDev
+3.5%
vibe: 3.5 | quality: 4 | service: 3.75 | selection: 3.75 | food: 3.75
not bad at all for a chain i think. this location is pretty laid back. set up kind of formally, but very groovy feel, low lighting, big bar, visible tanks, and a plethora of decent to good beers on tap. thought the red was the pick of the lot. also had a beer on nitro, and one on cask. service was tolerable. not overly friendly or helpful, but it may have just been my waitress. other patrons seemed satisfied. was pretty well occupied for a sunday night too. food was better than average, especially for a chain. had a reuben and fries and was content (and full). prices were about what you would expect, 10 bucks for a sandwich, 5 bucks for a pint. ish. overall a place i will visit again due to its proximity to where i play hockey on sundays, but not somewhere id go out of my way to go back to. the nicest of the few locations ive been to.
edit: the beer is always solid in here, and i think they have some of the better mac and cheese in the game. i enjoyed a cool saison, a kolsch, a white, and something they called the ancient one on a recent visit, and the service is always good as well. i think as chains go, they do better than most, and i have a good experience every time here.
Oct 22, 2012
Beerandraiderfan from Nevada
3.78
/5
rDev
+3%
vibe: 3.5 | quality: 3.5 | service: 4.5 | selection: 3.5
So this place is right next to Cheeky Monk, in the middle of an outdoor mall. I roll up pretty sweet in a red lexus convertible with my girl and her hot, gigantic breast enhanced aunt. "No girls, take your time shopping, I'll just chill out at the Rock Bottom & Cheeky Monk, heheheh."
So I roll into the place on the corner before noon. Looks immaculate inside and out on the very large patio. I assume this place is relatively new. Big. Open. Lots of traditional wood decor around the place. Beers on chalkboard around the place. Sports (Olympics to be exact, handball rules!) on the television. Bartender was real open and greeting, but he wasn't just being a kissass, it was like, real conversation. And he liked the Lakers, which sucks, but wear your team on your sleeve, its all good. Offered samples of anything, talked up his favorite beers. Handed me back to another bartender when he had to leave for a few minutes. Made sure I had a menu in case I wanted food. Just real good service. A decent mix of beers, I found the hoppier ones to be good, but predictably restrained. Basic choices selection wise.
The bartender and my favorite beer was the Cryin' Coyote Pale Ale. Plenty hoppy for a pale. Cascades representin'. Actually you know, on second thought, I liked the milk stout a little more. Good problem when you can't decide what beer you liked more. Wasn't a fan of the imperial red.
Overall, a cool place to run in and drink a pint and some samples. Would not hesitate to go have dinner there next time we visit hot aunt Sharon.
Sep 25, 2012
beveritt from Ohio
3.23
/5
rDev
-12%
vibe: 3.5 | quality: 3 | service: 3.5 | selection: 3 | food: 3.5
Stopped by this Rock Bottom last time I was out to visit my friend in COlorado.
The atmosphere is similar to other Rock Bottom restaurant which I have visited. Comfortable and cozy, but with a little corporate feel to it.
Beers are decent, good to sit, drink, chat. Nothing "extreme" or over the top, which is fine by me. A lot of quality sessionable beers.
Service was very friendly and prompt. Didn't really get into too much beer geek talk, but they seemed to know their stuff.
Food was average plus, above your typical pub fare. Portions are generous.
Over all, a nice chain to visit, but it is a chain, so this one doesn't differ much than the one in Indiana.
Aug 18, 2008
BackMarker from Maryland
4.13
/5
rDev
+12.5%
vibe: 4 | quality: 4 | service: 4 | selection: 4.5 | food: 4
My only regret about hitting this place one evening after a day of conference meetings, is that I chose the albeit boring "Buffalo Gold Ale" instead of going for the sampler tray. I'd never make that mistake again. I'm eager to try the RB Restaurants here in the DC area; but the Colorado experience was great. I had a grilled chicken sandwich (typical pub fare), and didn't get a second beer (another mistake I won't make again). The fellow conference-goer I was with had a steak. He said it was fantastic. Had I a refrigerator in my room, I would have taken a growler back. The beer was great. And I can only assume that the other varieties are as refreshing and tasty as the gold ale.
Aug 16, 2008
ColoradoBobs from Colorado
4
/5
rDev
+9%
vibe: 4 | quality: 4 | service: 4.5 | selection: 3.5 | food: 4
Been here several times, and have always found it pleasant, with realy good service and fairly knowledgeable wait staff. The beers are pleasant enough, nothing exceptional, but pretty good overall. Every dish I've tasted was well-prepared and ample in size.
The chain is a bit self-absorbed: i.e., they seem to be a bit too impressed with themselves, as if they were the only brew-pub around, but they serve up a good 2 hours of beer and food enjoyment for less than what you might spend many other spots in the area.
Dec 16, 2005
mentor from Colorado
3.13
/5
rDev
-14.7%
vibe: 3.5 | quality: 3.5 | service: 2 | selection: 3.5 | food: 3.5
Well, I entered it into the BA database, I guess I'd better review it. This place is about 2 miles away from our apartment (in July 2005) and, although convenient to visit, we don't go often. Because the place opened only recently, it's clean and new, but it just doesn't feel compfy (spelling?). It's a Rock Bottom brewery, like any other Rock Bottom. Nice wood interior, upbeat happening atmosphere, and the usual suspects on tap. But service is slow and the workers seem to know nothing about the details of the beers on tap (perhaps I'm asking too much...I am a *major* beer geek). The food is typical pub fare and a bit pricey at that. The 'standard' Rock Bottom beers taste, well, standard. There are a hlaf-dozen of them and perhaps 3-4 seasonals (2 of which are on cask) at any given time. The seasonal and unique beers, however are actually pretty interesting. Kudos to the brewers for imagination and the capability to make the imagined real (and tasty).
The pluses...large bar with many TV's, patio area (but damn hot as it's in a huge concrete area), interesting seasonals, and fare consistent with other Rock Bottom brewpubs. The minuses, lousy service, loud (actually to the point of making communication difficult), and kinda pricey for pub-fare.
Jul 15, 2005
rowew from Colorado
3.8
/5
rDev
+3.5%
vibe: 3.5 | quality: 3.5 | service: 4 | selection: 4 | food: 4
Went for dinner and their pint night special ($4 for the first beer and you keep the glass, $2 refills). Nice large bar area, and a restaraunt area to the right. Also has a good sized patio area, but it was closed today due to the weather. Bar area has several big screens and a couple pool tables. I've been here many times before, and the service has always been good. Selection is typical rock bototm, but in Colorado they carry some of Boulder Beer's products like Singletrack. Tonight we had a nice seared tuna appetizer and a steak - both were well prepared. I also had several of their seasonal beer which was quite tasty.
Jun 29, 2005
Rock Bottom Restaurant & Brewery in Westminster, CO
Brewery rating:
3.63
out of
5
with
3386
ratings