Total Wine & More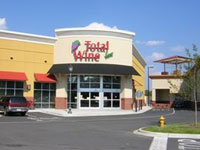 PLACE INFO
Type:
Store
440 McCullough Dr
Ste A100
Charlotte
,
North Carolina
, 28262-3313
United States
(704) 714-1040 |
map
totalwine.com
Notes:
No notes at this time.
Added by AlexJ on 06-09-2005
Reviews: 11 | Ratings: 21

3
/5
rDev
-20%
Has an okay selection, but too many old beers for my liking. The one in Huntersville keeps up with their stock better. The people who work here are off putting. I'm assuming that's because it's pretty close to the university.
227 characters
3.68
/5
rDev
-1.9%
vibe: 3.75 | quality: 3.75 | service: 3.5 | selection: 3.75
Just your standard Total Wine. If you've been to one, you have a good idea what to expect. They seem to have a decent turnover rate, and if you stick to locals or seasonal brews they're typically pretty fresh. I've gotten a few that were pretty old, but generally this location seems to be one of the better in the area.
320 characters
2.49
/5
rDev
-33.6%
vibe: 3 | quality: 1 | service: 3.5 | selection: 3
I've only been there a handful of time but have bought multiple beers that were passed their best buy dates. The store has a good selection but doesn't seem to rotate their stock or they hold on to items that don't sell. Make sure to check the dates on the beers especially when buying hoppy beers from them.
308 characters
4
/5
rDev
+6.7%
"it's all about the karma"
i've popped into this total wine twice now while visiting a friend in the university area - an area of Charlotte most have only read about in books and seen on maps of far away lands
all total wine's are the same layout wise - mostly dry storage. a long aisle of sixers, a cooler with a subset of what can be found in the aisle and a section of singles and bombers.
selection highlights some of the more readily available locals - full lines from highland, mother earth, duck rabbit and others. The walk-in cooler had the 2 latest bottled releases from Olde Meck and also some made-for-store growlers that i didnt even know existed.
The singles selection was nice (didnt vouch quality) but my time is limited so i stayed away.
respectable place to buy beer - brawleys is fun for treasure hunting, but people need sixers too and i dont know where else to go but total wine.
904 characters
3.65
/5
rDev
-2.7%
Stopped in here on my way up to the Foothills Baltic Porter release as I knew I was going to be stupidly early. One complaint about this location is finding it in the shopping complex. I passed by this place probably 3 times before I happened to spot it out of the corner of my eye. Upon pulling it had a nice look to it as it appeared to be the theme of the buildings in that area of the complex. Walked through the doors and the single bottle selections were directly as you walked in. They had some other bottles scattered throughout the store as well with the 4/6 packs in the back right of the store. Started to build my own 6-pack and had a REALLY hard time doing so... Only ended up with 5 total which is saying something. The staff was decently helpful while I was there. Overall if you are in the area it is worth checking out as they did have a few rare bottles while I was there.
890 characters
3.85
/5
rDev
+2.7%
I've been to one other Total Wine before, but this has a much better selection of beers, in my opinion. The 6-pack section is two rows of a variety or micros and macros. Ideally, I'd like more selection (in the 6-pack realm), but it is pretty good for what its got.
The best thing, though, is the individual beers that they have out for sale. You could probably have a different beer each day for a whole year and still have more beers to go. I felt like I was in heaven mixing and matching my own 6-pack of random beers from NC, the mid-Atlantic, and all over the country. Good place to stop by.
597 characters

3.7
/5
rDev
-1.3%
Quite a good selection of the standard fare in North Carolina. But the availablity of build your own six packs is nice. They also have a nice selection of crafts by the case. It seemed that you could also special order some kegs from them, but I didn't have a chance to ask anyone there because I just didn't have the time. If you are in the area make a stop, they have a good selection and seem willing to help. Also, they had Beeradvocate.com ratings on the hang tags for the singles, that made it helpful.
508 characters

3.85
/5
rDev
+2.7%
We recently stopped in here on a visit to Charlotte. Pretty good selection of the not only the more readily available craft beers from around the country but also some local micros as well. Foreign selection was decent too with a good bit of more commonly found English/German/Belgian imports.
What I think that I like about this place the most is that almost everything they offer in six-packs are also available on their big wall of mix & match singles. I ended up leaving with a mix six of brews from Highland/Duck Rabbit/Cottonwood, a couple of Highland bombers, and a 12oz bottle of the Duchesse De Bourgogne.
All in all, Brawley's is still the place to visit for beer shopping in Charlotte but this is still a great stop for stocking up on those local singles when visiting the area.
792 characters
3.7
/5
rDev
-1.3%
So I hope Mike doesn't read this but after my last visit to his store I stopped over here just to see how it compared. Now, well actually he can read this one. They cannot even hold a candle to Brawleys in terms of selection and pricing. Now they may have the occasional big sale item or something, but they do not have anywhere near the selection. They are fairly decent for the area carrying almost all locals and the more common micros as well as some Belgians and even a few of the rarer German brews, but as others have said if you are in Charlotte and are going to make a stop to purchase just go see Mike at Brawleys, he will have everything you wanted, and some you did not even know you wanted, and his prices will at the very least be right in line with the bigger stores. But this is not at bad store by any means and one of the better of its kind that I have seen.
876 characters
3.7
/5
rDev
-1.3%
This Total Wine location between Harris and Tryon is a bit of a pain to get into. You wind around a parking lot and then finally arrive on the backside of the facade to enter.
The store is laid out much like any other TW location and is clean and well lit. The inventory seemed better than many other locations and had some items that could not be found in the best Charlotte beer stores. Overall the prices were in line and the service for the beer area of TW was pure TW, none. I was checked out quickly and efficiently, but no one ever ventured toward the beer aisle to inquire if I needed assistance.
I'd go back to this location. Mainly based upon price and selection.
679 characters
3.85
/5
rDev
+2.7%
This newest Total Wine is the best one I've been to so far. For one, all their stock is fresh and tastey. I've purchased some pretty off tasting beers at other locations due to improper stock rotating. Selection is basically the same as other stores, but this one seems to get in more new beers. Some new beers I saw are : all Great Divide 12 oz (except Titan IPA ), Rogue Chipotle & Juniper Ales, Allagash Summer, a new duck-Rabbit brew- I forget which, and a few others.
They also carry Avery, Mendo., Anderson Valley, Lost Coast, Left Hand, all Rogue 12 oz, Highland, Cottonwood, Edenton, St. George, and lots more. Some decent imports too, like: Ayinger, Lindemans, Troubador, Aecht Schlenkerla smoked Marzen, Fuller's, etc. Service is a bit better than other stores too, although no one there really knows anything about beer. That's OK though, cuz I don't have any questions.
885 characters
Total Wine & More in Charlotte, NC
3.75
out of
5
based on
21
ratings.