The Independent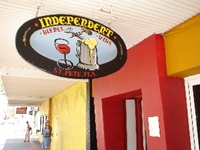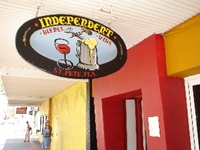 Bar, Beer-to-go
29 3rd St N
Saint Petersburg
,
Florida
, 33701-3814
United States
// CLOSED //
Notes:
Reviews by TheLongBeachBum:
TheLongBeachBum from California
4.5
/5
rDev
+5.1%
vibe: 4.5 | quality: 4.5 | service: 4.5 | selection: 4.5
Having taken the short walk from my seafront located Hampton Inn on Beach Drive in St.Petersburg to the Fortunatos After Dark situated in a run of establishments on Central Avenue, it was great news to be told that the "other" beer bar worth trying in St.Petersburg was literally just around the corner. Walking up Central Avenue I took my first right on 3rd Street and after a few seconds I had come across the Independent, though it looked closed at first.
It opens at 5pm and it was still daylight outside but starting to get dark when I first got there. Some white steel round tables and chairs line the sidewalk across the frontage. The Independent is a long thing rectangular bar, seems like it has only been open for 6 months and was once a Café/Diner of sorts.
The atmosphere is very cool, minimalist in presentation but nevertheless rather classy with a high quality feel. The interior of the bar is easily visible from outside and the entire frontage is glass. A single door sits to the left hand side of one of those snazzy collapsing sliding glass door frontages to the right, this is opened up on a night at times, depending on how hot it gets. Once inside a brick wall lines the left hand side, tastefully designed it accommodates a series of light fittings which add a warm glow as it gets dark outside. To the right, a large black wall mounted bench that faces into the middle of the room sits high and has three small raised tables for those that elect to suit there. In the middle a wooden bench table fills the space. It's all very minimalist and despite the feeling of open space it soon fills when busy. The bar sits at the back, against a wall which separates it from a small kitchen and the restrooms which are accessed to the right of the bar down a small walkway. The back of the bar has a large wooden fitting which houses three or four glass shelves, this is where all the different types of Beer Glasses are kept, the top shelf is reserved for displaying some of the available bottles. Three glass door coolers are situated below this and proudly display the fantastic range of bottled brews on offer.
The bar has 12 draft brews on tap, served from three sets of chromed fonts, each sporting 4 taps. A great range of 12 draft brews with NO macros or mainstream offerings at all. I started with a Radegast, and worked onto St.Bernadus Wit, Einbecker Schwarz and a Resissdorf Kölsch – all served in the correct appropriate glass. The bottle range must be into triple digits, a very nice easy to read and well laid out dark blue beer menu lists them all, and the servers know what other specials are hidden in the coolers too. The Beer Menu lists the 12 drafts, and then all of the bottled brews individually by Country with a brief but functional description, nicely done and a quality touch. The breadth and range of the bottled beers was superb, something for everyone style wise from a range of countries, some old favorites supported by an influx of new ones.
Service was excellent and the servers knew their brews. I thoroughly enjoyed my time in here; too much given I was on business and had a few early mornings after late nights in here. Prices are reasonable and very welcoming. It seemed like there was no food on offer, but it I did spy a sign that offered German Pretzels if you fancied a beery snack.
Of the two beer bars I tried in St.Petersburg, I much preferred The Independent; by far it is the one I was most comfortable with. It has the best atmosphere and is a very relaxing place to hang out. The people in here are a lot of fun and it's a just very cool place to chill out with some very cool brews.
Highly Recommended.
Last Visit: Wednesday 12th October, 2005.
Oct 16, 2005
More User Reviews:
sliverX from S. Georgia & S. Sandwich Isls.
3.94
/5
rDev
-7.9%
vibe: 3.5 | quality: 4 | service: 4.5 | selection: 3.5
Atmosphere was what you could expect in the club area its in, hipsters abound, music being mostly hipster songs played on the pa system via an ipod. I can't take off for it due to it being legal but indoor smoking sucks.
The staff was quick even on a late Friday night, they looked the part but didn't act pretentious.
Selection wasn't bad at all but was lagunitas on 2 taps a cider a black ipa and then like 6 imports but no bmc . Lots of bottles but what surprised me was nothing made in the state of Florida. Focused on imports and west coast mostly.
Okocim lager $5, lagunitas ipa $6 and WTF $7 for what was a standard plastic party cup.
Would I go back? Sure its better than the surroundings.
May 07, 2011
ktrillionaire from Florida
3.48
/5
rDev
-18.7%
vibe: 2 | quality: 4 | service: 3 | selection: 4
I don't like the layout of the place. Very awkward. One tiny bar in the back of a big room. Its great if you like wrestling for position to order drinks.
Otherwise, the service is pretty good. They strive to give you the cleanest glassware, authentically matched to the particular style being poured.
There are no poor quality beers, but many are not better than average.
Imports are prevalent over craft beer at this spot. Still, quite a few nice things to choose from.
The beers are taxed! I can't be paying an arm and a leg for, say, Okocim. Not my favorite spot.
Dec 25, 2009

nick76 from Florida
4
/5
rDev
-6.5%
vibe: 4 | quality: 4 | service: 4.5 | selection: 3.5
The ambiance is very urban-modern in a small beer bar. There is both tables inside and out and a few places at the bar. The service is great. Neal was very nice and loves to talk beer. The selection is sure to please everyone with all the bases covered. They dont have very many exotic or hard to find beers but it's still good if you like imports and common micros. There is no food there but two places right next to it. Its pricey and that is my only beef. Great place to drink beer downtown. They have some wines too.
Dec 09, 2008

smellody from Pennsylvania
4.66
/5
rDev
+8.9%
vibe: 4.5 | quality: 5 | service: 5 | selection: 4
I have been here many times, and keep meaning to review it for BA members. The Independent is a small, quaint beer bar in the heart of St. Petersburg. It has some family-style seating areas that is very conducive to meeting new friends and a very knowledgeable staff. Their selection is great, focused on Belgian and German beers. They could do better in the American Micros/Craft breweries if that is your thing. They play good music, have outdoor seating and a great selection.
When there during my last visit our bartender took us through our selections and made some great recommendations. He really tried to expand our minds a bit by offering some selections similar to what was ordered (we know our beer) but giving us the option to try something else. If we didn't like it, he wouldn't charge us - that never happened.
Worth checking out after a visit to the Dali Museum or just when just looking for a low key place to enjoy your company and a good beer.
Apr 16, 2008
kbm from Arizona
4.3
/5
rDev
+0.5%
vibe: 4 | quality: 4.5 | service: 4.5 | selection: 4
My wife's family is based in St. Pete. I was pleasantly surprised by the Independent on my last visit. If you are in downtown St. Pete, chances are that you can walk to the Independent.
I didn't know what to make of the place during my first visit. I would describe it as a hip/urban beer hall - without food.
There are about a dozen taps. I think the Independent tries to balance out their micro domestic offerings with hard-to-come-by European brews; it made for a wide-ranging menu. The list of beers is set forth on a menu which is convenient. Each beer is served in a style specific glass and consideration is given to the correct pour. It was apparent that they take care in the quality of their product.
The owner was there and we chatted with him for a short while. He was very pleasant and added another level of personal touch to our already good visit.
Highly recommended.
Apr 14, 2008
marinermc from Colorado
4.43
/5
rDev
+3.5%
vibe: 5 | quality: 4.5 | service: 4 | selection: 4.5
Growing up in St. Petersburg, or as Jack Kerouac once referred to it as, Salt Peter-burg, I certainly noticed a beer vacuum. With only a few places to buy specialty beer, there was really nowhere to sit and drink. You know, like a bar or something. Luckily, just a few years ago, The Independent popped up in St. Pete's now classy and, thankfully, younger downtown.
The main appeal of this place is the atmosphere -- comfy high pews with velvet cushions and long, festhaus-like tables. Massive Hof-Brau and Paulaner flags drap from the super-high ceilings. A pristine and perfect array of glassware shimmers from a crystal rack behind the spotless bar. And if the inside is too busy, which is not uncommon, you are free to enjoy your brew outside in front of the bar amid the mild Burg weather.
The beer selection is superb -- with more Belgians on tap than I've ever seen (limited as my experiences are). Nothing is better to me than St. Bernardus ABT 12 on tap. Nothing. To boot they have an entire array of St. Brnardus, Delirium, and the odd golden ale on tap year 'round. Their bottled selection is modest but can be weeded through fairly quickly after a number of visits.
What will keep you coming back is the wonder of at least a handful of Belgians ON TAP and the flawless, friendly atmosphere.
Jan 09, 2008
i13tony from Pennsylvania
4.66
/5
rDev
+8.9%
vibe: 4.5 | quality: 5 | service: 4 | selection: 5
Step off the street into The Independent and you're instantly transported from Florida (a.k.a. BudLightLand) to a mythical beer dimension. One who enjoys this site will realize quickly that s/he's come to the right place. We just don't have too many places around Tampa Bay where the bartenders are well-versed in all the subtleties of their selections. So, this place gets very high marks from me. Really an enjoyable place to be. Once we sat down, I didn't want to leave to attend the concert around the corner...in fact, we heard the band from outside, sold our tickets, and went back! If I lived in the neighborhood, I'd be there daily.
Feb 22, 2007
Jredner from Florida
4.13
/5
rDev
-3.5%
vibe: 5 | quality: 4 | service: 4 | selection: 4
Fairly decent tap lineup that leans heavily to european products and seems to avoid the better American Micros. The place is fairly small, but the high ceilings and well laid out design make it feel much bigger. A long and solid bench style table takes up the center of the space and a mix of old world and modern art elements give it a hip, but refined feel. It gets high marks for atmosphere. It's very pricey, but it's a pricey part of town. I'd like to see a wider selection considering there is much more availible than what they carry, but as I said it is a very small place so space is at a premium. Worth a visit for the atmosphere alone.
Oct 12, 2006
phishgator from Florida
4.5
/5
rDev
+5.1%
vibe: 4.5 | quality: 4.5 | service: 4.5 | selection: 4.5
I love when I get into downtown St. Pete and get a chance to go to The Independent. Their atmosphere is a great mix of professionals and artists, etc..
The quality is good all around. They decorate the place well and the big medival looking benches add a neat feel.
The service staff seems quite knowledgeable about the different brews and offer good recommendations to "rookies". They are quick with a good pour or at your request they will let you pour your own.
Their selection is second to none in the area!
You will have a good time in this safe, warm environment. Its a place where friends meet and drink until they walk to their apartment. Though the prices are a little up there, but expected with the location.
May 04, 2006

blitheringidiot from Pennsylvania
4.39
/5
rDev
+2.6%
vibe: 4.5 | quality: 5 | service: 4 | selection: 4
*Open at 5PM - No food!*
While walking through the commercial district of St. Petersburg, The Independent is fairly easy to find right in the heart of the "downtown" area. With an inviting retractable open front, getting drawn in is no problem. Immediately, the stylish interior and careful attention to detail resounds. Art deco like long black couch to the right adorned with artwork above, and interior colors of maroon and peach with flat black high ceilings and a concrete floor and votive candles at dusk. Simple classy elegance!
I bellied up to the left side of the small bar divided by the middle of three tap towers. Tall stools and a tall bar offered up Okocim, Einbeckel Dunkel, Reissdorf Kölsch, Radegast, Delirium Tremons, Chimay Tripel, Val Dieu Winter, Affligem Blonde, Hobgoblin, Franziskaner, and a Rogue.
An impressive international selection viewed inside waist high cold boxes behind the bar at Independent clearly demonstrates the dedication to this beer oasis. A few bottle standouts are Rogue Imperial Pils, Great Divide Hercules, all three Rochefort, Brasserie des Rocs, Karmeliet Tripel, Weinstephaner Korbinian, Konings Hoeven, and the list goes on about 50 in all.
Here is why The Independent gets a "5" on quality. All beers are served in the glassware from the brewery. Yes..ALL beers! And the place is spic 'n span. Done right! Even the two unisex bathrooms in the back are clean.
My 'tender Dan admits that he enjoys the Belgians and he is still learning. Aren't we all! He explained that customers have added to the flags adorning the walls.
Last call: Could you bring your Mother here? Ummm...yes if Mom drinks world class beer or wine. No food here! The Independent opened on 04/01/05 as per the framed dollar bill on the wall and upon their 1st Anniversary last week, the customers served the bartenders and staff with an open bar! Darn! I was here and I missed it!
Apr 11, 2006

timbeer from Nevada
4.14
/5
rDev
-3.3%
vibe: 4 | quality: 4 | service: 4 | selection: 4.5
The Independent in downtown St. Petersburg, Florida is a local oasis for fans of quality craft beer. Tucked into a normal retail-type building, and with a few tables on the sidewalk out front, it is fairly small, and crowded after the first few dozen patrons arrive. The atmosphere is friendly, and the crowd is mostly young people. On weekend nights it seems like a bit of a meat market.
There are 10 or 12 taps, about half of which are Belgians, such as the St. Bernardus Abt. 12. Also on tap when I was there were 2 or 3 German beers, including Weihenstephan, a few Americans, such as the Rogue Chocolate Stout, and the Okocim OK beer.
The bottle selection amplifies what is available on tap. Again the emphasis is on the Belgians, with plenty of good German and American craft beers (the Great Divide Hercules Double IPA, for example). I would guess there were maybe 60 or so different bottles, all of which aim to seduce craft beer drinkers.
The beers are pricey. My St. Bernardus on tap was $10. Americans were $5 or $6 on tap, bomber bottles I think were around $8. I managed to drop $40 one night, without much effort.
My overall impression is that this is a very worthwhile place to check out, and it will be a regular stop for me when I am in St. Pete.
Feb 13, 2006
Guinness4me from Florida
4.5
/5
rDev
+5.1%
vibe: 4.5 | quality: 4.5 | service: 4.5 | selection: 4.5
Bar none, this is the classiest beer bar you'll find in town, maybe even Florida. The richly appointed interior is outstanding and NOT your father's beer bar. As with most of downtown St. Pete, you'll find an eclectic client mix of well-dressed yuppies, laid-back gen-x'ers, and a few wide-eyed tourists all with something in common: the love of GREAT beer. I visited on a Thursday night and the place was busy, but not overly crowded.
Attention to detail is evident with the rows of proper glasses for each beer type properly enshrined on glass shelves behind the bar. There are at least 12 taps at the bar and easily a hundred different bottled beers. Craft and supreme imports abound without a hint of the ordinary beer of the masses...not even my beloved Guinness was offered. Too mainstream for such a place, I guess.
I met the owner, his wife and their friend, Dan who mans the bar for them most nights. The owner has been in the beer, liquor and spirits distribution business for years and has fulfilled his dream to bring the best beer in the world to a first-class establishment. My husband and I have tried nearly all the beers available in central Florida, and he even surprised us with something new. They know their beer and love it as much as we do.
While food is not offered, they will pull out the menu for Z-Grille, an independent, southwest-style restaurant around the corner which delivered amazing dinners and appetizers right to the bar for us. The food was reasonably priced and tasted outstanding. The owner/chef brought it to the restaurant himself and was rewarded by us with a frosty brew of his choice.
To call this a beer bar almost seems to cheapen it. It's truly a beer snobs dream.
Jun 26, 2005
The Independent in Saint Petersburg, FL
Place rating:
4.28
out of
5
with
13
ratings