Glunz Bavarian Haus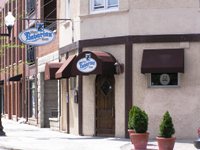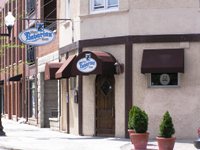 PLACE INFO
Type:
Bar, Eatery
4128 N Lincoln Ave
Chicago
,
Illinois
, 60618-3028
United States
(773) 472-4287
// CLOSED //
Notes:
No notes at this time.
Added by Redrover on 06-15-2005
PLACE STATS
Reviews:

9

Ratings:

pDev:

10.1%
HISTOGRAM
View: Place Reviews
Ratings: 9 | Reviews: 9
Reviews by emerge077:
4
/5
rDev
+1%
vibe: 4 | quality: 4 | service: 4 | selection: 4 | food: 4
Stopped in again this evening with fellow BA acme.
This was about my 4th visit, been here various times, including pub crawls, Mayfest, etc. Wooden bar is in the front to the left, table seating immediately when you enter, and more cozy seating in the back. Plenty of dark wood, the barstools are swiveling with a "C"- shaped cradle design. Little wooden shelves display an impressive collection of krugs, interspersed with little white holiday lights. They serve food at the bar on a specially designed wood platform that rests on the groove of the bar rail.
Taps seemed to be the same as usual, Weihenstephaner Hefe Dunkel, VITUS (currently was on order from the distro), Optimator, Reissdorf Kolsch, Delerium Noel, London Pride, Einbecker Ur-Bock, and a few others. They carry what sells, instead of rotating random stuff. Luckily Vitus is in that lineup. Bottle list has a few Germans, Belgians, not especially extensive.
Food is hearty German fare, there was a fish-fry special on fridays for $10.95. Service was great, friendly bartenders, knowledgeable about beer and Germany. One especially attractive Romanian server gave us fig vodka shots on the house. A more sedate option in Lincoln Square, one of the last few authentic German spots around.
2013: RIP
1,271 characters
More User Reviews:
3.19
/5
rDev
-19.4%
vibe: 3 | quality: 4 | service: 2.5 | selection: 3
feels like a hole-in-the wall place but there is more room towards the back. focus of the decor is german beer, naturally. feels cozy and dark. service was good. selection is not voluminous by any means but only one crap beer was noticed. 10 or so taps, almost all german with the exception of delirium noel, fuller's, and schitz to my recollection. about the same number available via bottle selection. they serve most of their beers in the proper branded glassware, and thankfully the glasses were nice and clean. prices are reasonable and the serving sizes tend to be big due to the glassware. worth a shot if you like fresh german beer.
update: the last time i went the bartender/owner gave me the wrong beer (i had called ahead to see if they still had kutscher alt on, he gave a a kostrizer (sp?) schwarz beer), he insisted over and over that this was kutscher alt, after proving it was not the kutscher alt that i asked for (using ba on my phone, natch), he then guilted me into drinking/buying the wrong goddamn beer! it's not like they are even the same style of beer.
1,078 characters
4.15
/5
rDev
+4.8%
vibe: 4 | quality: 4.5 | service: 4 | selection: 4 | food: 4
This is one of the many German places in the Lincoln Square area of Chicago and is a good stop for bier and good food. The restaurant is run by Jim Glunz, a member of the Glunz family infamous in the Chicago-land area for bier distribution. He and the staff are attentive and want to make sure you have a wonderful experience there, and you always do. The bier selection is one of the best in the city-a good mix of German, English, and Belgian biers that provide you a difficult choice. A side note, they offer $7 litres on Mondays (or tuesdays). I like this place the most in the summer when they have a nice outdoor biergarten that is great for people watching and enjoying the good bier. The inside restaurant is nice but a bit plain and quiet for me, but jim usually has a German band playing in the evenings, so it can be fun.
The food is some of the best in the area and will not disappoint.
Overall, this place is great in the spring and summer when the outdoor biergarten is open, I can sit there eat, read, people watch, talk, and have many biers in an afternoon and the time flies. Do yourself a favor and go, have one for me!
1,139 characters
3.3
/5
rDev
-16.7%
vibe: 3.5 | quality: 3 | service: 3.5 | selection: 3.5 | food: 3
I stopped by in the late afternoon on a weekday and it was pretty empty. The dark wood bar has the tap handles right in front with lots of German beer steins on the walls. All the decor looked like new posters, steins, glassware and such that was reproductions to look old. The place was very clean but pretty dark.
I had a Hofbrau and the tap wasn't working right so it was about 1/2 beer and 1/2 foam so it took about 10 minutes to get my beer. The bartender was very polite and apologized many times but I wasn't in any real hurry. I got a glass of water while I waited and the water tasted a bit chemical. I drink lots of Chicago water and this was worse that Chicago water. Looking at the beer list they had lots of beers from Germany and a few from other countries in the region with the stout from England. It was a good selection with a few bottles of MBG on the back shelf.
I was in the mood for spatzle so I ordered the Sauerbraten plate. At the bar they stuck this weird table on the ledge in front of me and put my plate on top. The bar seats are very low so I already felt like a little kid sitting at the bar. With the addition of the table I could just slide the food off my plate and into my mouth. The food was ok but nothing great. The red cabbage was good but the meat was pretty chewy and the spatzle were rubbery.
If I go back it might be to try the radish salad and have a beer or two but only if I'm in a German beer mood.
1,457 characters
4.18
/5
rDev
+5.6%
vibe: 4 | quality: 4 | service: 4 | selection: 4.5 | food: 4.5
The owners of this place are also beer and wine distributors. The restaurant has a great selection of beers on tap. They have about 12-14 taps and they are all good beers. None of the taps carry Bud Light or anything like that. The taps included a wide variety of German beers when I was there recently, including both Spaten Maibock and Hofbrau Maibock. They also had a weizen, a dunkel weizen, a weizenbock, a kolsch, and Spaten Optimator in addittion to Spaten Pils, Hirter Pils, etc. This is the best variety of different types of German taps that you will find in Chicago. Unlike the other good German bars in Chicago (Resi's and Laschets), Glunz also has some great non-German taps, including the Belgian Delirium Tremens and Fuller's London Pride. The German food is excellent. They have sidewalk tables. When I was there on Saturday night, June 2, they had a German band playing outside. I'm not sure how often they do that.
932 characters
4
/5
rDev
+1%
vibe: 4 | quality: 4 | service: 4 | selection: 4 | food: 4
Glunz is the third of the German beer bar/fooderies near the Irving Park/Lincoln/Damen intersection. Formerly Great American Beer Palace (which ironically also focused on German beers) the front of the house has a L-shaped bar with a dozen wooden stools, and the back has a dining area with tables and chairs that look like authentic bierhall solid wood. Lots of Black Forest feel.
We were lured here by Samichlaus on tap (expensive at 8ish per tulip glass but warming). They had a nice tap selection which was slightly more diverse than the usual lineup at Resi's and Lachet's and with a nice light to dark range: Hofbrau original, Spaten Pils, Hiter Pils, Stiegl Pils, Reissdorf Kolsch, Hofbrau Kindl Hefeweizen, Spaten Oktoberfest (just kicked), Westephaner Dunkel, London Pride, Youngs Winter Warmer, Delerium Noel (just kicked) and the prize Samichlaus. (still on tap on 12/26)
We have eaten here previously and were very happy with the food. Great schnitzel and spaetzle and mushroom cream sauce. I little higher price point than Lachet's and much higher than Resi's but worth the money. Some folks split a schnitzel sandwich at the bar while we were there and it looked great and came with expertly browned potatoes.
A worthy destination especially on a German beer tour of the neighborhood.
1,308 characters
4.22
/5
rDev
+6.6%
vibe: 4.5 | quality: 4.5 | service: 4 | selection: 4
This was the third stop on the German Pub Walk and I can't believe this place only has 2 beerfly reviews right now! C'mon people!! Anyway..this is right down the street from Resi's and Laschet's located on it's own corner. Upon entering there's lots of dark wood tables and chairs giving this more of a restaurant vibe than your typical bar. Off to the left sits the bar with plenty of good tap handles. Lots of cool German artifacts all over the place, including a big glass case with a cool intricate horse drawn beer cart. Nice and open space that has a comfortable feel about it.
Plenty of good brews on tap here from Paulaner, Spaten, Hofbrau, Hacker Pschor, Spaten, Reissdorf and more. I grabbed myself a nice big glass of the Reissdorf Kolsch from our friendly bartender who seemed happy to see us and quickly made sure all of our glasses were brimming with good German brews! We ventured out to the awesome curbside seating area. Lots of big Hofbrau umbrellas gave us some shade from the sun while we enjoyed a beautiful Chicago afternoon.
Overall, just a really nice place to stop by for a beer. Again, didn't grab any food here but from what I've heard it's quite good, so ya might as well stop by for a meal too! I'm glad I had the chance to stop by here...three great German bars in the same general vicinity is really cool. I'll be back here sooner than later I hope! Nothing like sitting on the curbside patio enjoying a great brew.
1,453 characters
4.38
/5
rDev
+10.6%
vibe: 4 | quality: 4.5 | service: 4.5 | selection: 4 | food: 5
I finally made it. It took me forever, but I finally got a chance to go here. I'm not sure how I feel about that exactly.
Perhaps it wasn't the best night for me to go. There was a wedding going on right across the street which was spilling into any local where drink was available (or into the street for that matter). So when I got there there was not much of a choice on where to sit. I could have either sat inside at the one available table which was surrounded entirely by drunken men in tuxes or I could sit all by myself in the beer garden. Of course I chose the garden. Now, it's not so much a garden as it is a bunch of picnic tables on the sidewalk. Not the best beer garden I've ever seen, but it'll do.
The food! Oh wow, the food here is great. It's a tad pricey though. Expect to pay about $20 per plate. That's not too bad, but many other German restaurants just down the street will go for half that. On the other hand, the food is worth every penny. The menu is half German and half English/German. Bring a translator or ask your waitress. If you don't know German food then just point to something, it's all so good. My veal Goulash was amazing, as was my girlfriend's Jägerpfandl. The food is very well done. Thick cream sauces and REAL spätzle make it special. So very good.
The beer is mostly what you'd expect and maybe a few surprises. The taps (about 10 if I remember) are all German(ish). Spaten, Paulaner, Hofbrau, Lowenbrau, Hacker Pschorr, Bitburger and Stiegl are all there in various styles. Served in the right glass in the German way in German quantities. A half liter will run you about $5. It was all plenty good, save for an Erdinger Oktoberfest Weissbier I had off tap that had a strong metal smell and taste to it. Still drinkable, but it shouldn't be. On the contrary, my liter of Spaten Oktoberfest was fantastically good. There are also some other bottles of run of the mill macros and subsidiaries. And some more German flavors in bottles, but too similar to the taps to bother with.
The service was just right. Not too bothersome, but not neglectful. I was not rushed and staff was very nice. Other waitresses would check up on us if we looked wanting. It was such a nice day/night out that I could think of nothing better than sitting there slowly eating my white chocolate mouse and drinking quality German beer all night. And that's just what I did. The waitress never once made me feel like we should be moving. That's almost a unique experience nowadays.
Over all I really enjoyed myself at Glunz. Any fault I had with them (other than the bad beer) was not theirs. I wish I had the chance to see the inside a little more. What I remember of it is typical for a German restaurant. Mostly wood/wood paneling and nick-knacks. Sort of small on the inside. But the experience I had there is what matters. I'll be going back there again. Maybe not as much as a livelier place (Brauhaus) or a cozier place with cheap, home style German cooking (Resi's). But I will be back, will bring friends and would recommend it. Prost!
3,081 characters
4.18
/5
rDev
+5.6%
vibe: 4.5 | quality: 4 | service: 4.5 | selection: 4 | food: 4
The appropriately named Bavarian Haus specializes in German/Austrian food and beer. It is owned by the Glunz family who are longtime distributors of European beers in the US.
The space used to the Great American Beer Palace which one was one of the first real beer bars in Chicago. This place is a very worthy successor.
The Bavarian Haus is decorated with lots of wood & German beer memorabilia. They have some absolutely classic stuff here. It's almost like a beer museum. (but not at all stuffy).
The service is very friendly, fast and efficient. They serve the beers in the correct branded bar ware. I noticed they use a very cool device to wash their beer glasses. I think that due to this device, all the beers come with almost a picture perfect look with the correct amount of head.
On to beer, very good tap choices. When I was there they had Stiegl, two selections from Paulaner (Including a Maibock.), two selections from Hofbrau, two from Hacker Pschor, etc. I didn't check out the bottles but have been told they offer about 25 or 30 selections.
The food is very tasty, but a bit pricey. Entrees run about $20. It is very authentic. I tend to stick to some of the cheaper offerings like Thuringer or brat plate. These are less than $10. They also offer a nice selection of tasty sandwiches.
They have a band on most weekend nights. They are a small German combo and they really add to the festive atmosphere. The band often goes out to play to the crowd in the patio which is a nice touch.
Speaking of the patio, I would say it seats 40 or so people. One nice feature is an oversized chessboard. The pieces are about three feet tall.
This place is a short walk from Laschet's Inn, Resi's Bierstube and the Wild Goose. That should provide a nice pub-crawl for any BA.
1,810 characters
Glunz Bavarian Haus in Chicago, IL
Place rating:
3.96
out of
5
with
9
ratings