Le Sergent Recruteur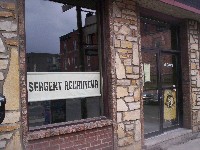 Reviews by TheLongBeachBum:
TheLongBeachBum from California
3.38
/5
rDev
-11.5%
vibe: 3.5 | quality: 3.5 | service: 3.5 | selection: 3 | food: 3.5
The last new Beer Bar cum Brewpub visit during my recent Suarez into Montreal and attendance at the super Mondiale beer festival.
Faux stone-clad columned frontage mixes with some bare brick and a small slate tiled awning. The main window has the words 'Sergent Recruteur' inked in black on an off-white canvas like strip draped at waist height. The entrance to the right of this main window brings you into a cool dark air-conditioned interior which is a 50-50 split of Restaurant and Bar. Tables are all neatly arranged in military fashion and tooled-up with utensils in a regimental precision.
The bar sits right at the back of the main bar bricked room which you enter from the street. The bar has an alter-like imposing presence as it oversees the main interior, though a second room exists which is separated by curtains. We decided to sit at the bar in the main room; a large sweeping half oval set against the back wall with a serious amount of stainless steel fonts arranged like hour markers set around the dial of a clock. The 12 'O' Clock position, front and square at the bar, is reserved for an imposing large carved wooden Teutonic font. To the right and left of this, six stainless fonts each arc around the curved bar - in all 13 taps are ready to serve beer, they all seem to project a rather disturbing organized feel, with purpose almost, like this could be the beer geeks Stonehenge on the Longest Day, come watch the sunrise above the main font and pray to the God of beer.
Erm. I digress. I'm an Engineer so I found that the immaculately arranged taps gave me a self-satisfying tingle below. The beer range sadly did not. What the taps offer could possibly offer in quantity they do not. The main chalkboard advertised "Bière Maison ♦ Hour Beer" as:
• Bitter Du Sergent (Rousse Anglaise)
• Raconteuse (Blonde)
• Frousse (Rousse)
• Nuit Blanche (Blanche)
• Ténebruese (Stout)
• Ambremettuese
Prices were CN$4 between 4h-8h, or CN$5.75 a Pinte or CN$4.25 a Half.
Erica opted for the Nuit Blanche, but she didn't seem too impressed, as for Goldorak and I, well we opted for the Bitter Du Sergent, which again was, so-so. All were served in large rimmed Nonic Pint Glasses and at happy hour prices of CN$4.13 (not sure what the extra 0.13 was for) so we didn't mind too much.
What the beer quality seemed to lack, the food certainly did not. The collective mass ordered a Pizza Maraichere and it went down rather well, a thin curtsy job but it was nicely loaded and very tasty, but a little pricey at CN$11.95.
Service was good, attentive but never fussing, though it was quiet on out Sunday afternoon visit…..aaarrgh the pleasures of a beer on a quiet Sunday afternoon, they are certainly rewarding and enjoyed here.
Toilets are down stairs, down where the Brewery is so take a walk down here to see both. The pisser signs were a bit confusing, seems they have a "stand up" and "sit down" room rather than the more traditional Ladies and Gents, the women stood by me having a piss in the urinals was a character I can tell you.
I had done the Dieu Du Ciel first, sadly it set the benchmark early on for the Montreal BrewPubs - hey I'm not one for leaving the best until last I'm an impatient Californian now after all. The DDC certainly does the best beer in the best atmosphere and clearly sits at the top of a very (I have to say enviously healthy) pile of BrewPubs in Montreal. So where does Sergent Recruteur fit-in? I think it lies clearly in bed with the Réservoir, which we visited just before as it happened. Whilst it may not possess a stand alone beer quality that can alone entice one here, it does exhibit a super relaxed and Burgundian atmosphere in which to enjoy a reasonably good but limited range of house brews. Variety is the spice of life after all and even if I had DDC on my doorstep, I would certainly pop down here once in a while for some of their Pizza and few brews.
It would simply be evidently remiss of me not to thank the awesome wealth of knowledge and incredibly generous nature of Montreal BeerFly Guide, BA Goldorak (Martin) for his chaperone duties to both Erica and I whilst we were rampaging in Montreal. Thank You Sir, I'll speak to the Queen when I get back home about the Knighthood.
Last Visit: Sunday 4th June, 2006.
Jun 14, 2006
More User Reviews:
jjboesen from Maryland
4.53
/5
rDev
+18.6%
vibe: 3.5 | quality: 4.5 | service: 5 | selection: 4.5 | food: 4.5
Located on Boulevard St-Laurent, the Sergent is a corner pizzeria brewpub that excels in tasty pizza and microbrews. From previous reviews, I have gathered that this is a new location, which appears to be a functional, but narrow, establishment with brick walls, a high ceiling and a small semi-circular bar towards the rear.
The Sergent has seven taps that include a decent range of styles. I thought the beers rather pricey ($4.25-$5.75); however, they were fresh and well balanced. During my visit, which followed a visit to Dieu de Ciel, I had their rousse, a smoked porter and the vry potent Hip-Hop IPA, the latter available on cask. All served in imperial pint glasses. Their pizza is a tasty, yet extremely filling, pairing to their beer. All in all, it was the perfect prelude to Mondiale de le Biere.
Jun 12, 2007
sparkydoyle from Pennsylvania
4.38
/5
rDev
+14.7%
vibe: 4.5 | quality: 4.5 | service: 4.5 | selection: 4 | food: 4.5
Visited the new location on June 17 and June 18.
Situated a few blocks away from Dieu de Ciel on St. Laurent (in an attractive and highly walkable section of town), the Sergent Recruteur occupies a corner storefront. The left half of the establishment is given over to the restaurant side of the business, and an attractive modern semicircular bar sits at the rear of a large room on the right that also has tables for about 40 patrons.
Food was excellent. The restaurant specializes in exotic pizzas (we had lobster pizza on one night), as well as fusion dishes. Their cheese plate is pretty good too.
About 8 different beers on tap including a blonde (this one is closer to a cream ale than a Belgian Blond), a tasty and complex wit, and an English-style bitter which was served on a beer engine and was enjoyable and authentic. Also on tap was an enjoyable stout.
The staff and patrons were gracious and friendly to a couple of Anglophones from the US, and made us feel right at home. Surprisingly, this place seems to have a lot of female fans--it's not too often in the states that one sees lots of chicks hanging out at a beer bar. The spouse opined that the food was excellent and the prices reasonable for the neighborhood.
This place is very close to Dieu de Ciel, and has a much more interesting kitchen-- if you want to visit both on a single visit, you might want to have your meal here, and have a snack at the other place.
Jun 20, 2006
Goldorak from Canada
3.2
/5
rDev
-16.2%
vibe: 3.5 | quality: 3 | service: 3.5 | selection: 3
Walking into Srgt. Recruteur's new location and the difference between the old place is downright shocking. The former looked was a weird mix of dive bar, some dude's basement and some other dude's garage. The new location reminds me a lot of American Flatbread in Burlington. Two sections, one has a pub ambiance, with plenty of red brick and a nice bar, the other is more of a restaurant, with high mirrors and a minimalistic décor that gives it a strange warm/cold, Yin/Yang feeling. The bathrooms and brewing system is downstairs.
We hit the place on a Sunday night, and it was pretty packed. It's storytelling night, where artists come and spin their tall tales. But I was there for the Beer. Six were available if memory serves, a blonde, amber, IPA, stout, wit and cask bitter. This is one of the rare places in town to have a Beer engine, so I started with that one. The resto section seems to be non-smoking, or we were just lucky that night, so I got to taste it properly. Not bad, not great.
The other selections were average.
Service was decent and friendly, I didn't totally geek out and asked her any technical questions about the Beers, so I can't say if was Beer-savvy or not. Didn't try the food, consisting mostly of pizzas and salads, but my friend that did indulge was quite satisfied with his thin-crust with smoked salmon and capers.
As with the old location, this is usually my backup when Dieu du Ciel is overcrowded. It might not be fair to compare it with such a world-class Beer-mecca like DDC...
Oct 14, 2005
DrJay from Texas
3.63
/5
rDev
-5%
vibe: 3.5 | quality: 3.5 | service: 4 | selection: 3.5 | food: 3.5
My first visit was after a day at Mondial and a stop at Dieu du Ciel. Apparently this is the new location for this brewpub. Looked pretty nice, with two large, open rooms with lots of brick showing on the walls, but tables, bar, etc. were more modern. Speaking of the bar, it took up the entire rear wall of one of the first dining room, rounded from corner to corner with evenly spaced, individual taps lining the entire length. I also noticed the beer engine at one of the corners. Quite an impressive layout, though it seems a little impractical if things get busy. Unfortunately, it wasn't very busy during our visit and the layout and decor seemed a little sterile. Maybe once the place is broken in it'll have a more natural character. Still, everything was quite clean and comfortable. We had great service from a very friendly, French-speaking waitress who struggled through our broken French and attempts to get our orders placed by pointing at the menu. Food consisted mostly of pizzas, calzones, and salads, and was a little overpriced but still decent. Beer prices were a little better. Several house beers were available on tap (blanche, blonde, rousse, the stout was out) as well as a house cask of decent bitter. There were also a number of guest beers on tap from McAuslan and Cheval Blanc, plus a local cider. Overall, it's a good stop on a pub crawl through Montreal, but there are better places nearby for a long tasting session.
Jul 07, 2005
Le Sergent Recruteur in Montréal, QC, Canada
Brewery rating:
0
out of
5
with
0
ratings