Vanilla Porter
| Klamath Basin Brewing Co. - The Creamery Brew Pub And Grill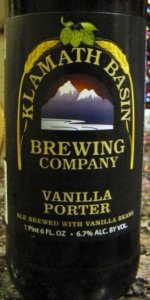 BEER INFO
Brewed by:
Klamath Basin Brewing Co. - The Creamery Brew Pub And Grill
Oregon
,
United States
kbbrewing.com
Style:
American Porter
Alcohol by volume (ABV):
6.70%
Availability:
Winter
Notes / Commercial Description:
A blend of vanilla beans is used in the brewing process to create the dominant vanilla flavor while the chocolate and coffee flavors of the Porter linger in the background.
Added by sommersb on 12-29-2011
Reviews: 8 | Ratings: 34

3.99
/5
rDev
+5.8%
look: 3.5 | smell: 3.75 | taste: 4.25 | feel: 3.75 | overall: 4
Pours a dark brown with little head to speak of.
Smell is light roast and vanilla. Not much aroma.
Taste is much better than aroma. Right away you get a big vanilla taste that doesn't overpower. Also, some coffee, chocolate, caramel, and dark fruit.
Feel is average, light to medium carbonation with a sort of thin feel.
Overall nothing like Victory at sea, but it holds its own.
383 characters

3.98
/5
rDev
+5.6%
look: 4.5 | smell: 4 | taste: 4 | feel: 3.5 | overall: 4
22oz bottle from Roth's Sunnyslope Market, S.Salem. $3.99 Gorgeous looking beer dark ,turbid mahogany with a big , thick ,creamy light tan head. Excellent Good chocolaty,dark coffee and vanilla aromas. Taste is the same more vanilla and mid dark chocoalte and fine creamy coffee..a little alcohol bite in the end but it goes well with the vanilla. Nice palate to this one . Very nice porter ,will buy again.
409 characters

3.93
/5
rDev
+4.2%
look: 3.5 | smell: 3 | taste: 4.5 | feel: 4 | overall: 4
Pours black, with a small tan head. Not much lace. The aroma is okay...some vanilla and roast, with some chocolate. Subtle. The taste is quite nice though. Rich vanilla, with a nice coffee and chocolate and roasted malts. The feel is also nice; creamy, full bodied with a rich texture.
Despite an average aroma, the taste is great and the mouthfeel is substantial. Nice treat, easy drinking.
393 characters
3.89
/5
rDev
+3.2%
look: 3.5 | smell: 3.75 | taste: 4 | feel: 3.75 | overall: 4
Nice big and dark head poured from a fresh growler faded quickly and leaves no lace. Color might not be the darkest porter I've seen, but it's a rich dark brown with just a little clarity on the edges.
Pleasing roasty aroma with faint vanilla present. If they hadn't called it a vanilla porter I might not have picked it up. As it warms up it has a bit of a boozy scent that reminds me of some imperial stouts I've had.
Flavors have some sweet malts with the dark toasted malts quality I expect from a porter. If anything, it has more coffee notes than vanilla; but there's just enough to make me think the Brewer did infuse some vanilla in the batch. Body is medium to full with a smooth finish that matches the flavor and style well. Overall, an above-average porter, a style in my opinion that does not get enough air time. Thanks for a good first taste, Klamath!
873 characters

3.75
/5
rDev
-0.5%
look: 4 | smell: 4 | taste: 3.5 | feel: 3.5 | overall: 4
Tasted On: 12-28-2011
Freshness: Not indicated
Packaging: 22 oz. brown bottle
Glassware: Nonic pint
Purchased: Received in a trade
Appearance: Pours as a black, mostly opaque beer, with only a slight brown seen at the edges of the glass when held to light. Head is tan and about 3 fingers, with good retention and a nice amount of lace.
Smell: Aromas include chocolate, vanilla, and coffee primarily. Also to a lesser extent citrus hops, smokiness, and maybe some wood/oak notes.
Taste: As in the nose, chocolate and coffee flavors play a big role, with added flavors of smoked and roasted malt. I get some burnt coffee bitterness as well, but this seems to mellow out as the beer warms in the glass.
Mouthfeel: Body and carbonation are medium. Aftertaste is of bittersweet chocolates and dark roasted coffee.
Overall: A well-balanced, solid chocolate/coffee porter. The vanilla component didn't seem like a major part, but I've always had a hard time picking up vanilla in beer, so maybe that's just me. I'd recommend this beer if you like robust porters.
Thanks to my cousin Brian for this one!
1,102 characters

3.63
/5
rDev
-3.7%
look: 4 | smell: 3.5 | taste: 4 | feel: 3 | overall: 3.25
[Suggested Glassware: Nonic pint]
The pour was a muddy jet black with an average (1-2 finger) light brown frothy head that reduced to a scattered film and medium collar with good spotty lacing.
The aroma was of burnt malts, light resin hops and a leathery yeast with notes of vanilla, dark chocolate, roasted coffee and a touch of smoke.
The taste was lightly malty sweet with a bit of vanilla at first, and then a bold bitter roastiness settled in along with hints of chocolate, coffee and a touch of smoke towards the end. The flavor lasted an average time after the swallow with a bitter coffee taste left lying on the taste buds.
Mouthfeel was a few steps past medium in body with a dry, oily texture and a soft carbonation.
Overall this was a robustly tasty Porter, with a strong vanilla presence that you could actually taste for a change. It also offered a good balance of flavors with a smooth and easy drinkability...
http://www.facebook.com/KAJIIsBeerReviews
974 characters
3.52
/5
rDev
-6.6%
look: 3.25 | smell: 3.75 | taste: 3.5 | feel: 3.75 | overall: 3.25
Appearance - Pours a deep, dark brown with a light tan finger width head. Sub-par retention, resulting in a broken layer of microbubbles across the surface. Lacing is small and spotty, with little stick.
Smell - Vanilla is the predominant aroma here with a bit of heat, caramel and chocolate behind it; it's a bit of a bourbon-like smell.
Taste - Follows the nose, to an extent. More chocolate flavor than what's on the nose, though vanilla is right there in terms of dominance. Caramel rides beneath. Finishes with a vanilla bean character backed heavily by the chocolate, then a bit of acidity and alcohol burn in the aftertaste.
Mouthfeel - Medium in body with moderate carbonation. Smooth going down, then thins and dries out in the finish.
Overall - At 6.7%, there's more burn than one should expect, but that burn also carries over, along with the other featured characteristics, into giving this beer a bit of a pseudo "Barrel-aged" flavor profile. At around $4 a bomber, it's not bad value, but it's not necessarily up my alley. I've had better vanilla infused porters.
1,082 characters

3.34
/5
rDev
-11.4%
look: 3 | smell: 3.25 | taste: 3.5 | feel: 3.25 | overall: 3.25
I had this one a while back, was on a vanilla kick, this was one of the nicer ones, the color was nice and dark. The aroma was nice with a lite vanilla smell. The best was how it tasted, the balance of hop, malt and vanilla was just right, the vanilla wasn't overwhelming, just there at the end for a nice finish.
313 characters
Vanilla Porter from Klamath Basin Brewing Co. - The Creamery Brew Pub And Grill
3.77
out of
5
based on
34
ratings.