Clinton Street Brewing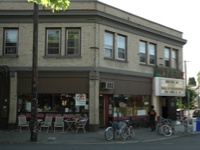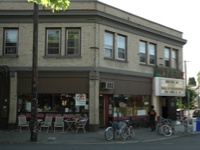 PLACE INFO
Type:
Brewery, Bar, Eatery
2524 SE Clinton St.
Portland
,
Oregon
, 97202-1239
United States
// CLOSED //
Notes:
No notes at this time.
Added by RedDiamond on 06-20-2005
HISTOGRAM
Ratings: 4 | Reviews: 4
Reviews by benito:
2.36
/5
rDev
-18.3%
vibe: 4 | quality: 1.5 | service: 3 | selection: 2
My rating for Clinton Street Brewing does not adequately reflect my assessment of this place. Maybe that's because things like "selection" and "atmosphere" aren't really things that the folks at CSB pay any mind to.
The Clinton Street "Brewery" is a ridiculous place. It is a teeny-tiny, bare-bones dive that is attached to the equally ridiculous Cinton Street Theater.
I've visited the brewery five or six times in the past few months, and from what I can tell, it is basically two things. First, it's a front for "Captured by Porches" brewing, which puts out some of the most bizarrely inconsistent swill I've ever tasted. I swear that it's a crapshoot with every beer they offer--it may be beautiful and tasty (a few batches of their IPA and wit, earlier this fall) or infected and unpalatable (a few batches of their IPA and wit this fall). More recently, their winter porter was above average, and their winter belgian rye tasted like an infected first batch of homebrew. I like to think of myself as adventurous, but at $4.50 a pint, I want a guarantee!
They almost always keep three house beers on tap and one guest rotator.
As far as the place goes, though, I kind of love it. And that's the other thing I can tell about Clinton Street. It seems to be run and frequented by one group of friends. Imagine opening up a dive bar for yourself and your hipster friends and you have CSB. They're friendly enough with outsiders, and while I wouldn't exactly call the space itself 'inviting,' it has its a sort of gritty charm that harkens back to the Portland that Don Younger describes from the 1970s. Classy it ain't; unique, yes.
The only food they serve are slices from Hammy's pizza up the street.
And, being attached to a kooky theater like the Clinton Street is a major plus. That place shows some ludicrous movies--Tokyo Gore Police, anyone?--and is reliably interesting. That alone earns the brewery points by association.
When you're up for an adventure, check this place out. Just be sure to sample the beer before buying, and don't expect anything that you normally seek in a brewpub.
2,107 characters
More User Reviews:
1.7
/5
rDev
-41.2%
vibe: 2 | quality: 1 | service: 1 | selection: 3 | food: 2
RedDiamond is MORE than generous in his review.
I find the words "Clinton Brewery" an oxymoron. There is NO brewery... It is a homebrewing system that makes enough beer for you and maybe 5-10 friends for a weekend.
I have had the privilege (?) of tasting some of their beer. One flat, one over carbonated. Both mediocre in quality at best. Being a long time homebrewer myself, I would be embarrassing to serve any of those beers to friends, let alone to the public.
Server was curt and ignored my group for 20 minutes while he spent most of this time cackling with some obvious friends at one end of the bar.... I thought I was dealing with some pimple faced high school kid who had more interest in hanging out at the mall with his buddies.
The place is small and funky. Kind of an afterthought of a space. We did have a couple nice pints of Blue Dot and a Racer 5.
Pass this place by.... Go to one of many quality tap rooms in Portland..
946 characters
3.48
/5
rDev
+20.4%
vibe: 4.5 | quality: 4 | service: 4 | selection: 2.5 | food: 2
Over a span of more than eighteen months I made repeated efforts to track down and consume a Clinton Street beer. For most of that time I saw no evidence at all that this professed brewery actually brewed beer. They were rumored to have served a house beer on several occasions last summer. But whenever I'd visit, they had none on tap. Once I was informed that they brewed some recently but it didn't turn out well enough to serve publicly. Other rumors hinted that they intend to let Roots contract their beers for them. "House beer" is listed on the menu board at $4/pint, but mostly, none can be had. "Don't know when we're going to have some," says the bartender.
Thankfully, I was able to catch Clinton on one occasion when they had two actual house brews pouring. (An hour later, they were down to one.) Beer quality was quite good though both beers were notably undercarbonated. Clinton Street claims to be the smallest commercial brewery in the state. I've heard that one before, but with only a 1/2 barrel brewing system, Clinton's rank as first among Oregon nanobreweries may be sustained. Their brewing enterprise is truly no more than an ordinary homebrew system. A guest homebrewer known as Captured By Porches brewed both beers I tasted.
I am at last now satisfied that Clinton Street is an actual, functional brewery, if only somewhat tenuously. However, even in the event that they have no house beers to offer, Clinton Street is a relaxing place to grab a pint of Blue Dot, Roots Heather, Pelican IPA, or something from New Old Lompoc. It's a pleasant pastime to sit outside with a pint of Pelican and absorb the comings and goings of the Clinton Street microhood. The demure, flat colors and austere quietude of the place remind me of an Edward Hopper painting, and you can get a beer at the bar to take with you into the adjoining arthouse movie theatre. Forget the modest food offerings as you can obtain good Italian, Hawaiian, or American bistro within a one-block radius and Clinton's food is strictly relegated to the realm of dorm room munchies.
2,075 characters
4.01
/5
rDev
+38.8%
vibe: 4.5 | quality: 3 | service: 5 | selection: 4
It's really too early to give a fair evaluation of the place but hopefully this entry can give people a general idea. It's a tiny pub, with lots of windows looking out on the street and some cool movie posters (my favorite: "The Crater Lake Monster"). In fact, this is part of the Clinton St. Theater which shows a great range of offbeat and cult flicks, and the idea is that you can grab a pint on your way into the show. But the pub itself works as a separate entity, with a tiny brewery to boot. I think it's something like 16 or 17 gallons? (I can't remember exactly.) Right now they are brewing a series of tiny batches and experimenting virtually every time to create different results. There isn't a standard line-up yet, and when I visited they had just one in-house beer, called "I'm Belgian, Isn't That Weird?" It certainly was, but not without its pleasures. Other beers include Lompoc LSD and Pelican IPA, with High Life, Busch, and some Hip Chicks Do Wine. Their hope is to settle on a couple regular taps to have on at all times, which will probably be brewed out-of-house at Roots or something like that. But they'll continue the stream of creative recipes so there will probably be something new at every visit. Some are bound to be failures but one has to admire their adventurousness. Because of this, I figure they deserve a good mark for selection despite not having more than a half dozen beers or so. Pints are 20 oz. The place is casual and very welcoming; staff and clientele are remarkably friendly. Food is a small range of sandwiches and dogs; their hours currently mirror movie times although they stayed open quite late Friday night. Their hope is to eventually be open during the day, too. The Clinton Street neighborhood is only a couple blocks, but it's one of my favorite places in Portland. An official opening is planned for July 1st for which they hope to have three of their own beers ready.
1,928 characters
Clinton Street Brewing in Portland, OR
Brewery rating:
0
out of
5
with
0
ratings