Old School Pale Ale
| Asheville Brewing Company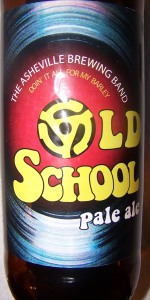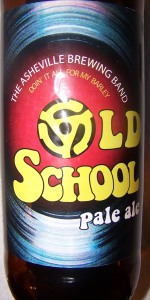 BEER INFO
Brewed by:
Asheville Brewing Company
North Carolina
,
United States
ashevillebrewing.com
Style:
American Pale Ale (APA)
Alcohol by volume (ABV):
3.20%
Availability:
Year-round
Notes / Commercial Description:
No notes at this time.
Added by BeerAdvocate on 02-28-2009
HISTOGRAM
Ratings: 13 | Reviews: 12
None found.
More User Reviews:
3.97
/5
rDev
+3.4%
look: 3.5 | smell: 4 | taste: 4 | feel: 4 | overall: 4
Bomber pours a hazed, dark amber body with a small offwhite head. Some patchy lace is left on the glass.
Aroma is citrusy grapefruit, toasted caramel, and some floral and grassy notes.
Medium body and carbonation with a slight chewiness.
Plenty of chewy caramel in the taste, but not overly sweet. Solid hops bitterness has notes of florals, grapefruit, grassiness, and earthiness. Comes off as a well balanced and very drinkable pale ale.
Very nicely done.
461 characters
3.85
/5
rDev
+0.3%
look: 3.5 | smell: 3.5 | taste: 4 | feel: 4 | overall: 4
Bomber bought at Bruisin' Ales in Asheville courtesy of Sachin at Five Points Bottle in Athens. My bottle references "The Fermentations" rather than "The Asheville Brewing Band".
Pours a light copper color with a one-finger off-white head. The head dissipates into a patchy layer on top leaving light lacing.
Smells of a surprisingly robust combination of pale and caramel malts with hints of floral hops.
Tastes similar to how it smells. Malt flavors somewhere in between pale and caramel give way to light grapefruit flavors midway through the sip before ending with a very mild bitterness.
Mouthfeel is good. It's got a good thickness with solid carbonation.
Drinkability is good. I finished the bomber solo and could see myself drinking a few of these at one time.
Overall I agree with Ding and would actually go a step further to call this an EPA based on the malt character. Color me impressed if the ABV is only 3.2%. Worth a shot.
944 characters
4.37
/5
rDev
+13.8%
look: 3.5 | smell: 4 | taste: 4.5 | feel: 4 | overall: 5
22oz bomber into nonic.
An occasional review to put my notes down on what I feel is a rare beer: a "session ale", brewed in America, that's actually full bodied and full flavored.
The beer is clear honey with about a one finger off-white head. Light grains and a bit of verdant hops rise from the beer. The flavor is a great balance of slightly toasty grains with just a touch of hop bitterness (no citrus really, just an herbal taste and slightly biting bitterness). Full bodied, along with a good amount of carbonation.
An utterly drinkable Pale Ale, closer to the English variety. Note to brewers: please make more of these (along with some porters along the same lines, too). Recommended.
697 characters
3.88
/5
rDev
+1%
look: 4 | smell: 3.5 | taste: 4 | feel: 4 | overall: 4
amber color with crystal clear clarity came out of the bottle. Lots of visible carbonation was apparent throughout the session with chains of bubbes rippling up through the glass. A nice two inch hight pillow of white foam then came over the top and settled down qucikly
light with hints of light citrus, lemon mostly mixed in on top of a cereal grain filled base. Lots of whaeat and light earthy aromas blending in, but as it warmed a light hop presence was dulled out way in the back, the aroma overall though was far too light to be really a knockout in any way. A nice light, crisp, and clean flavor was then produced. It was a classic light pale ale flavor, clean with a light wheat base, some light floral, citrus notes spprinkled through, orange, light lemon grass, especially in the finish.
800 characters


3.75
/5
rDev
-2.3%
look: 3 | smell: 3 | taste: 4 | feel: 3.5 | overall: 4.5
3.2% Alcohol with a decent flavor!!!! Would be a GREAT session beer. You could probably swill 3-4 bombers of this and still enjoy it.
Pours a very light copper color with a small head that recedes too quickly. leaves a thin coat of white on the top of the glass. Lacing is more robust than the head. Mild aroma of bready malt and some grassy aromas.
Tastes good. A strong bready/biscuity malt flavor with some fresh grass and a little hops bite at the end. Certainly not boring or too bland to bother with.
Mouthfeel is a hair light and watery but not so it provides an overall bad effect. it is crisp and there are no bad aftertastes (metallic etc.)
Drinkability is great. 3.2 abv with decent flavor. Put this on tap around the country. There is a market for this beer.
774 characters

3.63
/5
rDev
-5.5%
look: 4 | smell: 3.5 | taste: 3.5 | feel: 3.5 | overall: 4
22oz bomber purchased at The Weinhaus in Asheville, NC. Poured a really nice hazy copper, with a thick, off-white head, probably 3 fingers high. Faded fairly quickly and left moderate lacing.
Smell was a little caramel, slightly malty, but dominant for me was the floral, fruity aspect.
Taste was interesting. Had a somewhat intense bitterness initially, with not as much of the caramel as the nose would have you believe. But as the glass warmed, the bitterness mellowed, and I got more earthiness, hops, and malt.
Nice and crisp in the mouth, medium bodied with a good amount of carbonation. Smooth.
This is a drinkable brew, especially given the low ABV. Wish I had picked up a couple of these, as I was told by the Weinhaus employee it is being discontinued.
766 characters
3.95
/5
rDev
+2.9%
look: 3.5 | smell: 3.5 | taste: 4 | feel: 4 | overall: 4.5
A - Cloudy lightly carbonated body with a white head.
S - Floral and grassy with light fruit and sweet malts.
T - Pale malts = ever so slightly buttery. Grassy hops and a fruity aftertaste. Refreshing flavor.
M - The slick grassy hops make my mouth water, but that may be because this is my 3rd bomber of the night..
D - A beer that tastes this balanced in a 3.2%? Wow. I could very literally drink these all night.
419 characters

4.2
/5
rDev
+9.4%
look: 4 | smell: 4 | taste: 4 | feel: 4 | overall: 5
The final beer I had at the brewpub the other night. This came out a murky gold, with a small white head on top. Retained well; left plenty of sticky lace on the glass. Scents of citrus, flowery hops, and fresh biscuits.
Good creamy body, yet still retained a mellow crispness. Very nice. Mild bitter punch at the onset with a good hop presence, but this finishes oh so sweet. Wow. I really dig this beer. Aftertaste is of fresh-baked bread. This was really good. I could drink this one all night. I see they bottle, I'll have to find some of these somewhere. Recommend.
571 characters
4.02
/5
rDev
+4.7%
look: 3 | smell: 3.5 | taste: 4 | feel: 4 | overall: 5
Pour a hazy golden/orange color with a bit of amber in the center. Has a very thin head, almost none, just a few swirls of bubbles on top, with just a little lacing. The color is right, but the lack of head holds this one back. The smell really reminds me of an English Pale, I would probably call this an English Pale Ale, maybe an English Pale Mild. There are light sweet malts, with a whiff of bready, biscuity smells. There is a hop presence, like dirt and earth, a few floral notes from the hops. The taste is very nice. Good sweetness, mixed with biscuity malts. There's a hint of herbal hops, almost minty, with some floral notes. There are light esters in the taste, too. The mouthfeel is very nice for a 3.2% beer. It's almost like biting into some medium crystal malts, very bready and full. I can hardly notice the difference after drinking it. Nice and complex but light and simple. An easy one to add on if you stop in. I would probably give this different ratings if it were in another category.
1,009 characters
3.05
/5
rDev
-20.6%
look: 3 | smell: 3 | taste: 3 | feel: 3.5 | overall: 3
Medium gold color with a towering light head. Good head retention but zero lacing. Lots of action in the glass with one of the most actively carbonated beers I've tasted.
Very weak nose. Some toasted malt and an astonishingly weak citrus nose.
Taste is also on the bland side. Bready and yeasty, a little too much so for an APA. Really nothing much to comment on here. I guess this would be the APA version of a British mild.
Feel is about right for the flavor of the beer, which isn't saying much. A tad thicker than expected for an APA.
It's drinkable, but ABC makes better beers than this.
597 characters
3.86
/5
rDev
+0.5%
look: 4 | smell: 3 | taste: 4 | feel: 4 | overall: 4.5
Appearance: Pours up a near-clear, amber-orange body with a thinnish, though lasting, white head.
Smell: A mild nose where the notes don't just leap out at you. Going in, you can glean hints of pale malts, light fruit, and earthy hops.
Taste: Pale malts gently caressed with some toasty and sweet caramel qualities. Lil' spritz of fruity apricot juice. Earthy, grassy hop character with enough bitterness to balance things out. Drying finish that bounces back and forth between hints of malts and hop bitterness.
Mouthfeel: Medium-bodied. Medium carbonation.
Drinkability: Actually, I quite liked it. It's balanced, it's easily drinkable, and, if the purported ABV percentage is correct, well, then kudos to them. Should pair with just about any of the grub served up at ABC.
779 characters
4.4
/5
rDev
+14.6%
look: 4.5 | smell: 4.5 | taste: 4.5 | feel: 4.5 | overall: 4
From a bomber. According to their website, an English pale ale with East Kent Goldings. Pours a mostly clear amber with super fine floaties and a billowing white head that settles to a big clump of meringue and leaves splotches of chunky lace along the way. Smell: spicy and floral, whiff of orange essence, very mild earthiness, soft fruitiness, grainy and semi-sweet. Taste: sweet pale, soft and fruity wheat esters, very very light toffee, spicy, grassy and floral hopping. Very creamy feel.
This is a very good and very mislabeled beer. APA here EPA on the brewery's website. Neither. The wheat may have been added just to lighten the body but the yeast got a hold of it and this ended up as a really nice American Pale Wheat Ale.
735 characters
Old School Pale Ale from Asheville Brewing Company
Beer rating:
3.84
out of
5
with
13
ratings