Fire Escape
| Asheville Brewing Company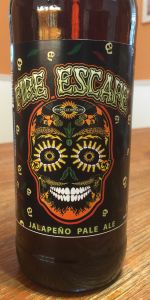 BEER INFO
Brewed by:
Asheville Brewing Company
North Carolina
,
United States
ashevillebrewing.com
Style:
Chile Beer
Alcohol by volume (ABV):
5.50%
Availability:
Rotating
Notes / Commercial Description:
No notes at this time.
Added by ATLbeerDog on 09-16-2011
Reviews: 10 | Ratings: 68

4
/5
rDev
-0.2%
look: 4 | smell: 4 | taste: 4 | feel: 4 | overall: 4
Sarah had.
Taste 5/5. Roasted jalapeño, more complex than fresh
Clean mouthfeel mostly, slightly cloying.
Minimal lacing because it's hot out?
Smell doesnt matter to her
She gives 4.5/5. On break during cornhole
214 characters

3.98
/5
rDev
-0.7%
look: 4.25 | smell: 3.75 | taste: 4 | feel: 4.25 | overall: 4
Copper colored with a white head that leaves tons of lacing. Nice sweet malty taste with a bit of citrus and fresh jalapeño. There is only the faintest bit of heat in this one. I was left wanting a bit more but it was still a damn fine tasty beer.
248 characters

3.57
/5
rDev
-11%
look: 3.75 | smell: 3.5 | taste: 3.5 | feel: 4 | overall: 3.5
Poured from a bomber that was bottled 8/7/15. A nice golden copper color with bits on what I assume are peppers floating inside. A nice pepper aroma. Chunky mouth feel. The pepper taste matches the aroma but it's not overpowering. A bit of heat but more spicy than hot. Well balanced pepper and beer flavor done very well. I'm glad I tried it and would drink it again if presented the opportunity. Cheers!
410 characters
4.25
/5
rDev
+6%
look: 4.25 | smell: 4.25 | taste: 4.25 | feel: 4.25 | overall: 4.25
L: A brilliant copper amber pour produces a 2" off-white foam column that is moderately persistent and lacy.
S: A little vegetal jalapeño and a hint of heat – moderate and not piercing, some graham cracker, light fruit and a trace of citrus. Fairly clean fermentation character. Malt aromas moderate and hop aromas medium to medium low.
T: Moderate jalapeño heat provides a good accent to graham cracker malt and caramel. The jalapeño heat is moderate to mild and balances a light caramel sweetness. The bitterness is medium but is balanced by the malt sweetness and the jalapeño heat.
F: Medium body and medium carbonation, creamy, some jalapeño warming.
O: The jalapeño heat is there but not over done. The various elements of the beer go very well together.
778 characters
3.77
/5
rDev
-6%
look: 4 | smell: 3.75 | taste: 3.75 | feel: 3.75 | overall: 3.75
Poured on-tap at the brewery and served in a shaker pint, the beer is an amber-caramel coloring, with a halo of white head. Nose of caramel and crystal sweetness, with only hints of pepper heat, if you dig. Flavors are pepper spice forward, with a subtle caramel backbone, and the jalapeno flavors throughout the end. Light and smooth, with a building heat into the pepper spiced aftertaste. Smooth, clean finish. Solid take on a tough style to keep balanced.
459 characters
3.5
/5
rDev
-12.7%
look: 3.5 | smell: 3.5 | taste: 3.5 | feel: 3.5 | overall: 3.5
Had this one on a past ticking trip to Asheville! Served from tap into a Thirsty Monk shaker. Poured yellow-orange with a half finger off-white head that subsided to a minimal amount quickly. Maintained nice lacing throughout the glass. The aroma was comprised of sweet malt, jalepano, smoke, earth, and earth hop. The flavor was of sweet malt, earth, jalepano, subtle smoke, earth hop, and a spicy followthrough. It had a light feel on the palate with medium-high carbonation. Overall this was a decent brew. I was surprised to see this one while at Thirsty Monk as I had never heard of it, but I have always been intrigued by Chile beers. This one had all the usual characteristics of the style including the heat on the followthrough. However, I really wish there would have been a little more sweetness going on rather than just earthy spice. It would have definitely made this one much more enjoyable. Quite glad I got to try this one and would suggest it for anyone who is a fan of the style.
998 characters
4.5
/5
rDev
+12.2%
look: 4.5 | smell: 4.5 | taste: 4.5 | feel: 4.5 | overall: 4.5
On tap at the tasting room
A - orangish copper with a thick, soft, white head that has great retention
S - exactly like Lay's Kettle Cooked Jalapeno Chips; freshly cut jalapenos, faint malt, spicy
T - fresh jalapeno, bread, a bit salty, bity, perfect amount of heat in the finish; tastes just like kettle cooked jalapeno chips too
M - warm, medium bodied, smooth, light carbonation.
This is a great chile beer. They added just the right amount of heat to an already solid APA. It's definitely worth trying.
511 characters
4
/5
rDev
-0.2%
look: 4 | smell: 4 | taste: 4 | feel: 4 | overall: 4
amber pour, bordering on a light brown with a smooth, even and small head that did its best to not really fade that much at all. aroma is lots of earth grains, light hops and a touch of rye like spice, not much pepper at all in the aroma, this comes much later. as you take a sip it has all the marks of a nicely done esb or amber, but gives you that nice kick of chili pepper in the finish that lets you know its there.
420 characters

4.42
/5
rDev
+10.2%
look: 4 | smell: 4.5 | taste: 4.5 | feel: 4 | overall: 4.5
Growled at a tasting.
A: clear golden slight amber beer with thin ring of foam.
S: Lots of spice, some floral hops.
T: Dry, tons of spice, slight fresh floral hops.
M: Dry, well carbonated - just how it should be.
O: Great spicy ESB - perfect amount of spice.
264 characters

4.54
/5
rDev
+13.2%
look: 4 | smell: 5 | taste: 4.5 | feel: 4 | overall: 4.5
Fire Escape is Asheville Brewing's Escape Artist Pale Ale steroid-up on Jalapeño peppers.
Pours deep yellow with a tad of orange. A huge frothy off white head tops the beer and refuses to dissipate. When it does it leaves plenty of lacing in its wake. There is a ton of Jalapeño pepper in the nose. It is super fresh raw Jalapeño and not what one would get from a jar of the peppers swimming in vinegar. First sip is light bodied but crisp like the base beer but make no mistake the Emmy here goes to the super fresh Jalapeño pepper. It hits first, then slightly subsides, and then hits again with a super strong finish that borders on harsh but does not cross the line. It will leave your throat slightly irritated but not to the point of discomfort but rather in a pleasant awakening that lovingly lingers. Very unique, very tasty…a masterpiece!
856 characters
Fire Escape from Asheville Brewing Company
4.01
out of
5
based on
68
ratings.