Old Fort Porter
| Mad Anthony Brewing Company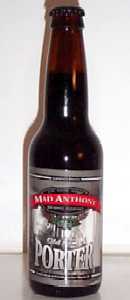 BEER INFO
Brewed by:
Mad Anthony Brewing Company
Indiana
,
United States
madbrew.com
Style:
American Porter
Alcohol by volume (ABV):
5.00%
Availability:
Year-round
Notes / Commercial Description:
No notes at this time.
Added by TheDM on 07-08-2003
Ratings: 37 | Reviews: 34

3.3
/5
rDev
-8.3%
look: 3.5 | smell: 3.5 | taste: 3 | feel: 3.5 | overall: 3.5
Poured this 12 oz. undated brown bottle into a nonic. Body was clear, not cloudy and dark brown in color with cola highlights. Moderate tan head faded to a collar that remained throughout the drink.
Smell was chocolate malts (?). Roasted grain. Leafy. Hints of dry hardwood. Very aromatic.
Taste was coffee-like in it's light bitterness. Tangy porter flavor. Rather rich with a slightly dry finish. Not especially complex but very drinkable.
Mouthfeel was appropriately thin/medium in body and smooth in texture.
521 characters

3.12
/5
rDev
-13.3%
look: 3.5 | smell: 4 | taste: 3 | feel: 2.5 | overall: 2.5
A: Dark black color with a small head of brown foam. No lacing. Looks like weak, watered down old motor oil.
S: Light notes of cocoa and roasted nuts, with grape-nuts and dry malts. Nice.
T: A strong soury note similar to a baltic porter. Flavors of malts and hops are overshadowed by a vinegar like-permeation on the palate.
M: Light, thin. Somewhat watery. Little carbonation makes it's way to the tongue.
D: Fair. I've had better American Porters.
462 characters
2.83
/5
rDev
-21.4%
look: 3 | smell: 2.5 | taste: 3 | feel: 2.5 | overall: 3
my second mad anthony, both of which we've had during our friday afternoon work beer time. this one is closer to the style and less abrasive than the other (their old woody pale ale). appearance is dark and fine for a porter. smells a bit metallic and dry, with small hops odors. taste is mildly chocolatey, mildly malty, and mildly like tin. ok. Mouthfeel is quite thin and watery for the style. drinkable, but not eminently so. probably wouldnt buy this but i'd drinkit for free again if offered.
498 characters
2.25
/5
rDev
-37.5%
look: 2.5 | smell: 2.5 | taste: 2 | feel: 3 | overall: 2
Bought in 12 oz bottle. Noticed that the bottle was short 2 oz, minor irritation. I chilled to 55 degrees, and poured in pub glass.
Poured a very deep, almost translucent brown, with shades of deep maroon. Decent brown head consisted of very tiny bubbles, which disappeared within a minute. No lacing. I think this porter is undercarbonated. Very little aroma outside a toffe like roast malt aroma. If aroma hops were used I cannot tell.
Nice upfront maltiness. Can discern a nice coffee, rich roasted taste. The middle and finish are overwhelmed by the roasted and caramel tastes. Finishes thick, sweet, and is somewhat astringent.
This porter underwhelms. It is a very one dimensional beer that lacks complexity on many levels.
742 characters
3.22
/5
rDev
-10.6%
look: 3 | smell: 3.5 | taste: 3.5 | feel: 2 | overall: 3
12 oz bottle. 5% abv.
Pours a very dark brown with a fizzy tan head that explodes with even a slow pour. Obvious carbonation issues.
The smell is dark roasted malts and a touch of smoke. The coffee character comes out a bit more in the taste, but it's mostly roasted malts and even some light chocolate flavors.
Way too much carbonation..and the mouthfeel is too bubbly. I'm hoping this was just a bad batch. Maybe I'll get the chance to try this again sometime. Even if the carbonation was done well, I don't think this would be anything better than an "above-average" porter.
582 characters
4.17
/5
rDev
+15.8%
look: 4 | smell: 4.5 | taste: 4.5 | feel: 3.5 | overall: 3.5
Pours a solid deep as eep can be brown to black color with a very fleeting coat of head that retreats to nothing over top. I'd like a little more retention on the head. Nose is very full, with solid roasted notes, almost strong enough to be coffee, with a moderate chocolate sweetness hanging behind it. Things are blended well. Flavor is also dominated with roasted notes. These fade to a healthy mocha, finishing more sweet, almost chocolate. Very full flaovred and very good pregression. A very tasty porter. Feel is on the lighter end of moderate with a very light carbonation. I'd like to see a bit more body and even a bit more carbonation. Overall, this is a good beer. The nose and flavor are really in harmony with each other. No flaws apparent, though I'd like a better mouthfeel. I'd have this one again.
815 characters
3.75
/5
rDev
+4.2%
look: 4 | smell: 4 | taste: 3.5 | feel: 3.5 | overall: 4
(Served in an American pint glass)
A- This beer pours a dark black body with a hint of brown but still opaque. The head is a big rocky light brown color with a good carbonation.
S- The smell of fresh grain and lightly toasted malt is blended with an aroma of slightly sweet brown malt and some notes of crystal malt. Notes of deep roasted malt come through as it warms.
T- The beer has a nice complex fresh malt taste with some notes of molasses. The taste is similar to the smell with more of the darker malts coming through like brown malt, some of the higher roasted crystal malts and some black malt. The finish has a nice dry graham cracker or Munich malt taste with a faint hop note in there aswell.
M- This beer has a medium-light mouthfeel that is a bit lighter due to the carbonation. It is a slight bit watery in the texture.
D- This is a nice porter with good strong malt complexity. It would be nice to see a bit more hops to support the malt and a bit more fullness in the mouthfeel. This is a good solid porter and well worth a stop in Fort Wayne.
1,080 characters
4.2
/5
rDev
+16.7%
look: 4 | smell: 4 | taste: 4.5 | feel: 4 | overall: 4
Thanks to HopHeadKen for bringing this over fresh from his hometown brewery.
Mad Anthony just began bottling this one!
Pours clear beer bottle brown - identical to the neck of the bottle but sits in my Grindstone pint glass nearly opaque with nice ruby glints topped by a one finger creamy brown head that falls leaving solid fine lace and pronounced meniscus.
Aroma is roasted coffee. Flavors are a satisfying blend of dark roasted malts, dark roast coffee and carmel and perhaps even some smoke as it warms. Medium body and round mouthfeel. Good carbonation - easy to rouse. This helps mouthfeel. Offers a dry finish from highly roasted grain and hop bitterness.
Very drinkable and a must try!
702 characters
4
/5
rDev
+11.1%
look: 4 | smell: 4 | taste: 4 | feel: 4 | overall: 4
Pours Dark Amber Brown with about 1/4 inch of thick carmel colored head of fine, medium and large bubbles.
Roasted malt smell; First taste is roasty toasty malt, quickly followed by coffee and carmel; finish is with an even hop bitterness that just hangs on the back of the tongue.
This Porter is definitely related to Old Man Stout. An easy drinker for a Stout / Porter lover.
Mad Anthony has recently made this beer a 'regular' for bottling and it will be locally available for distribution. Early fall 2005.
519 characters

3.5
/5
rDev
-2.8%
look: 3.5 | smell: 3.5 | taste: 3.5 | feel: 3.5 | overall: 3.5
Color on the pour was a vey dark brown with ruby highlights. Produced a nice small tight, tan head. Aroma was very roasty with a touch of caramel and hops. Initial taste had the average Porter profile with a nice roasted coffee flavor at the back end. Mouthfeel was a little thin though and lack some of the more complex roasted flavors of the great porters.
This was the best of all the beers I sampled from Mad Anthony.
422 characters

3.86
/5
rDev
+7.2%
look: 5 | smell: 4 | taste: 3.5 | feel: 4 | overall: 4
I am not one for porters that have an overwhelming or an overpowering coffee taste to them; however, this porter had a very pleasant and smooth coffee taste to it.I liked this porter to the point that I definitely would enjoy drinking this one again.So much so that I went ahead and ordered this porter with a pizza!
316 characters
3.64
/5
rDev
+1.1%
look: 5 | smell: 3.5 | taste: 3.5 | feel: 4 | overall: 3.5
This brew formed very little head, smoky aroma and had a opaque dark brown body. It's head left a good lacing as it receded. It has a very smooth taste with a hint of coffee and a strong finish. This is one of their better brews. I can get this anytime here in Fort Wayne, Indiana.
281 characters
Old Fort Porter from Mad Anthony Brewing Company
3.6
out of
5
based on
37
ratings.