Chipie
| Microbrasserie Archibald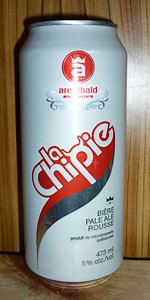 BEER INFO
Brewed by:
Microbrasserie Archibald
Quebec
,
Canada
archibaldmicrobrasserie.com
Style:
American Pale Ale (APA)
Alcohol by volume (ABV):
5.00%
Availability:
Year-round
Notes / Commercial Description:
No notes at this time.
Added by ZorPrime on 11-09-2008
Reviews: 9 | Ratings: 25

3.36
/5
rDev
-5.1%
look: 3.75 | smell: 3.25 | taste: 3.25 | feel: 3.5 | overall: 3.5
Look: Nice orange amber color. Soapy head.
Smell: Malts not alot else.
Taste: Pretty bland not alot going on. Average pale ale.
Feel: Light mouth feel.
Overall: Bought in a small French Canadian town. Really cool can, average​ beer. Oh well.
5/10.
253 characters

3.22
/5
rDev
-9%
look: 3 | smell: 3.5 | taste: 3.25 | feel: 3 | overall: 3
Chipie from Microbrasserie Archibald got it in a beer festival.
Look: Amber color with 1 finger of white head.
Smell: Caramel and brown sugar.
Taste: Malt, caramel, brown sugar. nothing much more.
Feel: Medium body, goes down really easy. Nothing to wow on it.
So overall would I recommend it ? Sure, it's on the average side. I was not too impress for it.
364 characters
4
/5
rDev
+13%
look: 4 | smell: 4 | taste: 4 | feel: 4 | overall: 4
Poured on tap in Montreal into a nonic pint glass.
Real nice copper red body on this, with large sticky lacing of white head, retaining a good amount. Lots of rising carbonation and seems fairly clear, nice looking brew.
Good nose of toasted grain, faint sticky toffee and sticky malt. Slightly fruity also. Real solid.
Taste is malt rich, with a nice dark toffee hiding in the aftertaste. A fruity somewhat finish, but mixes nicely with an almost bock and sticky malt sense.
Overall pretty solid brew, worth having again easily.
533 characters
3.5
/5
rDev
-1.1%
look: 3.5 | smell: 3.5 | taste: 3.5 | feel: 3.5 | overall: 3.5
Tall boy into glass.
A- Copper pour with a finger width off white head. Lacing is decent.
S- Brown sugar, slight caramel and toffee. There is a bit of chocolate and char.
T- Brown sugar, caramel and coffee with a touch of chocolate.
M- Light bodied, prickly carbonation.
O- Quite good, didn't know what to expect and was pleasantly surprised.
347 characters

3.58
/5
rDev
+1.1%
look: 4 | smell: 3.5 | taste: 3.5 | feel: 4 | overall: 3.5
I was unpacking some boxes and stumbled across a bunch of cans for my collection, and the corresponding reviews that I seem to have forgotten to enter.
Thanks Zorprime for the trade, we should do it again. Another can for the shelf.
Pours a light copper-orange color with an off-white head. Foam is creamy, with good retention and leaves thick, chunky lacing. The aroma has lots of fresh hops at first, as it warms the caramel malt sweetness comes out. The light hop bitterness accents the flavor. Grainy malt and caramel sweetness balance, then finishes with a clean hop aftertaste. Flavorful, earthy hops, solid malt character, medium body and mouthfeel. All around very good.
680 characters
3.7
/5
rDev
+4.5%
look: 4 | smell: 4 | taste: 3.5 | feel: 4 | overall: 3.5
Had this one a few times but just realized I had never reviewed it.
A- Clear chestnut. Big, very light-beige foam on top. Plenty of speckled lacing.
S- Dark honey. Chamomile. Smells good but not exactly appetizing.
T- Not as much honey or chamomile as the smell. A bit of a woody finish. Hops are a little green.
M- Big mouthfeel thanks to a medium body and high carbonation. Feels right.
O- An okay easy drinking beer. Nothing to actively seek out though. Fits in fine the mixed
Kind of reminds me of a cleaner, less honey tasting, Boréale Rousse. I like this series of beers. Not incredible tasting but reasonably priced (not cheap though), craft and canned. Keep it up Archibald.
690 characters
2.95
/5
rDev
-16.7%
look: 3 | smell: 3 | taste: 3 | feel: 2.5 | overall: 3
Can: Poured a clear medium amber color ale with a medium foamy head with OK retention and no lacing. Aroma of caramel malty with light sweet notes also noticeable. Taste is a mix between some clean cereal with light sweet notes and some semi-dry caramel malt notes. Body is average with good carbonation. OK overall though nothing really special.
346 characters
3.59
/5
rDev
+1.4%
look: 4.5 | smell: 3 | taste: 3.5 | feel: 4 | overall: 4
473 ml can.
A- Coppery red with amber highlights. Big pale beige head. Streams of little bubbles rising in the beer. Bubbles from the head cling to the glass.
S- Sweet caramel malt. Musty note reduces my enjoyment of the odour.
T- Well hopped for the style. Malty caramel notes. Good and well balanced overall, but nothing to get excited about.
MF- Good mouthfeel. Medium bodied, smooth. Greatly adds to drinkability.
D- Goes down quite nicely. A very approachable beer but not bland.
489 characters

4.31
/5
rDev
+21.8%
look: 4.5 | smell: 3.5 | taste: 4.5 | feel: 4 | overall: 5
Very drinkable beer.
Pour with a nice head that is very cloudy. Smell a little bit of hops, but not like the taste.
Color is amber and the beer is clear.
Very nice taste of malt. The taste is balance. A bitter finish just enough to make you want to have another sip right away.
Love it! Wish they had it in bottle!!
327 characters
Chipie from Microbrasserie Archibald
3.54
out of
5
based on
25
ratings.