La Ciboire
| Microbrasserie Archibald
BA SCORE
81
good
15
Reviews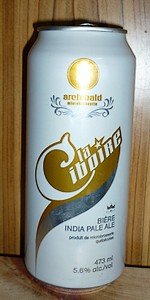 BEER INFO
Brewed by:
Microbrasserie Archibald
Quebec
,
Canada
archibaldmicrobrasserie.com
Style:
American IPA
Alcohol by volume (ABV):
5.60%
Availability:
Year-round
Notes / Commercial Description:
No notes at this time.
Added by ZorPrime on 06-28-2009
Reviews: 15 | Ratings: 49
2.53
/5
rDev
-26.9%
look: 3 | smell: 2.5 | taste: 2.5 | feel: 2.5 | overall: 2.5
Can: Poured a light amber color ale with a medium size foamy head with OK retention and not much lacing. Aroma of light bitter hops with lightly sweet caramel malt. Taste is also a mix between some light bitter hops with lightly sweet caramel malt. Body is way too light for style with good carbonation. Light body with almost no hops presence makes for a beer I won't be seeking again.
386 characters

3.41
/5
rDev
-1.4%
look: 4 | smell: 3 | taste: 3.5 | feel: 3.5 | overall: 3.5
473ml Can
Appearance – Clear copper colour with a large size fizzy and frothy beige coloured head. There is a low amount of carbonation visible and there is a good amount of lacing. The head lasted for around 5 minutes before it was gone.
Smell - Malts, caramel/toffee
Taste & Mouth - The beer has an average amount of carbonation and it feels slightly prickly on the tongue. I can taste malts, caramel/toffee and some hops. It really doesn't taste like an American IPA at all - it's more like an English one. It's still decent tasting though. It finishes with a malt and toffee aftertaste with some lingering hop bitterness.
Overall – Probably not something I'd ever buy again, but it definitely wasn't a waste of money. Just don't expect to be getting a American IPA if you buy it.
791 characters

3.5
/5
rDev
+1.2%
look: 3.5 | smell: 3.5 | taste: 3.5 | feel: 3.5 | overall: 3.5
I was unpacking some boxes and stumbled across a bunch of cans for my collection, and the corresponding reviews that I seem to have forgotten to enter.
Thanks Zorprime for the trade, we should do it again. Another can for the shelf.
Dark, copper color with a short, tight, white head. Good foam retention with thin, sticky lace trails. Smell is decent for the style, good combo of hop spice and caramel malt. Taste matches the smell, with a nice balance between hops and malt. Earthy or herbal (not grapefruit or pine) hop flavor. Bready, caramel sweetness to balance. Neither component takes over, a well rounded IPA.
Medium body and mouthfeel, neither too bitter or sweet. Not a super hopped up IPA, as is becoming the norm, flavorful and easy to drink.
757 characters

2.4
/5
rDev
-30.6%
look: 4.5 | smell: 2 | taste: 2 | feel: 3.5 | overall: 2.5
Pours a great looking amber beer with anice white head and lacing... Looks great. Then I take a sniff of the beer. Ummm... did this not call itself an IPA? Where are the hops? It smells so very lightly of bitter hops but it is covered up by caramel sweet malt aromas. Taste? This is a solid ESB (maybe, you know, without the bitterness) at best. Sold as an IPA? Where qre the hops? No hop aroma / flavour in this at all. Just sweet malt... Feels good. Drank four (b/c that's how they are packed), but only b/c they were what I had...
Unimpressed. Whoever called this an American IPA needs to have a few good ones. This is the Keith's of micro IPAs. Malt flavour, no hops.
673 characters

3.46
/5
rDev 0%
SERVICE: Can
A:
Pours a crystal clear gold color with a couple of fingers of white head that gassily settles to a fat film that can be easily awoken. Decent retention; sticky clumps of lacing. (3.75)
S:
Well-used dishcloth (but not in an infected way or anything). Dry bread, husky grains, hard water. Almost nothing. (3.25)
T:
Doughy and medicinal. Bread, hard water, astringent and bitter herbal hop flavors. (3.5)
M:
Thin and dry with lots of carbonation and a medium body. Quick finish and pretty drinkable with lingering bitterness in throat. (3.75)
O:
Niether the best nor worst IPA I have had.
I had kind of given up on trying random Quebec IPAs that I found while out and about, but when I saw one in a can I decided it night be worth a shot.
It poured nicely but was pretty roundly mediocre otherwise. It had little to no discernable aroma (I figure it was a little old and I might be having an off day, but still...). It tasted alright, if a bit one-dimensional. Not a wholly awful beer and not unenjoyable, but not great either.
I probably would not have it again; unless you're a ticker, there are better beers to be had. (3.5)
1,157 characters

3.52
/5
rDev
+1.7%
look: 3.75 | smell: 3.5 | taste: 3.5 | feel: 3.5 | overall: 3.5
Cloudy amber color with lots of activity and floating detritus. Creamy beige 3-4 finger island head, lasting around 10-15 minutes, with moderate legs. Flavors of orange, caramel, citrus, grapefruits, pineapple, slightly floral, grassy herbal hops. Thick fruity sweetness, while still sharp and bitter. Slick medium body with prickly carbonation. Strong finish, astringent thick grassy feel, lots of hops, sharp citrus, and sugary caramel. Good freshness and pleasant to drink for a bold one, but not very accessible. Nice flavors, fresh grassy feel, good balance. Overall good quality craft.
591 characters

4.06
/5
rDev
+17.3%
look: 4 | smell: 3 | taste: 4.5 | feel: 4 | overall: 4.5
Tasted June 9, 2009.
A: Nice copper color with a good head. Very sticky to the glass. Nice.
S: Very inviting smell, however light to medium in intensity. Hops with caramel.
T: Similar as the smell, however stronger in intensity. The hops are earthy, or is it smoky..., and the finish is more caramel than bitterness.
M: Round and medium body beer.
D: I could drink this all evening.
Very good beer, not the usual IPA. That's why I like it too!
453 characters

3.91
/5
rDev
+13%
look: 4.5 | smell: 3.5 | taste: 4 | feel: 4 | overall: 4
This is a very nice looking IPA with a good rocky head and plenty of lace. It has a medium malt body with an asertive hop bitterness. The aromatic properties of the hops aren't hugely expressed - maybe more like an English IPA vs. the American style.
250 characters
3.5
/5
rDev
+1.2%
look: 3.5 | smell: 3.5 | taste: 3.5 | feel: 3.5 | overall: 3.5
pours an amber/bronze color with okay head.
smell was a little weak on the hops, but i found that it had a nice roasted malt aroma.
taste was very malty, and hops were more noticeable. good carbonation and drinkability. overall wasn't amazing but enjoyable enough.
266 characters
3.91
/5
rDev
+13%
look: 4.5 | smell: 3.5 | taste: 4 | feel: 4 | overall: 4
Real happy to see this at the dépanneur. A brewery I never heard of before... in a can! Told the owner of how happy I was to see another Quebec beer in a can. Just hope it's good.
I guess a Quebec beer had to have this name sooner or later. Actually, it's probably already happened.
Best before on bottom of can... I only see a black dot.
A- Deep clear copper topped by a great, creamy, very light beige head. Lacing is all sorts of patterns but there's plety of it. Looks great.
S- Nice sweet cream soda syrup. A little sour fruit which reminds me a bit of barf (which isn't too weird, I've found this in other hoppy beers.) Also slightly metallci but again cream soda is the main smell I get. Looks good.
T- Wooh. Not expecting this. Quite a fresh hop kick. I was expecting more of a sweet malt with maybe a bit of tropical flavour but this is much more piney, grapefruit rind bitter hop. Very good. I like it. Grapefruit rind bitter after-taste lingers for a long time. Honey and alcohol comes out as it warms up.
M- High, kind of aggressive, carbonation. Liquid is quite thin and very dry but mouthfeel is just light and perfect without being watery.
D- High. Bitterness lingers without much of a sweet backbone so it might tire some.
Yeh! A good new beer and possibly new brewery for me. I think the can had something to do with how good this tasted. I had it in the fridge for a week but don't know how long it was in the store. Still tasted very fresh.
I recommend it and am eager to try their other beers.
1,527 characters
3.76
/5
rDev
+8.7%
look: 4 | smell: 3 | taste: 4 | feel: 4 | overall: 4
Picked this up from ZorPrime during CanBif 2009.
Pouring into a pint glass results in a hazy light copper colored ale, with massive amounts of durable head. 3 fingers of sticky white head very slowly evaporated, leaving visible lacing down the glass.
No real noticeable smell.
Taste is slightly hoppy, with a nice malty backing. Very nice medium body and a smooth finish. A bit of the malt flavoring lingers in the mouth for a minute after the swallow.
Overall a very nice IPA that is quite drinkable.
505 characters

3.52
/5
rDev
+1.7%
look: 3.75 | smell: 3.5 | taste: 3.5 | feel: 3.5 | overall: 3.5
A: An orangish/ yellow color. One and a half fingers of head and excellent lacing.
S: A bit of citrus fruit with some yeast and sweet malt.
T: Caramel really comes through, a bit more then what I' used to in other IPA's, but its good and provides a nice sweet element to the beer. Bitterness is moderate and appropriate. A touch of citrus and some floral hops round the beer off.
M: Carbonation is good. Perhaps a bit high but its very drinkable.
O: I would say far more similar to an English IPA but none the less its a decent beer. In all honesty I was expecting this to be something like Alexander Keith's , meaning a AAL that rides the popularity of the IPA name amongst noob craft drinkers. It was a pretty decent offering. Good with food I would imagine and i will probably try other offerings as they're one of the few non macro offerings I can tote around in cans.
876 characters
3.51
/5
rDev
+1.4%
look: 4.5 | smell: 3.5 | taste: 3.5 | feel: 4 | overall: 3
473 ml can.
A- Very nice dark amber/coppery colour with a good pale beige head. Very clear, no cloudyness.
S- Wine like alcohol out of the can. Malty sweet notes. Touch of vegetable like aroma in behind. Noticeable hops smell I have trouble describing. Smells like beer in that "my grandfather's ale" kind of way.
T- Well hopped. Strong bitter aftertaste which includes a touch of the grapefruit type bitterness. Malty, slightly sweet middle that is neutral, with less caramel type notes than the colour might suggest. That vegetable aroma is there again, in with the malt.
MF- Good body. A bit strongly carbonated, but this seems to go well with this beer.
D- A little lacking in balance with the bitter aftertaste and malty flavours son=mehow not quite right. Not one I would drink many of in a row. But still a decent beer, much better than the bland world of macros.
875 characters

3.56
/5
rDev
+2.9%
look: 3.5 | smell: 3.75 | taste: 3.5 | feel: 3.5 | overall: 3.5
Pours an amber body with a nice amount of soapy white head off tap. The aroma has some fair malty notes to it along with some piney, earthy, and faintly citric hops. The taste has some strong bitterness with a clean earthy finish and prickly carbonation. Nice beer, unfortunately I'm on the move so I can't write more but I'd have it again!
340 characters

3.62
/5
rDev
+4.6%
look: 3 | smell: 3.5 | taste: 3.75 | feel: 3.5 | overall: 3.75
Ciboire from Microbrasserie Archibald bought it in an bar.
Look: Orange/yellow color with a finger of white head.
Smell: Malts, sweet, citrus
Taste: Hops and malt, some citrus on the background. Goes down really smootly. Medieum to light carbonation
Feels: Really pleasant. The hops stay for a while that is the nice thing.
So overall would I recommend it ? Sure, but for the price there is much better out there.
419 characters
La Ciboire from Microbrasserie Archibald
3.46
out of
5
based on
49
ratings.