Winking Lizard Tavern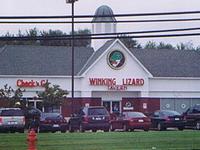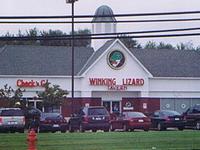 Bar, Eatery
511 E Aurora Rd
Macedonia
,
Ohio
, 44056-1803
United States
(330) 467-6200 |
map
winkinglizard.com
Notes:
Recent ratings and reviews.
| Log in to view more ratings + sorting options.
Ratings by Hoptometrist:
Reviewed by Hoptometrist from Ohio
4.15
/5
rDev
+8.1%
vibe: 4 | quality: 4.5 | service: 3.5 | selection: 4.5 | food: 4
Definitely the place I frequent the most for beer. They have an extensive bottle selection and rotate their taps monthly with some interesting beers, some that are brewed exclusively for the Winking Lizard by breweries like Left Hand and Victory, lots of Dogfish Head seasonal and special beers, and lots of local stuff from Great Lakes and Thirsty Dog.

The food is pretty good, it can be hit or miss, pretty typical pub food. The goldfinger wings are excellent, so I usually stick with them.

Pretty reasonable prices, usually $4-5 for most bottles and drafts. The glass of month is a great deal. Each month they offer a special beer on draft with a glass you can keep.

Typical sports bar atmosphere with lots of Tvs.

The service is pretty good too, never had any problems, but I am pretty easy to please. The wait staff is not overly knowledgeable about beer, although some are.
May 02, 2011
More User Ratings:

Reviewed by Spider889 from Ohio
3.65
/5
rDev
-4.9%
vibe: 3 | quality: 4 | service: 3 | selection: 4 | food: 4
Not a bad place to go if you want a quick beer with good cheap food. But this is easily my least favorite Winking Lizard location of the various ones I have visited.

We go here from time to time because it is 10 minutes away from a friend's house.

A fairly large location, but the space is used somewhat oddly for me. It makes for a tight fit in most areas.

Quality and selection are about the same as any other Lizard, though i get the feeling that this locale does less craft business than some, as they always seem to be out of beer that it supposed to last the month when I go.
Jun 07, 2011
Reviewed by squaremile from Oregon
3.6
/5
rDev
-6.3%
vibe: 4 | quality: 3.5 | service: 3 | selection: 4 | food: 4
You can't blame the Winking Lizard for trying. Really they probably deserve more credit than they get for being pretty early on the craft beer train for Northern Ohio. They have a giant menus of bottles and a more limited selection of taps that are occasionally nice things. My beefs are going to be really g33k and picky but they count. First, they serve the beers ULTRA COLD. I mean near frozen cold. Second, the staff I have had in general been pretty uneducated about beer. Third, everything comes in a pint glass, even a Trappist beer. I know, picky, but it matters in the big picture. Otherwise, nice wings, great games on TV, nice vibe, and a live lizard tank. Epic.
Jun 28, 2010
Reviewed by godscorn from Ohio
3.88
/5
rDev
+1%
vibe: 4 | quality: 4 | service: 3 | selection: 4.5 | food: 4
Great selection of beers, especially with the World Tour of Beers. Gotta drink 100 bottled and draft beers throughout the year, out of a possible 150 choices.
Great place to try many brews from the US, Belgium, Germany and other parts. Beer prices rose a bit this year, which is disappointing.

Barroom is preferred with less kids and plenty of flatscreens to watch Cleveland sports. Not the best area to rate beers, but I prefer this type of environment.
Great food with a large selection. Wings and pizza are top notch.
Parking is good on most days.
The place to go for great beer and food!
Feb 15, 2009
Reviewed by LeftonJackman from Ohio
4.1
/5
rDev
+6.8%
vibe: 3.5 | quality: 3.5 | service: 4 | selection: 5 | food: 4.5
The Winking Lizard is becoming a staple in Northeast Ohio as the place to go for beer. Their now famous World Tour of Beers is the thing to do for anyone who respects beer. A GREAT way to build your palate for brew.

My most recent visit to the Macedonia location was with two buddies for pizza and a beer.

I cannot say enough about their pizza. We went for half-price small pizza night and ordered two. The small serves 6 slices of a thin, flakey, but not cracker crust.Great pizzas!

Their wings are a strong point on their menu. They bottle and sell their sauces if you like.

But the beer... OH THE BEER! A looong and distinguished list of bottles from all over the world. I enjoyed a La Fin Du Monde and a McEwan's Scotch Ale and wished I had room for more.

With a new locations aggressively opening all over Northeast Ohio, The Lizard is the place to be.
Nov 05, 2007
Reviewed by Bones54 from Ohio
3.63
/5
rDev
-5.5%
vibe: 3 | quality: 3.5 | service: 3.5 | selection: 4 | food: 4
Part of the Winking Lizard chain in the Cleveland Area. Each Lizard normally has something unique to offer- usually centering around its setup- however this one does not really have special. Its located in a strip mall area and is just kind of blah.

The food though is the same as the res of the Lizards. They have a really good bar type food here- can't go wrong with the wings, pizza, or chicken sandwiches.

They have a large bottle beer selection thanks to the 100 beer club. The bottles can be a bit pricey, but the selection is still pretty vast. On tap they normally have a good IPA (the hoppy handle-DFH, Buckeye, Victory, etc) and also have a decent belgium tap as well.

Overall, other than its boring setting, this Lizard is the same as the others- worth a stop in.
Oct 09, 2006
Reviewed by klewis from Ohio
3.75
/5
rDev
-2.3%
vibe: 4.5 | quality: 4 | service: 2 | selection: 5 | food: 3.5
Stopped in for lunch. When I ordered the DFH 60 min. that was the hoppy draft of the month, the server took my ID to the bartender. Not only were they out fo the 60 min., but I almost didn't get served because my ID was "expired". I humbly pointed out to the server that the bartender was looking at the date that the card was issued (2/1/2006) and the it didn't expire for 3 more years. I'm curious as to how this stupid mistake was made given that it is an OH license. Anyway, I ordered an Alpha King and waited several minutes to get it. The food was good as always, but it too took quite a while. The service was friendly, but the restaurant was hardly busy, and I've received food/drinks faster at other Lizards, even during busy dinner rushes. This location did, however, have a kickass atmosphere (at least for a restaurant), with sports and beer memorabilia filling in the spots on the walls that weren't occupied by massive plasma screen TVs. Selection was good, as at all of the Lizards, although I'm still kind of upset that they ran out of one of their featured beers halfway through the month.
May 15, 2006
Reviewed by PBRstreetgang from Ohio
3.25
/5
rDev
-15.4%
vibe: 2.5 | quality: 2.5 | service: 2 | selection: 5 | food: 5
Any Tavern in the Winking Lizard chain is a great place to try exceptional craft beer without paying for an entire six pack. The problem is the Lizard makes it difficult for the BA to enjoy them properly.

Some of their taverns are somewhat family-friendly and more like a restaruant. But the Macedonia location like most others are just loud sports bars and not the best environment to bust out a pen and paper to do your beer geekin'. And combined with their high prices, it's sometimes worth it to just watch the game at home. Even most macros will run you over $3 per 12oz.

With over 120 ales and lagers on the menu and 18 on draft that change monthly to compliment the season, one would think the bartenders would know something about good beer; not so. And the waitresses are no doubt hired just for tits and ass, who will bring you that "Belgian thing" in a bottle that's ice cold, and when you ask for a pint glass, she'll return with a frosted mug.

On the other hand, a wide selection of normally expensive and rare beers are regularly available and cheap. The staff are polite and accommodating, and the food is the best you'll get at any bar. Their wings come in 12 delicious flavors and you are likely to kill your drinking buddy over the last drumstick.

I guess the best way to summarize the Lizard is to describe it's annual "World Tour of Beers". Participants pay a $10 fee upfront, and are required to sample 100 specific beers from the menu at least once a week and within a said time limit to earn the "coveted World Tour jacket". What marketing!!! Pay additional funds to regularly drink overpriced beer at no discount to win an ugly turtleneck fleece that screams "I'm a sucker".
Oct 06, 2005
Winking Lizard Tavern in Macedonia, OH
Place rating:
3.84
out of
5
with
12
ratings